Abstract
Triatoma platensis is occasionally found coexisting with Triatoma infestans in chicken coops in Argentina. Some authors have reported the presence of hybrid specimens of both species in chicken coops and other peridomestic habitats. Given the coexistence of T. infestans with T. platensis and the possibility of generating fertile hybrids, it is important to evaluate the vectorial competence of these hybrids. The objective of this study was to record the dynamics of feeding-defecation behavior in fifth-stage nymphs and adults of hybrids between both species and to compare it with T. platensis and T. infestans. Three experimental groups were formed separated by stage and sex: Hybrid group, T. infestans group, and T. platensis group. During feeding, the following variables were recorded for each group: (i) blood meal size, (ii) feeding time, (iii) number of defecations during feeding, and (iv) number of defecations at 10 and 30 min after feeding. The results indicate that adults and fifth-instar nymphs of hybrids have a feeding and defecation behavior similar to T. infestans: they achieve feeding in a short time and first defecation occurs during or just after feeding. Nevertheless, hybrid's ingestion of blood occurs at higher velocity and they require higher blood intake to provoke early defecations. Considering the blood ingestion velocity, the amount of blood ingested, and the short time required for the production of the first defecation, the results of this study suggest that hybrid can be a competent Trypanosoma cruzi vector.
Access options
Buy single article
Instant access to the full article PDF.
USD 39.95
Price excludes VAT (USA)
Tax calculation will be finalised during checkout.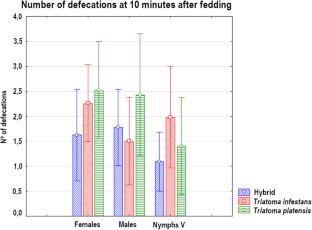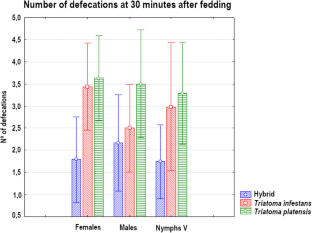 References
Bar ME, Oscherov EB, Damborsky MP (1993) Presence of Triatoma sordida Stäl, 1859 in urban ecotopes, of the city of Corrientes, Argentina. Rev Saude Publica 27(2):117–122

Bargues MD, Klisiowicz DR, Panzera F, Noireau F, Marcilla A, Perez R, Rojas MG, O'Connor JE, Gonzalez-Candelas F, Galvão C, Jurberg J, Carcavallo RU, Dujardin JP, Mas-Coma S (2006) Origin and phylogeography of the Chagas disease main vector Triatoma infestans based on nuclear rDNA sequences and genome size. Infect Genet Evol 6(1):46–62

Bizai ML, Streiger M, Mendicino D, Fabbro D, del Barco M, Giraldez EL (2009) Acciones educativas sobre Chagas en áreas no endémicas, alertan sobre probable riesgo de transmisión vectorial no convencional. In: XXIII Reunión Científica Anual Sociedad Argentina de Protozoología, pp 65–66

Crocco LB, Catalá SS (1996) Feeding and defaecation patterns in Triatoma sordida. Mem Inst Oswaldo Cruz 91(4):409–413

Crocco LB, López A, Chartier D (2010) Competencia vectorial de Triatoma platensis (Neiva) (Hemiptera: Reduviidae): patrón alimentario y excretor en adultos y ninfas de quinto estadio. Rev Ibero-Latinoam Parasitol 69(2):134–139

Damborsky M, Bar ME, Oscherov EB (2001) Detección de triatominos (Hemiptera: Reduviidae) en ambientes domésticos y extradomésticos. Corrientes, Argentina. Cad Saude Publica 17(4):843–849

Durán P, Siñani E, Depickère S (2014) Biological cycle and preliminary data on vectorial competence of Triatoma boliviana in laboratory conditions. Acta Trop 140:124–129

Folly-Ramos E, Dornak LL, Orsolon G, Gonçalves TCM, Lilioso M, Costa J, Almeida CE (2016) Vector capacity of members of Triatoma brasiliensis species complex: the need to extend Chagas disease surveillance to Triatoma melanica. J Vector Ecol 41(1):48–54

Giraldez EL, Roverano R, Remonte M (1997) Presencia de Triatoma platensis, Neiva 1913, infectados en las inmediaciones de la vivienda humana. Medicina 55:84

Gurevitz JM, Ceballos LA, Gaspe MS, Alvarado-Otegui JA, Enríquez GF, Kitron U, Gürtler RE (2011) Factors affecting infestation by Triatoma infestans in a rural area of the humid Chaco in Argentina: a multi-model inference approach. PLoS Negl Trop Dis 5(10):e1349

Lent H, Wygodzinsky P (1979) Revision of the Triatominae (Hemiptera, Reduviidae), and their significance as vectors of Chagas' disease. Bulletin of the AMNH ; v. 163, article 3. Bull Am Museum Nat Hist 163(3):123–520

Loza-Murguia M, Noireau F (2010) Vectorial capacity of Triatoma guasayana (Wygodzinsky & Abalos) (Hemiptera: Reduviidae) compared with two other species of epidemic importance. Neotrop Entomol 39(5):799–809

Marti GA, Echeverria MG, Waleckx E, Susevich ML, Balsalobre A, Gorla DE (2014) Triatominae in furnariid nests of the Argentine Gran Chaco. J Vector Ecol 39(1):66–71

Nattero J, Crocco LB, Rodríguez CS (2002) Feeding and defaecation behaviour of Triatoma patagonica (Del Ponte, 1929) (Hemiptera: Reduviidae). Mem Inst Oswaldo Cruz 97(7):1063–1065

Noireau F (2009) Wild Triatoma infestans, a potential threat that needs to be monitored. Mem Inst Oswaldo Cruz 104:60–64. https://doi.org/10.1590/S0074-02762009000900010

Noireau F, Carbajal-de-la-Fuente AL, Lopes CM, Diotaiuti L (2005) Some considerations about the ecology of Triatominae. An Acad Bras Cienc 77(3):431–436. https://doi.org/10.1590/S0001-37652005000300006

Padilla AN, Moncayo AL, Keil CB, Grijalva MJ, Villacís AG (2019) Life cycle, feeding, and defecation patterns of Triatoma carrioni (Hemiptera:Reduviidae), under laboratory conditions. J Med Entomol XX(X):1–8. https://doi.org/10.1093/jme/tjz004

Pérez R, Hernández M, Quintero O, Scvortzoff E, Canale D, Méndez L, Cohanoff C, Martino M, Panzera F (2005) Cytogenetic analysis of experimental hybrids in species of Triatominae (Hemiptera-Reduviidae). Genetica 125(2–3):261–270

Robert UL, Wygodzinsky P, Ryckman RE (1966) The biosystematics of Triatominae. Annu Rev Entomol 11(1):309–330

Rodríguez CS, Crocco LB, Nattero J (2004) Competencia vectorial de Triatoma guasayana (Hemiptera: Reduviidae): patrón de alimentación y excreción. Rev la Soc Entomológica Argentina 63(1–2):11–16

Rodríguez CS, Carrizo SA, Crocco LB (2008) Comparison of feeding and defecation patterns between fifth-instar nymphs of Triatoma patagonica (Del Ponte, 1929) and Triatoma infestans (Klug, 1934) under laboratory conditions. Rev Soc Bras Med Trop 41(4):330–333

Rolón M, Vega MC, Román F, Gómez A, Rojas de Arias A (2011) Primer informe de colonias de sylvatic Triatoma infestans (Hemiptera: Reduviidae) en el Chaco paraguayo, usando un perro entrenado. PLoS Negl Trop Dis 5(5):e1026. https://doi.org/10.1371/journal.pntd.0001026

Salvatella R (1987) Distribución de Triatoma platensis Neiva, 1913 (Hemiptera-Triatominae) en Uruguay. Rev la Soc Uruguaya Parasitol 1(1):51–56

Soares RP, das Graças Evangelista L, Laranja LS, Diotaiuti L (2000) Population dynamics and feeding behavior of Triatoma brasiliensis and Triatoma pseudomaculata, main vectors of chagas disease in northeastern Brazil. Mem Inst Oswaldo Cruz 95(2):151–155

Statsoft Inc. (2004) STATISTICA (data analysis software system), version 7. www.statsoft.com. Accessed 20 May 2019

Trumper EV, Gorla DE (1991) Density-dependent timing of defaecation by Triatoma infestans. Trans R Soc Trop Med Hyg 85(6):800–802

Wisnivesky-Colli C, Gürtler RE, Solarz ND, Schweigmann NJ, Pietrokovsky SM, Alberti A et al (1993) Dispersive flight and house invasion by Triatoma guasayana and Triatoma sordida in Argentina. Mem Inst Oswaldo Cruz 88(1):27–32

Zeledón R, Alvarado R, Jirón LF (1977) Observations on the feeding and defecation patterns of three triatomine species (Hemiptera: Reduviidae). Acta Trop 34(1):65–77
Acknowledgments
We thank technician Emilia Seccacini, the main professional of National Research Council of Argentina (CONICET), for her collaboration in the laboratory activities. We also thank the Centro de Referencia de Vectores from the Servicio Nacional de Chagas (CeReVe-SNCh, Santa Maria de Punilla, Córdoba Argentina) for the provision of the insects for experimentation.
Funding
This work was supported by a grant given by the National University of Córdoba through the Secretary of Science and Technique (SECyT) to LBC.
Ethics declarations
Conflict of interest
The authors declare that they have no competing interests.
Ethics approval
Not applicable.
Consent to participate
Not applicable.
Consent for publication
Not applicable.
Availability of data and material
Not applicable.
Code availability
Not applicable.
Additional information
Section Editor: Boris R. Krasnov
Publisher's note
Springer Nature remains neutral with regard to jurisdictional claims in published maps and institutional affiliations.
About this article
Cite this article
López, A.G., Cardozo, M., Oscherov, E.B. et al. Dynamics of feeding and defecation behavior of Triatoma infestans hybrids. Parasitol Res 119, 2775–2781 (2020). https://doi.org/10.1007/s00436-020-06822-0
Received:

Accepted:

Published:

Issue Date:

DOI: https://doi.org/10.1007/s00436-020-06822-0
Keywords
Triatoma infestans
Triatoma platensis

Hybrid

Blood ingestion

Defecation behavior