Abstract
We report a case of severe congenital toxoplasmosis that involved an atypical T. gondii genotype in a newborn baby from Alagoas state in Northeastern Brazil. A pregnant woman presented IgM and IgG anti-T. gondii antibodies, as detected by the chemiluminescence immunoassay on the second trimester of pregnancy. A mouse bioassay was performed using umbilical cord blood and one isolate was obtained. The isolate was designated TgCTBrAL1 and genetic characterization revealed genotype ToxoDB #162. Genotype results of the rhoptry genes, ROP5 and ROP18, could predict the high virulence of the isolate in mice, which was confirmed by an in vivo virulence assay. This is the first report of generating a T. gondii isolate from a newborn baby with congenital toxoplasmosis in Northeastern Brazil.
Access options
Buy single article
Instant access to the full article PDF.
USD 39.95
Price excludes VAT (USA)
Tax calculation will be finalised during checkout.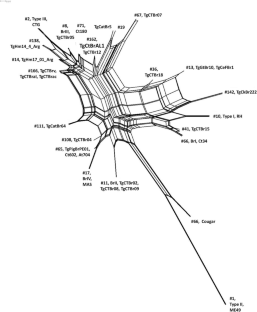 References
Brasil. Ministério da Saúde (2006) Pré-natal e Puerpério: atenção qualificada e humanizada – manual técnico (Série Direitos Sexuais e Direitos Reprodutivos – Caderno n° 5). Brasília. Available on: http://bvsms.saude.gov.br/bvs/publicacoes/manual_pre_natal_puerperio_3ed.pdf

Brasil. Ministério da Saúde (2012) Conselho Nacional de Saúde. Resolução n° 466, de 12 de dezembro de 2012. Brasília. Available on: https://conselho.saude.gov.br/resolucoes/2012/Reso466.pdf

Burrells A, Bartley PM, Zimmer IA, Roy S, Kitchener AC, Meredith A, Wright SE, Innes EA, Katzer F (2013) Evidence of the three main clonal Toxoplasma gondii lineages from wild mammalian carnivores in the UK. Parasitology 140(14):1768–1776. https://doi.org/10.1017/S0031182013001169

Cabral AD, Gama AR, Sodré MM, Savani ESMM, Galvão-Dias MA, Jordão LR, Maeda MM, Yai LEO, Gennari SM, Pena HFJ (2013) First isolation and genotyping of Toxoplasma gondii from bats (Mammalia: Chiroptera). Vet Parasitol 193:100–104. https://doi.org/10.1016/j.vetpar.2012.11.015

Camargo ME (1964) Improved technique of indirect immunofluorescence for serological diagnosis of toxoplasmosis. Rev Inst Med Trop Sao Paulo 6:117–118

Carneiro ACAV, Andrade GM, Costa JGL, Pinheiro BV, Vasconcelos-Santos DV, Ferreira AM, Su C, Januário JN, Vitor RWA (2013) Genetic characterization of Toxoplasma gondii revealed highly diverse genotypes for isolates from newborns with congenital toxoplasmosis in southeastern Brazil. J Clin Microbiol 51(3):901–907. https://doi.org/10.1128/JCM.02502-12

Delhaes L, Ajzenberg D, Sicot B, Bourgeot P, Darde ML, Dei-Cas E, Houfflin-Debarge V (2010) Severe congenital toxoplasmosis due to a Toxoplasma gondii strain with an atypical genotype: case report and review. Prenat Diagn 30(9):902–905. https://doi.org/10.1002/pd.2563

Dubey JP (2010) Toxoplasmosis of animals and humans, 2nd edn. CRC Press, Boca Raton

Dubey JP, Graham DH, Blackston CR, Lehmann T, Gennari SM, Ragozo AMA, Shen SK, Kwok OCH, Hill DE, Thulliez P (2002) Biological and genetic characterization of Toxoplasma gondii isolates from chickens (Gallus domesticus) from São Paulo, Brazil: unexpected findings. Int J Parasitol 32:99–105. https://doi.org/10.1016/s0020-7519(01)00364-2

Elbez-Rubinstein A, Ajzenberg D, Dardé ML, Cohen R, Dumètre A, Yera H, Gondon E, Janaud JC, Thulliez P (2009) Congenital toxoplasmosis and reinfection during pregnancy: case report, strain characterization, experimental model of reinfection, and review. J Infect Dis 199:280–285. https://doi.org/10.1086/595793

Hamilton CM, Kelly PJ, Bartley PM, Burrells A, Porco A, Metzler D, Crouch K, Ketzis JK, Innes EA, Katzer F (2015) Toxoplasma gondii in livestock in St. Kitts and Nevis, West Indies. Parasit Vectors 8(166):1–9. https://doi.org/10.1186/s13071-015-0776-7

Huson DH, Bryant D (2006) Application of phylogenetic networks in evolutionary studies. Mol Biol Evol 23:254–267. https://doi.org/10.1093/molbev/msj030

Lima DCV, Melo RPB, Almeida J, Magalhães FJR, Ribeiro-Andrade M, Pedrosa CM, Oliveira CAV, Porto WJN, Su C, Mota RA (2019) Toxoplasma gondii in invasive animals on the island of Fernando de Noronha in Brazil: molecular characterization and mouse virulence studies of new genotypes. Comp Immunol Microbiol Infect Dis 67:101347. https://doi.org/10.1016/j.cimid.2019.101347

McAuley JB (2014) Congenital toxoplasmosis. J Pediatr Infect Dis Soc 3(1):S30–S35. https://doi.org/10.1093/jpids/piu077

Pena HF, Gennari SM, Dubey JP, Su C (2008) Population structure and mouse-virulence of Toxoplasma gondii in Brazil. Int J Parasitol 38(5):561–569. https://doi.org/10.1016/j.ijpara.2007.09.004

Pena HFJ, Vitaliano SN, Beltrame MAV, Pereira FEL, Gennari SM, Soares RM (2013) PCR-RFLP genotyping of Toxoplasma gondii from chickens from Espírito Santo state, southeast region, Brazil: new genotypes and a new SAG3 marker allele. Vet Parasitol 192:111–117. https://doi.org/10.1016/j.vetpar.2012.10.004

Rajendran C, Su C, Dubey JP (2012) Molecular genotyping of Toxoplasma gondii from central and South America revealed high diversity within and between populations. Infect Genet Evol 12:359–368. https://doi.org/10.1016/j.meegid.2011.12.010

Reese ML, Zeiner GM, Saeij JP, Boothroyd JC, Boyle JP (2011) Polymorphic family of injected pseudokinases is paramount in Toxoplasma virulence. Proc Natl Acad Sci U S A 108:9625–9630. https://doi.org/10.1073/pnas.1015980108

Saraf P, Shwab EK, Dubey JP, Su C (2017) On the determination of Toxoplasma gondii virulence in mice. Exp Parasitol 174:25–30. https://doi.org/10.1016/j.exppara.2017.01.009

Shwab EK, Jiang T, Pena HF, Gennari SM, Dubey JP, Su C (2016) The ROP18 and ROP5 gene allele types are highly predictive of virulence in mice across globally distributed strains of Toxoplasma gondii. Int J Parasitol 46(2):141–146. https://doi.org/10.1016/j.ijpara.2015.10.005

Su C, Shwab EK, Zhou P, Zhu XQ, Dubey JP (2010) Moving towards an integrated approach to molecular detection and identification of Toxoplasma gondii. Parasitol 137:1–11. https://doi.org/10.1017/S0031182009991065

Taylor S, Barragan A, Su C, Fux B, Fentress SJ, Tang K, Beatty WL, Hajj HE, Jerome M, Behnke MS, White M, Wootton JC, Sibley LD (2006) A secreted serine-threonine kinase determines virulence in the eukaryotic pathogen Toxoplasma gondii. Science 314:1776–1780. https://doi.org/10.1126/science.1133643

Xiao J, Yolken RH (2015) Strain hypothesis of Toxoplasma gondii infection on the outcome of human diseases. Acta Physiol 213(4):828–845. https://doi.org/10.1111/apha.12458

Yai LEO, Ragozo AMA, Soares RM, Pena HFJ, Su C, Gennari SM (2009) Genetic diversity among capybara (Hydrochaeris hydrochaeris) isolates of Toxoplasma gondii from Brazil. Vet Parasitol 162:332–337. https://doi.org/10.1016/j.vetpar.2009.03.007
Acknowledgments
We thank the Obstetrics Department of Professor Alberto Antunes University Hospital, Laboratory of Clinical Analysis of Universidade Federal de Alagoas, especially to Dr. Arliete Ramos Sales Mendes de Barros for the support in collecting the samples.
Funding
We would like to thank Conselho Nacional de Desenvolvimento Científico e Tecnológico (CNPq), Brazil, for the scholarship (SWE–Grant number 206740/2017-4) and Fundação de Amparo à Ciência e Tecnologia do Estado de Pernambuco (FACEPE) for the PhD scholarship (IBPG-1358-5.05./15).
Ethics declarations
Conflict of interest
The authors have no conflicts of interest to declare.
Additional information
Section Editor: Dana Mordue
Publisher's note
Springer Nature remains neutral with regard to jurisdictional claims in published maps and institutional affiliations.
About this article
Cite this article
de Melo, R.P.B., Wanderley, F.S., Porto, W.J.N. et al. Description of an atypical Toxoplasma gondii isolate from a case of congenital toxoplasmosis in northeastern Brazil. Parasitol Res 119, 2727–2731 (2020). https://doi.org/10.1007/s00436-020-06746-9
Received:

Accepted:

Published:

Issue Date:

DOI: https://doi.org/10.1007/s00436-020-06746-9
Keywords
Genotyping

Mouse bioassay

Newborn

Virulence