Abstract
The arctic fox (Vulpes lagopus), an apex predator with an omnipresent distribution in the Arctic, is a potential source of intestinal parasites that may endanger people and pet animals such as dogs, thus posing a health risk. Non-invasive methods, such as coprology, are often the only option when studying wildlife parasitic fauna. However, the detection and identification of parasites are significantly enhanced when used in combination with methods of molecular biology. Using both approaches, we identified unicellular and multicellular parasites in faeces of arctic foxes and carcasses of sibling voles (Microtus levis) in Svalbard, where molecular methods are used for the first time. Six new species were detected in the arctic fox in Svalbard, Eucoleus aerophilus, Uncinaria stenocephala, Toxocara canis, Trichuris vulpis, Eimeria spp., and Enterocytozoon bieneusi, the latter never found in the arctic fox species before. In addition, only one parasite was found in the sibling vole in Svalbard, the Cryptosporidium alticolis, which has never been detected in Svalbard before.
Access options
Buy single article
Instant access to the full article PDF.
US$ 39.95
Tax calculation will be finalised during checkout.
Subscribe to journal
Immediate online access to all issues from 2019. Subscription will auto renew annually.
US$ 119
Tax calculation will be finalised during checkout.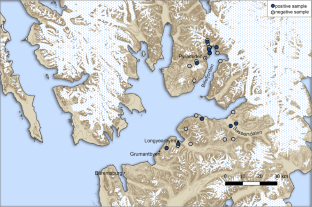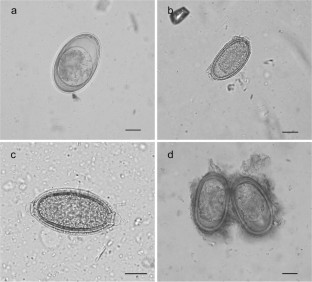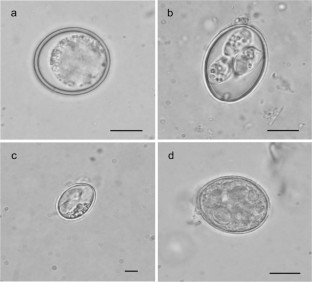 References
Aguirre AA, Angerbjörn A, Tannerfeldt M, Mörner T (2000) Health evaluation of Arctic fox (Alopex lagopus) cubs in Sweden. J Zoo Wildl Med 31:36–40. https://doi.org/10.1638/1042-7260(2000)031[0036:HEOAFA]2.0.CO;2

Anderson RM, May RM (1978) Regulation and stability of host–parasite population interactions 1. Regulatory processes. J AnimEcol 47:219–247. https://doi.org/10.2307/3933

Andreassen PNS, Schmidt NM, Kapel CMO, Christensen MU, Sittler B, Gilg O, Enemark H, Al-Sabi MNS (2017) Gastrointestinal parasites of two populations of Arctic foxes (Vulpes lagopus) from Northeast Greenland. Polar Res. https://doi.org/10.1080/17518369.2017.1308667

Angerbjörn A, Hersteinsson P, Tannerfeldt M (2004) Arctic fox. In: Sillero-Zubiri C, Hoffmann M, Macdonald DW (eds) Canids: foxes, wolves, jackals and dogs. Status Survey and Conservation Action Plan. IUCN/SSC Canid Specialist Group, Gland and Cambridge, pp 117–123

Arnesen K, Nordstoga K (1977) Ocular encephalitozoonosis (nosematosis) in blue foxes. Acta Ophthalmol 55:641–651. https://doi.org/10.1111/j.1755-3768.1977.tb05662.x

Audet MA, Robbins CB, Larivière S (2002) Alopex lagopus. Mamm Species 31:1–10. https://doi.org/10.1644/1545-1410(2002)713<0001:AL>2.0.CO;2

Balasingam E (1964) Comparative studies of the effects of temperature on free-living stages of Placoconus lotoris, Dochmoides stenocephala and Ancylostoma caninum. Can J Zool 42:907–918. https://doi.org/10.1139/z64-088

Borecka A, Gawor J, Zięba F (2013) A survey of intestinal helminths in wild carnivores from the Tatra National Park, southern Poland. Ann Parasitol 59:169–172

Braestrup FW (1941) A study on the arctic fox in Greenland: immigrations, fluctuations in numbers based mainly on trading statistics. Medd Grønland 131:1–101

Buckholt MA, Lee JH, Tzipori S (2002) Prevalence of Enterocytozoon bieneusi in swine: an 18-month survey at a slaughterhouse in Massachusetts. Appl Environ Microbiol 68:2595–2599. https://doi.org/10.1128/AEM.68.5.2595-2599.2002

Carlsgart J, Roepstorff A, Nejsum P (2009) Multiplex PCR on single unembryonated Ascaris (roundworm) eggs. Parasitol Res 104:939–943. https://doi.org/10.1007/s00436-008-1307-7

Carmichael LE, Krizan J, Nagy JA, Fuglei E, Dumond M, Johnson D, Veitch A, Bertreaux D, Strobeck C (2007) Historical and ecological determinants of genetic structure in arctic canids. Mol Ecol 16:3466–3483. https://doi.org/10.1111/j.1365-294X.2007.03381.x

Chu S, Myers SL, Wagner B, Snead EC (2013) Hookworm dermatitis due to Uncinaria stenocephala in a dog from Saskatchewan. Can Vet J54:743–747

Didier ES, Vossbrinck CR, Baker MD, Rogers LB, Bertucci DC, Shadduck JA (1995) Identification and characterization of three Encephalitozoon cuniculi strains. Parasitology 111:411–421. https://doi.org/10.1017/S0031182000065914

Eaton RDP, Secord DC (1979) Some intestinal parasites of arctic fox, Banks Island, N. W. T. Can J Comp Med 43:229–230

Ehrich D, Ims RA, Yoccoz NG, Lecomte N, Killengreen ST, Fuglei E, Rodnikova AY, Ebbinge BS, Menyushina IE, Nolet BA, Pokrovsky IG, Popov IY, Schmidt NM, Sokolov AA, Sokolova NA, Sokolov VA (2015) What can stable isotope analysis of top predator tissues contribute to monitoring of tundra ecosystems? Ecosystems 18:404–416. https://doi.org/10.1007/s10021-014-9834-9

Eide NE, Stien A, Prestrud P, Yoccoz NG, Fuglei E (2012) Reproductive responses to spatial and temporal prey availability in a coastal Arctic fox population. J Anim Ecol 81:640–648. https://doi.org/10.1111/j.1365-2656.2011.01936.x

Elmore SA, Lalonde LF, Samelius G, Alisauskas RT, Gajadhar AA, Jenkins EJ (2013) Endoparasites in the feces of arctic foxes in a terrestrial ecosystem in Canada. Int J Parasitol Parasites Wildl 2:90–96. https://doi.org/10.1016/j.ijppaw.2013.02.005

Fayer R, Trout JM, Jenkins MC (1998) Infectivity of Cryptosporidium parvum oocysts stored in water at environmental temperatures. J Parasitol 84:1165–1169. https://doi.org/10.2307/3284666

Fugassa MH, Taglioretti V, Gonçalves MLC, Araújo A, Sardella NH, Denegri GM (2008) Capillaria spp. eggs in Patagonian archaeological sites: statistical analysis of morphometric data. Mem Inst Oswaldo Cruz 103:104–105. https://doi.org/10.1590/S0074-02762008000100016

Fuglei E, Stien A, Yoccoz NG, Ims RA, Eide NE, Prestrud P, Oksanen A (2008) Spatial distribution of Echinococcus multilocularis, Svalbard, Norway. Emerg Infect Dis 14:73–75. https://doi.org/10.3201/eid1401.070565

Geffen E, Waidyaratne S, Dalén L, Angerbjörn A, Vila C, Hersteinsson P, Fuglei E, White PA, Goltsman M, Kapel CM, Wayne RK (2007) Sea ice occurrence predicts genetic isolation in the Arctic fox. Mol Ecol 16:4241–4255. https://doi.org/10.1111/j.1365-294X.2007.03507.x

Henttonen H, Fuglei E, Gower CN, Haukisalmi V, Ims RA, Niemimaa J, Yoccoz NG (2001) Echinococcus multilocularis on Svalbard: introduction of an intermediate host has enabled the local life-cycle. Parasitology 123:547–552. https://doi.org/10.1017/S0031182001008800

Hersteinsson P, Macdonald DW (1996) Diet of arctic foxes (Alopex lagopus) in Iceland. J Zool 240:457–474. https://doi.org/10.1111/j.1469-7998.1996.tb05298.x

Hersteinsson P, Gunnarsson E, Hjartardóttir S, Skírnisson K (1993) Prevalence of Encephalitozoon cuniculi antibodies in terrestrial mammals in Iceland, 1986 to 1989. J Wildl Dis 29:341–344. https://doi.org/10.7589/0090-3558-29.2.341

Hinney B, Sak B, Joachim A, Kváč M (2016) More than a rabbit's tale - Encephalitozoon spp. in wild mammals and birds. Int J Parasitol Parasites Wildl 5:76─87. https://doi.org/10.1016/j.ijppaw.2016.01.001

Horčičková M, Čondlová Š, Holubová N, Sak B, Květoňová D, Hlásková L, Konečný R, Sedláček F, Clark M, Giddings C, McEvoy J, Kváč M (2018) Diversity of Cryptosporidium in common voles and description of Cryptosporidium alticolis sp. n. and Cryptosporidium microti sp. n. (Apicomplexa: Cryptosporidiidae). Parasitology 17:1–14. https://doi.org/10.1017/S0031182018001142

Hunter GW, Frye WW, Swartzwelder J (1960) A manual of tropical medicine, 3rd edn. W. B. Saunders Co., Ltd., London

Hůrková L, Modrý D (2006) PCR detection of Neospora caninum, Toxoplasma gondii and Encephalitozoon cuniculi in brains of wild carnivores. Vet Parasitol 137:150–154. https://doi.org/10.1016/j.vetpar.2006.01.005

Jenkins E, Castrodale L, de Rosemond S, Dixon B, Elmore S, Gesy K, Hoberg E, Polley L, Schurer J, Simard M, Thompson RCA (2013) Tradition and transition: parasitic zoonoses of people and animals in Alaska, northern Canada and Greenland. Adv Parasitol 82:33–204. https://doi.org/10.1016/B978-0-12-407706-5.00002-2

Jiang J, Alderisio KA, Xiao L (2005) Distribution of Cryptosporidium genotypes in storm event water samples from three watersheds in New York. Appl Environ Microbiol 71:4446–4454. https://doi.org/10.1128/AEM.71.8.4446-4454.2005

Jónsdóttir IS (2005) Terrestrial ecosystems on Svalbard: heterogeneity, complexity and fragility from an Arctic island perspective. Proc R Irish Acad 105:155–165. https://doi.org/10.3318/BIOE.2005.105.3.155

Kapel CMO, Nansen P (1996) Gastrointestinal helminths of arctic foxes (Alopex lagopus) from different bioclimatological regions in Greenland. J Parasitol 82:17–24. https://doi.org/10.2307/3284109

Katzwinkel-Wladarsch S, Lieb M, Helse W, Löscher T, Rinder H (1996) Direct amplification and species determination of microsporidian DNA from stool specimens. Tropical Med Int Health 1:373–378. https://doi.org/10.1046/j.1365-3156.1996.d01-51.x

Kearse M, Moir R, Wilson A, Stones-Havas S, Cheung M, Sturrock S, Buxton S, Cooper A, Markowitz S, Duran C, Thierer T, Ashton B, Mentjies P, Drummond A (2012) Geneious Basic: an integrated and extendable desktop software platform for the organization and analysis of sequence data. Bioinformatics 28:1647–1649. https://doi.org/10.1093/bioinformatics/bts199

Kvičerová J, Pakandl M, Hypša V (2008) Phylogenetic relationships among Eimeria spp. (Apicomplexa, Eimeriidae) infecting rabbits: evolutionary significance of biological and morphological features. Parasitology 135:443–452. https://doi.org/10.1017/S0031182007004106

Lalošević V, Lalošević D, Capo I, Simin V, Galfi A, Traversa D (2013) High infection rate of zoonotic Eucoleus aerophilus infection in foxes from Serbia. Parasite. https://doi.org/10.1051/parasite/2012003

Littlewood DTJ, Curini-Galletti M, Herniou EA (2000) The interrelationships of Proseriata (Platyhelminthes: Seriata) tested with molecules and morphology. Mol Phylogenet Evol 16:449–466. https://doi.org/10.1006/mpev.2000.0802

Martínez-Carrasco C, Berriatua M, Garijo E, Martínez J, Alonso FD, Ruiz de Ybáñez R (2007) Epidemiological study of non-systematic parasitism in dogs in southeast Mediterranean Spain assessed by coprological and post-mortem examination. Zoonoses Public Hlth 54:195–203. https://doi.org/10.1111/j.1863-2378.2007.01047.x

Meijer T, Mattson R, Angerbjörn A, Osterman-Lind E, Fernández-Aguilar X, Gavier-Widén D (2011) Endoparasites in the endangered Fennoscandian population of Arctic foxes (Vulpes lagopus). Eur J Wildl Res 57:923–927. https://doi.org/10.1007/s10344-011-0505-2

Miterpáková M, Hurníková Z, Antolová D, Dubinský P (2009) Endoparasites of red fox (Vulpes vulpes) in the Slovak Republic with the emphasis on zoonotic species Echinococcus multilocularis and Trichinella spp. Helmintologia 46:73–79. https://doi.org/10.2478/s11687-009-0015-x

Mohn SF, Nordstoga K, Krogsrud J, Helgebostad A (1974) Transplacental transmission of Nosema cuniculi in the blue fox (Alopex lagopus). Acta Pathol Microbiol Scand B: Microbiol Immunol 82:299–300. https://doi.org/10.1111/j.1699-0463.1974.tb02328.x

Murphy TM, Walochnik J, Hassl A, Moriarty J, Mooney J, Toolan D, Sanchez-Miguel C, O'Loughlin A, McAuliffe A (2007) Study on the prevalence of Toxoplasma gondii and Neospora caninum and molecular evidence of Encephalitozoon cuniculi and Encephalitozoon (Septata) intestinalis infections in red foxes (Vulpes vulpes) in rural Ireland. Vet Parasitol 146:227–234. https://doi.org/10.1016/j.vetpar.2007.02.017

Nordstoga K, Westbye K (1976) Polyarteritis nodosa associated with nosematosis in blue foxes. Acta Pathol Microbiol Scand A 84:291–296

Norén K, Carmichael L, Dalén L, Hersteinsson P, Samelius G, Fuglei E, Kapel CMO, Menyushina I, Strobeck C, Angerbjörn A (2010) Arctic fox Vulpes lagopus population structure: Circumpolar patterns and processes. Oikos 120:873–885. https://doi.org/10.1111/j.1600-0706.2010.18766.x

Norén K, Carmichael L, Fuglei E, Eide NE, Hersteinsson P, Angerbjörn A (2011) Pulses of movement across the sea ice: population connectivity and temporal genetic structure in the Arctic fox. Oecologia 166:973–984. https://doi.org/10.1007/s00442-011-1939-7

Okoshi S, Usui M (1968) Experimental studies on Toxascaris leonina. IV. Development of eggs of three ascarids, T. leonina, Toxocara canis and Toxocara cati, in dogs and cats. Jpn J Vet Sci 30:29–38. https://doi.org/10.1292/jvms1939.30.29

Olson PD, Cribb TH, Tkach VV, Bray RA, Littlewood DTJ (2003) Phylogeny and classification of the Digenea (Platyhelminthes: Trematoda). Int J Parasitol 33:733–755. https://doi.org/10.1016/S0020-7519(03)00049-3

Prestrud P, Krogsrud J, Gjertz I (1992) The occurrence of rabies in the Svalbard Islands of Norway. J Wildl Dis 28:57–63. https://doi.org/10.7589/0090-3558-28.1.57

Rausch RL, Fay FH, Williamson FSL (1983) Helminths of the Arctic fox, Alopex lagopus (L.), in Greenland. Can J Zool 61:1847–1851. https://doi.org/10.1139/z83-237

Schwarz RS, Jenkins MC, Klopp S, Miska KB (2009) Genomic analysis of Eimeria spp. populations in relation to performance levels of broiler chicken farms in Arkansas and North Carolina. J Parasitol 95:871–880. https://doi.org/10.1645/GE-1898.1

Sheather AL (1923) The detection of intestinal protozoa and mange parasites by a flotation technique. J Comp Pathol Ther 36:266–275. https://doi.org/10.1016/S0368-1742(23)80052-2

Skírnisson K, Eydal M, Gunnarsson E, Hersteinsson P (1993) Parasites of the arctic fox (Alopex lagopus) in Iceland. J Wildl Dis 29:440–446. https://doi.org/10.7589/0090-3558-29.3.440

Skryabin KI, Shikhobalova NP, Orlov IV (1957) [Trichocephalids and Capillariids of animals and man and the diseases caused by them.] In: Essentials of Nematodology 6th edn. House of the USSR Acad. Sci., Moscow (In Russian)

Smith PH, Seklau BS, Wiles E, Malone JB, Monahan MC (2007) Collection, preservation, and diagnostic methods. In: Baker DG (ed) Flynn's Parasites of Laboratory Animals, 2nd edn. Wiley-Blackwell, Iowa

Sørensen KK, Mørk T, Sigurdardóttir OG, Asbakk K, Akerstedt J, Bergsjø B, Fuglei E (2005) Acute toxoplasmosis in three wild arctic foxes (Alopex lagopus) from Svalbard; one with co-infections of Salmonella Enteritidis PT1 and Yersinia pseudotuberculosis serotype 2b. Res Vet Sci 78:161–167. https://doi.org/10.1016/j.rvsc.2004.07.010

Stien A, Voutilainen L, Haukisalmi V, Fuglei E, Mørk T, Yoccoz NG, Ims RA, Henttonen H (2010) Intestinal parasites of the Arctic fox in relation to the abundance and distribution of intermediate hosts. Parasitology 137:149–157. https://doi.org/10.1017/S0031182009990953

Sulaiman IM, Fayer R, Bern C, Gilman RH, Trout JM, Schantz PM, Das P, Lal AA, Xiao L (2003) Triophosphate isomerase gene characterization and potential zoonotic transmission of Giardia duodenalis. Emerg Infect Dis 9:1444–1452. https://doi.org/10.3201/eid0911.030084

Taylor MA, Coop RL, Wall RL (2007) Veterinary Parasitology, 3rd edn. Blackwell Publishing Ltd., Oxford

Thellier M, Breton J (2008) Enterocytozoon bieneusi in human and animals, focus on laboratory identification and molecular epidemiology. Parasite 15:349–358. https://doi.org/10.1051/parasite/2008153349

Trachsel D, Deplazes P, Mathis A (2007) Identification of taeniid eggs in the faeces from carnivores based on multiplex PCR using targets in mitochondrial DNA. Parasitology 134:911–920. https://doi.org/10.1017/S0031182007002235

Traversa D, Di Cesare A, Conboy G (2010) Canine and feline cardiopulmonary parasitic nematodes in Europe: emerging and undeestimated. Parasit Vectors 3:62. https://doi.org/10.1186/1756-3305-3-62

Venco L, Valenti V, Genchi M, Grandi G (2011, 2011) A dog with Pseudo-Addison disease associated with Trichuris vulpis infection. J Parasitol Res. https://doi.org/10.1155/2011/682039

Vrba V, Pakandl M (2015) Host specificity of turkey and chicken Eimeria: controlled cross-transmission studies and a phylogenetic view. Vet Parasitol 208:118–124. https://doi.org/10.1016/j.vetpar.2015.01.017

Wilson JM (1979) Encephalitozoon cuniculi in wild European rabbits and a fox. Res Vet Sci 26:114

Zajac AM, Conboy GA (2012) Veterinary clinical parasitology, 8th edn. Wiley-Blackwell, Oxford
Acknowledgements
The authors would like to thank Msc Alena Bartoňová for her kindness in preparing the map included in this study.
Funding
This study was supported by the CzechPolar2 project LM2015078 supported by Ministry of Education Youth and Sports of the Czech Republic
Ethics declarations
The protocol was approved by the Committee on the Ethics of Animal Experiments of the University of South Bohemia, and also by the Ministry of the Environment of the Czech Republic (Permit Numbers MZP/2017/630/854). All procedures performed in studies involving animals were in accordance with the ethical standards of the Norwegian Animal Welfare Act. The research was also registered in The Research in Svalbard Database, RiS-10852. All handling/usage with biological samples were allowed by the University of South Bohemia in České Budějovice in accordance with the law of the Czech Republic (Act No. 166/1999), regulation of European Parliament (Act. No. 1069/2009), and Commission Regulation (EU) (No. 142/2011).
Conflict of interest
The authors declare that they have no conflict of interest.
Additional information
Publisher's note
Springer Nature remains neutral with regard to jurisdictional claims in published maps and institutional affiliations.
Section Editor: David S. Lindsay
About this article
Cite this article
Myšková, E., Brož, M., Fuglei, E. et al. Gastrointestinal parasites of arctic foxes (Vulpes lagopus) and sibling voles (Microtus levis) in Spitsbergen, Svalbard. Parasitol Res 118, 3409–3418 (2019). https://doi.org/10.1007/s00436-019-06502-8
Received:

Accepted:

Published:

Issue Date:
Keywords
Parasites

Svalbard

Arctic fox

Sibling vole

Coprology