Abstract
In recent parasitological surveys performed on the Peruvian scallop, Argopecten purpuratus, from bottom cultures of Sechura Bay, Piura, Peru, free and encysted metacestodes were frequently found in their gonads. The objective of this study was to identify this metacestode, determine their prevalence and intensity and briefly assess the histopathological impact in the affected tissues. A parasitological study of 890 scallops over a 3-year period was performed in order to determine the parasite prevalence and intensity. Microscopical observation of details of the scolex and histopathological study of the affected host tissues were performed as well as molecular characterization of the parasite based on 18S and 28S rDNA sequences. The prevalence of the metacestode was 82.2% in August of 2013, 90.4% in November of 2014, and 83.1% and 85.6% in April and September of 2015, respectively. The highest average intensity (218.4) was found in spring of 2014. The histopathological study showed that plerocercoids reduced the gonadal space where the ovules develop. The molecular characterization and phylogenetic analysis revealed that the metacestodes belong to the genus Caulobothrium having high sequence similarity to Caulobothrium opisthorchis. This study constitutes the first report of Caulobothrium metacestodes in the scallop A. purpuratus.
This is a preview of subscription content, log in to check access.
Access options
Buy single article
Instant access to the full article PDF.
US$ 39.95
Tax calculation will be finalised during checkout.
Subscribe to journal
Immediate online access to all issues from 2019. Subscription will auto renew annually.
US$ 199
Tax calculation will be finalised during checkout.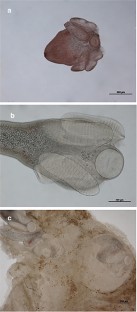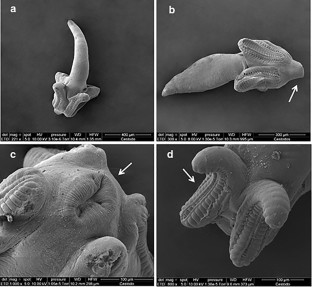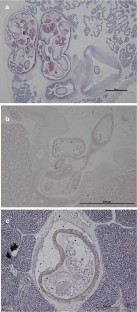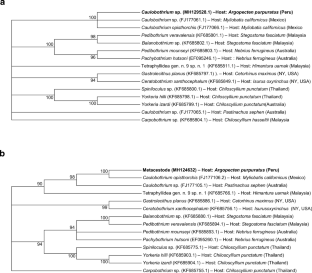 References
Ben-Horin T, Bidegain G, Huey L, Narvaezand DA, Bushek D (2015) Parasite transmission through suspension feeding. J Invertebr Pathol 131:155–176

Brooks DR, Barriga R (1995) Serendip deborahae n. gen., n. sp. (Eucestoda: Tetraphyllidea: Serendipidae n. fam.) in Rhinoptera steindachneri Evermann, Jenkins, 1891 (Chondrichthyes: Myliobatiformes: Myliobatidae) from southeastern Ecuador. J Parasitol 81:80–84

Caira JN, Jensen K (2014) A digest of elasmobranch tapeworms. J Parasitol 100:373–391

Caira JN, Jensen K, Healy CJ (1999) On the phylogenetic relationships among tetraphyllidean, lecanicephalidean and diphyllidean tapeworm genera. Syst Parasitol 42:77–151

Caira JN, Mega J, Ruhnke TR (2005) An unusual blood sequestering tapeworm (Sanguilevator yearsleyi n. gen., n. sp.) from Borneo with description of Cathetocephalus resendezi n. sp. from Mexico and molecular support for the recognition of the order Cathetocephalidea (Platyhelminthes: Eucestoda). Int J Parasitol 35:1135–1152

Caira JN, Jensen K, Waeschenbach A, Olson PD, Littlewood DTJ (2014) Orders out of chaos—molecular phylogenetics reveals the complexity of shark and stingray tapeworm relationships. Int J Parasitol 44:55–73

Caira JN, Jensen K, Ruhnke TR (2017) "Tetraphyllidea" van Beneden, 1850 relics. In: Caira JN, Jensen K (eds) Planetary biodiversity inventory (2008–2017): tapeworms from vertebrate bowels of the earth. The University of Kansas, Natural History Museum, Special Publication No. 25, pp 371–400

Cake EWJ (1976) A key to larval cestodes of shallow-water, benthic mollusks of the northern Gulf of Mexico. Proc Helminthol Soc Wash 43:160–171

Cake EWJ (1977) Larval cestode parasites of edible mollusks of the northeastern gulf of Mexico. Gulf Research Reports 6:1–8

Campbell RA (1975) Tetraphyllidean cestodes from Western North Atlantic selachians with descriptions of two new species. J Parasitol 61:265–270

Carvajal J (1977) Description of the adult and larva of Caulobothrium myliobatidis sp. n. (Cestoda: Tetraphyllidea) from Chile. J Parasitol 63:99–103

Cavero-Cerrato P, Rodríguez-Pinto P (2008) Producción sostenida de moluscos bivalvos en el Perú: acuicultura y repoblamiento. In: Lovatelli A, Farias A, Uriarte I (eds) Estado actual del cultivo y manejo de moluscos bivalvos y su proyección futura: factores que afectan su sustentabilidad en América Latina, Taller Técnico Regional de la FAO. 20–24 de agosto de 2007. FAO Actas de Pesca y Acuicultura No. 12. Roma, FAO, Puerto Montt, pp 209–218

Chervy L (2002) The terminology of larval cestodes or metacestodes. Syst Parasitol 52:1–33

Ching HL (1991) List of larval worms from marine invertebrates of the Pacific Coast of North America. The Helminthological Society of Washington 58:57–68

Chu FLE, La Peyre JF (1993) Perkinsus marinus susceptibility and defense-related activities in eastern oysters Crassostrea virginica – temperature effects. Dis Aquat Org 16:223–234

Córdova-Zavaleta F, Alfaro-Shigueto J, Mangel J, Acuña-Perales N, Coasaca J, Gonzales-Pestana A, Alfaro E, Pingo S, Jimenez A, Benites D, Espinoza M (2016) In: Mejía-Falla PA, Navia AF (eds) La pesquería artesanal de elasmobranquios en la zona norte del Perú, caso redes de cortina. Libro de resúmenes V Encuentro colombiano sobre condrictios. Fundación SQUALUS, Cali, p 75

Euzet L (1994) Order Tetraphyllidea Carus,1863. In: Khalil LF, Jones A, Bray RA (eds) Keys to the cestode parasites of vertebrates. CAB International, Wallingford, pp 149–194

Figueras A, Novoa B (2011) Enfermedades de moluscos bivalvos de interés en Acuicultura. Fundación Observatorio Español de Acuicultura, Consejo Superior de Investigaciones Científicas, Ministerio de Medio Ambiente y Medio Rural y Marino, Madrid 541 p.

Getchell RG, Smolowitz RM, McGladdery SE, Bower SM (2016) Diseases and parasites of scallops. In: Shumway SE, Parsons GJ (eds) Scallops: biology, ecology, aquaculture, and fisheries. Elsevier Science, Oxford, pp 425–468

Gosling, E. (2003). Bivalve molluscs biology, ecology and culture. Fishing news books. 443 p

Healy CJ, Caira JN, Jensen K, Webster BL, Littlewood DTJ (2009) Proposal for a new tapeworm order, Rhinebothriidea. Int J Parasitol 39:497–511

Jensen K, Bullard SA (2010) Characterization of a diversity of tetraphyllidean and rhinebothriidean cestode larval types, with comments on host associations and life-cycles. Int J Parasitol 40:889–910

Katkansky SC, Warner RW (1969) Infestation of the rough-sided littleneck clam, Protothaca laciniata, in Morro Bay, California, with larval cestodes (Echeneibothrium sp.). J Invertebr Pathol 13:125–128

Kumar S, Stecher G, Tamura K (2016) MEGA7: molecular evolutionary genetics analysis version 7.0 for bigger datasets. Mol Biol Evol 33:1870–1874

Lauckner G (1983) Diseases of Mollusca: Bivalvia. In: Kinne O (ed) Diseases of marine animals, introduction bivalvia to scaphopoda, vol 2. Biologische Anstalt Helgoland, Hamburg, pp 477–879

López C (1987) Contribución al conocimiento de los céstodes, parásitos de peces elasmobranquios de la Costa Peruana. Tesis para optar el Grado de Doctor en Ciencias Biológicas, Facultad de Ciencias Biológicas, UNMSM.

Luna LG (1968) Manual of histologic staining methods of the Armed Forces Institute of Pathology, vol 219. McGraw-Hill Company, New York

Mateo EC, Peña CD, Guzmán EL, López RC (1985) Parásito causante de castración de la concha de abanico Argopecten purpuratus. Boletín de Lima 18:81–86

Mendo J, Wolff M, Carbajal W, Gonzáles I, Badjeck M (2008) Manejo y explotación de los principales bancos naturales de concha de abanico (Argopecten purpuratus) en la costa Peruana. In: Lovatelli A, Farias A, Uriarte I (eds) Estado actual del cultivo y manejo de moluscos bivalvos y su proyección futura: factores que afectan su sustentabilidad en América Latina, Taller Técnico Regional de la FAO. 20–24 de agosto de 2007, Puerto Montt, Chile. FAO Actas de Pesca y Acuicultura. No. 12. FAO, Roma, pp 101–114

Mouritsen KN, Poulin R (2002) Parasitism, community structure and biodiversity in intertidal ecosystems. Parasitology 124:101–117

Nei M, Kumar S (2000) Molecular evolution of phylogenetics. Oxford University Press, New York

Oliva ME, Sánchez MF (2005) Metazoan parasites and commensals of the northern Chilean scallop Argopecten purpuratus (Lamarck, 1819) as tools for stock identification. Fish Res 71:71–77

Oliva M, Herrera H, Matulic J, Severino B (1986) Parasitismo en el Ostión del Norte Chlamys (Argopecten) purpuratus (Lamarck, 1819). Parasitología al Día 10:83–86

Olson PD, Caira JN (2001) Two new species of Litobothrium Dailey, 1969 (Cestoda: Litobothriidea) from thresher sharks in the Gulf of California, Mexico, with redescriptions of two species in the genus. Syst Parasitol 48:159–177

Olson PD, Ruhnke TR, Sanney J, Hudson T (1999) Evidence for host-specific clades of tetraphyllidean tapeworms (Platyhelminthes: Eucestoda) revealed by analysis of 18S ssrDNA. Int J Parasitol 29:1465–1476

Paillard C, Allam B, Oubella R (2004) Effect of temperature on defense parameters in Manila clam Ruditapes philippinarum challenged with Vibrio tapetis. Dis Aquat Org 59:249–262

Perigault M, Dahl SF, Espinosa EP, Gambino L, Allam B (2011) Effects of temperature on hard clam (Mercenaria mercenaria) immunity and QPX (Quahog Parasite Unknown) disease development: II. Defense parameters. J Invertebr Pathol 106:322–332

PRODUCE (2015) Anuario Estadístico Pesquero y Acuícola 2015. Ministerio de la Producción, Lima

Riser NW (1955) Studies on cestode parasites of shark and skates. J Tennessee Acad Sci 30:265–311

Schmidt GD (1970) How to know the tapeworms. The pictured key nature series. W.M. C. Brown Company Publishers

Shaw BL, Battle HL (1957) The gross and microscopic anatomy of the digestive tract of the oyster Crassostrea virginica (Gmelin). Can J Zool 35:325–347

Sparks AK, Chew KK (1966) Gross infestation of the littleneck clam, Venerupis staminea, with a larval cestode (Echeneibothrium sp.). J Invertebr Pathol 8:413–416

Tamura K, Nei M (1993) Estimation of the number of nucleotide substitution in the control region of mitochondrial DNA in humans and chimpanzees. Mol Biol Evol 10:512–526

Tantaleán M (1991) Nuevos helmintos parásitos en peces elasmobranquios de la costa peruana. Boletin de Lima 73:25–28

Wardle R, McLeod J (1952) The zoology of tapeworms. Univ. Minnesota Press, Minneapolis 780 pp

Warner RW, Katkansky SC (1969) Infestation of the clam Protothaca stuminea by two species of Tetraphyllidian cestodes (Echeneibothrium spp.). J Invertebr Pathol 13:129–133

Yamaguti S (1959) Systema helminthum. Vol. II. The cestodes of vertebrates. Interscience, New York 860 p

Yasutake WT, Wales JH (1983) Microscopic anatomy of salmonids: and atlas. US Fish Wild Serv Resour Publ 150 189 p
Acknowledgments
The authors would like to thank Haili Wang (AVC, UPEI) and César Peña (Universidad Nacional Federico Villarreal) for their technical support. The authors are also grateful to the following personnel from IMARPE (Callao): Alberto Oscanoa, Miguel Cervantes, and Carlos Arango for their logistic support, and Edward Barriga, Elky Torres, and Urbano Amaya for their support during sampling.
Ethics declarations
Conflict of interest
The authors declare that they have no conflict of interest.
Additional information
Publisher's note
Springer Nature remains neutral with regard to jurisdictional claims in published maps and institutional affiliations.
Section Editor: Guillermo Salgado-Maldonado
About this article
Cite this article
Castro, T., Mateo, D.R., Greenwood, S.J. et al. First report of the metacestode Caulobothrium sp. in the Peruvian scallop Argopecten purpuratus from Sechura Bay, Piura, Peru. Parasitol Res 118, 2369–2376 (2019). https://doi.org/10.1007/s00436-019-06361-3
Received:

Accepted:

Published:

Issue Date:
Keywords
Argopecten purpuratus

Metacestode

Caulobothrium

Microscopy

Histopathology

rDNA

Peru