Abstract
The New England cottontail rabbit (NEC, Sylvilagus transitionalis) population has decreased dramatically in New York, USA, and the role of parasites in limiting the population has never been examined. The closely related and sympatric eastern cottontail rabbit (EC, Sylvilagus floridanus) was introduced into the range of NEC by humans and is currently thriving. This study aimed to investigate gastrointestinal parasites of the NEC and the EC and compare their parasite communities. Fecal pellets from 195 NEC and 125 EC were collected from the Hudson Valley, New York, in the winter of 2013–2014. Centrifugal fecal floats were performed in Sheather's sugar solution, and parasite ova and cysts were examined microscopically to identify gastrointestinal parasites present. For all pellets combined (n = 320), 91% were found to harbor at least 1 parasite species, with Eimeria species being the most common. Genetic analysis of pellets using microsatellite DNA identified 248 individual rabbits, with parasite prevalence (94%) similar to the prevalence estimate based on all pellets (91%). EC samples had a significantly higher (p < 0.05) parasite species richness (1.73, range 0–4) than NEC (1.20, range 0–3). EC and NEC shared 3 moderate to high (9–89%) prevalence parasites, in which EC prevalence was consistently higher. One parasite species was only found in NEC, and two were only found in EC, but the majority of these were of low abundance, precluding further statistical analyses.
This is a preview of subscription content, log in to check access.
Access options
Buy single article
Instant access to the full article PDF.
US$ 39.95
Tax calculation will be finalised during checkout.
Subscribe to journal
Immediate online access to all issues from 2019. Subscription will auto renew annually.
US$ 199
Tax calculation will be finalised during checkout.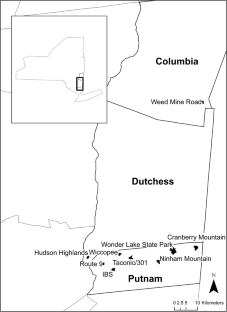 References
Anderson RM, Schad GA (1985) Hookworm burdens and faecal egg counts: an analysis of the biological basis of variation. Trans R Soc Trop Med Hyg 79:812–825

Barry R, Lazell J, Litvaitis J (2008) Sylvilagus transitionalis. In: The IUCN Red List of Threatened Species 2008 http://www.iucnredlist.org/details/21212/0. Accessed September 5, 2018

Bertolino S, Hofmannová L, Girardello M, Modry D (2010) Richness, origin and structure of an Eimeria community in a population of eastern cottontail (Sylvilagus floridanus) introduced into Italy. Parasitology 137:1179–1186

Boggs JF, McMurray ST, Leslie DMJ, Engle DM, Lochmiller RL (1990) Parasitism of cottontail rabbits (Sylvilagus floridanus) by Obeliscoides cuniculi in response to habitat modification in the cross timbers of Oklahoma. J Helminthol Soc Wash 57:146–152

Bush AO, Lafferty KD, Lotz JM, Shostak AW (1997) Parasitology meets ecology on its own terms: Margolis et al. revisited. J Parasitol 83:575–583

Chapman JA, Morgan RP (1973) Systematic status of the cottontail complex in western Maryland and nearby West Virginia. Wildl Monogr 36:3–54

Cheeseman AE, Cohen JB, Whipps CM, Kovach AI, Ryan SJ (2019) Hierarchical population structure of a rare lagomorph indicates recent fragmentation has disrupted metapopulation function. Conserv Genet (in press)

Clancy CF, Jungherr E, Sime PR (1940) Internal parasites of cottontail rabbits in Connecticut. J Wildl Manag 4:162–168

Duszynski DW, Couch L (2013) The biology and identification of the Coccidia (Apicomplexa) of rabbits of the world. Academic Press, San Diego, CA

Duszynski DW, Wilber PG (1997) A guideline for the preparation of species descriptions in the Eimeriidae. J Parasitol 83:333–336

Düwel D, Brech K (1981) Control of oxyuriasis in rabbits by fenbendazole. Lab Anim 15:101–105

Erickson AB (1947) Helminth parasites of rabbits of the genus Sylvilagus. J Wildl Manag 11:255–263

Fenderson LE, Kovach AI, Litvaitis JA, Litvaitis MK (2011) Population genetic structure and history of fragmented remnant populations of the New England cottontail (Sylvilagus transitionalis). Conserv Genet 12:943–958

Franklin J, Simmons ML, Cosgrove GE (1966) A pathogen survey in the Kansas cottontail. Bull Wildl Dis Assoc 2:52–53

Frantz A, Pope L, Carpenter P, Roper T, Wilson G, Delahay R, Burke T (2003) Reliable microsatellite genotyping of the Eurasian badger (Meles meles) using faecal DNA. Mol Ecol 12:1649–1661

Holmes JC (1995) Parasites as threats to biodiversity in shrinking ecosystems. Biodivers Conserv 5:975–983

Jackson SN (1973) Distribution of cottontail rabbits (Sylvilagus spp.) in northern New England. M.S. Thesis. University of Connecticut, Storrs, Connecticut, 48 p

Jacobson HA, McGinnes BS, Catts EP (1978) Bot fly myiasis of the cottontail rabbit, Sylvilagus floridanus mallurus in Virginia with some biology of the parasite, Cuterebra buccata. J Wildl Dis 14:56–66

King TL, Eackles M, Aunins A, McGreevy TJ, Husband TP, Tur A, Kovach AI (2017) Microsatellite marker development from next-generation sequencing in the New England cottontail (Sylvilagus transitionalis) and cross-amplification in the eastern cottontail (S. floridanus). BMC Research Notes 10:741

Kovach AI, Litvaitis MK, Litvaitis JA (2003) Evaluation of fecal mtDNA analysis as a method to determine the geographic distribution of a rare lagomorph. Wildl Soc Bull 31:1061–1065

Lello J, Boag B, Hudson P (2005) The effect of single and concomitant pathogen infections on condition and fecundity of the wild rabbit. Int J Parasitol 35:1509–1515

Levine ND (1968) Nematode parasites of domestic animals and of man. Burgess, Minneapolis, Minnesota, 600 p

Linkkila TE (1971) Influence of habitat upon changes within interspecific Connecticut cottontail populations. M.S. Thesis. University of Connecticut, Storrs, Connecticut, 21 p

Litvaitis JA (1993) Are pre-Columbian conditions relevant baselines for managed forests in the Northeastern United States? For Ecol Manag 185:113–126

Litvaitis JA (2001) Importance of early successional habitats to mammals in eastern forests. Wildl Soc Bull 29:466–473

Litvaitis MK, Litvaitis JA (1996) Using mitochondrial DNA to inventory the distribution of remnant populations of New England cottontails. Wildl Soc Bull 24:725–730

Litvaitis JA, Barbour MS, Brown AL, Kovach AI, Litvaitis MK, Oehler JD, Probert BL, Smith DF, Tash JP, Villafuerte R (2008) Testing multiple hypotheses to identify causes of the decline of a lagomorph species: the New England cottontail as a case study. In: Alves PC, Ferrand N, Hacklander K (eds) Lagomorph biology. Springer Berlin Heidelberg, Heidelberg, pp 167–185

Murray DL, Cary JR, Keith LB (1997) Interactive effects of sublethal nematodes and nutritional status on snowshoe hare vulnerability to predation. J Anim Ecol 66:250–264

NYDEC (1999) List of endangered, threatened and special concern fish & wildlife species of New York State - NYS Dept. of Environmental Conservation. Available at http://www.dec.ny.gov/animals/7494.html. Accessed 15 September 2017

Pedersen AB, Greives TJ (2008) The interaction of parasites and resources cause crashes in a wild mouse population. J Anim Ecol 77:370–377

Probert BL, Litvaitis JA (1996) Behavioral interactions between invading and endemic lagomorphs: implications for conserving a declining species. Biol Conserv 76:289–295

R Core Team (2013) R: a language and environment for statistical computing. R Foundation for Statistical Computing, Vienna, Austria. http://www.R-project.org/. Accessed 23 July 2017

Schoeb TR, Cartner SC, Baker RA, Gerrity LW (2007) Parasites of rabbits. In: Baker DG (ed) Flynn's parasites of laboratory animals, 2nd edn. Blackwell Publishing, Iowa, pp 451–499

Smith DF, Litvaitis JA (2000) Foraging strategies of sympatric lagomorphs: implications for differential success in fragmented landscapes. Can J Zool 78:2134–2141

Sollod AE, Hayes TJ, Soulsby EJL (1968) Parasitic development of Obeliscoides cuniculi in rabbits. J Parasitol 54:129–132

Tizzani P, Catalano S, Rossi L, Duignan PJ, Meneguz PG (2014) Invasive species and their parasites: eastern cottontail rabbit Sylvilagus floridanus and Trichostrongylus affinis (Graybill, 1924) from northwestern Italy. Parasitol Res 113:1301–1303

Trani MK, Brooks RT, Schmidt TL, Rudis VA, Gabbard CM (2001) Patterns and trends of early successional forests in the Eastern United States - forest service research & development. Wildl Soc Bull 29:413–424

Whittaker RH (1972) Evolution and measurement of species diversity. Taxon 21:213–251

Wiggins JP, Cosgrove M, Rothenbacher H (1980) Gastrointestinal parasites of the eastern cottontail (Sylvilagus floridanus) in Central Pennsylvania. J Wildl Dis 16:541–544
Acknowledgments
Special thanks to A. Cheeseman who helped with collections and coordination of sampling efforts. Thanks to A. Bloomfield, J. Decotis, M. delPuerto, K. Deweese, K. Farrell, J. Jaycox, P. Novak, E. Underwood, and G. Walters, who aided with pellet collection. Thanks to K.A.W Lindsay, C. Michaud, S. Page, and M. Wilson who assisted with lab work. Thanks to A. Bielecki who assisted with data entry.
Funding
The New York Department of Environmental Conservation provided funding and logistical support.
Ethics declarations
Animal care and use
Although there was no handling of live animals as a direct component of the research reported here, this work was part of a larger project which was conducted with approval of the SUNY-ESF Institutional Animal Care and Use Committee (protocol #120801).
Conflict of interest
The authors declare that there is no conflict of interest.
Additional information
Publisher's note
Springer Nature remains neutral with regard to jurisdictional claims in published maps and institutional affiliations.
This study represents the first parasitological study of cottontail rabbits in New York.
Responsible Editor: David S. Lindsay
About this article
Cite this article
Whipps, C.M., Gavard, E.J., Cohen, J. et al. Gastrointestinal parasites of the New England cottontail rabbit (Sylvilagus transitionalis) and eastern cottontail rabbit (Sylvilagus floridanus) in the Hudson Valley, New York. Parasitol Res 118, 2257–2262 (2019). https://doi.org/10.1007/s00436-019-06351-5
Received:

Accepted:

Published:

Issue Date:
Keywords
Sylvilagus transitionalis
Sylvilagus floridanus

New England cottontail

Non-invasive genetics

Eimeria