Abstract
A morphological and molecular phylogenetic study of proteocephalid tapeworms of the genus Acanthotaenia von Linstow, 1903, parasites of monitors (Varanidae), was carried out. The type species, A. shipleyi von Linstow, 1903, which was originally described based on an immature specimen from Sri Lanka, is redescribed based on new material from the type host, Varanus salvator, in Sri Lanka, Malaysia, and Vietnam, and its neotype is designated. In addition, Acanthotaenia susanae n. sp. is described from Varanus nebulosus in Vietnam. The new species differs from congeners by the large size of the scolex, width of the rostellum and the number of testes. New molecular data (sequences of lsrDNA and cox1) revealed Acanthotaenia paraphyletic with the inclusion of Australotaenia bunthangi de Chambrier & Scholz, 2012, a parasite of Enhydris enhydris (Ophidia: Homalopsidae) in Cambodia. Molecular data confirm a wide distribution of A. shipleyi (isolates from Malaysia and Vietnam were almost identical) and indicate a strict host specificity (oioxeny) of individual species of the genus. Type specimens of four species made it possible to supplement their morphological descriptions. A survey of all species of Acanthotaenia recognised as valid is presented and the following taxonomic changes are proposed: Acanthotaenia pythonis Wahid, 1968 described from the green python, Morelia viridis, in a zoo, is transferred to Kapsulotaenia as Kapsulotaenia pythonis (Wahid, 1968) n. comb., because it possesses intrauterine eggs grouped in capsules. Acanthotaenia gracilis (Beddard, 1913) from Varanus varius in Australia is considered to be species inquirenda because its original descriptions did not contain sufficient data for adequate circumscription and differentiation from congeners and type material was not available. Generic diagnosis of Acanthotaenia is amended and a key to its seven species is provided.
This is a preview of subscription content, log in to check access.
Access options
Buy single article
Instant access to the full article PDF.
US$ 39.95
Tax calculation will be finalised during checkout.
Subscribe to journal
Immediate online access to all issues from 2019. Subscription will auto renew annually.
US$ 199
Tax calculation will be finalised during checkout.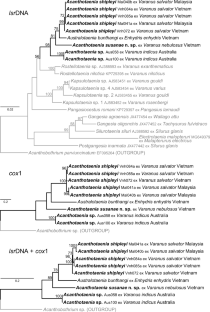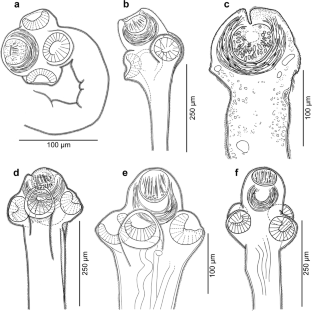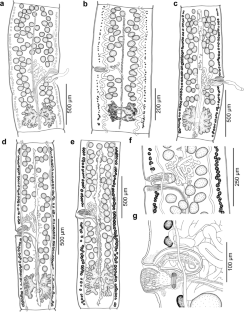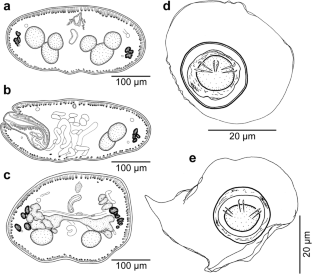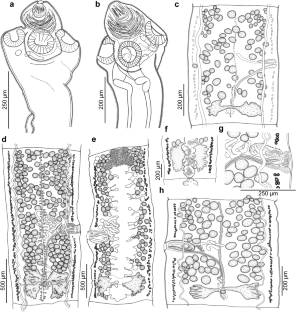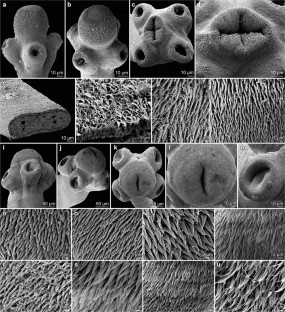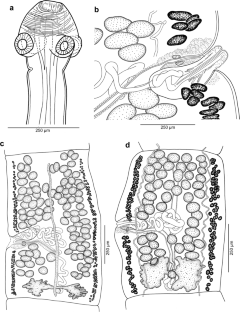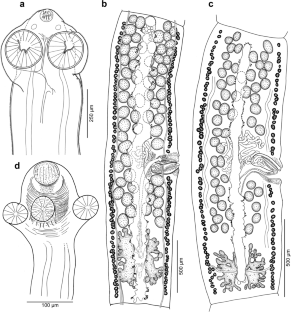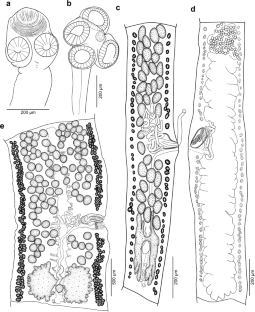 References
Beddard FE (1913) Contributions to the anatomy and systematic arrangement of the Cestoidea. VII. On six species of tapeworms from reptiles, belonging to the genus Ichthyotaenia (s.l.). Proc Zool Soc London (Part 1) 1913:4–36

Brooks DR, Schmidt GD (1978) Acanthotaenia overstreeti sp. n. (Cestoda: Proteocephalidae) from a Puerto Rican lizard, the first Acanthotaeniine in the New World. Proc Helminthol Soc Wash 45:193–195

Chernomor O, von Haeseler A, Minh BQ (2016) Terrace aware data structure for phylogenomic inference from supermatrices. Syst Biol 65:997–1008

Chervy L (2009) Unified terminology for cestode microtriches: a proposal from the international workshops on cestode systematics in 2002–2008. Folia Parasitol 56:199–230

de Chambrier A (2001) A new tapeworm from the Amazon, Amazotaenia yvettae n. gen., n. sp. (Eucestoda: Proteocephalidea) from the siluriform fishes Brachyplatystoma filamentosum and B. vaillanti (Pimelodidae). Rev Suisse Zool 108:303–316

de Chambrier A, Binh TT, Scholz T (2012) Ophiotaenia bungari n. sp. (Cestoda), a parasite of Bungarus fasciatus (Schneider) (Ophidia: Elapidae) from Vietnam, with comments on relative ovarian size as a new and potentially useful diagnostic character for proteocephalidean tapeworms. Syst Parasitol 81:39–50

de Chambrier A, Scholz T, Kuchta R (2014) Taxonomic status of Woodland's enigmatic tapeworms (Cestoda: Proteocephalidea) from Amazonian catfishes: back to museum collections. Syst Parasitol 87:1–19

de Chambrier A, Waeschenbach A, Fisseha M, Scholz T, Mariaux J (2015) A large 28S rDNA-based phylogeny confirms the limitations of established morphological characters for classification of proteocephalidean tapeworms (Platyhelminthes, Cestoda). ZooKeys 500:25–59

de Chambrier A, Scholz T, Mariaux J, Kuchta R (2017) Onchoproteocephalidea I. Caira, Jensen, Waeschenbach, Olson & Littlewood, 2014. In: Caira JN, Jensen K (eds) Planetary biodiversity inventory (2008–2017): tapeworms from vertebrate bowels of the earth. Special Publication No. 25. University of Kansas, Natural History Museum, Lawrence, KS, USA, pp 251–277

de Chambrier S, de Chambrier A (2010) Two new genera and two new species of proteocephalidean tapeworms (Eucestoda) from reptiles and amphibians in Australia. Folia Parasitol 57:263–279

de Chambrier A, Scholz T (2012) A new species of Australotaenia (Cestoda: Proteocephalidea), from a snake in Cambodia: host switching or postcyclic parasitism in a distant region? Folia Parasitol 59:279–286

Freze VI (1963) [Convergent formation of the rostellum in two branches of Proteocephalata; revision of subfamilies Gangesiinae Mola, 1929 and Acanthotaeniinae Freze, 1963 (Cestoda, Proteocephalata)]. In: Gelminty cheloveka, zhivotnykh i selskokhozyaistvennykh rastenii (k 85-letiju Akademika K.I. Skrjabina). Moscow: Izdatel'stvo Akademii Nauk, pp. 150–155 (In Russian)

Freze VI (1965) [Proteocephalata in fish, amphibians and reptiles]. Essentials of Cestodology. Vol. V. Nauka, Moscow, 538 pp. (In Russian: English translation, Israel Program of Scientific Translation, 1969, Cat. No. 1853. v + 597 pp.)

Ghosh RK, Kundu DK (1999) 5. Platyhelminthes: Cestoda. In: Ghosh AK (ed) Fauna of West Bengal. Part-11. Zoological Survey of India, Calcutta. Government of India Press, Chandigarh, pp 223–295

Gibson DI, Bray RA, Harris EA (Compilers) (2005) Host-parasite database of the Natural History Museum, London. http://www.nhm.ac.uk/research-curation/scientific-resources/taxonomy-systematics/host-parasites/. Accessed 7 Mar 2019

Gil de Pertierra AA (2005) Comparative study of the microtriches of adult cestodes (Proteocephalidea: Monticelliidae), and some comments on their systematic value. Zool Anz 243:295–304

Jones HI, de Chambrier A (2016) Kapsulotaenia chisholmae n. sp. (Cestoda: Proteocephalidae), from Varanus spenceri (Reptilia: Varanidae) in Australia. Rev Suisse Zool 123:209–217

Kalyaanamoorthy S, Minh BQ, Wong TKF, von Haeseler A, Jermiin LS (2017) ModelFinder: fast model selection for accurate phylogenetic estimates. Nat Methods 14:587–589

Katoh K, Standley DM (2013) MAFFT multiple sequence alignment software version 7: improvements in performance and usability. Mol Biol Evol 30:772–780

Kearse M, Moir R, Wilson A, Stones-Havas S, Cheung M, Sturrock S, Buxton S, Cooper A, Markowitz S, Duran C, Thierer T, Ashton B, Mentjies P, Drummond A (2012) Geneious basic: an integrated and extendable desktop software platform for the organization and analysis of sequence data. Bioinformatics 28:1647–1649

Koch A, Gaulke M, Böhme W (2010) Unravelling the underestimated diversity of Philippine water monitor lizards (Squamata: Varanus salvator complex), with the description of two new species and a new subspecies. Zootaxa 2446:1–54

Moghe MA (1926) Two new species of cestodes from Indian lizards. Rec Ind Mus 28:53–60

Nguyen LT, Schmidt HA, von Haeseler A, Minh BQ (2015) IQ-TREE: a fast and effective stochastic algorithm for estimating maximum likelihood phylogenies. Mol Biol Evol 32:268–274

Pianka ER, King DR, King RA (2004) Varanoid lizards of the world. Indiana University Press, Bloomington, p 588

Pleijel F, Jondelius U, Norlinder E, Nygren A, Oxelman B, Schander C, Sundberg P, Thollesson M (2008) Phylogenies without roots? A plea for the use of vouchers in molecular phylogenetic studies. Mol Phyl Evol 48:369–371

Price EW (1932) A new host for Duthiersia fimbriata. J Parasitol 19:84

Rego AA (1994) Order Proteocephalidea Mola, 1928. In: Khalil LF, Jones A, Bray RA (eds) Keys to the Cestode parasites of vertebrates. CAB International, Wallingford, pp 257–293

Saravanan N, Bhagavathiammai A (1991) Studies on the lipid content in the infected intestine of Calotes versicolor vis-a-vis in the adult parasites Strongyluris calotis and Acanthotaenia shipleyi. Riv Parassitol 49(1988):285–294

Schmidt GD (1986) CRC handbook of tapeworm identification. CRC Press, Boca Raton, p 675

Schmidt GD, Kuntz RE (1974) Tapeworms from Philippine reptiles, with two new species of Proteocephalata. Proc Helminthol Soc Wash 41:195–199

Southwell T (1916) II. On some Indian Cestoda. Part II. Rec Ind Mus 12:11–20

Tran BT, Nguyen ST, Nguyen TT, Luc PV, Mafie E, Rupa FH, Sato H (2016) Endoparasites of Vietnamese lizards recorded in the last 50 years (1966–2015). Jpn J Vet Parasitol 15:34–58

Uetz P, Freed P, Hošek J (eds) (2018) The Reptile Database. http://www.reptile-database.org. Accessed in December 2018

von Linstow O (1903) Drei neue Taenia aus Ceylon. Centralb Bakteriol Parasitenkd Infektionskranh 33:532–535

von Rátz S (1900) Drei neue Cestoden aus Neu-Guinea. Centralb Bakteriol Parasitenkd Infektionskranh Hyg 28:657–660

Waeschenbach A, Webster BL, Bray RA, Littlewood DTJ (2007) Added resolution among ordinal level relationships of tapeworms (Platyhelminthes: Cestoda) with complete small and large subunit nuclear ribosomal RNA genes. Mol Phylogenet Evol 45:311–325

Wahid S (1968) A new species of the genus Acanthotaenia, with a note on Anonchotaenia trochili from a new host. Pakistan J Sci Industr Res 11:81–84

Welton LJ, Travers SL, Siler CD, Brown RM (2014) Integrative taxonomy and phylogeny-based species delimitation of Philippine water monitor lizards (Varanus salvator complex) with descriptions of two new cryptic species. Zootaxa 3881:201–227

Woodland WNF (1925) On three new proteocephalids (Cestoda) and a revision of the genera of the family. Parasitology 17:370–394

Yamaguti S (1954) Parasitic worms mainly from Celebes. Part 7. Cestodes of reptiles. Acta Med Okayama 8(4):1–12
Acknowledgements
Two anonymous reviewers provided very helpful suggestions. The authors are also indebted to Andrea Waeschenbach (London) for providing the cox1 sequence of Australotaenia bunthangi, Philippe Vieira Alves (Seropédica) for taking SEM micrographs and describing microtriches, Anna J. Phillips (Washington, D.C.) and Eileen A. Harris (London) for loan of comparative material, the late Susan Lim Lee-Hong (Kuala Lumpur) and Sophie de Chambrier (Geneva) for their help during the trip of AdC to Malaysia in 2001, Roman Kuchta and Miloslav Jirků (České Budějovice) for help during the collecting trip of AdC and TS to Vietnam in 2010 and Peter Wightman (Coelbren) for checking the English. Thanks are also due to Janik Pralong and Gilles Roth (Geneva) and Martina Borovková (České Budějovice) for their technical help and Anjum Rizvi (Kolkata) for information about the types of A. woodlandi.
Funding
This study was supported by the National Science Foundation PBI awards Nos. 0818696 and 0818823, the Institute of Parasitology (RVO: 60077344) and the Donation Georges et Antoine Claraz. This research was partly funded by the Vietnam National Foundation for Science and Technology Development (NAFOSTED) under grant number 106.05-2017.17.
Ethics declarations
Conflict of interest
The authors declare that they have no conflict of interest.
Ethical approval
All applicable institutional, national and international guidelines for the care and use of animals were followed.
Additional information
Publisher's note
Springer Nature remains neutral with regard to jurisdictional claims in published maps and institutional affiliations.
Section Editor: David Bruce Conn
About this article
Cite this article
de Chambrier, A., Brabec, J., Tran, B.T. et al. Revision of Acanthotaenia von Linstow, 1903 (Cestoda: Proteocephalidae), parasites of monitors (Varanus spp.), based on morphological and molecular data. Parasitol Res 118, 1761–1783 (2019). https://doi.org/10.1007/s00436-019-06326-6
Received:

Accepted:

Published:

Issue Date:
Keywords
Eucestoda

Onchoproteocephalidea

Acanthotaeniinae

Reptiles

Taxonomy

lsrDNA
cox1

Phylogeny