Abstract
Swimmer's itch has historically been controlled by applying copper sulfate (CuSO4) to lakes as a way to eliminate snails that serve as the intermediate hosts for swimmer's itch-causing parasites. CuSO4 is still sometimes applied specifically to areas of lakes where swimmer's itch severity is high. It is unclear whether targeted application of chemical molluscicides like CuSO4 is effective for controlling swimmer's itch. Previous research has found that the larval stage of the parasites responsible for swimmer's itch are released from infected snails and are concentrated by onshore and alongshore winds, and thus, may not be affected by such focused applications. In this study, we evaluated the impact of targeted CuSO4 application to a specific recreational swimming area in a lake in Michigan. We measured the effect on snail populations, as well as on the presence/abundance of swimmer's itch-causing parasites using qPCR. Ultimately, while CuSO4 was confirmed to significantly reduce populations of snails within the treatment area, it was found to have no significant impact on swimmer's itch-causing parasites in the water, likely due to the free-swimming larval stages (cercariae) moving into the treatment area from surrounding regions.
This is a preview of subscription content, log in to check access.
Access options
Buy single article
Instant access to the full article PDF.
US$ 39.95
Price includes VAT for USA
Subscribe to journal
Immediate online access to all issues from 2019. Subscription will auto renew annually.
US$ 199
This is the net price. Taxes to be calculated in checkout.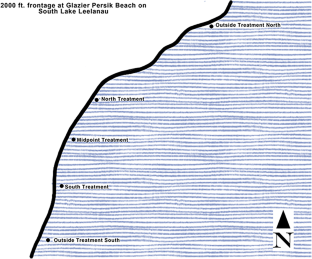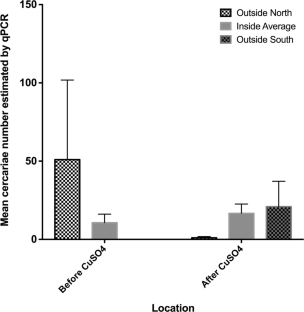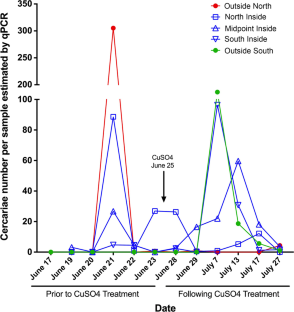 References
Blankespoor HD, Reimink RL (1991) The control of swimmer's itch in Michigan: past, present, and future. Mich Acad XXIV:7–23

Blankespoor HD, Cameron SC, Cairns J (1985) Resistance of pulmonate snail populations to repeated treatments of copper sulfate. Environ Manag 9(5):455–458. https://doi.org/10.1007/BF01866345

Breck, J.E. (2004) Compilation of databases on Michigan lakes. Michigan Department of Natural Resources. https://www.michigan.gov/documents/dnr/2004-2tr_362468_7.pdf Accessed: Feb 13 2019

Cort WW (1928) Further observations on schistosome dermatitis in the United States (Michigan). Science 68(1764):388–388. https://doi.org/10.1126/science.68.1764.388

Hanson MJ, Heinz GS (1984) Side effects of 58 years of copper sulfate treatment of the Fairmont Lakes, Minnesota. JAWRA 20(6):889–900. https://doi.org/10.1111/j.1752-1688.1984.tb04797.x

Horák P, Dvorák J, Kolárová L, Trefil L (1999) Trichobilharzia regenti, a pathogen of the avian and mammalian central nervous systems. Parasitol 119(6):577–581

Jothikumar N, Mull BJ, Brant SV, Loker ES, Collinson J, Secor WE, Hill VR (2015) Real-time PCR and sequencing assays for rapid detection and identification of avian schistosomes in environmental samples. Appl Environ Microbiol 81(12):4207–4215. https://doi.org/10.1128/AEM.00750-15

Marszewska A, Strzała T, Cichy A, Dąbrowska GB, Żbikowska E (2018) Agents of swimmer's itch-dangerous minority in the Digenea invasion of Lymnaeidae in water bodies and the first report of Trichobilharzia regenti in Poland. Parasitol Research 117(12):3695–3704. https://doi.org/10.1007/s00436-018-6068-3

Michigan Department of Environmental Quality (2014) Swimmer's itch in Michigan. http://www.nstlra.com/Downloads/swimmers_itch_michigan.pdf Accessed on Feb 13 2019

Olivier L (1949) Schistosome dermatitis, a sensitization phenomenon. Am J Epidemiol 49(3):290–302

O'Neal RP, Soulliere GJ (2006) Conservation guidelines for Michigan lakes and associated natural resources. Michigan Department of Natural Resources, Fisheries Special Report 38

Reddy A, Ponder EL, Fried B (2004) Effects of copper sulfate toxicity on Cercariae and Metacercariae of Echinostoma caproni and Echinostoma trivolvis and on the survival of Biomphalaria glabrata snails. J Parasitol 90(6):1332–1337. https://doi.org/10.1645/GE-321R

Rudolfová J, Sitko J, Horák P. (2002) Nasal schistosomes of wildfowl in the Czech Republic. Parasitol Research 88(12):1093–1095. https://doi.org/10.1007/s00436-002-0634-3

Rudko SP, Reimink RL, Froelich K, Gordy MA, Blankespoor CL, Hanington PC (2018) Use of qPCR-based cercariometry to assess swimmer's itch in recreational lakes. Ecohealth 15(4):827–839. https://doi.org/10.1007/s10393-018-1362-1

Soldánová M, Selbach C, Sures B (2016) The early worm catches the bird? Productivity and patterns of Trichobilharzia szidatiCercarial emission from Lymnaea stagnalis. PLoS One 11(2):e0149678

Soucek DJ, Noblet GP (1998) Copper toxicity to the endoparasitic trematode (Posthodiplostomum minimum) relative to physid snail and bluegill sunfish intermediate hosts. Environ Toxicol Chem 17(12):2512–2516. https://doi.org/10.1002/etc.5620171219

Wise DJ, Mischke CC, Greenway T, Byars TS, Mitchell AJ (2006) Uniform application of copper sulfate as a potential treatment for controlling snail populations in channel catfish production ponds. N Am J Aquac 68(4):364–368
Funding
This work was supported by the Michigan Swimmer's Itch Partnership (RLR), Alberta Environment – Energy and Environment Solutions #2332 (PCH) and the Natural Sciences and Engineering Council of Canada #2018-05209 and 2018-522661 (PCH).
Ethics declarations
Conflict of interest
The authors declare that they have no conflict of interest.
Ethical approval
This article does not contain any studies with human participants or animals performed by any of the authors.
Additional information
Publisher's note
Springer Nature remains neutral with regard to jurisdictional claims in published maps and institutional affiliations.
Handling Editor: Julia Walochnik
About this article
Cite this article
Froelich, K.L., Reimink, R.L., Rudko, S.P. et al. Evaluation of targeted copper sulfate (CuSO4) application for controlling swimmer's itch at a freshwater recreation site in Michigan. Parasitol Res 118, 1673–1677 (2019). https://doi.org/10.1007/s00436-019-06280-3
Received:

Accepted:

Published:

Issue Date:
Keywords
Swimmer's itch

Digenetic trematode

Schistosome

qPCR

Water

Copper sulfate

Chemical treatment