Abstract
Aedes koreicus, a mosquito species originating from Japan, China, Korea, and parts of Russia, has been sporadically found in Europe since 2008. It is suspected to be a vector of a variety of viruses and nematodes. In Germany, one individual was found in 2015 in the city of Augsburg, situated in the federal state of Bavaria. Based on morphological and molecular species identification, this study reports a new finding of Ae. koreicus, about 370 km northwest from Augsburg. The sampling point is located in the city of Wiesbaden, in the federal state of Hesse, where four individuals were found over a period of 2 months in 2017. The re-finding of the species in the same location in May and July 2018 suggests that (a) the species was able to reproduce and overwinter at this site, and (b) spreading of non-native mosquito species is an ongoing process in Germany, which requires close monitoring.
Access options
Buy single article
Instant access to the full article PDF.
US$ 39.95
Tax calculation will be finalised during checkout.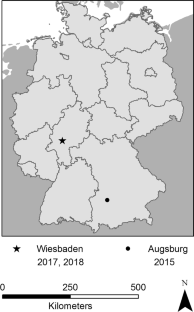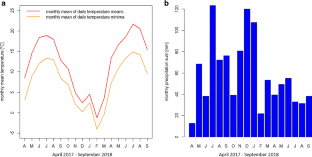 References
Andreadis TG, Anderson JF, Munstermann LE, Wolfe RJ, Florin D (2001) Discovery, distribution, and abundance of the newly introduced mosquito Ochlerotatus japonicus (Diptera: Culicidae) in Connecticut, USA. J Med Entomol 38:774–779

Becker N, Petrić D, Zgomba M, Boase C, Dahl C, Lane J, Kaiser A (2010) Mosquitoes and their control. Kluwer Academic / Plenum Publishers, New York

Capelli G, Drago A, Martini S, Montarsi F, Soppelsa M, Delai N, Ravagnan S, Mazzon L, Schaffner F, Mathis A, di Luca M, Romi R, Russo F (2011) First report in Italy of the exotic mosquito species Aedes (Finlaya) koreicus, a potential vector of arboviruses and filariae. Parasit Vectors 4:188

Ciocchetta S, Prow NA, Darbro JM, Frentiu FD, Savino S, Montarsi F, Capelli G, Aaskov JG, Devine GJ (2018) The new European invader Aedes (Finlaya) koreicus: a potential vector of chikungunya virus. Pathog Glob Health 112:107–114

ECDC European Centre for Disease Prevention and Control (2014) Fact sheet – Aedes koreicus. https://ecdc.europa.eu/en/disease-vectors/facts/mosquito-factsheets/aedes-koreicus. Accessed 12 Dec 2018

ECDC European Centre for Disease Prevention and Control (2018) Mosquito maps. https://ecdc.europa.eu/en/disease-vectors/surveillance-and-disease-data/mosquito-maps. Accessed 12 Dec 2018

Feng LC (1930) Experiments with Dirofilaria immitis and local species of mosquitoes in Peiping, North China, with a note on Lankesteria culicis in Ae. koreicus. Ann Trop Med Parasitol 24:347–366

Kampen H, Schuhbauer A, Walther D (2017) Emerging mosquito species in Germany – a synopsis after 6 years of mosquito monitoring (2011-2016). Parasitol Res 116:3253–3263

Kaufman MG, Fonseca DM (2014) Invasion biology of Aedes japonicus japonicus (Diptera: Culicidae). Annu Rev Entomol 59:31–49

KCDC Korean Centre for Disease Control (2007) Elimination of lymphatic filariasis in Korea. National document for certification. National Institute of Health, Ministry of Health and Welfare, Republic of Korea

Knight KL (1968) Contributions to the mosquitoes fauna of Southeast Asia. – IV. Species of subgroup Chrysolineatus of group D, genus Aedes, subgroup Finlaya Theobald. Contrib Am Entomol Inst 2:1–45

Kumar NP, Rajavel AR, Natarajan R, Jambulingam P (2007) DNA barcodes can distinguish species of Indian mosquitoes (Diptera: Culicidae). J Med Entomol 44:1–7

Kurucz K, Kiss V, Zana B, Schmieder V, Kepner A, Jakab F, Kemenesi G (2016) Emergence of Aedes koreicus (Diptera: Culicidae) in an urban area, Hungary, 2016. Parasitol Res 115:4687–4689

Medlock JM, Avenell D, Barrass I, Leach S (2006) Analysis of the potential for survival and seasonal activity of Aedes albopictus (Diptera: Culicidae) in the United Kingdom. J Vector Ecol 31:292–304

Medlock JM, Hansford KM, Versteirt V, Cull B, Kampen H, Fontenille D, Hendrickx G, Zeller H, van Bortel W, Schaffner F (2015) An entomological review of invasive mosquitoes in Europe. Bull Entomol Res 105:637–663

Miles JA (1964) Some ecological aspects of the problem of arthropod-borne animal viruses in the Western Pacific and South-East Asia regions. Bull World Health Organ 30:197–210

Montarsi F, Martini S, Dal Pont M, Delai N, Ferro Milone N, Mazzucato M, Soppelsa F, Cazzola L, Cazzin S, Ravagnan S, Ciocchetta S, Russo F, Capelli G (2013) Distribution and habitat characterization of the recently introduced invasive mosquito Aedes koreicus [Hulecoeteomyia koreica], a new potential vector and pest in north-eastern Italy. Parasit Vectors 6:292

Montarsi F, Ciocchetta S, Devine G, Ravagnan S, Mutinelli F, Frangipane di Regalbono A, Otranto D, Capelli G (2015) Development of Dirofilaria immitis within the mosquito Aedes (Finlaya) koreicus, a new invasive species for Europe. Parasit Vectors 8:177

Tanaka K, Mizusawa K, Saugstad ES (1979) A revision of the adult and larval mosquitoes of Japan (including the Ryukyu Archipelago and the Ogasawara Islands) and Korea (Diptera: Culicidae). Contrib Am Entomol Inst 16:1–987

Turell MJ, Dohm DJ, Sardelis MR, Oguinn ML, Andreadis TG, Blow JA (2005) An update on the potential of North American mosquitoes (Diptera: Culicidae) to transmit West Nile virus. J Med Entomol 42:57–62

Versteirt V, De Clercq EM, Fonseca DM et al (2012) Bionomics of the established exotic mosquito species Aedes koreicus in Belgium, Europe. J Med Entomol 49:1226–1232

Werblow A, Martin P, Dörge DD, Koch LK, Mehlhorn H, Melaun C, Klimpel S (2015) Hyperparasitism of mosquitoes by water mite larvae. Parasitol Res 114:2757–2765

Werner D, Zielke DE, Kampen H (2016) First record of Aedes koreicus in Germany. Parasitol Res 115:1331–1334
Acknowledgements
This research was funded by the German Federal Ministry of Food and Agriculture (BMEL) through the Federal Office for Agriculture and Food (BLE), grant numbers 2819104415 and 2819105115 as well as by the Uniscientia Foundation (P 121-2017). We thank Birgit Nagel and Gabriele Elter for their technical assistance in the molecular laboratory. The present study is also a product of the Centre for Translational Biodiversity Genomics (LOEWE-TBG) as part of the "LOEWE - Landes-Offensive zur Entwicklung Wissenschaftlich-ökonomischer Exzellenz" programme of Hesse's Ministry of Higher Education, Research, and the Arts.
Ethics declarations
Conflict of interest
The authors declare that they have no conflict of interest.
Additional information
Publisher's note
Springer Nature remains neutral with regard to jurisdictional claims in published maps and institutional affiliations.
Section Editor: Helge Kampen
About this article
Cite this article
Steinbrink, A., Zotzmann, S., Cunze, S. et al. Aedes koreicus—a new member of the genus Aedes establishing in Germany?. Parasitol Res 118, 1073–1076 (2019). https://doi.org/10.1007/s00436-019-06232-x
Received:

Accepted:

Published:

Issue Date:
Keywords
Non-indigenous mosquitoes

Aedes koreicus

Establishment