Abstract
Peritoneal larval cestodiasis caused by Mesocestoides spp. is a rare infection in dogs. A 6-year-old female dog was presented for veterinary care with urinary incontinence which started 1 year earlier. After performing hematology, ultrasound, and computerized tomography, an exploratory laparotomy revealed canine peritoneal larval cestodiasis (CPLC) with the presence of Mesocestoides vogae (syn. Mesocestoides corti) tetrathyridia confirmed by morphological identification and PCR and DNA sequencing. Parasitic cysts were found around the urinary bladder and appeared to inhibit its normal function. An initial treatment with 5 mg/kg praziquantel subcutaneously every 2 weeks for four treatments failed to alleviate the clinical signs, and only treatment with fenbendazole at 100 mg/kg P.O. twice daily for 28 days was associated with the disappearance of ascites and regaining of urinary control. This is the first report of CPLC associated with urinary incontinence in dogs and the first description of this cyclophyllidean cestode in dogs in Israel.
This is a preview of subscription content, log in to check access.
Access options
Buy single article
Instant access to the full article PDF.
US$ 39.95
Price includes VAT for USA
Subscribe to journal
Immediate online access to all issues from 2019. Subscription will auto renew annually.
US$ 199
This is the net price. Taxes to be calculated in checkout.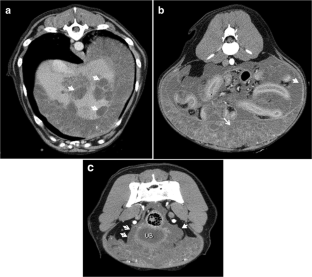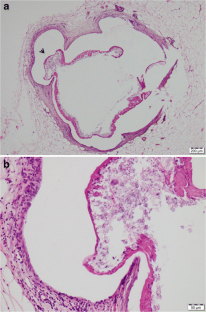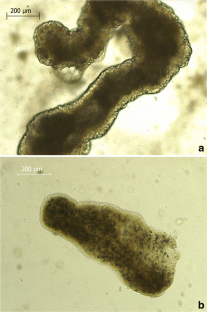 References
Barutzki D, Schaper R (2011) Results of parasitological examinations of faecal samples from cats and dogs in Germany between 2003 and 2010. Parasitol Res 109(suppl. 1):45–60

Bonfanti U, Bertazzolo W, Pagliaro L, Demarco B, Venco L, Casiraghi M, Bandi C (2004) Clinical, cytological and molecular evidence of Mesocestoides sp. infection in a dog from Italy. J Vet Med A Physiol Pathol Clin Med 51:435–438

Bowles J, McManus DP (1994) Genetic characterization of the Asian Taenia, a newly described taeniid cestode of humans. Am J Trop Med Hyg 50:33–44

Boyce W, Shender L, Schultz L, Vickers W, Johnson C, Ziccardi M, Beckett L, Padgett K, Crosbie P, Sykes J (2011) Survival analysis of dogs diagnosed with canine peritoneal larval cestodiasis (Mesocestoides spp.). Vet Parasitol 180:256–261

Caruso KJ, James MP, Fisher D, Paulson RL, Christopher MM (2003) Cytologic diagnosis of peritoneal cestodiasis in dogs caused by Mesocestoides sp. Vet Clin Pathol 32:50–60

Crosbie PR, Boyce WM, Platzer EG, Nadler SA, Kerner C (1998) Diagnostic procedures and treatment of eleven dogs with peritoneal infections caused by Mesocestoides spp. J Am Vet Med Assoc 213:1578–1583

Crosbie PR, Nadler SA, Platzer EG, Kerner C, Mariaux J, Boyce WM (2000a) Molecular systematics of Mesocestoides spp. (Cestoda: Mesocestoididae) from domestic dogs (Canis familiaris) and coyotes (Canis latrans). J Parasitol 86:350–357

Crosbie PR, Padgett KA, Boyce WM (2000b) Mesocestoides spp. tapeworm infections in dogs in California. Calif. Veterinarian:15–17

Dalimi A, Sattar A, Motamed G (2006) A study on intestinal helminths of dogs, foxes and jackals in the western part of Iran. Vet Parasitol 142:129–133

Deplazes P, Eckert J, Mathis A, von Samson-Himmelsjerna G, Zahner H (2016) Family Mesocestoitidae. In: Deplazes P, Eckert J, Mathis A, von Samson-Himmelsjerna G, Zahner H (eds) Parasitology in Veterinary Medicine. Wageningen Academic Publishers, the Netherlands, pp 213–214

Eckert J, Von Brand T, Voge M (1969) Asexual multiplication of Mesocestoides corti (Cestoda) in the intestine of dogs and skunks. J Parasitol 55:241–249

El-Shehabi FS, Abdel-Hafez SK, Kamhawi SA (1999) Prevalence of intestinal helminths of dogs and foxes from Jordan. Parasitol Res 85:928–934

Eom KS, Kim S-H, Rim H-J (1992) Second case of human infection with Mesocestoides lineatus in Korea. Kor J Parasitol 30:147–150

Etges FJ (1991) The proliferative tetrathyridium of Mesocestoides vogae sp. n. (Cestoda). J Helminthol Soc Wash 58:181–185

Fuentes MV, Gàlan- Puchades MT, Malone JB (2003) A new case report of human Mesocestoides infection in the United States. J Trop Med Hyg 68:566–567

Häußler TC, Peppler C, Schmitz S, Baue C, Hirzmann J, Kramer M (2016) Canine peritoneal larval cestodosis caused by Mesocestoides spp. larval stages. Tierarztl Prax Ausg K Kleintiere Heimtiere 44:123–128

Hoeppli RJC (1925) Mesocestoides corti, a new species of cestode from the mouse. J Parasitol 12:91–96

Karamon J, Dąbrowska J, Kochanowski M, Samorek-Pieróg M, Sroka J, Różycki M, Bilska-Zając E, Zdybel J, Cencek T (2018) Prevalence of intestinal helminths of red foxes (Vulpes vulpes) in central Europe (Poland): a significant zoonotic threat. Parasites Vectors 11:436

Kashiide T, Matsumoto J, Yamaya Y, Uwasawa A, Miyoshi A, Yamada K, Watari T, Nogami S (2014) Case report: first confirmed case of canine peritoneal larval cestodiasis caused by Mesocestoides vogae (syn. M. corti) in Japan. Vet Parasitol 201:154–157

Loos-Frank B (1990) Cestodes of the genus Mesocestoides (Mesocestoididae) from carnivores in Israel. Isr J Zool 37:3–13

Miró G, Mateo M, Montoya A, Vela E, Calonge R (2007) Survey of intestinal parasites in stray dogs in the Madrid area and comparison of the efficacy of three anthelmintics in naturally infected dogs. Parasitol Res 100:317–320

Padgett KA, Boyce WM (2004) Life-history studies on two molecular strains of Mesocestoides (Cestoda: Mesocestoididae). Identification of sylvatic hosts and infectivity of immature life stages. J Parasitol 90:108–113

Plumb DC (2008) Plumb's Veterinary Drug Handbook, Sixth Edition, Wiley- Blackwell Publishers, 1166 pp.

Specht D, Voge M (1965) Asexual multiplication of Mesocestoides tetrathyridia in laboratory animals. J Parasitol 51:268–272

Széll Z, Tolnai Z, Sréter T (2015) Environmental determinants of the spatial distribution of Mesocestoides spp. and sensitivity of flotation method for the diagnosis of mesocestoidosis. Vet Parasitol 212:427–430

Tamura Y, Ohta H, Kashiide T, Matsumoto J, Sakurai T, Yokoyama N, Morishita K, Nakamura K, Yamasaki M, Takiguchi M (2014) Case report: protein-losing enteropathy caused by Mesocestoides vogae (syn. M. corti) in a dog. Vet Parasitol 205:412–415

Tassi P, Widenhorn O (1977) Research on intestinal parasitic diseases in dogs of the city of Rome. Parassitologia 19:43–57

Toplu N, Yildiz K, Tunay R (2004) Massive cystic tetrathyridiosis in a dog. J Small Anim Pract 45:410–412

Trachsel D, Deplazes P, Mathis A (2007) Identification of taeniad eggs in the feces from carnivores based on a multiplex PCR using targets in mitochondrial DNA. Parasitol 1:10

Varcasia A, Sanna D, Casu M, Lahmar S, Dessì G, Pipia AP, Tamponi C, Gaglio G, Hrčková G, Otranto D, Scala A (2018) Species delimitation based on mtDNA genes suggests the occurrence of new species of Mesocestoides in the Mediterranean region. Parasit Vectors 11(1):619

Venco L, Kramer L, Pagliaro L, Genchi C (2005) Ultrasonographic features of peritoneal cestodiasis caused by Mesocestoides sp. in a dog and in a cat. Vet Radiol Ultrasound 46:417–422
Ethics declarations
Conflict of interest
The authors declare that they have no conflict of interest.
Additional information
Publisher's note
Springer Nature remains neutral with regard to jurisdictional claims in published maps and institutional affiliations.
Section Editor: Domenico Otranto
About this article
Cite this article
Yasur-Landau, D., Salant, H., Levin-Gichon, G. et al. Urinary incontinence associated with Mesocestoides vogae infection in a dog. Parasitol Res 118, 1039–1044 (2019). https://doi.org/10.1007/s00436-019-06216-x
Received:

Accepted:

Published:

Issue Date:
Keywords
Canine

Mesocestoides vogae

Urinary incontinence