Abstract
Strongyloides stercoralis is a worldwide-distributed intestinal nematode affecting mainly humans and dogs. Canine strongyloidosis is generally characterised by diarrhoea, malabsorption and bronchopneumonia, and may be fatal in cases of impaired immunity. In recent years, molecular and epidemiological studies suggested that host-adapted populations of S. stercoralis with different zoonotic potential may exist. Clinical and subclinical cases of S. stercoralis infection have been increasingly diagnosed in imported (France, Belgium, Bulgaria) and locally born dogs in Switzerland, showing that this parasite is currently circulating in Europe. Three of these clinical cases will be described here. All three dogs presented severe disease, characterised by harsh diarrhoea, dehydration, vomiting, respiratory and/or neurologic signs, and needed intensive care and hospitalisation. One of these dogs was related to a Swiss breeding kennel, in which the infection was subsequently diagnosed in several other dogs. Faeces were analysed by three coproscopical methods including (i) the Baermann technique, which consistently identified the typical S. stercoralis first-stage larvae in both clinical and subclinical infections, (ii) the sedimentation-zinc chloride flotation and (iii) sodium acetate—acetic acid—formalin concentration (SAFC) methods, which allowed the additional identification of parasitic females and/or eggs in two of the clinical cases. Interestingly, S. stercoralis isolated from all three independent clinical cases exhibited an identical genetic background on the nuclear 18S rDNA (fragment involving hypervariable regions I and IV) and the mitochondrial cytochrome oxidase subunit I (cox1) loci, similar to that of zoonotic isolates from other geographical regions, and not to that of dog-adapted variants. Due to the clinical relevance and zoonotic potential of this parasite, the awareness of both diagnosticians and clinicians is strongly required.
Access options
Buy single article
Instant access to the full article PDF.
USD 39.95
Price includes VAT (USA)
Tax calculation will be finalised during checkout.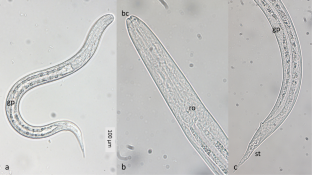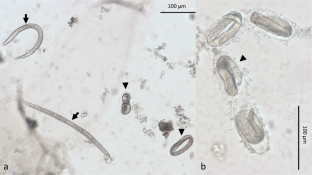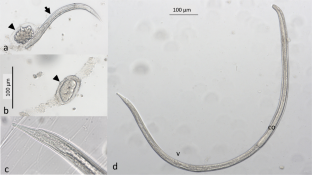 References
Casiraghi M, Anderson TJC, Bandi C, Bazzocchi C, Genchi C (2001) A phylogenetic analysis of filarial nematodes. Comparison with the phylogeny of Wolbachia endosymbionts. Parasitology 122:93–103. https://doi.org/10.1017/S0031182000007149

Cervone M, Giannelli A, Otranto D, Perrucci S (2016) Strongyloides stercoralis hyperinfection in an immunosuppressed dog from France. Revue Vétérinaire Clinique 51:55–59. https://doi.org/10.1016/j.anicom.2016.05.001

Cvetkovikj A, Rashikj L, Celeska I, Atanaskova Petrov E, Angjelovski B, Cvetkovikj I, Jurhar Pavlova M, Stefanovska J (2018) First case of Strongyloides stercoralis infection in a dog in the Republic of Macedonia. Mac Vet Rev:41, i–iv 509. https://doi.org/10.1515/macvetrev-2017-0032

Deplazes P, Eckert J, Mathis A, von Samson-Himmelstjerna G, Zahner H (2016) Parasitology in veterinary medicine. Wageningen Academic Publishers, Wageningen

Dillard KJ, Am Saari S, Anttila M (2007) Strongyloides stercoralis infection in a Finnish kennel. Acta Vet Scand 49:37. https://doi.org/10.1186/1751-0147-49-37

Dorris M, Viney ME, Blaxter ML (2002) Molecular phylogenetic analysis of the genus Strongyloides and related nematodes. Int J Parasitol 32:1507–1517

Epe C, Ising-Volmer S, Stoye M (1993) Ergebnisse parasitologischer Kotuntersuchungen von Equiden, Hunden, Katzen und Igeln der Jahre 1984-1991 [Parasitological fecal studies of equids, dogs, cats and hedgehogs during the years 1984-1991]. Dtsch Tierarztl Wochenschr 100:426–428 [in German]

Epe C, Coati N, Schnieder T (2004) Ergebnisse parasitologischer Kotuntersuchungen von Pferden, Wiederkäuern, Schweinen, Hunden, Katzen, Igeln und Kaninchen in den Jahren 1998-2002 [Results of parasitological examinations of faecal samples from horses, ruminants, pigs, dogs, cats, hedgehogs and rabbits between 1998 and 2002]. Dtsch Tierarztl Wochenschr 111:243–247 [in German]

Eydal M, Skírnisson K (2016) Strongyloides stercoralis found in imported dogs, household dogs and kennel dogs in Iceland. Icel Agric Sci 29:39–51. https://doi.org/10.16886/IAS.2016.04

Genta RM (1986) Strongyloides stercoralis. Immunobiological considerations on an unusual worm. Parasitol Today 2:241–246

Genta RM (1989) Strongyloides stercoralis. Loss of ability to disseminate after repeated passage in laboratory beagles. Trans R Soc Trop Med Hyg 83:539–541

Georgi JR, Sprinkle CL (1974) A case of human strongyloidosis apparently contracted from asymptomatic colony dogs. Am J Trop Med Hyg 23:899–901. https://doi.org/10.4269/ajtmh.1974.23.899

Grove DI, Northern C (1988) The effects of thiabendazole, mebendazole and cambendazole in normal and immunosuppressed dogs infected with a human strain of Strongyloides stercoralis. Trans R Soc Trop Med Hyg 82:146–149

Grove DI, Heenan PJ, Northern C (1983) Persistent and disseminated infections with Strongyloides stercoralis in immunosuppressed dogs. Int J Parasitol 13:483–490

Hamnes IS, Davidson R, Øines Ø (2009) Strongyloides stercoralis påvist hos hund i Norgenfor første gang [Strongyloides stercoralis identified in dogs in Norway for the first time]. Norsk Veterinærtidsskrift 121:752 [in Norwegian]

Hasegawa H, Hayashida S, Ikeda Y, Sato H (2009) Hyper-variable regions in 18S rDNA of Strongyloides spp. as markers for species-specific diagnosis. Parasitol Res 104:869–874. https://doi.org/10.1007/s00436-008-1269-9

Hasegawa H, Sato H, Fujita S, Nguema PPM, Nobusue K, Miyagi K, Kooriyama T, Takenoshita Y, Noda S, Sato A, Morimoto A, Ikeda Y, Nishidaet T (2010) Molecular identification of the causative agent of human strongyloidiasis acquired in Tanzania. Dispersal and diversity of Strongyloides spp. and their hosts. Parasitol Int 59:407–413. https://doi.org/10.1016/j.parint.2010.05.007

Hino A, Tanaka T, Takaishi M, Fujii Y, Palomares-Rius JE, Hasegawa K et al (2014) Karyotype and reproduction mode of the rodent parasite Strongyloides venezuelensis. Parasitology 141:1736–1745. https://doi.org/10.1017/S0031182014001036

Iatta R, Buonfrate D, Paradies P, Cavalera MA, Capogna A, Iarussi F, Šlapeta J, Giorli G, Trerotoli P, Bisoffi Z, Otranto D (2018) Occurrence, diagnosis and follow-up of canine strongyloidiosis in naturally infected shelter dogs. Parasitology:1–7. https://doi.org/10.1017/S0031182018001312

Itoh N, Kanai K, Hori Y, Nakao R, Hoshi F, Higuchi S (2009) Fenbendazole treatment of dogs with naturally acquired Strongyloides stercoralis infection. Vet Rec 164:559–560

Jaleta TG, Zhou S, Bemm FM, Schär F, Khieu V, Muth S, Odermatt P, Lok JB, Streit A (2017) Different but overlapping populations of Strongyloides stercoralis in dogs and humans-dogs as a possible source for zoonotic strongyloidiasis. PLoS Negl Trop Dis 11(8):e0005752. https://doi.org/10.1371/journal.pntd.0005752

Jariwala S, Redding L, Hewitt D (2017) The severely under-recognized public health risk of strongyloidiasis in North American cities-A One Health approach. Zoonoses Public Health 64:579–588. https://doi.org/10.1111/zph.12371

Kostopoulou D, Claerebout E, Arvanitis D, Ligda P, Voutzourakis N, Casaert S, Sotiraki S (2017) Abundance, zoonotic potential and risk factors of intestinal parasitism amongst dog and cat populations. The scenario of Crete, Greece. Parasit Vectors 10:43. https://doi.org/10.1186/s13071-017-1989-8

Laymanivong S, Hangvanthong B, Insisiengmay B, Vanisaveth V, Laxachack P, Jongthawin J, Sanpool O, Thanchomnang T, Sadaow L, Phosuk I, Rodpai R, Maleewong W, Intapan PM (2016) First molecular identification and report of genetic diversity of Strongyloides stercoralis, a current major soil-transmitted helminth in humans from Lao People's Democratic Republic. Parasitol Res 115:2973–2980. https://doi.org/10.1007/s00436-016-5052-z

Mansfield LS, Schad GA (1992) Ivermectin treatment of naturally acquired and experimentally induced Strongyloides stercoralis infections in dogs. J Am Vet Med Assoc 201:726–730

Mansfield LS, Niamatali S, Bhopale V, Volk S, Smith G, Lok JB, Genta RM, Schad GA (1996) Strongyloides stercoralis. Maintenance of exceedingly chronic infections. Am J Trop Med Hyg 55:617–624

Mircean V, Györke A, Cozma V (2012) Prevalence and risk factors of Giardia duodenalis in dogs from Romania. Vet Parasitol 184:325–329. https://doi.org/10.1016/j.vetpar.2011.08.022

Nagayasu E, Aung MPPTHH, Hortiwakul T, Hino A, Tanaka T, Higashiarakawa M, Olia A, Taniguchi T, SMT W, Ohashi I, Odongo-Aginya EI, Aye KM, Mon M, Win KK, Ota K, Torisu Y, Panthuwong S, Kimura E, Palacpac NMQ, Kikuchi T, Hirata T, Torisu S, Hisaeda H, Horii T, Fujita J, Htike WW, Maruyama H (2017) A possible origin population of pathogenic intestinal nematodes, Strongyloides stercoralis, unveiled by molecular phylogeny. Sci Rep 7:4844. https://doi.org/10.1038/s41598-017-05049-x

Nolan TJ (2001) Canine Strongyloidiasis [Available from: http://www.ivis.org/advances/Parasit.Bowman/Nolan.strongyloidiasis/chapter frm.asp?LA=I]. Accessed Nov. 2018

Papazahariadou M, Founta A, Papadopoulos E, Chliounakis S, Antoniadou-Sotiriadou K, Theodorides Y (2007) Gastrointestinal parasites of shepherd and hunting dogs in the Serres Prefecture, Northern Greece. Vet Parasitol 148:170–173. https://doi.org/10.1016/j.vetpar.2007.05.013

Paradies P, Iarussi F, Sasanelli M, Antonio C, Lia RP, Zucca D, Greco B, Cantacessi C, Otranto D (2017) Occurrence of strongyloidiasis in privately owned and sheltered dogs. Clinical presentation and treatment outcome. Parasit Vector 10:345. https://doi.org/10.1186/s13071-017-2275-5

Prosl H (1985) Zum Vorkommen von Strongyloides stercoralis bei Hunden in Österreich (Occurrence of Strongylides stercoralis infections in dogs in Austria). Mit Österr Ges Tropenmed Parasitol 7:129–134

Ramachandran S, Gam AA, Neva FA (1997) Molecular differences between several species of Strongyloides and comparison of selected isolates of S. stercoralis using a polymerase chain reaction-linked restriction fragment length polymorphism approach. Am J Trop Med Hyg 56:61–65

Raue K, Heuer L, Böhm C, Wolken S, Epe C, Strube C (2017) 10-year parasitological examination results (2003 to 2012) of faecal samples from horses, ruminants, pigs, dogs, cats, rabbits and hedgehogs. Parasitol Res 116:3315–3330. https://doi.org/10.1007/s00436-017-5646-0

Riggio F, Mannella R, Ariti G, Perrucci S (2013) Intestinal and lung parasites in owned dogs and cats from Central Italy. Vet Parasitol 193:78–84. https://doi.org/10.1016/j.vetpar.2012.11.026

Sauda F, Malandrucco L, Macrì G, Scarpulla M, De Liberato C, Terracciano G, Fichi G, Berrilli F, Perruccia S (2018) Leishmania infantum, Dirofilaria spp. and other endoparasite infections in kennel dogs in Central Italy. Parasite 25:2. https://doi.org/10.1051/parasite/2018001

Schad GA, Hellman ME, Muncey DW (1984) Strongyloides stercoralis. Hyperinfection in immunosuppressed dogs. Exp Parasitol 57:287–296

Schad GA, Aikens LM, Smith G (1989) Strongyloides stercoralis. Is there a canonical migratory route through the host? J Parasitol 75(5):740–749

Schad GA, Thompson F, Talham G, Holt D, Nolan TJ, Ashton FT, Lange AM, Bhopale VM (1997) Barren female Strongyloides stercoralis from occult chronic infections are rejuvenated by transfer to parasite-naive recipient hosts and give rise to an autoinfective burst. J Parasitol 83:785–791

Shoop WL, Michael BF, Eary CH, Haines HW (2002) Transmammary transmission of Strongyloides stercoralis in dogs. J Parasitol 88:536–539. https://doi.org/10.1645/0022-3395(2002)088[0536:TTOSSI]2.0.CO;2

Stoltzfus JD, Massey HC Jr, Nolan TJ, Griffith SD, Lok JB (2012) Strongyloides stercoralis age-1: a potential regulator of infective larval development in a parasitic nematode. PLoS One 7(6):e38587. https://doi.org/10.1371/journal.pone.0038587

Štrkolcová G, Goldová M, Bocková E, Mojžišová J (2017) The roundworm Strongyloides stercoralis in children, dogs, and soil inside and outside a segregated settlement in Eastern Slovakia. Frequent but hardly detectable parasite. Parasitol Res 116:891–900. https://doi.org/10.1007/s00436-016-5362-1

Takano Y, Minakami K, Kodama S, Matsuo T, Satozono I (2009) Cross infection of Strongyloides between humans and dogs in the Amami Islands, Japan. Trop Med Health 37:149–152. https://doi.org/10.2149/tmh.2009-16

Tanaka H (1966) Genus Strongyloides. In: Morishita K, Komiya Y, Matsubayashi H (eds) Progress in medical parasitology in Japan, vol 3. Meguro Parasitological Museum, Tokyo, pp 589–638 https://drive.google.com/file/d/1Q624g7H_EftZ9z6JDVltkYULaM-9WsQm/view. Accessed Nov. 2018

Thamsborg SM, Ketzis J, Horii Y, Matthews JB (2017) Strongyloides spp. infections of veterinary importance. Parasitology 144:274–284. https://doi.org/10.1017/S0031182016001116

Umur Ş, Meral Y, Bölukbas CS, Gürler AT, Acici M (2017) First clinical Strongyloides stercoralis case in a dog in Turkey. Turk J Vet Anim Sci 41:312–315. https://doi.org/10.3906/vet-1606-2

Wright I, Stafford K, Coles G (2016) The prevalence of intestinal nematodes in cats and dogs from Lancashire, north-West England. J Small Anim Pract 57:393–395. https://doi.org/10.1111/jsap.12478

Zanzani SA, Di Cerbo AR, Gazzonis AL, Genchi M, Rinaldi L, Musella V, Cringoli G, Manfredi MT (2014) Canine fecal contamination in a metropolitan area (Milan, North-Western Italy). Prevalence of intestinal parasites and evaluation of health risks. Sci World J 2014:132361–132366. https://doi.org/10.1155/2014/132361
Acknowledgements
We would like to acknowledge Liliane Krähenbühl, Larissa Hofmann and Christine Salvisberg for their excellent technical assistance and the dogs' owners for their cooperation.
Funding
This study was supported by the Institute of Parasitology of the University of Bern.
Ethics declarations
Conflict of interest
The authors declare that they have no conflict of interest.
Ethical approval
All applicable international, national, and/or institutional guidelines for the care and use of animals were followed.
Additional information
Publisher's Note
Springer Nature remains neutral with regard to jurisdictional claims in published maps and institutional affiliations.
Handling Editor: Julia Walochnik
About this article
Cite this article
Basso, W., Grandt, LM., Magnenat, AL. et al. Strongyloides stercoralis infection in imported and local dogs in Switzerland: from clinics to molecular genetics. Parasitol Res 118, 255–266 (2019). https://doi.org/10.1007/s00436-018-6173-3
Received:

Accepted:

Published:

Issue Date:
Keywords
Strongyloidosis

Animal transport

Diarrhoea

Genotyping

Zoonosis

Breeding kennel