Abstract
Brain-eating amoebae (Acanthamoeba spp., Balamuthia mandrillaris, Naegleria fowleri) have gained increasing attention owing to their capacity to produce severe human and animal infections involving the brain. Early detection is a pre-requisite in successful prognosis. Here, we developed a nanoPCR assay for the rapid detection of brain-eating amoebae using various nanoparticles. Graphene oxide, copper and alumina nanoparticles used in this study were characterized using Raman spectroscopy measurements through excitation with a He–Ne laser, while powder X-ray diffraction patterns were taken on a PANanalytical, X'Pert HighScore diffractometer and the morphology of the materials was confirmed using high-resolution transmission electron microscopy (HRTEM). Using nanoparticle-assisted PCR, the results revealed that graphene oxide, copper oxide and alumina nanoparticles significantly enhanced PCR efficiency in the detection of pathogenic free-living amoebae using genus-specific probes. The optimal concentration of graphene oxide, copper oxide and alumina nanoparticles for Acanthamoeba spp. was determined at 0.4, 0.04 and 0.4 μg per mL respectively. For B. mandrillaris, the optimal concentration was determined at 0.4 μg per mL for graphene oxide, copper oxide and alumina nanoparticles, and for Naegleria, the optimal concentration was 0.04, 4.0 and 0.04 μg per mL respectively. Moreover, combinations of these nanoparticles proved to further enhance PCR efficiency. The addition of metal oxide nanoparticles leads to excellent surface effect, while thermal conductivity property of the nanoparticles enhances PCR productivity. These findings suggest that nanoPCR assay has tremendous potential in the clinical diagnosis of parasitic infections as well as for studying epidemiology and pathology and environmental monitoring of other microbes.
Access options
Buy single article
Instant access to the full article PDF.
USD 39.95
Price excludes VAT (USA)
Tax calculation will be finalised during checkout.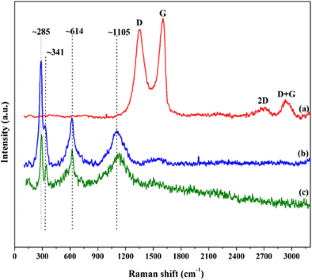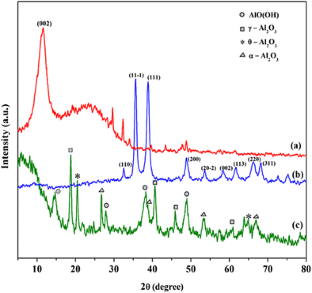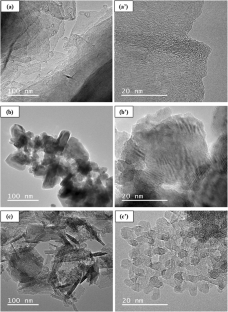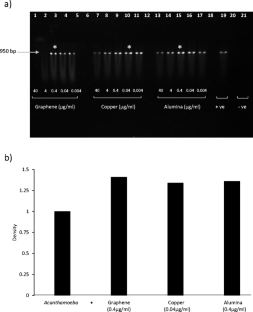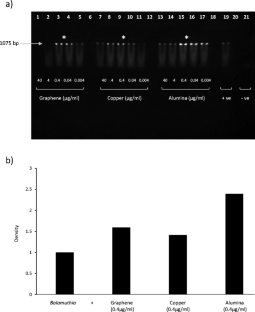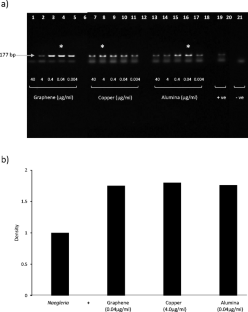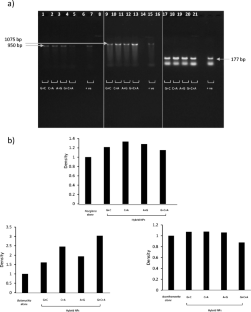 References
Arsat R, Breedon M, Shafiei M, Spizziri PG, Gilje S, Kaner RB, Kalantar-zadeh K, Wlodarski W (2009) Graphene-like nano-sheets for surface acoustic wave gas sensor applications. Chem Phy Lett 467:344–347

Booton GC, Schuster FL, Carmichael JR, Fuerst PA, Byers TJ (2003) Balamuthia mandrillaris: identification of clinical and environmental isolates using genus-specific PCR. J Eukaryot Microbiol 50(Suppl):508–509

Chou Q (1992) Minimizing deletion mutagenesis artifact during Taq DNA polymerase PCR by E. coli SSB. Nuc Acid Res 20:4371

Dang TMD, Le TTT, Fribourg-Blanc E, Dang MC (2011) Synthesis and optical properties of copper nanoparticles prepared by a chemical reduction method. Adv Nat Sci : Nanosci Nanotechnol 2:015009

Depan D, Shah J, Misra RDK (2011) Controlled release of drug from folate-decorated and graphene mediated drug delivery system: synthesis, loading efficiency, and drug release response. Mater Sci Eng C 31:1305–1312

Din MI, Rehan R (2017) Synthesis, characterization, and applications of copper nanoparticles. Anal Lett 50:50–62

Fadhil AMA, Al-Jeboory MR, Al-Jailawi MH (2014) Improving and enhancement of PCR amplification by using ZnO and TiO2 nanoparticles. Int J Curr Microbiol Appl Sci 3:549–557

Graf D, Molitor F, Ensslin K, Stampfer C, Jungen A, Hierold C, Wirtz L (2007) Spatially resolved Raman spectroscopy of single- and few-layer graphene. Nano Lett 7:238–242

Henke W, Herdel K, Jung K, Schnorr D, Loening SA (1997) Betaine improves the PCR amplification of GC-rich DNA sequences. Nucleic Acids Res 25:3957–3958

Khaliq A, Sonawane PJ, Sasi BK, Sahu BS, Pradeep T, Das SK, Mahapatra NR (2010) Enhancement in the efficiency of polymerase chain reaction byTiO2 nanoparticles: crucial role of enhanced thermal conductivity. Nanotechnology 21:255704

Khaliq A, Kafafy R, Salleh HM, Faris WF (2012) Enhancing the efficiency of polymerase chain reaction using graphene nanoflakes. Nanotechnology 23:455106

Khan NA, Jarroll EL, Paget TA (2001) Acanthamoeba can be differentiated by the polymerase chain reaction and simple plating assays. Curr Microbiol 43:204–208

Khan NA (2006) Acanthamoeba: biology and increasing importance in human health. FEMS Microbiol Rev 30:564–595

Khan NA, Siddiqui R (2009) Acanthamoeba affects the integrity of human brain microvascular endothelial cells and degrades the tight junction proteins. Int J Parasitol 39:1611–1616

Kong HH, Chung DI (1996) PCR and RFLP variation of conserved region of small subunit ribosomal DNA among Acanthamoeba isolates assigned to either A. castellanii or A. polyphaga. Kor J Parasitol 34:127–134

Kulsoom H, Baig AM, Siddiqui R, Khan NA (2014) Combined drug therapy in the management of granulomatous amoebic encephalitis due to Acanthamoeba spp., and Balamuthia mandrillaris. Exp Parasitol 45:S115–S120

Li K, Zhao XK, Hammer B, Du S, Chen Y (2013) Nanoparticles inhibit DNA replication by binding to DNA: modeling and experimental validation. ACS Nano 7:9664–9674

Liu WT (2006) Nanoparticles and their biological and environmental applications. J Biosci Bioeng 102:1–7

Marciano-Cabral F, Cabral G (2003) Acanthamoeba spp. as agents of disease in humans. Clin Microbiol Rev 16:273–307

Martinez AJ, Visvesvara GS (1997) Free-living, amphizoic and opportunistic amebas. Brain Pathol 7:583–598

Meghana S, Kabra P, Chakraborty S, Padmavathy N (2015) Understanding the pathway of antibacterial activity of copper oxide nanoparticles. RSC Adv 5:12293–12299

Mendes RG, Bachmatiuk A, Büchner B, Cuniberti G, Rümmeli MH (2013) Carbon nanostructures as multi-functional drug delivery platforms. J Mat Chem B 1:401–428

Min H, Jin Z, Han-Dong Y (2011) Research progress in application of nanomaterials for deoxyribonucleic acid detection. Chin J Anal Chem 39:146–154

Niemeyer CM (2000) Self-assembled nanostructures based on DNA: towards the development of nanobiotechnology. Curr Opin Chem Biol 4:609–618

Olszewski M, Rębała K, Szczerkowska Z, Kur J (2005) Application of SSB-like protein from Thermus aquaticus in multiplex PCR of human Y-STR markers identification. Mol Cell Probes 19:203–205

Pan D, Mi L, Huang Q, Hu J, Fan C (2012) Genetic analysis with nanoPCR. Integr Biol 4:1155–1163

Parveen S, Misra R, Sahoo SK (2012) Nanoparticles: a boon to drug delivery, therapeutics, diagnostics and imaging. Nanomed: Nanotechnol Biol Med 8:147–166

Petralia S, Barbuzzi T, Ventimiglia G (2012) Polymerase chain reaction efficiency improved by water soluble β-cyclodextrins capped platinum nanoparticles. Mat Sci Eng C 32:848–850

Piriyawong V, Thongpool V, Asanithi P, Limsuwan P (2012) Preparation and characterization of alumina nanoparticles in deionized water using laser ablation technique. J Nanomater 2012:e819403

Qvarnstrom Y, Visvesvara GS, Sriram R, da Silva AJ (2006) Multiplex real-time PCR assay for simultaneous detection of Acanthamoeba spp., Balamuthia mandrillaris, and Naegleria fowleri. J Clin Microbiol 44:3589–3595

Rashad M, Rüsing M, Berth G, Lischka K, Pawlis A (2013) CuO and Co 3 O 4 nanoparticles: synthesis, characterizations, and Raman spectroscopy. J Nanomater 2013:e714853

Raul PK, Senapati S, Sahoo AK, Umlong IM, Devi RR, Thakur AJ, Veer V (2014) CuO nanorods: a potential and efficient adsorbent in water purification. RSC Adv 4:40580–40587

Rodríguez-Zaragoza S (1994) Ecology of free-living amoebae. Crit Rev Microbiol 20:225–241

Ruparelia JP, Chatterjee AK, Duttagupta SP, Mukherji S (2008) Strain specificity in antimicrobial activity of silver and copper nanoparticles. Acta Biomater 4:707–716

Sadiq IM, Chowdhury B, Chandrasekaran N, Mukherjee A (2009) Antimicrobial sensitivity of Escherichia coli to alumina nanoparticles. Nanomed: Nanotechnol, Biol Med 5:282–286

Shen C, Zhang Z (2013) An overview of nanoparticle-assisted polymerase chain reaction technology. In: Bagchi D, Bagchi M, Moriyama H, Shahidi F (eds) Bio-Nanotechnology: a revolution in food, biomedical and health sciences. John Wiley & Sons, Ltd., Hoboken, p 97–106

Sissons J, Kim KS, Stins M, Jayasekera S, Alsam S, Khan NA (2005) Acanthamoeba castellanii induces host cell death via a phosphatidylinositol 3-kinase-dependent mechanism. Infect Immun 73:2704–2708

Siddiqui R, Matin A, Warhurst D, Stins M, Khan NA (2007) Effect of antimicrobial compounds on Balamuthia mandrillaris encystment and human brain microvascular endothelial cell cytopathogenicity. Antimicrob Agent Chem 51:4471–4473

Siddiqui R, Saleem S, Khan NA (2016) The effect of peptidic and non-peptidic proteasome inhibitors on the biological properties of Acanthamoeba castellanii belonging to the T4 genotype. Exp Parasitol 168:16–24

Varadaraj K, Skinner DM (1994) Denaturants or cosolvents improve the specificity of PCR amplification of a G+ C-rich DNA using genetically engineered DNA polymerases. Gene 140:1–5

Visvesvara GS, Moura H, Schuster FL (2007) Pathogenic and opportunistic free-living amoebae: Acanthamoeba spp., Balamuthia mandrillaris, Naegleria fowleri, and Sappinia diploidea. FEMS Immunol Med Microbiol 50:1–26

Wang G, Wang B, Park J, Wang Y, Sun B, Yao J (2009) Highly efficient and large-scale synthesis of graphene by electrolytic exfoliation. Carbon 47:3242–3246

Xu ZX, Xu GS, Fu XQ, Wang Q (2016) The mechanism of nano-CuO and CuFe2O4 catalyzed thermal decomposition of ammonium nitrate. Nanomater Nanotechnol 6:1–10

Yang X, Zhang X, Liu Z, Ma Y, Huang Y, Chen Y (2008) High-efficiency loading and controlled release of doxorubicin hydrochloride on graphene oxide. J Phys Chem C 112:17554–17558

Yousuf FA, Siddiqui R, Subhani F, Khan NA (2013) Status of free-living amoebae (Acanthamoeba spp., Naegleria fowleri, Balamuthia mandrillaris) in drinking water supplies in Karachi, Pakistan. J Water Health 11:371–375

Zhang Z, Wang M, An H (2007) An aqueous suspension of carbon nanopowder enhances the efficiency of a polymerase chain reaction. Nanotechnology 18:355706

Zhang Z, Shen C, Wang M, Han H, Cao X (2008) Aqueous suspension of carbon nanotubes enhances the specificity of long PCR. Biotechniques 44:537

Zhang L, Lu Z, Zhao Q, Huang J, Shen H, Zhang Z (2011) Enhanced chemotherapy efficacy by sequential delivery of siRNA and anticancer drugs using PEI-grafted graphene oxide. Small 7:460–464

Zhong Y, Huang L, Zhang Z, Xiong Y, Sun L, Weng J (2016) Enhancing the specificity of polymerase chain reaction by graphene oxide through surface modification: zwitterionic polymer is superior to other polymers with different charges. Int J Nanomedicine 11:5989–6002

Zhou K, Gui Z, Hu Y, Jiang S, Tang G (2016) The influence of cobalt oxide–graphene hybrids on thermal degradation, fire hazards and mechanical properties of thermoplastic polyurethane composites. Appl Sci Manuf 88:10–18
Funding
This work is supported by University Research Award INT-DBS-2017-04 by Sunway University, Malaysia. LBF acknowledges BKP grant (BK095-2016), University of Malaya.
Ethics declarations
This article does not contain any studies with human participants or animals performed by any of the authors.
Conflict of interest
The authors declare that they have no conflict of interest.
About this article
Cite this article
Gabriel, S., Rasheed, A.K., Siddiqui, R. et al. Development of nanoparticle-assisted PCR assay in the rapid detection of brain-eating amoebae. Parasitol Res 117, 1801–1811 (2018). https://doi.org/10.1007/s00436-018-5864-0
Received:

Accepted:

Published:

Issue Date:

DOI: https://doi.org/10.1007/s00436-018-5864-0
Keywords