Abstract
Light, electron microscopy and DNA analyses were performed to characterize a microsporidium infecting Rachiplusia nu larvae from a laboratory rearing in Argentina. Diplokaryotic spores were oval and measured 3.61 ± 0.29 × 1.61 ± 0.14 μM (fresh). The spore wall was composed of an electron-dense exospore and an electron-lucent endospore, ca. 30 nm and 100–120 nm thick, respectively. The polar filament was arranged in a single rank of 10–12 coils (typically 11). Microsporidian cells were found in the cytoplasm, next to the endoplasmic reticulum (especially the prespore stages) and generally surrounded by electron-lucent spaces. The infection was polyorganotropic; the fat body appeared as the most heavily invaded tissue, followed by tracheal matrix and epidermis. A molecular phylogeny based on the small (SSU) and large subunit (LSU) ribosomal RNA genes clearly placed the new isolate within the "Nosema bombycis clade". Considering both SSU and LSU concatenated partial sequences, the microsporidium from R. nu showed 99.5% nucleotide similarity with N. bombycis and 99.8% with its closest relative, a microsporidium isolated from Philosamia cynthia. According to its genetic and biological features, the R. nu isolate is proposed as the new species Nosema rachiplusiae sp. n., expanding the limited knowledge on microsporidia associated to endemic South-American moths.
This is a preview of subscription content, log in to check access.
Access options
Buy single article
Instant access to the full article PDF.
US$ 39.95
Tax calculation will be finalised during checkout.
Subscribe to journal
Immediate online access to all issues from 2019. Subscription will auto renew annually.
US$ 199
Tax calculation will be finalised during checkout.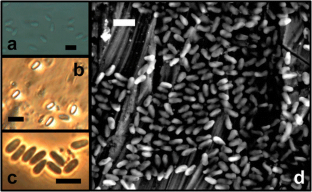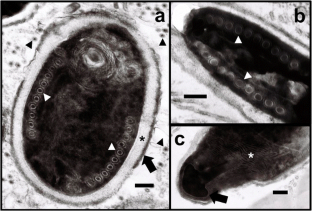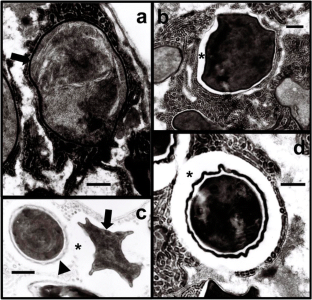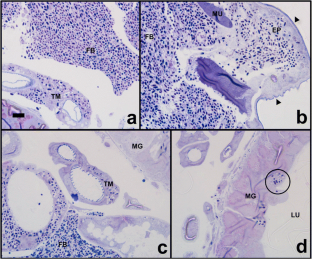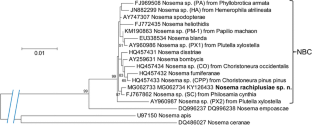 References
Araya JE, Arretz P, Lamborot L, Guerrero MA (1997) Natural control by predators of Rachiplusia nu (Guenée) (Lepidoptera: Noctuidae) on Phaseolus beans in Central Chile. Z Pflanzenkr Pflanzenschutz 104:147–152

Armendano A, González A (2011) Efecto de las arañas (Arachnida: Araneae) como depredadoras de insectos plaga en cultivos de alfalfa (Medicago sativa) (Fabaceae) en Argentina. Rev Biol Trop 59:1651–1662

Arneodo JD, Taibo C, Sciocco-Cap A (2016) Light microscopy of microsporidian spores and baculovirus occlusion bodies in Epinotia aporema and Helicoverpa gelotopoeon larval tissues, respectively. Rev Argent Microbiol 48:358–359

Avalos DS, Mangeaud A, Valladares GR (2016) Parasitism and food web structure in defoliating Lepidoptera–parasitoid communities on soybean. Neotrop Entomol 45:712–717

Barrionuevo MJ, Murúa MG, Goane L, Meagher R, Navarro F (2012) Life table studies of Rachiplusia nu (Guenée) and Chrysodeixis (= Pseudoplusia) includens (Walker) (Lepidoptera: Noctuidae) on artificial diet. Fla Entomol 95:944–951

Bjørnson S, Oi D (2014) Microsporidia biological control agents and pathogens of beneficial insects. In: Weiss LM, Becnel JJ (eds) Microsporidia: pathogens of opportunity, 1st edn. Wiley Blackwell, Hoboken, pp 635–670

Blanco CA, Chiaravalle W, Dalla-Rizza M, Farias JR, García-Degano MF, Gastaminza G, Mota-Sánchez D, Murúa MG, Omoto C, Pieralisi BK, Rodríguez J, Rodríguez-Maciel JC, Terán-Santofimio H, Terán-Vargas AP, Valencia SJ, Willink E (2016) Current situation of pests targeted by bt crops in Latin America. Curr Opin Insect Sci 15:131–138

Doyle JJ, Doyle JL (1990) Isolation of plant DNA from fresh tissue. Focus 12:13–15

González A, Liljesthröm G, Castro DDC, Armendano A (2009) Development and recruitment of Misumenops pallidus (Keyserling) (Araneae: Thomisidae), and its synchronicity with three potential prey species in soybean cultures from Argentina. Entomol News 120:41–52

Huang W, Tsai S, Lo C, Soichi Y, Wang C (2004) The novel organization and complete sequence of the ribosomal RNA gene of Nosema bombycis. Fungal Genet Biol 41:473–481

Karpov SA, Mamkaeva MA, Aleoshin VV, Nassonova E, Lilje O, Gleason FH (2014) Morphology, phylogeny and ecology of the aphelids (Aphelidea, Opisthokonta) and proposal for the new superphylum Opisthosporidia. Front Microbiol 5:112

Kawarabata T (2003) Biology of microsporidians infecting the silkworm, Bombyx mori, in Japan. J Insect Biotechnol Sericol 72:1–32

Kumar S, Stecher G, Tamura K (2016) MEGA7: molecular evolutionary genetics analysis version 7.0 for bigger datasets. Mol Biol Evol 33:1870–1874

Kyei-Poku G, Sokolova YY (2017) The microsporidium Nosema disstriae (Thomson 1959): fine structure and phylogenetic position within the N. bombycis clade. J Invertebr Pathol 143:90–103

Liu H, Pan G, Li T, Huang W, Luo B, Zhou Z (2012) Ultrastructure, chromosomal karyotype, and molecular phylogeny of a new isolate of microsporidian Vairimorpha sp. BM (Microsporidia, Nosematidae) from Bombyx mori in China. Parasitol Res 110:205–210

Liu H, Ding S, Qin Q, Tang J, Liu L, Peng H (2015) Morphological and phylogenetic analysis of Nosema sp. HR (Microsporidia, Nosematidae): a new microsporidian pathogen of Histia rhodope Cramer (Lepidoptera, Zygaenidae). Parasitol Res 114:983–988

Luna MG, Sánchez NE (1999) Parasitoid assemblages of soybean defoliator Lepidoptera in north-western Buenos Aires province, Argentina. Agric For Entomol 1:255–260

Macrae TC, Baur ME, Boethel DJ, Fitzpatrick BJ, Gao A-G, Gamundi JC, Harrison LA, Kabuye VT, Mcpherson RM, Miklos JA, Paradise MS, Toedebusch AS, Viegas A (2005) Laboratory and field evaluations of transgenic soybean exhibiting high-dose expression of a synthetic Bacillus thuringiensis cry1A gene for control of Lepidoptera. J Econ Entomol 98:577–587

Malysh JM, Tokarev YS, Sitnicova NV, Martemyanov VV, Frolov AN, Issi IV (2013) Tubulinosema loxostegi sp. n. (Microsporidia: Tubulinosematidae) from the beet webworm Loxostege sticticalis L. (Lepidoptera: Crambidae) in western Siberia. Acta Protozool 52:299–308

Nägeli KW (1857) Über die neue Krankheit der Seidenraupe und verwandte Organismen. Bot Z 15:760–761

Pilarska DK, Radek R, Huang W, Takov DI, Linde A, Solter LF (2015) Review of the genus Endoreticulatus (Microsporidia, Encephalitozoonidae) with description of a new species isolated from the grasshopper Poecilimon thoracicus (Orthoptera: Tettigoniidae) and transfer of microsporidium Itiiti malone to the genus. J Invertebr Pathol 124:23–30

Rimoldi F, Fogel MN, Schneider MI, Ronco AE (2012) Lethal and sublethal effects of cypermethrin and methoxyfenozide on the larvae of Rachiplusia nu (Guenee) (Lepidoptera: Noctuidae). Invertebr Reprod Dev 56:200–208

Rodríguez VA, Belaich MN, Quintana G, Sciocco-Cap A, Ghiringhelli PD (2012) Isolation and characterization of a Nucleopolyhedrovirus from Rachiplusia nu (Guenée) (Lepidoptera: Noctuidae). Int J Virol Mol Biol 1:28–34

Solter LF, Becnel JJ, Oi DH (2012) Microsporidian entomopathogens. In: Vega FE, Kaya HK (eds) Insect pathology, 2nd edn. Elsevier, San Diego, pp 221–263

Specht A, Guedes JVC, Sulzbach F, Vogt TG (2006) Ocorrência de Rachiplusia nu (Guenée) (Lepidoptera: Noctuidae) em fumo (Nicotiana tabacum L.) no Rio Grande do Sul. Neotrop Entomol 35:705–706

Tokarev YS, Malysh JM, Kononchuk AG, Seliverstova EV, Frolov AN, Issi IV (2015) Redefinition of Nosema pyrausta (Perezia pyraustae Paillot 1927) basing upon ultrastructural and molecular phylogenetic studies. Parasitol Res 114:759–761

Wang C-Y, Solter LF, Huang W-F, Tsai Y-C, Lo C-F, Wang C-H (2009) A new microsporidian species, Vairimorpha ocinarae n. sp., isolated from Ocinara lida Moore (Lepidoptera: Bombycidae) in Taiwan. J Invertebr Pathol 100:68–78

Weiss LM, Vossbrinck CR (1999) Molecular biology, molecular phylogeny, and molecular diagnostic approaches to the microsporidia. In: Wittner M, Weiss LM (eds) The microsporidia and microsporidiosis. ASM press, Washington, D.C., pp 129–171

Xie W (1989) The ultrastructure of Nosema sp., a microsporidian parasite from Philosamia cynthia ricini. Acta Zool Sin 35:345–347

Zhu F, Shen Z, Xu X, Tao H, Dong S, Tang X, Xu L (2010) Phylogenetic analysis of complete rRNA gene sequence of Nosema philosamiae isolated from the lepidopteran Philosamia cynthia ricini. J Eukaryotic Microbiol 57:294–296
Acknowledgments
The authors warmly thank Viviana Barrera (IMyZA-INTA), Fernando Delgado (Instituto de Patobiología-INTA) and the personnel of the Laboratorio de Microscopía (CICVyA-INTA) for sharing the microscopy facilities. Also to Débora Moreyra and Roberto Igarza (IMyZA-INTA) for their assistance in R. nu mass rearing.
Funding
This work was funded by INTA and Agencia Nacional de Promoción Científica y Tecnológica (grant PICT-2016-1949), Argentina.
About this article
Cite this article
Arneodo, J.D., Sciocco-Cap, A. Biological and molecular features of Nosema rachiplusiae sp. n., a microsporidium isolated from the neotropical moth Rachiplusia nu (Guenée) (Lepidoptera: Noctuidae). Parasitol Res 117, 1325–1331 (2018). https://doi.org/10.1007/s00436-018-5820-z
Received:

Accepted:

Published:

Issue Date:
Keywords
Nosema
Rachiplusia nu

Ultrastructure

Histopathology

Phylogeny