Abstract
Sulfadoxine-pyrimethamine (SP) is the recommended drug for intermittent preventive treatment of malaria in pregnancy in most of sub-Saharan Africa. Resistance to SP is related to mutations in the dhfr and dhps gene of Plasmodium falciparum. This study determined the prevalence of Pfdhfr and Pfdhps polymorphisms found in asymptomatic pregnant women attending antenatal care in Calabar, Nigeria. From October 2013 to November 2014, asymptomatic pregnant women attending antenatal care clinics were enrolled after obtaining informed consent. Malaria diagnosis testing was done using thick and thin smears. Dried blood spot filter papers were collected. Parasite DNA was extracted from the filter papers using a chelex extraction. Extraction was followed by nested PCR and restriction enzyme digestion. P. falciparum infection was detected by microscopy in 7% (32/459) participants. Twenty-eight P. falciparum isolates were successfully genotyped. In the Pfdhfr gene, the triple mutation was almost fixed; S108N mutation was (100%), N51I (93%) and C59R mutations (93%), whereas the I164L mutation was absent. The prevalence of Pfdhps S436A, A437G, A581G and A613S mutations was 82.1% (23/28), 96.4% (27/28), 71.4% (20/28) and 71.4% (20/28) respectively. The K540E mutation was absent. The prevalence of the Pfdhfr triple mutation IRNI was 92.9% (26/28). The efficacy of SP as IPTp in Southeast Nigeria may be severely threatened. The continuous monitoring of SP molecular markers of resistance is required to assess thresholds. The evaluation of alternative preventive treatment strategies and drug options for preventing malaria in pregnancy may be necessary.
Access options
Buy single article
Instant access to the full article PDF.
US$ 39.95
Tax calculation will be finalised during checkout.
Subscribe to journal
Immediate online access to all issues from 2019. Subscription will auto renew annually.
US$ 119
Tax calculation will be finalised during checkout.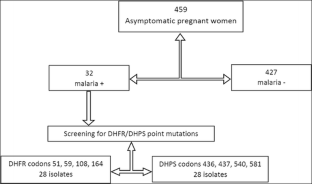 Abbreviations
ANC:

antenatal care

DBS:

dried blot spot

DHFR:

dihydrofolate reductase enzyme

dhfr:

dihydrofolate reductase gene

DHPS:

dihydropteroate synthetase enzyme

dhps:

dihydropteroate synthetase gene

IPTp:

intermittent preventive treatment in pregnancy

ITN:

insecticide-treated bed net

PCR-RFLP:

polymerase chain reaction-restriction fragment length polymorphism

SP:

sulfadoxine-pyrimethamine

WHO:

World Health Organization
References
Brabin B (1991) The risks and severity of malaria in pregnant women. World Health Organization, Geneva Applied Field Research in Malaria Reports TDR/FIELD-MAL, 1

Chauvin P et al. (2015) Prevalence of Plasmodium falciparum parasites resistant to sulfadoxine/pyrimethamine in pregnant women in Yaoundé, Cameroon: emergence of highly resistant pfdhfr/pfdhps alleles J Antimicrob Chemother. dkv160

Cottrell G, Moussiliou A, Luty AJF, Cot M, Fievet N, Massougbodji A, Deloron P, Tuikue Ndam N (2015) Submicroscopic Plasmodium falciparum infections are associated with maternal anemia, premature births, and low birth weight. Clin Infect Dis 60(10):1481–1488. https://doi.org/10.1093/cid/civ122

Dellicour S, Tatem AJ, Guerra CA, Snow RW, ter Kuile FO (2010) Quantifying the number of pregnancies at risk of malaria in 2007: a demographic study. PLoS Med 7(1):e1000221. https://doi.org/10.1371/journal.pmed.1000221

Desai M, ter Kuile FO, Nosten F, McGready R, Asamoa K, Brabin B, Newman RD (2007) Epidemiology and burden of malaria in pregnancy. Lancet Infect Dis 7(2):93–104. https://doi.org/10.1016/S1473-3099(07)70021-X

Duraisingh MT, Curtis J, Warhurst DC (1998) Plasmodium falciparum: detection of polymorphisms in the Dihydrofolate Reductase and Dihydropteroate SynthetaseGenes by PCR and restriction digestion. Exp Parasitol 89:1–8

Fawole AO, Onyeaso N (2008) Perception and practice of malaria prophylaxis in pregnancy among primary health care providers in Ibadan, Nigeria. West Afr J Med 27(2):92–96

Gesase S, Gosling RD, Hashim R, Ord R, Naidoo I, Madebe R, Mosha JF, Joho A, Mandia V, Mrema H, Mapunda E, Savael Z, Lemnge M, Mosha FW, Greenwood B, Roper C, Chandramohan D (2009) High resistance of Plasmodium falciparum to sulphadoxine/pyrimethamine in northern Tanzania and the emergence of dhps resistance mutation at Codon 581. PLoS One 4(2):e4569. https://doi.org/10.1371/journal.pone.0004569

Gregson A, Plowe CV (2005) Mechanisms of resistance of malaria parasites to antifolates. Pharmacol Rev 57(1):117–145. https://doi.org/10.1124/pr.57.1.4

Happi C et al (2005) Polymorphisms in Plasmodium falciparum dhfr and dhps genes and age related in vivo sulfadoxine–pyrimethamine resistance in malaria-infected patients from Nigeria. Acta Trop 95(3):183–193. https://doi.org/10.1016/j.actatropica.2005.06.015

Harrington WE, Mutabingwa TK, Kabyemela E, Fried M, Duffy PE (2011) Intermittent treatment to prevent pregnancy malaria does not confer benefit in an area of widespread drug resistance. Clin Infect Dis 53(3):224–230. https://doi.org/10.1093/cid/cir376

Iwalokun BA, Iwalokun SO, Adebodun V, Balogun M (2015) Carriage of mutant Dihydrofolate reductase and Dihydropteroate synthase genes among plasmodium falciparum isolates recovered from pregnant women with asymptomatic infection in Lagos, Nigeria. Med Princ Pract 24(5):436–443. https://doi.org/10.1159/000430987

Kern SE, Tiono AB, Makanga M, Gbadoé A, Premji Z, Gaye O, Sagara I, Ubben D, Cousin M, Oladiran F, Sander O, Ogutu B (2011) Community screening and treatment of asymptomatic carriers of Plasmodium falciparum with artemether-lumefantrine to reduce malaria disease burden: a modelling and simulation analysis. Malar J 10(1):210. https://doi.org/10.1186/1475-2875-10-210

Kublin JG, Dzinjalamala FK, Kamwendo DD, Malkin EM, Cortese JF, Martino LM, Mukadam RAG, Rogerson SJ, Lescano AG, Molyneux ME, Winstanley PA, Chimpeni P, Taylor TE, Plowe CV (2002) Molecular markers for failure of sulfadoxine-pyrimethamine and chlorproguanil-dapsone treatment of Plasmodium falciparum malaria. J Infect Dis 185(3):380–388. https://doi.org/10.1086/338566

McGready R, White NJ, Nosten F (2011) Parasitological efficacy of antimalarials in the treatment and prevention of falciparum malaria in pregnancy 1998 to 2009: a systematic review. BJOG 118(2):123–135. https://doi.org/10.1111/j.1471-0528.2010.02810.x

McGready R, Lee SJ, Wiladphaingern J, Ashley EA, Rijken MJ, Boel M, Simpson JA, Paw MK, Pimanpanarak M, Mu O, Singhasivanon P, White NJ, Nosten FH (2012) Adverse effects of falciparum and vivax malaria and the safety of antimalarial treatment in early pregnancy: a population-based study. Lancet Infect Dis 12(5):388–396. https://doi.org/10.1016/S1473-3099(11)70339-5

Mockenhaupt FP, Teun Bousema J, Eggelte TA, Schreiber J, Ehrhardt S, Wassilew N, Otchwemah RN, Sauerwein RW, Bienzle U (2005) Plasmodium falciparum dhfr but not dhps mutations associated with sulphadoxine-pyrimethamine treatment failure and gametocyte carriage in northern Ghana. Tropical Med Int Health 10(9):901–908. https://doi.org/10.1111/j.1365-3156.2005.01471.x

Naidoo I, Roper C (2013) Mapping 'partially resistant', 'fully resistant', and 'super resistant' malaria. Trends Parasitol 29(10):505–515. https://doi.org/10.1016/j.pt.2013.08.002

National Population Commission (2012) Nigeria malaria indicator survey 2010 Abuja, Nigeria. 1–66

Nigeria Demographic Health Survey (2014) Nigeria demographic health survey (2013). NPC and ICF International, Abuja

Oduwole O et al (2011) Congenital malaria in Calabar, Nigeria: the molecular perspective. Am J Trop Med Hyg 84(3):386–389. https://doi.org/10.4269/ajtmh.2011.10-0253

Olasehinde G, Ojurongbe O, Fagade O, Ruchi S, Egwari L, Ajayi A, Adeyeba AO (2014) Detection of molecular markers of antimalarial drug resistance in Plasmodium falciparum from South-Western Nigeria. Covenant J Phys Life Sci 1:61–75

Onyedum CC, Chukwuka J (2011) Admission profile and management of community acquired pneumonia in Nigeria-5 year experience in a tertiary hospital. Respir Med 105(2):298–302. https://doi.org/10.1016/j.rmed.2010.11.003

Pearce RJ, Pota H, Evehe MSB, Bâ EH, Mombo-Ngoma G, Malisa AL, Ord R, Inojosa W, Matondo A, Diallo DA, Mbacham W, van den Broek IV, Swarthout TD, Getachew A, Dejene S, Grobusch MP, Njie F, Dunyo S, Kweku M, Owusu-Agyei S, Chandramohan D, Bonnet M, Guthmann JP, Clarke S, Barnes KI, Streat E, Katokele ST, Uusiku P, Agboghoroma CO, Elegba OY, Cissé B, A-Elbasit IE, Giha HA, Kachur SP, Lynch C, Rwakimari JB, Chanda P, Hawela M, Sharp B, Naidoo I, Roper C (2009) Multiple origins and regional dispersal of resistant dhps in African plasmodium falciparum malaria. PLoS Med 6(4):e1000055. https://doi.org/10.1371/journal.pmed.1000055

Peterson DS, Milhous WK, Wellems TE (1990) Molecular basis of differential resistance to cycloguanil and pyrimethamine in Plasmodium falciparum malaria. Proc Natl Acad Sci 87(8):3018–3022. https://doi.org/10.1073/pnas.87.8.3018

Plowe CV, Cortese JF, Djimde A, Nwanyanwu OC, Watkins WM, Winstanley PA, Estrada‐Franco JG, Mollinedo RE, Avila JC, Cespedes JL, Carter D, Doumbo OK (1997) Mutations in Plasmodium falciparum dihydrofolate reductase and dihydropteroate synthase and epidemiologic patterns of pyrimethamine-sulfadoxine use and resistance. J Infect Dis 176(6):1590–1596. https://doi.org/10.1086/514159

Plowe CV, Kublin JG, Dzinjalamala FK, Kamwendo DS, Chimpeni P, Molyneux ME, Taylor TE (2004) Sustained clinical efficacy of sulfadoxine-pyrimethamine for uncomplicated falciparum malaria in Malawi after 10 years as first line treatment: five year prospective study. BMJ 328(7439):545–540. https://doi.org/10.1136/bmj.37977.653750.EE

Sutherland CJ, Fifer H, Pearce RJ, bin Reza F, Nicholas M, Haustein T, Njimgye-Tekumafor NE, Doherty JF, Gothard P, Polley SD, Chiodini PL (2009) Novel pfdhps haplotypes among imported cases of Plasmodium falciparum malaria in the United Kingdom. Antimicrob Agents Chemother 53(8):3405–3410. https://doi.org/10.1128/AAC.00024-09

Talisuna AO, Bloland P, d'Alessandro U (2004) History, dynamics, and public health importance of malaria parasite resistance. Clin Microbiol Rev 17(1):235–254. https://doi.org/10.1128/CMR.17.1.235-254.2004

Triglia T, Cowman AF (1994) Primary structure and expression of the dihydropteroate synthetase gene of Plasmodium falciparum. Proc Natl Acad Sci 91(15):7149–7153. https://doi.org/10.1073/pnas.91.15.7149

Vinayak S, Alam MT, Mixson-Hayden T, McCollum AM, Sem R, Shah NK, Lim P, Muth S, Rogers WO, Fandeur T, Barnwell JW, Escalante AA, Wongsrichanalai C, Ariey F, Meshnick SR, Udhayakumar V (2010) Origin and evolution of sulfadoxine resistant Plasmodium falciparum. PLoS Pathog 6(3):e1000830. https://doi.org/10.1371/journal.ppat.1000830

World Health Organization (2004) A strategic framework for malaria prevention and control during pregnancy in the African region Brazzaville: WHO Regional Office for Africa

World Health Organization (2012) Updated WHO policy recommendation: intermittent preventive treatment of malaria in pregnancy using sulfadoxine-pyrimethamine (IPTp-SP) World Health Organization

World Health Organization (2015) World malaria report 2015. WHO, Geneva

Yusuf O, Dada-Adegbola H, Ajayi I, Falade C (2008) Malaria prevention practices among mothers delivering in an urban hospital in southwest Nigeria. J Vector Borne Dis 45(3):217–224
Acknowledgments
We thank the study participants, the staff of the antenatal clinic and management of the General Hospital Calabar where this study took place. Special thanks to Dr. Olabisi Oduwole, Ms.Obiamaka Okafo and Mr. David Agamse at the Calabar Institute of Tropical Diseases Research and Prevention, University of Calabar Teaching Hospital, Calabar, Nigeria, for their invaluable help. We acknowledge the assistance of Prof Dr. Frank Mockenhaupt at the Institute of Tropical Medicine and International Health, Charité-Universitätsmedizin Berlin, with genotyping of molecular markers. We are also grateful to the Center for International Health (CIH), Ludwig-Maximilians University of Munich, DAAD, BMZ and Exceed for supporting the first author for his PhD program.
Ethics declarations
Consent for publication
Not applicable.
Availability of data and materials
The datasets generated during the current study are available from the corresponding author on reasonable request.
Conflict of interest
The authors declare that they have no competing interests.
About this article
Cite this article
Esu, E., Tacoli, C., Gai, P. et al. Prevalence of the Pfdhfr and Pfdhps mutations among asymptomatic pregnant women in Southeast Nigeria. Parasitol Res 117, 801–807 (2018). https://doi.org/10.1007/s00436-018-5754-5
Received:

Accepted:

Published:

Issue Date:
Keywords
Molecular markers

SP resistance

Malaria

Antenatal clinic