Abstract
Taenia solium has been ranked as the most important foodborne parasite and Taenia saginata as the most commonly found human Taenia tapeworm worldwide. The last official reports of taeniosis from Estonia were in 2003 for T. solium and 2012 for T. saginata. By law, all animal cases of cysticercosis must be registered and reported when found. Our aim was to estimate the prevalence of cysticercosis in Estonia caused by T. solium in pigs and T. saginata in cattle. The four slaughterhouses participating in the study slaughter between them approximately 80% of pigs and cattle in Estonia annually. Sampling spanned from February to April 2014, visiting the slaughterhouses five times per week. Visual inspection, palpation, and incisions at predilection sites were used to find cysts in both species. The sites inspected in both species were the external masseter, tongue, heart, and diaphragm. In addition, the internal masseter in pigs was examined, and the internal pterygoid muscle and esophagus in cattle. DNA was extracted from the cysts and used for PCR amplification of the cox1-gene for Taenia genus and species identification. A total of 564 cattle and 1217 pigs were examined. Cysts were found in 0.36% (n = 2; CI 0.06–1.17) of cattle and in 0.08% (n = 1; CI 0.004–0.40) of pigs. Cestode PCR was negative from all cysts. Results should be considered taking into account the low sensitivity and specificity of finding cysts. Results reflect the situation in larger slaughterhouses, and the possibility that the situation in smaller slaughterhouses is different should not be excluded.
This is a preview of subscription content, log in to check access.
Access options
Buy single article
Instant access to the full article PDF.
US$ 39.95
Price includes VAT for USA
Subscribe to journal
Immediate online access to all issues from 2019. Subscription will auto renew annually.
US$ 199
This is the net price. Taxes to be calculated in checkout.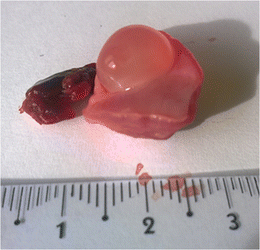 References
Boa ME, Kassuku AA, Willingham AL, Keyyu JD, Phiri IK, Nansen P (2002) Distribution and density of cysticerci of Taenia solium by muscle groups and organs in naturally infected local finished pigs in Tanzania. Vet Parasitol 106(2):155–164. https://doi.org/10.1016/S0304-4017(02)00037-7

Cabaret J, Geerts S, Madeline M, Ballandonne C, Barbier D (2002) The use of urban sewage sludge on pastures: the cysticercosis threat. Vet Res 33(5):575–597. https://doi.org/10.1051/vetres:2002040

Calvo-Artavia FF, Nielsen LR, Dahl J, Clausen DM, Alban L (2013) Occurrence and factors associated with bovine cysticercosis recorded in cattle at meat inspection in Denmark in 2004-2011. Prev Vet Med 110(2):177–182. https://doi.org/10.1016/j.prevetmed.2012.11.017

Cho J, Jung BK, Lim H, Kim MJ, Yooyen T, Lee D, Eom KS, Shin EH, Chai JY (2014) Four cases of Taenia saginata infection with an analysis of COX1 gene. Korean J Parasitol 52(1):79–83. https://doi.org/10.3347/kjp.2014.52.1.79

Craig P, Ito A (2007) Intestinal cestodes. Curr Opin Infect Dis 20(5):524–532

Dean AG, Sullivan KM, Soe MM (2015) OpenEpi: open source epidemiologic statistics for public health version 303a http://www.openepi.com Accessed 19 Sept 2016

Del Brutto OH (2012) Neurocysticercosis in Western Europe: a re-emerging disease? Acta Neurol Belg 112(4):335–343. https://doi.org/10.1007/s13760-012-0068-3

Dorny P, Vallée I, Alban L, Boes J, Boireau P, Boué F, Claes M, Cook AJC, Enemark H, van der Giessen J, Hunt KR, Howell M, Kirjušina M, Nöckler K, Pozio E, Rossi P, Snow L, Taylor MA, Theodoropoulos G, Vieira-Pinto MM, Zimmer I-A. (2010) Development of harmonised schemes for monitoring and reporting of cysticercus in animals in the European Union. Scientific report submitted to EFSA. 1-30, 25 pp

Dural AC, Celik MF, Temizgonul B, Unsal MG, Akarsu C, Gonenc M, Kalayci MU, Alis H (2015) Unusual clinical case: extraluminal manifestation of a tapeworm from the eviscerated midline incision in a post-surgery patient. J Infect Dev Ctries 9(4):428–430. https://doi.org/10.3855/jidc.5153

European Food Safety Authority (EFSA) (2016) Biological hazards reports. National zoonoses country reports. https://www.efsa.europa.eu/en/biological-hazards-data/reports? Accessed 01 June 2016

Fabiani S, Bruschi F (2013) Neurocysticercosis in Europe: still a public health concern not only for imported cases. Acta Trop 128(1):18–26. https://doi.org/10.1016/j.actatropica.2013.06.020

Food and Agriculture Organization of the United Nations/World Health Organization (FAO/WHO) (2014) Multicriteria-based ranking for risk management of food-borne parasites microbiological risk assessment Series No 23

Garcia HH, Del Brutto OH (2005) Neurocysticercosis: updated concepts about an old disease. Lancet Neurol 4(10):653–661. https://doi.org/10.1016/S1474-4422(05)70194-0

Jõgiste A, Varjas J, Märtin J, Aro T, Kutsar K (2000) Communicable disease statistics in Estonia, part 9. Health protection inspectorate. Tallinna Tehnikaülikooli Trükikoda 65–74

Klotz P, Tappe D, Abele-Horn M, Warmuth-Metz M, Sörensen N, Speer CP, Girschick HJ (2006) Cerebral mass in a 13-year-old girl following long-term sojourn in the Tropics. J Med Microbiol 55(3):345–347. https://doi.org/10.1099/jmm.0.46381-0

Kozłowska-łój J, Łój-maczulska A (2014) Short notes prevalence of cysticercosis in cattle and pigs in the Lublin province in the years 2009–2012. Ann Parasitol 60(4):309–310

Laranjo-González M, Devleesschauwer B, Gabriël S, Dorny P, Allepuz A (2016) Epidemiology, impact and control of bovine cysticercosis in Europe: a systematic review. Parasit Vectors 9:81. https://doi.org/10.1186/s13071-016-1362-3

Lassen B, Janson M, Viltrop A, Neare K, Hütt P, Golovljova I, Tummeleht L, Jokelainen P (2016) Serological evidence of exposure to globally relevant zoonotic parasites in the Estonian population. PLoS One 11(10):e0164142. https://doi.org/10.1371/journal.pone.0164142

McCool C (1979) Distribution of cysticercus bovis in lightly infected young cattle. Aust Vet J 55(5):214–216

OIE Terrestrial Manual (2015) Manual of diagnostic tests and vaccines for terrestrial animals 2015, chapter 295 CYSTICERCOSIS: p 7 http://wwwoieint/fileadmin/Home/eng/Health_standards/tahm/20905_CYSTICERCOSISpdf Accessed 01 June 2016

Regulation (EC) No 854/2004 of the European Parliament and of the Council 29th April (2004). Laying down specific rules for the organisation of official controls on products of animal origin intended for human consumption; section IV, chapter 1B. http://eur-lex.europa.eu/LexUriServ/LexUriServ.do?uri=OJ:L:2004:226:0083:0127:EN:PDF Accessed 14 Nov 2014

Scandrett B, Parker S, Forbes L, Gajadhar A, Dekumyoy P, Waikagul J, Haines D (2009) Distribution of Taenia saginata cysticerci in tissues of experimentally infected cattle. Vet Parasitol 164(2-4):223–231. https://doi.org/10.1016/j.vetpar.2009.05.015

Sergeant ESG (2016) Epitools epidemiological calculators. AusVet animal health services and australian biosecurity cooperative research centre for emerging infectious disease. http://epitools.ausvet.com.au. Accessed Aug 2017

Tembo A, Craig PS (2015) Taenia saginata taeniosis: copro-antigen timecourse in a voluntary self-infection. J Helminthol 89(5):612e619–612e619. https://doi.org/10.1017/S0022149X14000455

Walter M, Koske JK (1980) Taenia saginata cysticercosis: a comparison of routine meat inspection and carcase dissection results in calves. Vet Rec 105(5):401–402
Acknowledgements
Milvi Jallajas is thanked for laboratory assistance and the slaughterhouses for collaborating on the project. Jevgenia Epštein is thanked for information on national health data.
Funding
The project was part of the graduation thesis in veterinary medicine of EDK and TÅ. This work was supported by the Estonian Research Council [grant number TerVe 3.2.1002.11-0002 EKZE_SS] and Estonian University of Life Sciences [grant number 8P160014VLVP].
Ethics declarations
Conflict of interest
The authors declare that they have no conflict of interest.
Ethical approval
All applicable international, national, and/or institutional guidelines for the care and use of animals were followed.
About this article
Cite this article
Dorbek-Kolin, E., Åhlberg, T., Tummeleht, L. et al. Prevalence of cysticercosis in Estonian pigs and cattle. Parasitol Res 117, 591–595 (2018). https://doi.org/10.1007/s00436-017-5710-9
Received:

Accepted:

Published:

Issue Date:
Keywords
Taenia saginata
Taenia solium

Estonia

Cattle

Pigs

Cysticercosis