Abstract
Helminths are one of the major health problems of working donkeys, often with heavy worm burden and contributing to their early demise and/or reduction in their work output. Cross-sectional and longitudinal studies were conducted to investigate the current infection prevalence and level of strongyles infection donkeys would acquire through different seasons in the mid-lowland agro-ecological zones of Ethiopia. For this purpose, faecal samples from 206 (cross-sectional study) and 102 (longitudinal study) randomly selected donkeys were directly collected from the rectum and analysed. For the longitudinal study, the 102 donkeys dewormed at the end of main rainy season, beginning of October, were monitored for the level of strongyle infection they would acquire during subsequent dry and short rainy seasons. The cross-sectional study of 206 donkey has revealed an overall infection prevalence of 89.3% (95% confidence interval (CI) = 84.4, 92.9). Donkeys in the lowland zone showed a significantly higher strongyle infection prevalence (P = 0.0126) and mean eggs per gramme of faces (EPG) (P = 0.001; 2775 EPG) compared to donkeys in the midland zone (980.8 EPG). Age, sex and body condition did not have any significant effect on either the infection prevalence or level of infection (P > 0.05). The longitudinal study has shown a significantly lower strongyle infection prevalence (P = 0.003) and level of infection donkeys acquired (P = 0.001) in the subsequent dry and short rainy seasons compared to the main rainy season following October deworming. However, these values were not significantly different between the two agro-ecological zones (P > 0.05). This study clearly showed that parasitic infections are primarily acquired during the main rainy season when pasture/herbage coverage is relatively better, and the environment is conducive for parasites survival and development. On the other hand, the finding of majority of donkeys shedding low or no eggs during the dry and short rainy seasons showed that October deworming was effective, and donkeys acquire low or no parasitic infection during the subsequent dry and short rainy seasons. Therefore, the practice of anthelmintic treatment of donkeys at the end of short rain in May may not be necessary, and October deworming once a year is sufficient.
This is a preview of subscription content, log in to check access.
Access options
Buy single article
Instant access to the full article PDF.
US$ 39.95
Price includes VAT for USA
Subscribe to journal
Immediate online access to all issues from 2019. Subscription will auto renew annually.
US$ 199
This is the net price. Taxes to be calculated in checkout.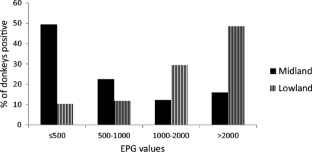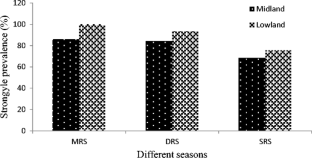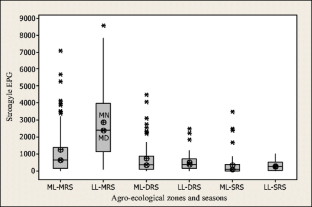 References
Burden FA, Getachew MA (2016) Donkeys—a unique and challenging Endoparasites host. J Equine Vet Sci 39:s102–s103

Burden FA, Du Toit N, Hernandex-Gil M, Prado-Ortiz M, Trawford AF (2010) Selected health and management issues facing working donkeys presented for veterinary treatment in the rural Mexico: some possible risk factors and potential intervention strategies. Trop Anim Health Prod 42:597–605

Crane M (1997) Medical care of donkeys. In: Svendsen ED (ed) The professional hand book of the donkey, 4th edn. Whittet Books Limited, London, pp 19–36

Duncan JL (1973) The life cycle, pathogenesis and epidemiology of S. vulgaris in the horses. Equine Vet J 5:20–25

English AW (1979) The epidemiology of equine strongylosis in southern Queensland. 1. The bionomics of the fee-living stages in faeces and on pasture. Aust Vet J 55:299–305

Eysker M (1987) Over-wintering of non-migrating strongyles in donkeys in the Highveld of Zimbabwe. Res Vet Sci 42:262–263

Eysker M, Pandey VS (1989) Small strongyle infection in donkeys from the Highveld in Zimbabwe. Vet Parasitol 30:345–349

FAOSTAT (2014) Food and Agricultural Statistical database: http://www.fao/corp/statistics/access: Accessed Nov 2016

Fikru RD, Teshale SR, Bizunesh M (2005) Prevalence of equine gastrointestinal parasites in western highlands of Oromia. Bull Anim Health prod Afr 53:161–166

Getachew MA (1999) Epidemiological study on the health and welfare of Ethiopian donkeys, with particular reference to parasitic diseases. MVM thesis, University of Glasgow, Scotland

Getachew MA (2006) Endoparasites of working donkeys in Ethiopia: epidemiological study and mathematical modelling. PhD thesis, University of Glasgow, Scotland

Getachew MG, Feseha G, Trawford A, Reid SWJ (2008a) A survey of seasonal patterns in strongyle faecal worm egg counts of working equids of the central midlands and lowlands, Ethiopia. Trop Anim Health Prod 40:637–664

Getachew MA, Innocent TG, Trawford FA, Feseha G, Reid SWJ, Love S (2008b) Equine Parascariosis under the tropical weather conditions of Ethiopia: a coprological and post-mortem study. Vet Rec 162:177–180

Getachew M, Feseha G, Trawford A, Reid SWJ (2010) Gastrointestinal parasites of working donkeys of Ethiopia. Trop Anim Health Prod 42:27–33

Getachew MA, Innocent G, Proudman CJ, Trawford A, Feseha G, Reid SWJ, Faith B, Love S (2012) Equine cestodosis: a sero-epidemiological study of Anoplocephala perfoliata infection in Ethiopia. Vet Res Commun 36:93–98

Love S, Duncan JL (1992) The development of naturally acquired cyathostome infection in ponies. Ve Parasitol 44:127–142

Lyons ET, Tolliver SC, Collins SS (2009) Probable reason why small strongyle EPG counts are returning early after ivermectin treatment of horses on a farm in central Kentuckey. Parasitol Res 104:569–574

Lyons ET, Tollive SC, Collins SS, Ionita M, Kuzmina TA, Rossano M (2011) Field tests demonstrating reduced activity of Ivermectin and moxidectin against small strongyles in horses on 14 farms in central Kentuckey in 2007-2009. Parasitol Res 108:355–360

MAAF (1979) Manual of veterinary investigation laboratory techniques. Technical Bulletin No. 18, Ministry of Agricultural Fisheries and Food, London, UK, pp: 129

Matthee S, Krecek RC, Guthrie AJ (2002) Effect of management intervention on helminths parasites recovered from donkeys in South Africa. J Parasitol 88:171–179

Matthews JB, Burden FA (2013) Common helminth infections of donkeys and their control in temperate regions. Equine Vet Educ 25:461–467

MOA (2014) Ministry of Agriculture, report on livestock population and metrological data, East Oromiya Region, Ethiopia

Nielson MK, Kaplan RM, Thamsborg SM, Monard J, Olsen SN (2007) Climatic influences on development and survival of free-living stages of equine strongyles: implication for worm control strategies and managing anthelmintic resistance. Vet J 174:23–32

NMA (2014) National Metrological service Agency, report on regional metrological data, 2014–2015, Ethiopia

Proudman CJ, Matthews J (2002) Control of internal parasites in horses. In Practice 22:90–97

R Development Core Team (2015) R: a language and environment for statistical computing. R Foundation for Statistical Computing, Vienna www.R-project.org. Available on line

Reinemeyer CR, Nielsen MK (2013) Hand book of equine parasite control, st edn. John Wiley and Sons, Ltd., UK

Soulsby EJL (1982) Helminths, arthropods and protozoa of domesticated animals, 7th edn. Bailliere Tindall, London

Svendsen ED (1997a) The professional handbook of the donkey, 3rd edn. Whittet Books, London

Svendsen ED (1997b) Donkeys abroad. In: Svendsen ED (ed) The professional handbook of the donkey, 3rd edn. Whittet Books Limited, London, pp 166–182

Thrusfield M (2005) Veterinary epidemiology, 3nd edn. Blackwell Science Ltd., Oxford

Wilson K, Grenfell BT (1997) Generalized linear modelling for parasitologists. Parasitol Today 13:33–38

Yoseph DG, Smith A, Mengistu FT, Firew T, Betere Y (2005) Seasonal variation in the parasite burden and body condition of working donkeys in east Shewa and wester Shewa regions of Ethiopia. Trop Anim Health Prod 37:35–45
Acknowledgement
This study was financially supported by Addis Ababa University, College of Veterinary Medicine and Agriculture. The provision of vehicle for data collection, laboratory facilities for faecal analysis by the DHWP-DS and technical assistance of project staffs in Ethiopia are highly appreciated, with many thanks.
Ethics declarations
Ethical standards
The research was ethically reviewed and the use of animals was approved by the Ethics committee of the College of Veterinary Medicine and Agriculture, Addis Ababa University. Consent of the owners was obtained to use their animals.
Conflict of interest
The authors declare that they have no conflict of interest.
About this article
Cite this article
Dibaba, M.D., Getachew, A.M., Assefa, Z. et al. Seasonal variation of strongylosis in working donkeys of Ethiopia: a cross-sectional and longitudinal studies. Parasitol Res 116, 2009–2015 (2017). https://doi.org/10.1007/s00436-017-5485-z
Received:

Accepted:

Published:

Issue Date:
Keywords
Strongyles

Strongylosis

Seasonality

Cross-sectional/longitudinal study

Donkeys

Ethiopia