Abstract
Among the actual 16 identified and thought to be valid avian piroplasm species, certain parasites are only known from their original description with no subsequent report. Babesia ardeae Toumanoff, 1940 is one of them. It was described from a single sacrificed gray heron (Ardea cinerea) from Vietnam and had never been reported since this date despite inhabiting a very common avian host. The present study reports the accidental rediscovery of B. ardeae from an injured wild gray heron rescued in Singapore. This report confirms the existence of this parasite species in the gray heron from Southeast Asia, highlights the similarities with the original description, provides additional morphologic and morphometric data, and designates neotype material for B. ardeae. Additionally, the report also furnishes the first molecular data about B. ardeae with the amplification and sequencing of the near-full-length 18S rRNA gene sequence and its comparison with the other available sequences of avian piroplasms. Phylogenetic analysis based on this gene was performed to study the relationship of B. ardeae with the other piroplasms from mammals and birds and indicated that B. ardeae appears as a brother group of a clade formed by several avian piroplasm species isolated from seabirds, altogether clustering in a well-supported clade related to the "Babesia duncani group" and protothelerids. Scarcity of this parasite is discussed as well as its taxonomy in relation to the conundrum about the systematics of piroplasms.
Access options
Buy single article
Instant access to the full article PDF.
USD 39.95
Price excludes VAT (USA)
Tax calculation will be finalised during checkout.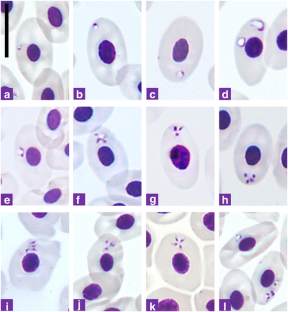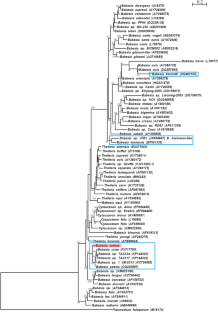 References
Akaike H (1974) A new look at the statistical model identification. IEEE Trans Autom Control 19:716–723. doi:10.1109/TAC.1974.1100705

Allsopp MTE, Allsopp BA (2006) Molecular sequence evidence for the reclassification of some Babesia species. Ann N Y Acad Sci 1081:509–517. doi:10.1196/annals.1373.076

Altschul SF, Gish W, Miller W, Myers EW, Lipman DJ (1990) Basic Local Alignment Search Tool. J Mol Biol 215:403–410. doi:10.1016/S0022-2836(05)80360-2

Baneth G, Florin-Christensen M, Cardoso L, Schnittger L (2015) Reclassification of Theileria annae as Babesia vulpes sp. nov. Parasit Vectors 8:207. doi:10.1186/s13071-015-0830-5

Cacciò S, Cammà C, Onuma M, Severini C (2000) The β-tubulin gene of Babesia anf Theileria parasites is an informative marker for species discrimination. Int J Parasitol 30:1181–1185. doi:10.1016/S0020-7519(00)00105-3

Clements JF, Schulenberg TS, Iliff MJ, Roberson D, Fredericks TA, Sullivan BL, Wood CL 2016 The eBird/Clements checklist of birds of the world: v2016

Cornillot E, Hadj-Kaddour K, Dassouli A, Noel B, Ranwez V, Vacherie B, Augagneur Y, Brès V, Duclos A, Randazzo S, Carcy B, Debierre-Grockiego F, Delbecq S, Moubri-Ménage K, Shams-Eldin H, Usmani-Brown S, Bringaud F, Wincker P, Vivarès CP, Schwarz RT, Schetters TP, Krause PJ, Gorenflot A, Berry V, Barbe V, Ben Mamoun C (2012) Sequencing of the smallest Apicomplexan genome from the human pathogen Babesia microti. Nucleic Acids Res 40:9102–9114. doi:10.1093/nar/gks700

Corradetti A, Scanga M (1964) Segnalazione in Europa de Babesia shortii (Mohammed, 1958) in Falco tinnunculus tinnunculus e brevi note su questo parasite. Parassitol 6:77–80

Criado A, Martinez J, Buling A, Barba JC, Merino S, Jefferies R, Irwin PJ (2006) New data on epizootiology and genetics of piroplasms based on sequences of small ribosomal subunit and cytochrome b genes. Vet Parasitol 142:238–247. doi:10.1016/j.vetpar.2006.07.004

Croft RE, Kingston N (1975) Babesia moshkovskii (Schurenkova, 1938) Laird and Lari, 1957; from the prairie falcon, Falco mexicanus, in Wyoming; with comments on another parasites found in this host. J Wildl Dis 11:229–233. doi:10.7589/0090-3558-11.2.229

Earlé RA, Huchzermeyer FW, Bennett GF, Brossy JJ (1993) Babesia peircei sp. nov. from the jackass penguin. S Afr J Zool 28:88–90. doi:10.1080/02541858.1993.11448298

Edgar RC (2004) MUSCLE: multiple sequence alignment with high accuracy and high throughput. Nucleic Acids Res 32:1792–1797. doi:10.1093/nar/gkh340

Guindon S, Dufayard JF, Lefort V, Anisimova M, Hordijk W, Gascuel O (2010) New algorithms and methods to estimate maximum-likelihood phylogenies: assessing the performance of PhyML 3.0. Syst Biol 59:307–321. doi:10.1093/sysbio/syq010

Hoogstraal H (1956) African Ixodoidea. 1. Ticks of the Sudan. U.S. Naval Medical Research Unit #3, U.S. Navy, Washington, D.C.

Jefferies R, Down J, McInnes L, Ryan U, Robertson H, Jakob-Hoff R, Irwin P (2008) Molecular characterization of Babesia kiwiensis from the brown kiwi (Apteryx mantelli). J Parasitol 94:557–560. doi:10.1645/GE-1344.1

Kumar S, Stecher G, Tamura K (2016) MEGA7: Molecular Evolutionary Genetics Analysis version 7.0 for bigger datasets. Mol Biol Evol 33:1870–1874. doi:10.1093/molbev/msw054

Lack JB, Reichard MV, Van Den Bussche RA (2012) Phylogeny and evolution of the Piroplasmida as inferred from 18S rRNA sequences. Int J Parasitol 42:353–363. doi:10.1016/j.ijpara.2012.02.005

Levine ND (1971) Taxonomy of the piroplasms. T Am Microsc Soc 90:2–33. doi:10.2307/3224894

Martínez J, Vásquez RA, Venegas C, Merino S (2015) Molecular characterisation of haemoparasites in forest birds from Robinson Crusoe Island: is the Austral Thrush a potential threat to endemic birds? Bird Conserv Int 25:139–152. doi:10.1017/S0959270914000227

Medlin L, Elwood HJ, Sickel S, Sogin ML (1988) The characterization of enzymatically amplified eukaryotic 16S-like rRNA-coding regions. Gene 71:491–499. doi:10.1016/0378-1119(88)90066-2

Mehlhorn H, Schein E (1984) The piroplasms: life-cycle and sexual stages. Adv Parasitol 23:37–103. doi:10.1016/S0065-308X(08)60285-7

Merino S (1998) Babesia bennetti sp. nov. from the yellow-legged gull (Larus cachinnans; Aves: Laridae) in Benidorm Island, Mediterranean Sea. J Parasitol 84:422–424. doi:10.2307/3284504

Merino S, Peirce MA, Fernández M, Lanzarot P (2002) Redescription of Babesia moshkovskii (Schurenkova) from the griffon vulture Gyps fulvus (Hablizl). J Nat Hist 36:1635–1638. doi:10.1080/00222930110097653

Mohammed AHH (1958) Systematic and experimental studies on protozoal blood parasites of Egyptian birds—part 1. Cairo University Press, pp. 77–104

Nuttall GHF (1908) Piroplasmosis. The Harben lectures, 1908. Lecture 3. J R Inst Public Health 16:513–526

Paparini A, McInnes LM, Di Placido D, Mackereth G, Tomkins DM, Clough R, Ryan UM, Irwin PJ (2014) Piroplasms of New Zealand seabirds. Parasitol Res 113:4407–4414. doi:10.1007/s00436-014-4118-z

Peirce MA (1973) Nuttallia balearicae sp. n., an avian piroplasm from crowned cranes (Balearica spp.). J Protozool 20:543–546. doi:10.1111/j.1550-7408.1973.tb03567.x

Peirce MA (1975) Nuttallia França, 1909 (Babesiidae) preoccupied by Nuttallia Dall, 1898 (Psammobiidae): a re-appraisal of the taxonomic position of the avian piroplasms. Int J Parasitol 5:285–287. doi:10.1016/0020-7519(75)90075-2

Peirce MA (2000) A taxonomic review of avian piroplasms of the genus Babesia Starcovici, 1893 (Apicomplexa: Piroplasmorida: Babesiidae). J Nat Hist 34:317–332. doi:10.1080/002229300299507

Peirce MA, Feare CJ (1978) Piroplasmosis in the masked booby Sula dactylatra melanops in the Amirantes, Indian Ocean. Bull B O C 98:38–40

Peirce MA, Parson NJ (2012) Babesia ugwidiensis, a new species of avian piroplasm from Phalacrocoracidae in South Africa. Parasite 19:375–379. doi:10.1051/parasite/2012194375

Peirce MA, Jakob-Hoff RM, Twentyman C (2003) New species of haematozoa from Apterygidae in New Zealand. J Nat Hist 37:1797–1804. doi:10.1080/00222930110109082

Poche F (1913) Das System der Protozoa. Archiv Protistenkd 30:125–321

Quillfeldt P, Martínez J, Bugoni L, Mancini PL, Merino S (2014) Blood parasites in noddies and boobies from Brazilian offshore islands—differences between species and influence of nesting habitat. Parasitol 141:399–410. doi:10.1017/S0031182013001649

Ruef BJ, Ward TJ, Oxner CR, Conley PG, Brown WC, Rice-Ficht AC (2000) Phylogenetic analysis with newly characterized Babesia bovis hsp70 and hsp90 provides strong support for paraphyly within the piroplasms. Mol Biochem Parasitol 109:67–72. doi:10.1016/S0166-6851(00)00230-9

Schurenkova A (1938) Sogdianella moshkovskii gen. nov. sp. nov.; a parasite belonging to the Piroplasmidea in a raptorial bird Gypaetus barbatus L. Med Parazitol Parazit Bolezni 7:932–937

Schwarz GE (1978) Estimating the dimension of a model. Ann Stat 6:461–464. doi:10.2307/2958889

Shapiro SS, Wilk MB (1965) An analysis of variance test for normality (complete samples). Biometrika 52:591–611. doi:10.2307/2333709

Snedecor GW, Cochran WG (1989) Statistical Jurong Hill methods, 8th edition. Iowa State University Press

Starcovici C (1893) Bemerkungen über den durch Babes entdeckten Blutparasiten und die durch denselben hervorgebrachten Krankheiten, die seuchenhafte Hämoglobinurie des Rindes (Babes), das Texasfieber (Th. Smith) und der Carceag der Schafe (Babes). Centralbl Bakteriol Parasitenkd 14:1–8

Tavaré S (1986) Some probabilistic and statistical problems in the analysis of DNA sequences in lectures on mathematics in the life sciences. Am Math Soc 17:57–86

Toumanoff C (1940) Le parasite sanguin endoglobulaire du héron cendré de l'Indochine (Ardea cinerea var. rectirostris Gould), Babesia (Nicollia) ardeae nov. sp. Rev Méd Fr Extrême-Orient 19:491–496

Ujvari B, Madsen T, Olsson M (2004) High prevalence of Hepatozoon spp. (Apicomplexa, Hepatozoidae) infection in water pythons (Liasis fuscus) from tropical Australia. J Parasitol 90:670–672. doi:10.1645/GE-204R

Vanstreels RET, Woehler EJ, Ruoppolo V, Vertigan P, Carlile N, Priddel D, Finger A, Dann P, Herrin KV, Thompson P, Ferreira Junior FC, Braga ÉM, Hurtado R, Epiphanio S, Catão-Dias JL (2015) Epidemiology and molecular phylogeny of Babesia sp. in little penguins Eudyptula minor in Australia. Int J Parasitol: Parasit Wildl 4:198–205. doi:10.1016/j.ijppaw.2015.03.002

Wenyon CM (1926) Protozoology: a manual for medical men, veterinarians and zoologists—volume 2. Balliere, Tindall and Cox, London

Work TM, Rameyer RA (1997) Description and epizootiology of Babesia poelea n. sp. in brown boobies (Sula leucogaster (Boddaert)) on Sand Island, Johnston Atoll, Central Pacific. J Parasitol 83:734–738. doi:10.2307/3284253

Yabsley MJ, Shock BC (2013) Natural history of zoonotic Babesia: role of wildlife reservoirs. Int J Parasitol: Parasit Wildl 2:18–31. doi:10.1016/j.ijppaw.2012.11.003

Yabsley MJ, Work TM, Rameyer RA (2006) Molecular phylogeny of Babesia poelea from brown boobies (Sula leucogaster) from Johnston Atoll, central Pacific. J Parasitol 92:423–425. doi:10.1645/GE-617R.1

Yabsley MJ, Greiner E, Tseng FS, Garner MM, Nordhausen RW, Ziccardi MH, Borjesson DL, Zabolotzky S (2009) Description of novel Babesia species and associated lesions from common murres (Uria aalge) from California. J Parasitol 5:1183–1188. doi:10.1645/GE-1955.1

Yakunin MP, Krivkova AM (1971) New blood parasite species of the family Babesiidae (Piroplasmidea) in birds. Parazitologiya 5:462–465
Acknowledgements
The authors are grateful to the staffs of the ACRES for their constant concern and effort to protect animals and who rescue the gray heron studied here. They also wish to thank the bird keepers and the veterinary doctors from Jurong Bird Park, Singapore, for their help and the continuous care they provide to the birds. The study was supported by the Muséum National d'Histoire Naturelle, Paris, France.
Ethics declarations
All procedures performed in this study involving animals were in accordance with the ethical standards or practices of the institution.
About this article
Cite this article
Chavatte, J.M., Okumura, C. & Landau, I. Redescription of Babesia ardeae Toumanoff, 1940, a parasite of Ardeidae, including molecular characterization. Parasitol Res 116, 1089–1097 (2017). https://doi.org/10.1007/s00436-017-5394-1
Received:

Accepted:

Published:

Issue Date:

DOI: https://doi.org/10.1007/s00436-017-5394-1
Keywords