Abstract
Essential oils from fresh leaves of four aromatic plants viz., Ocimum sanctum, Mentha piperita, Eucalyptus globulus and Plectranthus amboinicus were extracted by hydrodistillation. The test solutions were prepared as 20% essential oil in ethanol and positive control as 20% DEET in ethanol. Essential oil blend was prepared as 5% concentration. Nulliparous, 3–5-day-old female adult Aedes aegypti mosquitoes were used for repellency screening as per ICMR protocol. The study showed that the repellency of 20% essential oil of O. sanctum, M. piperita and P. amboinicus were comparable with that of the standard DEET (20%) as no mosquito landing on the test was observed up to 6 h. The E. globulus oil exhibited mosquito repellency only upto 1½ h. Considerable mosquito landing and feeding was displayed in negative control. In the case of the oil blend, no landing of mosquitoes was seen up to 6 h as that of positive control. The results showed that the essential oil blend from O. sanctum, M. piperita, E. globulus and P. amboinicus could repel Ae. aegypti mosquitoes or prevent from feeding as in the case of DEET even at a lower concentration of 5%. This study demonstrates the potential of essential oils from O. sanctum, M. piperita, E. globulus and P. amboinicus and their blend as mosquito repellents against Ae. aegypti, the vector of dengue, chikungunya and yellow fever.
This is a preview of subscription content, log in to check access.
Access options
Buy single article
Instant access to the full article PDF.
US$ 39.95
Tax calculation will be finalised during checkout.
Subscribe to journal
Immediate online access to all issues from 2019. Subscription will auto renew annually.
US$ 199
Tax calculation will be finalised during checkout.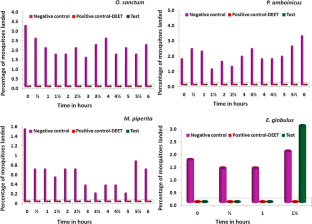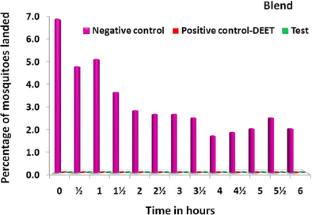 References
Abdel-Rahman A, Shetty AK, Abou-donia MB (2001) Subchronic dermal application of N,N-diethyl m-toluamide (DEET) and permethrin to adult rats, alone or in combination, causes diffuse neuronal cell death and cytoskeletal abnormalities in the cerebral cortex and the hippocampus, and Purkinje neuron loss in the cerebellum. Exp Neurol 172:153–171

Adams TF, Wongchai C, Chaidee A, Pfeiffer W (2016) "Singing in the tube"—audiovisual assay of plant oil repellent activity against mosquitoes (Culex pipiens). Parasitol Res 115(1):225–39

Amer A, Mehlhorn H (2006) Repellency effect of forty-one essential oils against Aedes, Anopheles, and Culex mosquitoes. Parasitol Res 99(4):478–490

Ansari MA, Vasudevan P, Tandon M, RazdaN RK (2000) Larvicidal and mosquito repellent action of peppermint (Mentha piperita) oil. Biores Tech 71(3):267–271

Auysawasdi N, Chuntranuluck S, Phasomkusolsil S, Keeratinijakal V (2016) Improving the effectiveness of three essential oils against Aedes aegypti (Linn.) and Anopheles dirus (Peyton and Harrison). Parasitol Res 115(1):99–106

Barnard DR (1999) Repellency of essential oils to mosquitoes (Diptera: Culicidae). J Med Entomol 36(5):625–629

Batish DR, Singh HP, Kohli RK (2008) Eucalyptus essential oil as a natural pesticide. Forest Ecol Manag 12:2166–2174

Briassoulis G (2001) Toxic encephalopathy associated with use of DEET insect repellents: a case analysis of its toxicity in children. Hum Exp Toxicol 20:8–14

Brown M, Hebert AA (1997) Insect repellents: an overview. J Am Acad Dermatol 36:243–249

Champakaew D, Junkum A, Chaithong U, Jitpakdi A, Riyong D, Sanghong R, Intirach J, Muangmoon R, Chansang A, Tuetun B, Pitasawat B (2015) Angelica sinensis (Umbelliferae) with proven repellent properties against Aedes aegypti, the primary dengue fever vector in Thailand. Parasitol Res 114(6):2187–98

Chokechaijaroenporn O, Bunyapraphatsara N, Kongchuensin S (1994) Mosquito repellent activities of ocimum volatile oils. Phytomedicine 1(2):135–139

Curtis C, Lines J, Lu B, Renz A (1989) Natural and synthetic repellents. In: Curtis CF (ed) Appropriate technology in vector control. CRC Press, Florida

Evergetis E, Michaelakis A, Papachristos DP, Badieritakis E, Kapsaski-Kanelli VN, Haroutounian SA (2016) Seasonal variation and bioactivity of the essential oils of two Juniperus species against Aedes (Stegomyia) albopictus (Skuse, 1894). Parasitol Res 115(6):2175–83

Gillij YG, Gleiser RM, Zygadlo JA (2008) Mosquito repellent activity of essential oils of aromatic plants growing in Argentina. Biores Tech 99:2507–2515

Govindarajan M, Sivakumar R (2012) Adulticidal and repellent properties of indigenous plant extracts against Culex quinquefasciatus and Aedes aegypti (Diptera: Culicidae). Parasitol Res 110(5):1607–1620

Govindarajan M, Rajeswary M, Arivoli S, Tennyson S, Benelli G (2016) Larvicidal and repellent potential of Zingiber nimmonii (J. Graham) Dalzell (Zingiberaceae) essential oil: an eco-friendly tool against malaria, dengue, and lymphaticfilariasis mosquito vectors? Parasitol Res 115(5):1807–16

Gupta RK, Rutledge LC (1994) Role of repellents in vector control and disease prevention. Am J Trop Med Hyg 50:82–86

Helmenstine AM (2011) Natural Mosquito Repellent. Strategies that work. http://chemistry.about.com/cs/howthingswork/a/aa050503a.htm

Hummelbrunner LA, Isman MB (2001) Acute, sublethal, antifeedant and synergistic effects of monoterpenoid essential oil compounds on the tobacco cutworm, Spodoptera litura (Lep. Noctuidae). J Agric Food Chem 49:715–720

ICMR (2014) Revised common protocol for uniform evaluation of public health pesticides including biolarvicides for use in vector control

Katz TM, Miller JH, HerberT AA (2008) Insect repellents: historical perspectives and new developments. J Am Acad Dermatol 58(5):865–871

Langenheim JH (1994) Higher plant terpenoids: a phytocentric overview of their ecological roles. J Chem Ecol 20:1223–1280

Moretti AN, Zerba EN, Alzogaray RA (2013) Behavioral and toxicological responses of Rhodnius prolixus and Triatoma infestans (Hemiptera: Reduviidae) to 10 Monoterpene alcohols. J Med Entomol 50(5):1046–1054

Nerio LS, Olivero-Verbela J, Stashenkob E (2010) Repellent activity of essential oils: a review. Biores Tech 101(1):372–378

Nour AH, Elhussein SA, Osman NA, Nour AH (2009) Repellent activities of the essential oils of four Sudanese accessions of Basil (Ocimum basilicum L.) against Anopheles mosquito. Asian J Appl Sci 9:2645–2648

Nukenine EN, Adler C, Reichmut CH (2010) Bioactivity of fenchone and Plectranthus glandulosus oil against Prostephanus truncatus and two strains of Sitophilus zeamais. J Applied Entomol 134(2):132–141

Odalo JO, Omolo MO, Malebo H, Angira J, Njeru PM, Ndiege IO, Hassanali A (2005) Repellency of essential oils of some plants from the Kenyan coast against Anopheles gambiae. Acta Trop 95:210–218

Omolo MO, Okinyo D, Ndiege IO, Lwande W, Hassanadali A (2005) Fumigant toxicity of the essential oils of some African plants against Anopheles gambiae sensu strict. Phytomedicine 12(3):241–246

De Padilha PJ, Gomes-Carneiro MR, Paumgartten FJR (2003) Chemical composition, toxicity and mosquito repellency of Ocimum selloi oil. J Ethnopharmacol 88:253–260

Qiu H, Jun HW, McCall JW (1998) Pharmacokinetics, formulation, and safety of insect repellent N, N-diethyl-3-methylbenzamide (deet): a review. J Am Mosq Contr Assoc 14:12–27

Robbins PJ, Cherniack MG (1986) Review of biodistribution and toxicology of the insect repellent N, N-diethyl-m-toluamide(deet). J Toxicol Environ Hlth 18:503–525

Sarita K, Naim W, Radhika W (2011) Bioefficacy of Mentha piperita essential oil against dengue fever mosquito Aedes aegypti L. Asian Pac J Trop Biomed 1(2):85–88

Senthilkumar A, Venkatesalu V (2010) Chemical composition and larvicidal activity of the essential oil of Plectranthus amboinicus (Lour.) Spreng against Anopheles stephensi: a malarial vector mosquito. Parasitol Res 107(5):1275–1278

Shyamapada M (2011) Repellent activity of Eucalyptus and Azadirachta indica seed oil against the filarial mosquito Culex quinquefasciatus Say (Diptera: Culicidae) in India. Asian Pac J Trop Biomed S109-S112.

Soh, Wei Ing (2010) Evaluation of the mosquito repellent action of Cuban oregano (Plectranthus amboinicus) essential oil. http://dspace.unimap.edu.my:80/xmlui/handle/ 123456789/13146.

Sritabutra D, Soonwera M, Waltanachanobon S, Poungjai S (2011) Evaluation of herbal essential oil as repellents against Aedes aegypti (L.) and Anopheles dirus (Peyton & Harrison). Asian Pac J Trop Biomed 1(Suppl 1): S124–S128.

Tawatsin A, Wratten SD, Scott RR, Thavara U, Yenchit TY (2001) Repellency of volatile oils from plants against three mosquito vectors. J Vector Ecol 26(1):76–82

Tjahjani S (2008) Efficacy of several essential oils as Culex and Aedes repellents. Proc ASEAN Congr Trop Med Parasitol 3:33–37

Trigg JK, Hill N (1996) Laboratory evaluation of a Eucalyptus-based repellent against four biting arthropods. Phytother Res 10(4):313–316

Walker TW, Robert LL, Copeland RA, Githeko AK, Wirtz RA, Githure JI, Klein TA (1996) Field evaluation of arthropod repellents, deet and a piperidine compound, AI3-37220, against Anopheles funestus and Anopheles arabiensis in West Kenya. J Am Mosq Contr Assoc 12:172–176

WHO (2016) Vector borne diseases. http://www.who.int/mediacentre/factsheets/fs387/en/

Yang P, Ma Y (2005) Repellent effect of plant essential oils against Aedes albopictus. J Vector Ecol 30(2):231–234

Yap HH (1986) Effectiveness of soap formulations containing deet and permethrin as personal protection against outdoor mosquitoes in Malaysia. J Am Mosq Contr Assoc 2:63–67
Acknowledgments
Both the authors are thankful to Dr. P. Jambulingam, The Director, Vector Control Research Centre, Pondicherry, for critically reviewing the paper. This paper is based on the post graduate project work by one of the authors and she expresses her gratitude to Dr. A.M. Manonmani, Chief, HRD division for support during the project period. The assistance rendered by the staff of HRD and Unit of Chemistry are also gratefully acknowledged.
About this article
Cite this article
Lalthazuali, Mathew, N. Mosquito repellent activity of volatile oils from selected aromatic plants. Parasitol Res 116, 821–825 (2017). https://doi.org/10.1007/s00436-016-5351-4
Received:

Accepted:

Published:

Issue Date:
Keywords
Mosquito

Aedes aegypti

Repellent

Essential oil

Vector