Abstract
Equids can be infected by a range of skin-dwelling filarial nematodes, including four species of the genus Onchocerca. Current literature on equine onchocercosis is fragmentary and often limited to isolated case reports. The present study aimed to describe a clinical case of equine onchocercosis caused by Onchocerca boehmi (Supperer, 1953) (syn. Elaeophora boehmi) in an 8-year-old gelding Belgian show jumper from northern Italy. The horse was presented with a firm and painless mass on the proximal third of the right metacarpal region. Ultrasound examination showed a peritendinous enlargement around the palmaro-lateral area of the tendons, characterized by an elongated hypoechoic and well-defined structure, embedding a coiled hyperechoic line. The metacarpal nodule was resected and histologically examined. Fragments of a parasitic nematode were detected, isolated and examined. The morphological analysis allowed identifying the nematode as O. boehmi. In addition, total genomic DNA was extracted from individual fragments using a commercial kit for the nematode identification and a comparative sequence analysis of the nematode cytochrome oxidase subunit 1 (cox1) sequence with data available in the GenBankTM database revealed the closest identity (i.e. 91 %) with that of Onchocerca lupi. Thus far, O. boehmi has only been reported in Austria and Iran, and information about its life-cycle and vectors is lacking. The systematic position of this species within the genus Onchocerca, not in Elaeophora where it was originally described, is in concordance with the morphological and molecular analysis. In this article, we describe the first autochthonous case of equine onchocercosis in Italy caused by O. boehmi and discuss novel parasitological, clinical, and pathological data on these pathogens of horses.
Access options
Buy single article
Instant access to the full article PDF.
USD 39.95
Price excludes VAT (USA)
Tax calculation will be finalised during checkout.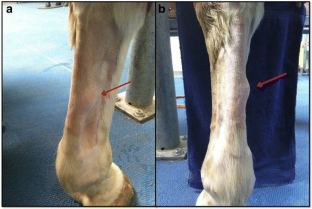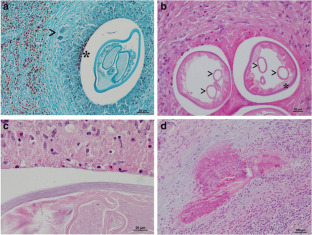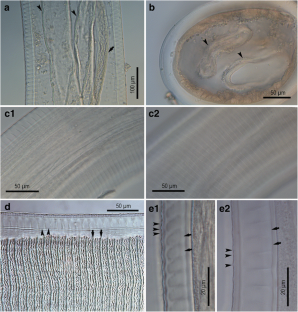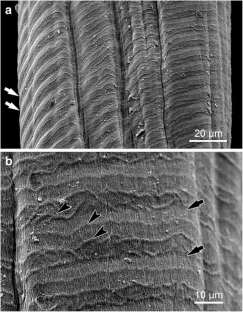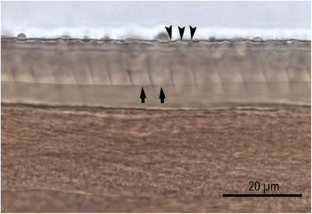 References
Anderson RC (2000) The Superfamily Filaroidea. In: Nematode Parasites of Vertebrates; Their Development and Transmission, 2nd edn. CABI Publishing, New York, pp 517–523

Bain O (1975) Redescription de cinq espèces d'onchocerques. Ann Parasitol Hum Comp 50:763–788

Bain O (1981) Le genre Onchocerca: hypothèses sur son évolution et clé dichotomique des espèces. Ann Parasitol Hum Comp 56:503–526

Bain O, Muller RL, Khamis Y, Guilhon J, Schillhorn van Veen T (1976) Onchocerca raillieti sp. n. (Filaroidea) chez l'Ane domestique en Afrique. J Helminthol 50:287–293

Cello RM (1971) Ocular onchocerciasis in the horse. Equine Vet J 3:148–154

Collobert C, Bernard N, Lamidey C (1995) Prevalence of Onchocerca species and Thelazia lacrimalis in horses examined post mortem in Normandy. Vet Rec 136:463–465

Cummings E, James ER (1985) Prevalence of equine onchocerciasis in southeastern and midwestern United States. J Am Vet Med Assoc 186:1202–1203

Franck MT, Colombet J, Hugnet C, Ducos de Lahitte J, Desmaizières LM, Delverdier M, Franc M (2006) Research of skin microfilariae on 160 horses from Poland, France and Spain. Revue Méd Vét 157:323–325

Klei TR, Torbert B, Chapman MR, Foil L (1984) Prevalence of Onchocerca cervicalis in equids in the Gulf Coast region. Am J Vet Res 45:1646–1647

Lees MJ, Kleider N, Tuddenham TJ (1983) Cutaneous onchocerciasis in the horse: five cases in Southwestern British Columbia. Can Vet J 24:3–5

Lloyd S, Soulsby EJL (1978) Survey for infection with Onchocerca cervicalis in horses in eastern United States. Am J Vet Res 39:1962–1963

Lyons ET, Swerczek TW, Tolliver SC, Bair HD, Drudge JH, Ennis LE (2000) Prevalence of selected species of internal parasites in equids at necropsy in central Kentucky (1995-1999). Vet Parasitol 92:51–62

Mancebo OA, Verdi JH, Bulman GM (1997) Comparative efficacy of moxidectin 2% equine oral gel and ivermectin 2% equine oral paste against Onchocerca cervicalis (Railliet and Henry, 1910) microfilariae in horses with naturally acquired infections in Formosa (Argentina). Vet Parasitol 73:243–248

Marcoux M, Frechette JL, Morin M (1977) Onchocerca cervicalis infection in Quebec: clinical signs and diagnostic methods. Can Vet J 18:108–110

Marques SMT, Scrofernecker ML (2004) Onchocerca cervicalis in horses from Southern Brasil. Trop Anim Health Prod 36:633–636

Mellor PS (1973) Studies on Onchocerca cervicalis Raillet and Henry 1910: I. Onchocerca cervicalis in British horses. J Helminthol 47:97–110

Mirzayans A, Maghsoodloo H (1977) Filarial infection of Equidae in the Tehran area of Iran. Trop Anim Health Prod 9:19–20

Moignoux JB (1954) Enquête épidémiologique sur l'onchocercose cutanée des chevaux en Camargue. Rev Path Gen Comp 54:569–573

Monahan CM, Chapman MR, French DD, Klei TR (1995) Efficacy of moxidectin oral gel against Onchocerca cervicalis microfilariae. J Parasitol 81:117–118

Muller R (1979) Identification of Onchocerca. Symposia of the British Society for Parasitology, Vol. 17. In: Problems in the Identification of Parasites and their Vectors, ed. Taylor and Muller. Blackwell Scientific, London, pp 175–206

Munger RJ (1983) Equine onchocercal keratoconjunctivitis. Equine Vet J 15:65–70

Mutafchiev Y, Dantas-Torres F, Giannelli A, Abramo F, Papadopoulos E, Cardoso L, Cortes H, Otranto D (2013) Redescription of Onchocerca lupi (Spirurida: Onchocercidae) with histopathological observations. Parasit Vectors 6:309

Onmaz AC, Beutel RG, Schneeberg K, Pavaloiu AN, Komarek A, van den Hoven R (2013) Vector and vector-borne diseases of horses. Vet Res Commun 37:65–81

Otranto D, Sakru N, Testini G, Gürlü VP, Yakar K, Lia RP, Dantas-Torres F, Bain O (2011) Case report: first evidence of human zoonotic infection by Onchocerca lupi (Spirurida, Onchocercidae). Am J Trop Med Hyg 84:55–58

Ottley ML, Dallemagne C, Moorhouse DE (1983) Equine onchocerciasis in Queensland and the Northern Territory of Australia. Aust Vet J 60:200–203

Polley L (1984) Onchocerca in horses from Western Canada and the Northwestern United States: An abattoir survey of the prevalence of infection. Can Vet J 25:128–129

Riek RF (1953) Studies on allergic dermatitis (Queensland itch) of the horse. I.Description, distribution, symptoms and pathology. Aust Vet J 7:177–184

Riek RF (1954) Studies on allergic dermatitis (Queensland itch) of the horse: the aetiology of the disease. Aust J Agricul Res 5:109–129

Schmidt GM, Krehbiel JD, Coley SC, Leid RW (1982) Equine onchocerciasis: lesion in the nuchal ligament of Midwestern US horses. Vet Pathol 19:16–22

Scott DW, Miller WH (2003) Equine dermatology. Saunders, Elsevier Science, St. Louis, pp 242–245

Solismaa M, Laaksonen S, Nylund M, Pitkänen E, Airakorpi R, Oksanen A (2008) Filarioid nematodes in cattle, sheep and horses in Finland. Acta Vet Scand 50:20

Stannard AA, Cello RM (1975) Onchocerca cervicalis infection in horses from the western United States. Am J Vet Res 36:1029–1031

Supperer R (1953) Filarosen der Pferde in Österreich. Wiener Tierärztliche Monatsschrift 40:193–220

Uni S, Fukuda M, Agatsuma T, Bain O, Otsuka Y, Nakatani J, Matsubayashi M, Harada M, Omar H, Ramli R, Hashim R, Azirun MS, Hashim R (2015) Onchocerca takaokai n. sp. (Nematoda: Filarioidea) in Japanese wild boars (Sus scrofa leucomystax): description and molecular identification of intradermal females. Parasitol Int 64:493–502

Tamura K, Stecher G, Peterson D, Filipski A, Kumar S (2013) MEGA6: Molecular Evolutionary Genetics Analysis version 6.0. Mol Bio Evol 30:2725–2729

Taylor MA, Coop RL, Wall RL (2007) Parasites of horses. In Veterinary Parasitology. Blackwell, London, p 303–304
Acknowledgments
The scanning electron microscope study was supported by the Bulgarian National Endowment Fund "13 Centuries Bulgaria". Authors would like to thank Prof. Anja Joachim (UVMV) for lending the voucher material.
Conflict of interest statement
The authors declare that they have no conflict of interest.
About this article
Cite this article
Lia, R.P., Mutafchiev, Y., Veneziano, V. et al. Filarial infection caused by Onchocerca boehmi (Supperer, 1953) in a horse from Italy. Parasitol Res 116, 191–198 (2017). https://doi.org/10.1007/s00436-016-5277-x
Received:

Accepted:

Published:

Issue Date:

DOI: https://doi.org/10.1007/s00436-016-5277-x
Keywords