Abstract
Thelohanellus kitauei is a freshwater myxosporean parasite causing intestinal giant cystic disease of common carp. To clarify the life cycle of T. kitauei, we investigated the oligochaete populations in China and Hungary. This study confirms two distinct aurantiactinomyxon morphotypes (Aurantiactinomyxon type 1 and Aurantiactinomyxon type 2) from Branchiura sowerbyi as developmental stages of the life cycle of T. kitauei. The morphological characteristics and DNA sequences of these two types are described here. Based on 18S rDNA sequence analysis, Aurantiactinomyxon type 1 (2048 bp) and Aurantiactinomyxon type 2 (2031 bp) share 99.2–99.4 %, 99.8–100 % similarity to the published sequences of T. kitauei, respectively. The 18S rDNA sequences of these two aurantiactinomyxon morphotypes share 99.4 % similarity, suggesting intraspecific variation within the taxon, possibly due to geographic origin. Phylogenetic analyses demonstrate the two aurantiactinomyxon types clustered with T. kitauei. Regardless, based on 18S rDNA synonymy, it is likely that Aurantiactinomyxon type 1 and 2 are conspecific with T. kitauei. This is the fourth elucidated two-host life cycle of Thelohanellus species and the first record of T. kitauei in Europe.
Access options
Buy single article
Instant access to the full article PDF.
US$ 39.95
Tax calculation will be finalised during checkout.
Subscribe to journal
Immediate online access to all issues from 2019. Subscription will auto renew annually.
US$ 119
Tax calculation will be finalised during checkout.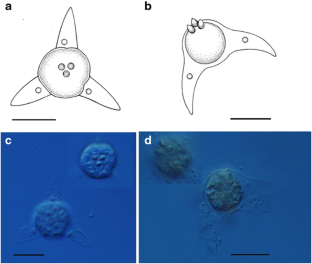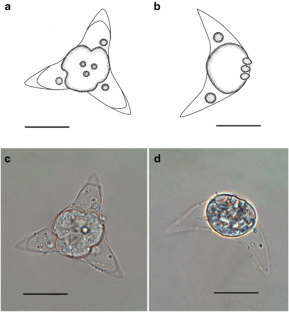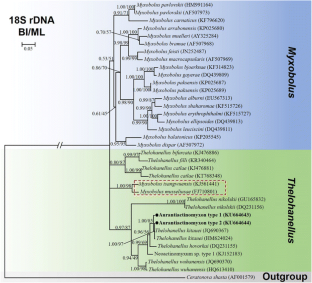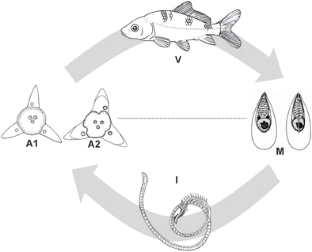 References
Barta JR, Martin DS, Liberator PA, Dshkevicz M, Anderson JW, Feigner SD, Elbrecht A, Perkins-Barrow A, Jenkins MC, Danforth HD, Ruff MD, Profous-Juchelka H (1997) Phylogenetic relationships among eight Eimeria species infecting domestic fowl inferred using complete small subunit ribosomal DNA sequences. J Parasitol 83:262–271. doi:10.2307/3284453

Bartholomew JL, Whipple MJ, Stevens DG, Fryer JL (1997) The life cycle of Ceratomyxa shasta, a myxosporean parasite of salmonids, requires a freshwater polychaete as an alternate host. J Parasitol 83:859–868. doi:10.2307/3284281

Borkhanuddin MH, Cech G, Molnár K, Németh S, Székely C (2014) Description of raabeia, synactinomyxon and neoactinomyxum developing stages of myxosporeans (Myxozoa) infecting Isochaetides michaelseni Lastočkin (Tubificidae) in Lake Balaton and Kis-Balaton Water Reservoir, Hungary. Syst Parasitol 88:245–259. doi:10.1007/s11230-014-9496-1

Chen QL, Ma CL (1998) Fauna Sinica: Myxozoa, Myxosporea. Science Press (In Chinese), Beijing

Egusa S, Nakajima K (1981) A new myxozoa Thelohanellus kitauei, the cause of intestinal giant cystic disease of carp. Fish Pathol 15:213–218. doi:10.3147/jsfp.15.213

El-Mansy A, Székely C, Molnár K (1998) Studies on the occurrence of actinosporean stages of myxosporeans in Lake Balaton, Hungary, with the description of triactinomyxon, raabeia and aurantiactinomyxon types. Acta Vet Hung 46:437–450

Eszterbauer E, Marton S, Rácz OZ, Letenyei M, Molnár K (2006) Morphological and genetic differences among actinosporean stages of fish-parasitic myxosporeans (Myxozoa): difficulties of species identification. Syst Parasitol 65:97–114. doi:10.1007/s11230-006-9041-y

Eszterbauer E, Atkinson S, Diamant A, Morris D, El-Matbouli M, Hartikainen H (2015) Myxozoan life cycles: practical approaches and insights. In: Okamura B, Gruhl A, Bartholomew JL (eds) Myxozoan Evolution, Ecology and Development. Springer International Publishing, Switzerland. doi:10.1007/978-3-319-14753-6_10

Fiala I (2006) The phylogeny of Myxosporea (Myxozoa) based on small subunit ribosomal RNA gene analysis. Int J Parasitol 36:1521–1534. doi:10.1016/j.ijpara.2006.06.016

Guindon S, Dufayard JF, Lefort V, Anisimova M, Hordijk W, Gascuel O (2010) New algorithms and methods to estimate maximum-likelihood phylogenies: assessing the performance of PhyML 3.0. Syst Biol 59:307–321. doi:10.1093/sysbio/syq010

Hall TA (1999) BioEdit: a user-friendly biological sequence alignment editor and analysis program for Windows 95/98/NT. Nucleic Acids Symp Ser 41:95–98

Hallett SL, Atkinson SD, Erséus C, El-Matbouli M (2004) Molecular methods clarify morphometric variation in triactinomyxon spores (Myxozoa) released from different oligochaete hosts. Syst Parasitol 57:1–14. doi:10.1023/B:SYPA.0000010682.90311.91

Hillis DM, Dixon MT (1991) Ribosomal DNA: molecular evolution and phylogenetic inference. Q Rev Biol 66:411–453. doi:10.1086/417338

Holzer AS, Sommerville C, Wootten R (2004) Molecular relationships and phylogeny in a community of myxosporeans and actinosporeans based on their 18S rDNA sequences. Int J Parasitol 34:1099–1111. doi:10.1016/j.ijpara.2004.06.002

Katoh K, Standley DM (2013) MAFFT multiple sequence alignment software version 7: improvements in performance and usability. Mol Biol Evol 30:772–780. doi:10.1093/molbev/mst010

Liu Y, Whipps CM, Liu WS, Zeng LB, Gu ZM (2011) Supplemental diagnosis of a myxozoan parasite from common carp Cyprinus carpio: synonymy of Thelohanellus xinyangensis with Thelohanellus kitauei. Vet Parasitol 178:355–359. doi:10.1016/j.vetpar.2011.01.008

Lom J, McGeorge J, Feist S, Morris D, Adams A (1997) Guidelines for the uniform characterisation of the actinosporean stages of parasites of the phylum Myxozoa. Dis Aquat Org 30:1–9. doi:10.3354/dao030001

Molnár K (2009) Data on the parasite fauna of the European common carp Cyprinus carpio carpio and Asian common carp Cyprinus carpio haematopterus support an Asian ancestry of the species. AACL Bioflux 2:391–400

Nylander JAA (2004) MrModeltest v2. Program distributed by the author. Evolutionary Biology Centre, Uppsala University, Uppsala

Özer A, Wootten R, Shinn AP (2002) Survey of actinosporean types (Myxozoa) belonging to seven collective groups found in a freshwater salmon farm in northern Scotland. Folia Parasitol 49:189–210. doi:10.14411/fp.2002.036

Ronquist F, Huelsenbeck JP (2003) MrBayes 3: bayesian phylogenetic inference under mixed models. Bioinformatics 19:1572–1574. doi:10.1093/bioinformatics/btg180

Rosser TG, Griffin MJ, Quiniou SMA, Khoo LH, Greenway TE, Wise DJ, Pote LM (2015) Small subunit ribosomal RNA sequence links the myxospore stage of Henneguya mississippiensis n. sp. from channel catfish Ictalurus punctatus to an actinospore released by the benthic oligochaete Dero digitata. Parasitol Res 114:1595–1602. doi:10.1007/s00436-015-4345-y

Seo JS, Jeon EJ, Kim MS, Woo SH, Kim JD, Jung SH, Park M, Jee BY, Kim JW, Kim YC, Lee EH (2012) Molecular identification and real-time quantitative PCR (qPCR) for rapid detection of Thelohanellus kitauei, a myxozoan parasite causing intestinal giant cystic disease in the Israel carp. Korean J Parasitol 50:103–111. doi:10.3347/kjp.2012.50.2.103

Shin SP, Nguyen VG, Jeong JM, Jun JW, Kim JH, Han JE, Baeck GW, Park SC (2014) The phylogenetic study on Thelohanellus species (Myxosporea) in relation to host specificity and infection site tropism. Mol Phylogenet Evol 72:31–34. doi:10.1016/j.ympev.2014.01.002

Székely C, El-Mansy A, Molnár K, Baska F (1998) Development of Thelohanellus hovorkai and Thelohanellus nikolskii (Myxosporea: Myxozoa) in oligochaete alternate hosts. Fish Pathol 33:107–114. doi:10.3147/jsfp.33.107

Székely C, Borkhanuddin MH, Cech G, Kelemen O, Molnár K (2014) Life cycles of three Myxobolus spp. from cyprinid fishes of Lake Balaton, Hungary involve triactinomyxon-type actinospores. Parasitol Res 113:2817–2825. doi:10.1007/s00436-014-3942-5

Székely C, Cech G, Chaudhary A, Borzák R, Singh HS, Molnár K (2015a) Myxozoan infections of the three Indian major carps in fish ponds around Meerut, UP, India, with descriptions of three new species, Myxobolus basuhaldari sp. n., M. kalavatiae sp. n. and M. meerutensis sp. n., and the redescription of M. catlae and M. bhadrensis. Parasitol Res 114:1301–1311. doi:10.1007/s00436-014-4307-9

Székely C, Molnár K, Cech G (2015b) Description of Myxobolus balatonicus n. sp. (Myxozoa: Myxobolidae) from the common carp Cyprinus carpio L. in Lake Balaton. Syst Parasitol 91:71–79. doi:10.1007/s11230-015-9560-5

Tamura K, Stecher G, Peterson D, Filipski A, Kumar S (2013) MEGA6: molecular evolutionary genetics analysis version 6.0. Mol Biol Evol 30:2725–2729. doi:10.1093/molbev/mst197

Timm T (1999) A guide to the Estonian Annelida. Estonian Academy Publishers, Tartu-Tallinn

Wang HZ (2002) Studies on taxonomy, distribution and ecology of microdrile oligochaetes of China, with descriptions of two new species from the vicinity of the Great Wall Station of China, Antarctica. Higher Education (HEP), Beijing

Whipps CM, Adlard RD, Bryant MS, Lester RJ, Findlav V, Kent ML (2003) First report of three Kudoa species from eastern Australia: Kudoa thyrsites from mahi mahi (Coryphaena hippurus), Kudoa amamiensis and Kudoa minithyrsites n. sp. from sweeper (Pempheris ypsilychnus). J Eukaryot Microbiol 50:215–219. doi:10.1111/j.1550-7408.2003.tb00120.x

Wolf K, Markiw ME (1984) Biology contravenes taxonomy in the Myxozoa: new discoveries show alternation of invertebrate and vertebrate hosts. Science 225:1449–1452. doi:10.1126/science.225.4669.1449

Xi BW, Zhou ZG, Xie J, Pan LK, Yang YL, Ge XP (2015) Morphological and molecular characterization of actinosporeans infecting oligochaete Branchiura sowerbyi from Chinese carp ponds. Dis Aquat Org 114:217–228. doi:10.3354/dao02859

Yang Y, Xiong J, Zhou Z, Huo F, Miao W, Ran C, Liu Y, Zhang J, Feng J, Wang M, Wang M, Wang L, Yao B (2014) The genome of the myxosporean Thelohanellus kitauei shows adaptations to nutrient acquisition within its fish host. Genome Biol Evol 6:3182–3198. doi:10.1093/gbe/evu247

Yokoyama H (1997) Transmission of Thelohanellus hovorkai Achmerov, 1960 (Myxosporea: Myxozoa) to common carp Cyprinus carpio through the alternate oligochaete host. Syst Parasitol 36:79–84. doi:10.1023/A:1005752913780

Yokoyama H, Ogawa K, Wakabayashi H (1991) A new collection method of actinosporeans. A probable infective stage of myxosporeans to fishes from tubificids and experimental infection of goldfish with the actinosporean, Raabeia sp. Fish Pathol 26:133–138. doi:10.3147/jsfp.26.133

Yuan S, Xi BW, Wang JG, Xie J, Zhang JY (2015) Thelohanellus wangi n. sp. (Myxozoa, Myxosporea), a new gill parasite of allogynogenetic gibel carp (Carassius auratus gibelio Bloch) in China, causing severe gill myxosporidiosis. Parasitol Res 114:37–45. doi:10.1007/s00436-014-4157-5

Zhai YH, Zhou L, Gui JF (2012) Identification and characterization of one novel type of Triactinospomyxon with short spore axis. Parasitol Res 110:2385–2393. doi:10.1007/s00436-011-2775-8

Zhai Y, Gu Z, Guo Q, Wu Z, Wang H, Liu Y (2016) New type of pathogenicity of Thelohanellus kitauei Egusa & Nakajima, 1981 infecting the skin of common carp Cyprinus carpio L. Parasitol Int 65:78–82. doi:10.1016/j.parint.2015.10.010
Acknowledgments
This project has received funding from the European Union's Horizon 2020 research and innovation program under grant agreement no. 634429 (ParaFishControl), OTKA K 100132, Nature Science Foundation of China (31502209), New Century Excellent Talents in University (NCET-12-0866), and China Postdoctoral Science Foundation (2014M550399). The authors thank Hao Wu, Junfa Yuan, Qinxiang Guo, Jianchun Shao, Zhe Wang, Dan Li, and Yongliang Shen (Huazhong Agricultural University, China) for collecting sediment samples.
Ethics declarations
Conflict of interest
The authors declare that they have no conflict of interest.
Ethical approval
All applicable international, national, and/or institutional guidelines for the care and use of animals were followed. All procedures performed in studies involving animals were in accordance with the ethical standards of the institution or practice at which the studies were conducted.
Informed consent
Informed consent was obtained from all individual participants included in the study. The publication only reflects the views of authors, and the European Commission cannot be held responsible for any use which may be made of the information contained therein.
About this article
Cite this article
Zhao, D., Borkhanuddin, M.H., Wang, W. et al. The life cycle of Thelohanellus kitauei (Myxozoa: Myxosporea) infecting common carp (Cyprinus carpio) involves aurantiactinomyxon in Branchiura sowerbyi . Parasitol Res 115, 4317–4325 (2016). https://doi.org/10.1007/s00436-016-5215-y
Received:

Accepted:

Published:

Issue Date:
Keywords
Thelohanellus kitauei

Life cycle

Aurantiactinomyxon

18S rDNA

Branchiura sowerbyi

China

Hungary