Abstract
Giardia lamblia (G. lamblia) is the most worldwide prevailing intestinal parasite, notorious for its broad range of seasonal and age-related prevalence. The potentially lethal nature of giardiasis makes it essential that the seasonality, the groups at risk, and other potential risk factors are identified. The present molecular epidemiological study was designed to determine the genetic diversity of G. lamblia infection, taking into account seasonal peaks, age distribution, and associated symptoms in a cohort of Egyptian diarrheic patients. Stool samples were collected from 1187 diarrheic patients attending outpatient clinics of Cairo University hospitals, of all age groups over a 12-month period. The patients were examined microscopically for fecal G. lamblia cysts, and/or trophozoites, and for copro-DNA detection using nested polymerase chain reaction (nPCR) assays targeting beta giardin gene. PCR-positive samples were characterized molecularly by nPCR restriction fragment length polymorphism (RFLP) to determine Giardia assemblages. The findings revealed circannual prevalence of Giardia, with a seasonal pattern peaking in mid-summer and late winter, with the summer peak preceded by a peak in temperature. Infection was prevailing in 224 (18.9 %) cases, mainly assemblage B (81.2 %) followed by assemblage A (18.8 %). There were statistically significant associations between the detection of Giardia and flatulence, persistent diarrhea, vomiting, and abdominal pain, while gender and intermittent diarrhea showed no association. The pre-school age group was the most vulnerable. This is the first study of molecular characterization of Giardia to determine its circannual prevalence in Egypt, a finding which carries promising potential for the diagnosis, treatment, and elimination of the disease.
Access options
Buy single article
Instant access to the full article PDF.
US$ 39.95
Tax calculation will be finalised during checkout.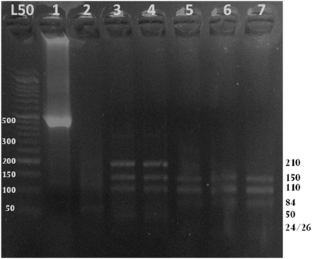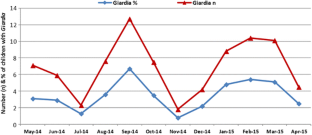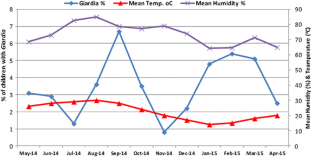 References
Arroyave RJ, Ayala DE, Hermida RC (1990) Differences in circannual characteristics of the incidences of amebiasis and giardiasis. Prog Clin Bioi Res 341B:717–727

Ayala DE, Hermida RC (1987) Circannual variation in the incidence of giardiasis: illustrative rationale for timing intervention for health education. Chronobiologia 14(2):149

Aydin AF, Besirbellioglu BA, Avci IY, Tanyuksel M, Araz E, Pahsa A (2004) Classification of Giardia duodenalis parasites in Turkey into groups A and B using restriction fragment length polymorphism. Diagn Microbiol Infect Dis 50(2):147–151

Britton E, Hales S, Venugopal K, Baker MG (2010) The impact of climate variability and change on cryptosporidiosis and giardiasis rates in New Zealand. J Water Health 8(3):561–571

Caccio SM, de Giacomo M, Pozio E (2002) Sequence analysis of the β-giardin gene and development of a PCR-RFLP assay to genotype Giardia duodenalis cysts from human faecal samples. Int J Parasitol 32:1023–1030

Casavechia MTG, Lonardoni MVC, Venazzi EAS, Campanerut-Sá PAZ, daC Benalia HR, Mattiello MF, Menechini PVL, dos Santos CA, Teixeira JJV (2016) Prevalence and predictors associated with intestinal infections by protozoa and helminths in southern Brazil. Parasitol Res 115:2321–2329

Dado D, Montoya A, Blanco MA, Miró G, Saugar JM, Bailo B, Fuentes I (2012) Prevalence and genotypes of Giardia duodenalis from dogs in Spain: possible zoonotic transmission and public health importance. Parasitol Res 111:2419

El-Badry AA, Al-Antably ASA, Hassan MA, Hanafy NA, Abu-Sarea EY (2015) Molecular seasonal, age and gender distributions of cryptosporidium in diarrhoeic Egyptians: distinct endemicity. Eur J Clin Microbiol Infect Dis 34(12):2447–2453

Elsafi SH, Al-Maqati TN, Hussein MI, Adam AA, Abu Hassan MM, Al Zahrani EM (2013) Comparison of microscopy, rapid immunoassay, and molecular techniques for the detection of Giardia lamblia and Cryptosporidium parvum. Parasitol Res 112(4):1641–1646

Espelage W, der Heiden M, Stark K, Alpers K (2010) Characteristics and risk factors for symptomatic Giardia lamblia infections in Germany. BMC Public Health 10:41

Fouad SA, Esmat S, Basyoni MM, Farhan MS, Kobaisi MH (2014) Molecular identification of Giardia intestinalis in patients with dyspepsia. Digest 90(1):63–71

Garcia LS (2007) Diagnostic medical parasitology, vol 2, 5th edn. ASM Press, Washington D. C, pp 771–812

Ghosh S, Debnath A, Sil A, De S, Chattopadhyay DJ, Das P (2000) PCR detection of Giardia lamblia in stool: targeting intergenic spacer region of multicopy rRNA gene. Mol Cell Probes 14(3):181–189

González-Moreno O, Domingo L, Teixidor J, Gracenea M (2011) Prevalence and associated factors of intestinal parasitisation: a cross-sectional study among outpatients with gastrointestinal symptoms in Catalonia, Spain. Parasitol Res 108:87–93

Haque R, Roy S, Kabir M, Stroup SE, Mondal D, Houpt ER (2005) Giardia assemblage a infection and diarrhea in Bangladesh. J Infect Dis 192(12):2171–2173

Helmy YA, Klotz C, Wilking H, Krucken J, Nockler K, von Samson-Himmelstjerna G, Zessin KH, Aebischer T (2014) Epidemiology of Giardia duodenalis infection in ruminant livestock and children in the Ismailia province of Egypt: insights by genetic characterization. Parasit Vectors 7:321

Hill DR, Nash TE (2000) Intestinal flagellate and ciliate infections. In: Guerrant RL, Walker DH, Weller PF (eds) Tropical infectious diseases. Principles, pathogens and practice, 1st edn. Churchill Livingstone, Philadelphia, pp 703–20

Homan WL, Mank TG (2001) Human giardiasis: genotype linked differences in clinical symptomatology. Int J Parasitol 31:822–826

John CC, Kliegman RM, Behrman BE, Jenson HB, Stanton BF (2007) Giardiasis and balantidiasis. Nelson textbook of pediatrics.Philadelphia, PA: Saunders. An imprint of Elsevier Inc 18:1462–1464

Julio C, Vilares A, Oleastro M, Ferreira I, Gomes S, Monteiro L, Nunes B, Tenreiro R, Angelo H (2012) Prevalence and risk factors for Giardia duodenalis infection among children: a case study in Portugal. Parasit Vectors 5:22

Lal A, Hales S, French N, Baker MG (2012) Seasonality in human zoonotic enteric diseases: a systematic review. PLoS One 7(4):e31883

Lal A, Baker MG, Hales S, French NP (2013) Potential effects of global environmental changes on cryptosporidiosis and giardiasis transmission. Trends Parasitol 29(2):83–90

Lallea M, Pozioa E, Capellib G, Bruschic F, Crottid D, Caccio SM (2005) Genetic heterogeneity at the b-giardin locus among human and animal isolates of Giardia duodenalis and identification of potentially zoonotic subgenotypes. Int J Parasitol 35:207–213

Lindo JF, Levy VA, Baum MK, Palmer CJ (1998) Epidemiology of giardiasis and cryptosporidiosis in Jamaica. Am J Trop Med Hyg 59(5):717–721

Mahdy MAK, Surin J, Mohd-Adnan A, Wan KL, Lim YAL (2009) Molecular characterization of Giardia duodenalis isolated from semai Pahang orang asli. Parasitology 14:1237–1241

Mank TG, Zaat JO, Deelder AM, Van Eijk JT, Polderman AM (1997) Sensitivity of microscopy versus enzyme immunoassay in the laboratory diagnosis of giardiasis. Eur J Clin Microbiol Infect Dis 16(8):615–619

Molina N, Pezzani B, Ciarmela M, Orden A, Rosa D, Apezteguía M, Basualdo J, Minvielle M (2011) Intestinal parasites and geno-types of Giardia intestinalis in school children from Berisso, Argentina. J Infect Dev Ctries 5(7):527–534

Naumova EN, Jagai JS, Matyas BT, DeMaria A Jr, MacNeill IB, Griffiths JK (2007) Seasonality in six enterically transmitted diseases and ambient temperature. Epidemiol Infect 135:281–292

Nkrumah B, Nguah SB (2011) Giardia lamblia: a major parasitic cause of childhood diarrhea in patients attending a district hospital in Ghana. Parasit Vectors 4:136

Pasley JN, Daly JJ, McCullough D, McChesney T, Daly EB, Tank SK (1989) Circannual incidence of Giardia lamblia. Chronobiol Int 6(2):185–189

Pinheiro I, de Castro MF, Mitterofhe A, Pires FAC, Abramo C, Ribeiro LC, Tibiriçá SHC, Coimbra ES (2011) Prevalence and risk factors for giardiasis and soil-transmitted helminthiasis in three municipalities of southeastern minas gerais state, Brazil. Parasitol Res 108:1123–1130

Puebla LJ, Núñez FA, Fernández YA, Fraga J, Rivero LR, Millán IA, Valdés LA, Silva IM (2014) Correlation of Giardia duodenalis assemblages with clinical and epidemiological data in Cuban children. Infect Genet Evol 23:7–12

Rafiei A, Roointan SE, Samarbafzadeh RA, Shayesteh AA, Shamsizadeh A, Borujeni PM (2013) Investigation of possible correlation between Giardia duodenalis genotypes and clinical symptoms in southwest of Iran. Iranian J Parasitol 8(3):389–395

Read CM, Monis PT, Thompson RC (2004) Discrimination of all genotypes of Giardia duodenalis at the glutamate dehydrogenase locus using PCR-RFLP. Infect Genet Evol 4:125–130

Sadek GS, El-Settawy MA, Soha A, Nasr SA (2013) Genotypic characterization of Giardia duodenalis in children in menoufiya and sharkiya governorates. Egypt Life Sci J 10(1):4006–4015

Sahagún J, Clavel A, Goñi P, Seral C, Llorente MT, Castillo FJ, Capilla S, Arias A, Gómez-Lus R (2008) Correlation between the presence of symptoms and the Giardia duodenalis genotype. Eur J Clin Microbiol Infect Dis 27:81–83

Savioli L, Smith H, Thompson A (2006) Giardia and cryptosporidium join the "neglected diseases initiative". Trends Parasitol 22(5):203–208

Solaiman RH, Fuentes I, Rubio JM (2011) Identification of a novel assemblage B subgenotype and a zoonotic assemblage in human isolates of Giardia intestinalis in Egypt. Parasitol Int 60:507–511

Thompson RCA, Monis PT (2004) Variation in Giardia: implications for taxonomy and epidemiology. Adv Parasitol 58:69–137

Verweij JJ, Blangé RA, Templeton K, Schinkel J, Brienen EA, van Rooyen MA (2004) Simultaneous detection of Entamoeba histolytica, Giardia lamblia, and Cryptosporidium parvum in fecal samples by using multiplex real-time PCR. J Clin Microbiol 42(3):1220–1223

Wolfe MS (1979) Giardiasis. Pediatr Clin North Am 26(2):295–303

Xiao L, Fayer R (2008) Molecular characterisation of species and genotypes of Cryptosporidium and Giardia and assessment of zoonotic transmission. Int J Parasitol 38:1239–1255

Yakoob J, Jafri W, Abid S, Jafri N, Hamid S, Shsh HA, Rizvi L, Islam M, Shaikh H (2005) Giardiasis in patients with dyspeptic symptoms. World J Gastroenerol 11(42):6667–6670
Ethics declarations
Contribution of each author
All the manuscript authors contributed to every activity of it: the idea of paper, study design, collection of materials, methodology, writing the paper, and revising it.
Conflict of interest
The authors declare that they have no competing interests.
About this article
Cite this article
Ismail, M.A., El-Akkad, D.M., Rizk, E.M. et al. Molecular seasonality of Giardia lamblia in a cohort of Egyptian children: a circannual pattern. Parasitol Res 115, 4221–4227 (2016). https://doi.org/10.1007/s00436-016-5199-7
Received:

Accepted:

Published:

Issue Date:
Keywords
Giardia lamblia

Molecular seasonality

Diarrheic Egyptian

Circannual pattern