Abstract
Cymbopogon citratus (lemongrass) and Syzygium aromaticum (clove) oils were evaluated to determine mortality rates, morphological aberrations, and persistence when used against third and fourth larval instars of Aedes aegypti and Anopheles dirus. The oils were evaluated at 1, 5, and 10 % concentrations in mixtures with soybean oil. Persistence of higher concentrations was measured over a period of 10 days. For Ae. aegypti, both plant oils caused various morphological aberrations to include deformed larvae, incomplete eclosion, white pupae, deformed pupae, dead normal pupae, and incomplete pupal eclosion. All of these aberrations led to larval mortality. In Ae. aegypti larvae, there were no significant differences in mortality at days 1, 5, and 10 or between third and fourth larval instar exposure. In An. dirus, morphological aberrations were rare and S. aromaticum oil was more effective in causing mortality among all larval stages. Both oils were equally effective at producing mortality on days 1, 5, and 10. Both oils had slightly increased LT50 rates from day 1 to day 10. In conclusion, both lemongrass and clove oils have significant effects on the immature stages of Ae. aegypti and An. dirus and could potentially be developed for use as larvicides.
Access options
Buy single article
Instant access to the full article PDF.
USD 39.95
Price includes VAT (USA)
Tax calculation will be finalised during checkout.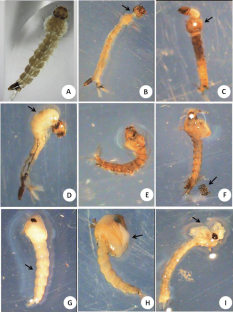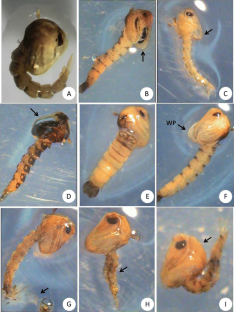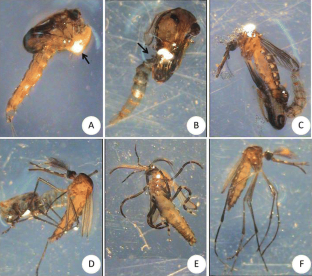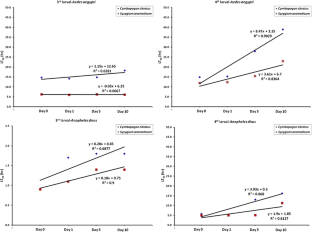 References
Abbott WS (1987) A method of computing the effectiveness of an insecticide. 1925. J Am Mosq Control Assoc 3:302–3

Akhila A (2010) Essential oil-bearing grasses: the genus Cymbopogon. CRC Press, New York

Al-Sharook Z, Balan K, Jiang Y, Rembold H (1991) Insect growth inhibitors from two tropical Meliaceae: effect of crude seed extracts on mosquito larvae. J Appl Entomol 111:425–430

Andrade EHA, Zoghbi MGB, Lima MD (2009) Chemical composition of the essential oils of Cymbopogon citratus (DC.) Stapf cultivated in North of Brazil. J Essent Oil Bear 12:41–45

Bhatt RP, Khanal SN (2009) Environmental impact assessment system in Nepal—an overview of policy, legal instruments and process. Kathmandu Univ J Sci Eng Technol 5:160–170

Bhowmik D, Kumar SKP, Yadav A, Srivastava S, Paswan S, Dutta AS (2012) Recent trends in Indian traditional herbs Syzygium aromaticum and its health benefits. J Pharmacogn Phytochem 1:13–22

Boulos L (1983) Medicinal Plants of North Africa. Reference Publications, Incorporated

Bream AS, El-Sheikh TMY, Fouda MA, Hassan MI (2010) Larvicidal and repellent activity of extracts derived from aquatic plant Echinochloa stagninum against Culex pipiens. Tunis J Plant Prot 5:107–124

Carvalho AF, Melo VM, Craveiro AA, Machado MI, Bantim MB, Rabelo EF (2003) Larvicidal activity of the essential oil from Lippia sidoides Cham. Against Aedes aegypti Linn. Mem Inst Oswaldo Cruz 98:569–71

Chaiyasit D et al (2006) Essential oils as potential adulticides against two populations of Aedes aegypti, the laboratory and natural field strains, in Chiang Mai province, northern Thailand. Parasitol Res 99:715–21

Cheng SS, Liu JY, Tsai KH, Chen WJ, Chang ST (2004) Chemical composition and mosquito larvicidal activity of essential oils from leaves of different Cinnamomum osmophloeum Provenances. J Agric Food Chem 52:4395–400

Dudai N, Weinstein Y, Krup M, Rabinski T, Ofir R (2005) Citral is a new inducer of caspase-3 in tumor cell lines. Planta Med 71:484–488

Ghosh A, Chowdhury N, Chandra G (2012) Plant extracts as potential mosquito larvicides. Indian J Med Res 135:581–598

Hales S, de Wet N, Maindonald J, Woodward A (2002) Potential effect of population and climate changes on global distribution of dengue fever: an empirical model. Lancet 360:830–834

Handa SS, Khanuja SPS, Longo G, Rakesh DD (2008) Extraction technologies for medicinal and aromatic plants. United Nations Industrial Development Organization and the International Centre for Science and High Technology, Italy

Hardin JA, Jackson FLC (2009) Applications of natural products in the control of mosquito-transmitted diseases. Afr J Biotechnol 8:7373–8

Ho CM, Hsu TR, Wu JY, Wang CH (1987) Effect of dimilin, a chitin synthesis inhibitor, on the growth and development of larvae of Aedes albopictus Skuse. Chin J Entomol 7:131–141

Isman MB (2006) Botanical insecticides, deterrents, and repellents in modern agriculture and an increasingly regulated world. Annu Rev Entomol 51:45–66

Kaewnang-O E, Ngampongsai A, Subhadhirasakul S, Srichana T (2011) Toxicity of fixed oil and crude extract from sa-dao-thiam, Azadirachta excelsa (Jack) seed kernel to Aedes aegypti (L.). Songklanakarin J Sci Technol 33(1):43–49

Karmegam N, Sakthivadivel M, Anuradha V, Daniel T (1997) Indigenous-plant extracts as larvicidal agents against Culex quinquefasciatus Say. Bioresour Technol 59:137–140

Khater HF, Shalaby AA (2008) Potential of biologically active plant oils to control mosquito larvae (Culex pipiens, Diptera: Culicidae) from an Egyptian locality. Rev Inst Med Trop Sao Paulo 50:107–12

Mansour SA, Messeha SS, el-Gengaihi SE (2000) Botanical biocides. 4. Mosquitocidal activity of certain Thymus capitatus constituents. J Nat Toxins 9:49–62

Mwangi RW, Rembold H (1988) Growth-inhibiting and larvicidal effects of Melia volkensii extracts on Aedes aegypti larvae. Entomol Exp Appl 46:103–108

Otieno G, Waititu GA, Salifu D (2013) Generalized estimating equations for repeated measures logistic regression in mosquito dose–response. OJS 3:293–298

Phasomkusolsil S, Soonwera M (2012) The effects of herbal essential oils on the oviposition-deterrent and ovicidal activities of Aedes aegypti (Linn.), Anopheles dirus (Peyton and Harrison) and Culex quinquefasciatus (Say). Trop Biomed 29:138–50

Phukerd U, Soonwera M (2013) Larvicidal and pupicidal activities of essential oils from Zingiberaceae plants against Aedes aegypti (Linn.) and Culex quinquefasciatus Say mosquitoes. Southeast Asian J Trop Med Public Health 44:761–71

Phukerd U, Soonwera M (2014) Repellency of essential oils extracted from Thai native plants against Aedes aegypti (Linn.) and Culex quinquefasciatus (Say). Parasitol Res 113(9):3333–40

Ratanatham S, Rojanasunan W, Upatham SE (1994) Morphological aberrations induced by methoprene, a juvenile hormone analogue, in Anopheles dirus s.s. and An. sawadwongporni (Diptera: Culicidae). J Sci Soc Thailand 20:171–182

Rosenberg R, Andre RG, Somchit L (1990) Highly efficient dry season transmission of malaria in Thailand. Trans R Soc Trop Med Hyg 84:22–8

Saranya M, Mohanraj RS, Dhanakkodi B (2013) Larvicidal, pupicidal activities and morphological deformities of Spathodea campanulata aqueous leaf extract against the dengue vector Aedes aegypt. Eur J Exp Biol 3:205–213

Saxena SC, Yadav RS (1983) A new plant extract to suppress the population of yellow fever and dengue vector Aedes aegypti (Diptera: Culicidae). Curr Sci 52:713–715

Saxena RC, Harshan V, Saxena A, Sukumaran P, Sharma MC, Kumar ML (1993) Larvicidal and chemosterilant activity of Annona squamosa alkaloids against Anopheles stephensi. J Am Mosq Control Assoc 9:84–87

Shaalan EA, Canyon D, Younes MW, Abdel-Wahab H, Mansour AH (2005) A review of botanical phytochemicals with mosquitocidal potential. Environ Int 31:1149–1166

Sukumar K, Perich MJ, Boobar LR (1991) Botanical derivatives in mosquito control: a review. J Am Mosq Control Assoc 7:210–237

Tawatsin A et al (2006) Repellency of essential oils extracted from plants in Thailand against four mosquito vectors (Diptera: Culicidae) and oviposition deterrent effects against Aedes aegypti (Diptera: Culicidae). Southeast Asian J Trop Med Public Health 37:915–931

Trongtokit Y, Rongsriyam Y, Komalamisra N, Apiwathnasorn C (2005) Comparative repellency of 38 essential oils against mosquito bites. Phytother Res 19:303–309

Viuda-Martos M, Ruíz-Navajas Y, Fernández-López J, Pérez-Álvarez AJ (2007) Chemical composition of the essential oils obtained from some spices widely used in Mediterranean Region. Acta Chim Slov 54:921–926

WHO (2005) Guidelines for laboratory and field-testing of mosquito larvicides. In: WHO/CDS/WHOPES/GCDPP/2005. (ed). vol 13. WHO, Geneva

Yang YC, Lee SG, Lee HK, Kim MK, Lee SH, Lee HS (2002) A piperidine amide extracted from Piper longum L. fruit shows activity against Aedes aegypti mosquito larvae. J Agric Food Chem 50:3765–3767

Yodbutra S, Ketavan C, Upatham ES, Areekul S (1985) Effects of a juvenile hormone analogue on the morphology and biology of Aedes scutellaris malayensis Colless (Diptera: Culicidae). Southeast Asian J Trop Med Public Health 16:41–48

Zheng GQ, Kenney PM, Lam LK (1992) Sesquiterpenes from clove (Eugenia caryophyllata) as potential anticarcinogenic agents. J Nat Prod 55:999–1003
Acknowledgments
This study is a research collaboration between Department of Plant Production Technology, Faculty of Agricultural Technology, King Mongkut's Institute of Technology Ladkrabang (KMITL), Bangkok, Thailand, and US Army Medical Component-Armed Forces Research Institute of Medical Sciences (USAMC-AFRIMS), Bangkok, Thailand. We thank Faculty of Agricultural Technology, King Mongkut's Institute of Technology Ladkrabang, Bangkok, Thailand, and The National Research Council of Thailand for providing financial assistance. We greatly appreciate all efforts of the laboratory staffs at insectary section, the Department of Entomology, Armed Forces Research Institute of Medical Science (AFRIMS), Bangkok, Thailand, for providing the mosquito eggs. We also wish to express our gratitude to MAJ Silas A. Davidson, Chief of Entomology Department, AFRIMS, for reviewing and comments on the manuscript. The views expressed in this article are those of the author (s) and do not reflect the official policy of the Department of the Army, Department of Defense, or the US Governments
About this article
Cite this article
Soonwera, M., Phasomkusolsil, S. Effect of Cymbopogon citratus (lemongrass) and Syzygium aromaticum (clove) oils on the morphology and mortality of Aedes aegypti and Anopheles dirus larvae. Parasitol Res 115, 1691–1703 (2016). https://doi.org/10.1007/s00436-016-4910-z
Received:

Accepted:

Published:

Issue Date:
Keywords
Aedes aegypti
Anopheles dirus
Cymbopogon citratus
Syzygium aromaticum

Larvicide

Morphological aberrations