Abstract
In a survey of myxozoan parasites of ornamental freshwater fish from the Rio Negro river, it was found that seven of 30 (23.3 %) Corydoras melini specimens examined had plasmodia of a new Myxidium species (Myxidium amazonense n. sp.) in the gallbladder. The fish were caught in the Rio Negro river, in the municipality of Santa Isabel do Rio Negro, in the state of Amazonas, Brazil. The plasmodia had a tubular shape, which was organized as a spiral spring with several turns in the gallbladder. The development of the myxospores was asynchronic, with disporic pansporoblasts. Mature myxospores were elongated, with 17.0 ± 0.9 (16.1–17.9) μm in length and 3.7 ± 0.7 (3.0–4.4) μm in width, and lightly arcuate from the valval view, with their bodies tapering slowly until ending in rounded extremities. The valval surface had nine to ten grooves in each valve. The polar capsules, one at either end of the spore, had a length of 5.4 ± 0.5 (4.9–5.9) μm and a width of 3.4 ± 0.6 (2.8–4.0) μm. Ultrastructural analysis showed that the wall of the plasmodia had numerous microvilli-like structures, pinocytotic canals, and cytoplasmic bridges connecting the pansporoblasts to each other and to the ectoplasm zone. Phylogenetic analysis, based on a small subunit ribosomal RNA (ssrRNA), identified the new species as a sister species of Myxidiumceccarelli, the unique South American Myxidium species whose ssrRNA sequence is available in the NCBI database. This study is the first description of Myxidium species in ornamental freshwater fish from Amazon.
Access options
Buy single article
Instant access to the full article PDF.
US$ 39.95
Tax calculation will be finalised during checkout.
Subscribe to journal
Immediate online access to all issues from 2019. Subscription will auto renew annually.
US$ 119
Tax calculation will be finalised during checkout.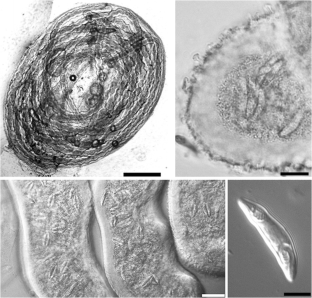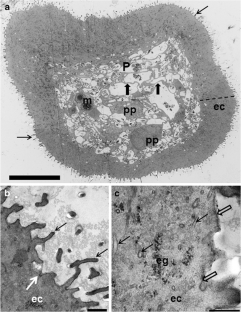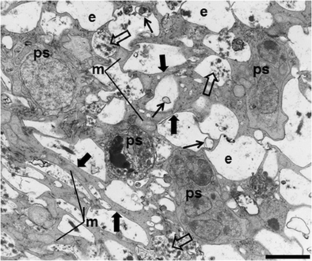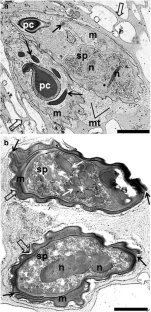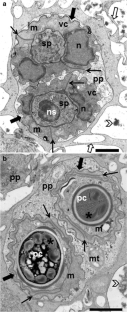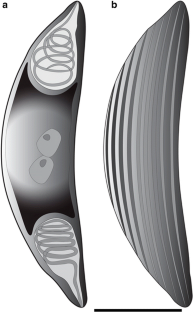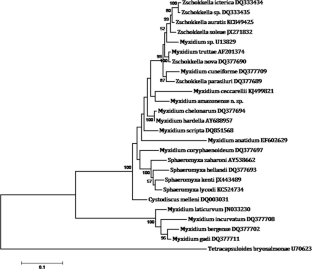 References
Adriano A, Arana S, Cordeiro NS (2005) Histophatology and ultrastructure of Henneguya caudalongula sp. n. infecting Prochilodus lineatus (Pisces: Prochilodontidae) cultivated in the state of São Paulo, Brazil. Mem Inst Oswaldo Cruz 100(2):177–181

Adriano EA, Silva MR, Atkinson SD, Bartholomew JL, Maia AA (2014) Myxidium ceccarellii n. sp. (Myxosporea) from the gallbladder of Leporinus elongatus (Anastomidae) from the São Francisco River, Brazil. Parasitol Res 113(7):2665–2670

Ajiaco-Martinez RE, Blanco-Castaneda MC, Barreto-Reyes CG, Ramírez-GIL H (2001) Las exportaciones de peces ornamentales. In: Ramirez-Gil H, Ajiaco-Martinez RE (eds) La pesca en la baja Orinoquia colombiana: una vision integral. Instituto Nacional de Pesca y Acuicultura-INPA, Bogotá, pp 79–121

Albert JS, Reis RE (2011) Historical biogeography of Neotropical freshwater fishes. University of California Press, Berkeley

Altschul SF, Madden TL, Schäffer AA, Zhang J, Zhang Z, Miller W, Lipman DJ (1997) Gapped BLAST and PSI-BLAST: a new generation of protein database search programs. Nucleic Acids Res 25:3389–3402

Anjos HDBD, Amorim RMDS, Siqueira JA, Anjos CR (2009) Ornamental fish export of the State of Amazonas, Amazon Basin, Brazil. B Inst Pesca 35(2):259–274

Azevedo C, Casal G, Clemente SC, Lopes LMS, Matos P, Abdel-Baki AA, Oliveira E, Matos E (2011) Myxidium volitans sp. nov., a parasite of the gallbladder of the fish, Dactylopterus volitans (Teleostei: Triglidae) from the Brazilian Atlantic coast morphology and pathology. Mem Inst Oswaldo Cruz 106:557–561

Barta JR, Martin DS, Liberator PA, Dashkevicz M, Anderson JW, Feighner SD, Elbrecht A, Perkins-Barrow A, Jenkins MC, Danforth D, Ruff MD, Profous-Juchelka H (1997) Phylogenetic relationships among eight Eimeria species infecting domestic fowl inferred using complete small subunit ribosomal DNA sequences. J Parasitol 83:262–271

Bartholomew JL, Atkinson SD, Hallett SL, Lowenstine LJ, Garner MM, Gardiner CH, Rideout BA, Keel MK, Brown JD (2008) Myxozoan parasitism in waterfowl. Int J Parasitol 38:1199–1207

Canning EU, Curry A, Anderson CL, Okamura B (1999) Ultrastructure of Myxidium trachinorum sp. nov. from the gallbladder of the lesser weever fish Echiichthys vipera. Parasitol Res 85:910–919

Casal G, Matos E, Azevedo C (2006) A new myxozoan parasite from the amazonian fish Metynnis argenteus (Teleostei, Characidae): light and electron microscope observations. J Parasitol 92(4):817–821

Eiras JC, Saraiva A, Cruz CF, Santos MJ, Fiala I (2011) Synopsis of the species of Myxidium Bütschli, 1882 (Myxozoa: Myxosporea: Bivalvulida). Syst Parasitol 80:81–116

Eschmeyer WN (2013) Catalog of Fishes. California Academy of Sciences. Disponível: (http://research.calacademy.org/research/ichthyology/catalog/fishcatmain.asp). Accessed 25 May 2015

Espíndola VC, Spencer MRS, Rocha LR, Britto MR (2014) A new species of Corydoras Lacépède (Siluriformes: Callichthyidae) from the Rio Tapajós basin and its phylogenetic implications. Pap Avulsos de Zool 54(3):25–32

Feist SW (1995) Ultrastructural aspects of Myxidium gadi (Georgévitch, 1916) (myxozoa: Myxosporea): infections in pollack (Pollachius pollachius L.) and saithe (P. virens L). Europ J Protistol 31:309–317

Froese R, Pauly D (2011) FishBase. World Wide Web electronic publication. Version (02/2011) www.fishbase.org. Accessed 10 May 2015

Gióia I, Cordeiro NS (1996) Brazilian Myxosporidians' check-list (Myxozoa). Acta Protozool 35:137–149

Gunter NL, Whipps CM, Adlard RD (2009) Ceratomyxa (Myxozoa: Bivalvulida): robust taxon or genus of convenience? Int J Parasitol 39:1395–1405

Hall TA (1999) BioEdit: a user-friendly biological sequence alignment editor and analysis program for Windows 95/98/NT. Nucleic Acids Symp 41:95–98

Hallett SL, Diamant A (2001) Ultrastructure and small subunit ribosomal DNA sequence of Henneguya lesteri n. sp. (Myxosporea), a parasite of sand whiting Sillago analis (Sillaginidae) from the coast of Queensland, Australia. Dis Aquat Org 46:197–212

Heiniger H, Adlard RD (2014) Relatedness of novel species of Myxidium Bütschli, 1882, Zschokkella Auerbach, 1910 and Ellipsomyxa Køie, 2003 (Myxosporea: Bivalvulida) from the gall bladders of marine fishes (Teleostei) from Australian waters. Syst Parasitol 87:47–72

IBAMA (2007) Instituto Brasileiro do Meio Ambiente e dos Recursos Naturais Renováveis. Brasília: Relatório Técnico sobre o Diagnóstico geral das práticas de controle ligadas a exploração, captura, comercialização, exportação e uso de peixes para fins ornamentais e de aquariofilia - Diretoria de uso sustentável da biodiversidade e florestas, Brasilia, p 214

Jirků M, Bolek MG, Whipps CM, Janovy J Jr, Kent ML, Modry D (2006) A new species of Myxidium (Myxosporea: Myxidiidae), from the western chorus frog, Pseudacris triseriata triseriata, and Blanchard's cricket frog, Acris crepitans blanchardi (Hylidae), from eastern Nebraska: morphology, phylogeny, and critical comments on amphibian Myxidium taxonomy. J Parasitol 92:611–619

Junk WJ, Soares MGM, Bayley PB (2007) Freshwater fishes of the Amazon River basin: their biodiversity, fisheries, and habitats. Aquat Ecosys Health Manag 10(2):153–173

Kent ML, Khattra J, Hedrick RP, Devlin RH (2000) Tetracapsula renicola n. sp. (Myxozoa: Saccosporidae); the PKX myxozoan the cause of proliferative kidney disease in salmonid fishes. J Parasitol 86:103–111

Lom J, Arthur JR (1989) A guideline for the preparation of species descriptions in Myxosporea. J Fish Dis 12:151–156

Lom J, Dykova I (2006) Myxozoan genera: definition and notes on taxonomy, life-cycle terminology and pathogenic species. Folia Parasitol 53(1):1–36

Moreau MA, Coomes OT (2006) Potential threat of the international aquarium fish trade to silver arawana Osteoglossum bicirrhosum in the Peruvian Amazon. Oryx 40:152–160

Moreira GSA, Adriano EA, Silva MRM, Ceccarelli PS, Maia AA (2014) The morphological and molecular characterization of Henneguya rotunda n. sp., a parasite of the gill arch and fins of Salminus brasiliensis from the Mogi Guaçu River, Brazil. Parasitol Res 113:1703–1711

Naldoni J, Arana S, Maia AAM, Ceccarelli OS, Tavares LER, Borges FA, Pozo CF, Adriano EA (2009) Henneguya pseudoplatystoma n. sp. causing reduction in epithelial area of gills in the farmed pintado, a South American catfish: histopathology and ultrastructure. Vet Parasitol 166:52–59

Naldoni J, Zatti SA, Capodifoglio KRH, Milanin T, Maia AAM, Silva MRM, Adriano EA (2015) Hostparasite and phylogenetic relationships of Myxobolus filamentum sp. n. (Myxozoa: Myxosporea), a parasite of Brycon orthotaenia (Characiformes: Bryconidae) in Brazil. Folia Parasitol 62:014

Reis RE (1998) Systematic, Biogeography, and the fossil record of the Callichthyidae: a review of the available data. In: Malabarba LR, Reis RE, Vari RP, Lucena ZMS, Lucena CAS (eds) Phylogeny and classification of neotropical fishes. Edipucrs, Porto Alegre, pp 351–362

Tamura K, Stecher G, Peterson D, Filipski A, Kumar S (2013) MEGA6: Molecular Evolutionary Genetics Analysis Version 6.0. Mol Biol Evol 30: 2725–2729 

Upenskaya AV (1969) Ultrastructure of some stages of Myxidium gasterostei. Acta Protozool 7:71–79

Viozzi GP, Flores VR (2003) Myxidium biliare sp. n. (Myxozoa) from gall bladder of Galaxias maculatus (Osmeriformes: Galaxiidae) in Patagonia (Argentina). Folia Parasitol 50:190–194
Acknowledgments
This study was supported by the Fundacão de Amparo à Pesquisa do Estado de São Paulo - FAPESP (Proc. No. 2013/21374-6). Delgado P.M. was supported by a doctoral scholarship from FAPESP (Proc. No. 2013/14656-5). Adriano E.A. received a research productivity grant from the Brazilian Fostering Agency CNPq (Proc. No.305630/2013-0). CAPES (Coordenação de Aperfeiçoamento de Pessoal de Nível Superior) provides support to the Doctoral Program in Animal Biology of UNICAMP.
About this article
Cite this article
Mathews, P.D., Silva, M.R.M., Maia, A.A.M. et al. Ultrastructure and ssrRNA sequencing of Myxidium amazonense n. sp. a myxosporean parasite of Corydoras melini from the Rio Negro river, Amazonas state, Brazil. Parasitol Res 114, 4675–4683 (2015). https://doi.org/10.1007/s00436-015-4715-5
Received:

Accepted:

Published:

Issue Date:
Keywords
Myxozoa

Myxidium

Systematic

Gallbladder

Fish

Amazon