Abstract
Natural infections of lymnaeid snails by Fasciola hepatica are of primary importance to study transmission. Also, infected snails in the field can be used to explore the existing compatibility in host–parasite interactions. This paper aimed to describe the infection rate of Galba cubensis populations in fasciolosis transmission areas. Eight sites were sampled in western Cuba and 24 infected snails at six sites were found. The mean prevalence was 2.94 % and the maximum value was 11.4 %. The intensity of parasite infection was assessed as the number of rediae inside a single snail. High variation within the sites examined was observed, but a maximum of 76 rediae was recovered from one individual. Although the presence of two other trematode families (Schistosomatidae and Paramphistomatidae) was discovered in dissected individuals, no co-infection with F. hepatica was observed. This is the first time a study of natural prevalence of F. hepatica infection is carried out in Cuba, considered a hyper endemic country for bovine fasciolosis. Our results suggest that fasciolosis transmission may occur even when the number of infected snails remains relatively low.
Access options
Buy single article
Instant access to the full article PDF.
US$ 39.95
Tax calculation will be finalised during checkout.
Subscribe to journal
Immediate online access to all issues from 2019. Subscription will auto renew annually.
US$ 119
Tax calculation will be finalised during checkout.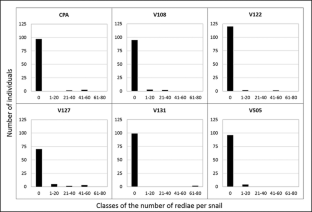 References
Abrous M, Rondelaud D, Dreyfuss G (1999) Paramphistomum daubneyi and Fasciola hepatica: influence of temperature changes on the shedding of cercariae from dually infected Lymnaea truncatula. Parasitol Res 85:765–769

Bush A, Lafferty K, Lotz J, Shostak A (1997) Parasitology meets ecology on its own terms: Margolis et al. revisited. J Parasitol 83(4):575–583

Cichy A, Faltýnková A, Zbikowska E (2011) Cercariae (Trematoda, Digenea) in European freshwater snails–a checklist of records from over one hundred years. Folia Malacol 19(3):165–189. doi:10.2478/v10125-011-0023-6

Correa A, Escobar JS, Durand P, Renaud F, David P, Jarne P, Pintier JP, Hurtrez-Boussès S (2010) Bridging gaps in the molecular phylogeny of the Lymnaeidae (Gastropoda: Pulmonata), vectors of Fascioliasis. Evol Biol 10:381. doi:10.1186/1471-2148-10-381

Cruz-Mendoza I, Figueroa J, Correa D, Ramos-Martínez E, Lecumberri-López J, Quiroz-Romero H (2004) Dynamics of Fasciola hepatica infection in two species of snails in a rural locality of Mexico. Vet Parasitol 121:87–93. doi:10.1016/j.vetpar.2004.02.006

Degueurce F, Abrous M, Dreyfuss G, Rondelaud D, Gevrey J (1999) Paramphistomum daubneyi and Fasciola hepatica: the prevalence of natural or experimental infections in four species of freshwater snails in eastern France. J Helminthol 73:197–202

Dreyfuss G, Vignoles P, Rondelaud D (2003) Natural infections of Omphiscola glabra (Lymnaeidae) with Fasciola hepatica in central France. Parasitol Res 91:458–491. doi:10.1007/s00436-003-0892-8

Dreyfuss G, Vignoles P, Rondelaud D (2005) Fasciola hepatica: epidemiological surveillance of natural watercress beds in central France. Parasitol Res 95:278–282. doi:10.1007/s00436-004-1269-3

Ferrer J, Perera G, Yong M (1985) Estudio de los moluscos fluviátiles de una localidad afectada por un brote de fascioliasis. Rev Cubana Med Trop 37(2):155–160

Frandsen F, Christensen N (1984) An introductory guide to the identification of cercariae from African freshwater snails with special reference to cercariae of trematode species of medical and veterinary importance. Acta Trop 41:181–202

Gürelli G, Göçmen B (2007) Natural Infection of Helix aspersa (Mollusca: Pulmonata) by Dicrocoeliidae (Digenea) Larval Stages in Izmir, Turkey. Türkiye Parazitol Derg 31(2):150–153

Gutiérrez A et al (2011) First report of larval stages of Fasciola hepatica in a wild population of Pseudosuccinea columella from Cuba and the Caribbean. J Helminthol 85:109–111. doi:10.1017/S0022149X10000350

Hamed N, Hammami H, Khaled S, Rondelaud D, Ayadi A (2009) Natural infection of Fasciola hepatica (Trematoda: Fasciolidae) in Bulinus truncatus (Gastropoda: Planorbidae) in northern Tunisia. J Helminthol 83:271–273. doi:10.1017/S0022149X08207947

Hurtrez-Boussès S, Meunier C, Durand C, Renaud F (2001) Dynamics of host–parasite interactions: the example of population biology of the liver fluke (Fasciola hepatica). Microb Infect 3:841–849

Kendall S (1949) Nutritional factors affecting the rate of development of Fasciola hepatica in Limnaea truncatula. J Helminthol 23:179–190

Kendall S, Ollerenshaw C (1963) The effect of nutrition on the growth of Fasciola hepatica in its snail host. Proc Nutr Soc 22:41–46

Kleiman F, Pietrokovsky S, Prepelitchi L, Carbajo A, Wisnivesky-Colli C (2007) Dynamics of Fasciola hepatica transmission in the Andean Patagonian valleys, Argentina. Vet Parasitol 145:274–286. doi:10.1016/j.vetpar.2006.12.020

Mage C, Bourgne H, Toullieu J, Rondelaud D, Dreyfuss G (2002) Fasciola hepatica and Paramphistomum daubneyi: changes in prevalences of natural infections in cattle and in Lymnaea truncatula from central France over the past 12 years. Vet Res 33:439–447

Mas-Coma S, Valero MA, Bargues MD (2009) Fasciola, lymnaeids and human fascioliasis, with a global overview on disease transmission, epidemiology, evolutionary genetics, molecular epidemiology and control. Adv Parasitol 69:41–146. doi:10.1016/S0065-308X(09)69002-3

Mekroud A, Benakhla A, Vignoles P, Rondelaud D, Dreyfuss G (2004) Preliminary studies on the prevalences of natural fasciolosis in cattle, sheep, and the host snail (Galba truncatula) in north-eastern Algeria. Parasitol Res 92:502–505. doi:10.1007/s00436-004-1072-1

Meunier C (2002) Fonctionnement des populations hôtes et adaptation au parasite dans l'interaction limnée-douve (mollusque-trématode). PhD Thesis. Université de Montpellier II, France., p 107

Ollerenshaw C (1971) Forecasting liver fluke disease in England and Wales 1958–1968 with a comment on the influence of climate on the incidence of the disease in some other countries. Vet Med Rev 2(3):289–312

Pointier J, Théron A (1979) La schistosomose intestinale dans les fôrets marécagueuses à Pterocarpus de Guadeloupe (Antilles françaises). Ecologie du vecteur, Biomphalaria glabrata et de son parasite Schistosoma mansoni. Ann Parasitol 54(1):43–56

Relf V, Good B, McCarthy E, de Waal T (2009) Evidence of Fasciola hepatica infection in Radix peregra and a mollusc of the family Succineidae in Ireland. Vet Parasitol 163:152–155. doi:10.1016/j.vetpar.2009.04.003

Rojas L, Vázquez A, Domenech I, Robertson L (2010) Fascioliasis: can Cuba conquer this emerging parasitosis? Trends Parasitol 26(1):26–34. doi:10.1016/j.pt.2009.10.005

Rondelaud D, Vignoles P, Dreyfuss G (2004a) Fasciola hepatica: the developmental patterns of redial generations in naturally infected Galba truncatula. Parasitol Res 94:183–187. doi:10.1007/s00436-004-1191-8

Rondelaud D, Vignoles P, Vareille-Morel C, Abrous M, Mage C, Mouzet R (2004b) Fasciola hepatica and Paramphistomum daubneyi: field observations on the transport and outcome of floating metacercariae in running water. J Helminthol 78:173–177. doi:10.1079/JOH2003215

Rondelaud D, Belfaiza M, Vignoles P, Moncef M, Dreyfuss G (2009a) Redial generations of Fasciola hepatica: a review. J Helminthol 83:245–254. doi:10.1017/S0022149X09222528

Rondelaud D, Vignoles P, Dreyfuss G (2009b) La Limnée tronquée, un mollusque d'intérêt médical et vétérinaire. PULIM, Limoges., p 283

Sire C, Durand P, Pointier J, Théron A (2001) Genetic diversity of Schistosoma mansoni within and among individual hosts (Rattus rattus): infrapopulation differentiation at microspatial scale. Int J Parasitol 31:1609–1616

Théron A, Sire C, Rognon A, Prugnolle F, Durand P (2004) Molecular ecology of Schistosoma mansoni transmission inferred from the genetic composition of larval and adult infrapopultions within intermediate and definitive hosts. Parasitol 129:571–585. doi:10.1017/S0031182004005943

Vázquez A, Sánchez J, Alba A, Rodríguez E, Pino A (2013) Primer reporte de infección natural de Galba cubensis (Mollusca: Gastropoda: Lymnaeidae) con larvas de Paramphistomidae (Trematoda: Digenea) en Cuba. Rev Cubana Med Trop 65(3):394–397

Vázquez A, Sánchez J, Pointier J, Théron A, Hurtrez-Boussès S (2014) Fasciola hepatica in Cuba: compatibility of different isolates with two intermediate snail hosts, Galba cubensis and Pseudosuccinea columella. J Helminthol 88(4):434–440. doi:10.1017/S0022149X13000382

WHO (2007) The "neglected" neglected worms. Actions Against Worms Newsletter December(10):1–8

Żbikowska E, Nowak A (2009) One hundred years of research on the natural infection of freshwater snails by trematode larvae in Europe. Parasitol Res 105:301–311. doi:10.1007/s00436-009-1462-5
Acknowledgements
The authors would like to thank local veterinary and cowsheds authorities for their assistance during the field samplings. This work was supported by the Institut de Recherche pour le Développement (BEST grant to A.A.V.).
About this article
Cite this article
Vázquez, A.A., Sánchez, J., Alba, A. et al. Natural prevalence in Cuban populations of the lymnaeid snail Galba cubensis infected with the liver fluke Fasciola hepatica: small values do matter. Parasitol Res 114, 4205–4210 (2015). https://doi.org/10.1007/s00436-015-4653-2
Received:

Accepted:

Published:

Issue Date:
Keywords
Galba cubensis
Fasciola hepatica

Natural infection

Parasite transmission