Summary
Animal populations exhibit various patterns in ectoparasite distribution across different sexes and age classes, and numerous factors can potentially contribute to ectoparasite abundance and distribution. We examined the influence of host body size and age on the distribution of a chewing louse among brown-headed cowbirds. Differences in louse prevalence (males 62.9 ± 2.8 %, females 47.5 ± 4.9 %) and intensity (males 15.42 ± 1.51, females 9.04 ± 1.69) were primarily driven by differences in host body mass and not host sex. Larger birds had larger louse infra-populations, which likely translated into a lower risk of local extinction, a possible explanation for higher louse prevalence observed among larger birds. Among males, younger individuals showed higher louse prevalence (70.21 ± 4.72 %) compared to older males (59.36 ± 3.59). We speculate that this pattern is likely driven by behavioural difference and not body size, with young males spending relatively more time foraging in large groups, increasing their risk of louse transmission. By examining the mechanisms that underlie the sex- and age-biased infections observed in natural populations, we can better identify the hosts most responsible for parasite transmission.
This is a preview of subscription content, log in to check access.
Access options
Buy single article
Instant access to the full article PDF.
US$ 39.95
Price includes VAT for USA
Subscribe to journal
Immediate online access to all issues from 2019. Subscription will auto renew annually.
US$ 199
This is the net price. Taxes to be calculated in checkout.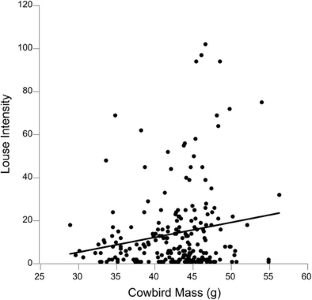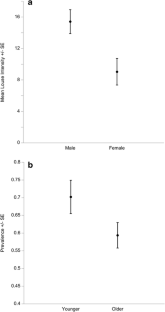 References
Barbosa A, Merino S, de Lope F, Møller AP (2002) Effects of feather lice on flight behavior of male barn swallows (Hirundo rustica). AUK 119:213–216

Bergstrand JL, Klimstra WD (1964) Ectoparasites of the bobwhite quail in southern Illinois. Am Midl Nat 72:490–498

Booth DT, Clayton DH, Block BA (1993) Experimental demonstration of the energetic cost of parasitism in free-ranging hosts. Proc R Soc B 253(1337):125–129

Bush AO, Lafferty KD, Lotz JM, Shostak AW (1997) Parasitology meets ecology on its own terms: Margolis et al. revisited. J Parasitol 83:575–583

Calvete C, Estrada R, Lucientes J, Estrada A (2003) Ectoparasite ticks and chewing lice of red-legged partridge, Alectoris rufa, in Spain. Med Vet Entomol 17:33–37

Carere C, Groothuis TGG, Mostl E, Daan S, Koolhaas JM (2003) Fecal corticosteroids in a territorial bird selected for different personalities: daily rhythm and the response to social stress. Horm Behav 43:540–548

Chakarov N, Boerner M, Kruger O (2008) Fitness in common buzzards at the cross-point of opposite melanin-parasite interactions. Funct Ecol 22:1062–1069

Cicchino AC, Castro DC (1996) Preliminary revision of the species of the genus Brueelia Kéler, 1936 (Phthiraptera, Philopteridae) parasitizing Icterinae (Aves, Passeriformes, Fringillidae). Graellsia 52:3–30

Clayton DH (1990) Mate choice in experimentally parasitized rock doves—lousy males lose. Am Zool 30:251–262

Clayton DH, Moyer BR, Bush SE, Jones TG, Gardiner DW, Rhodes BB, Goller F (2005) Adaptive significance of avian beak morphology for ectoparasite control. Proc R Soc B 272:811–817

Clayton DH, Tompkins DM (1995) Comparative effects of mites and lice on the reproductive success of rock doves (Columba livia). Parasitology 110:195–206

Clayton DH, Walther BA (2001) Influence of host ecology and morphology on the diversity of Neotropical bird lice. Oikos 94:455–467

Côtè IM, Poulin R (1995) Parasitism and group size in social animals: a meta-analysis. Behav Ecol 6:159–165

Cox RM, John-Alder HB (2007) Increased mite parasitism as a cost of testosterone in male striped plateau lizards Sceloporus virgatus. Funct Ecol 21:327–334

Daralová A, Hoi H, Krištofik J, Hoi C (2001) Horizontal and vertical ectoparasite transmission of three species of Mallophaga, and individual variation in European bee-eaters (Merops apiaster). J Parasitol 87:256–262

Gregoire A, Faivre B, Heeb P, Cezilly F (2002) A comparison of infestation patterns by Ixodes ticks in urban and rural populations of the Common Blackbird Turdus merula. Ibis 144:640–645

Grossman CJ (1985) Interactions between the gonadal-steroids and the immune system. Science 227:257–261

Hahn DC, Price RD, Osenton PC (2000) Use of lice to identify cowbird hosts. Auk 117:943–951

Hudson PJ, Rizzoli A, Grenfell BT, Heesterbeek H, Dobson AP (2002) The ecology of wildlife diseases. Oxford University Press, New York

Johnson KP, Clayton DH (2003) The biology, ecology and evolution of chewing lice. In: Price RD, Hellenthal RA, Palma RA, Johnson KP, Clayton DH (eds) The chewing lice: world checklist and biological overview, vol 24. Natural History Survey Special Publication, Illinois, pp 449–476

Krištofík J, Daralová A, Hoi C, Hoi H (2007) Determinants of population biology of the chewing louse Brueelia apiastri (Mallophaga, Philopteridae) on the European bee-eater (Merops apiaster). Parasitology 134:399–403

Moore SL, Wilson K (2002) Parasites as a viability cost of sexual selection in natural populations of mammals. Science 297:2015–2018

Nephew BC, Kahn SA, Romero LM (2003) Heart rate and behavior are regulated independently of corticosterone following diverse acute stressors. Gen Comp Endocrinol 133:173–180

Ortega CP (1998) Cowbirds and other brood parasites. University of Arizona Press, Tucson

Parr NA, Fedigan LM, Kutz SJ (2013) Predictors of parasitism in wild white-faced capuchins (Cebus capucinus). Int J Primatol 34:1137–1152

Potti J, Merino S (1995) Louse loads of pied flycatchers—effects of hosts sex, age, condition and relatedness. J Avian Biol 26:203–208

Poulin R (2007) Evolutionary ecology of parasites, 2nd edn. Princeton University Press, Oxfordshire

Price RD, Hellenthal RA, Palma RL (2003) World checklist of chewing lice with host associations and keys to families and genera. Illinois Natural History Survey Special Publication 24:1–447

Pyle P (1997) Identification guide to North American birds. Part 1: Columbidae through Ploceidae. Slate Creek Press, California

R Core Team (2014) R: A language and environment for statistical computing. R foundation for statistical computing. Vienna, Austria. URL http://www.R-project.org

Reed DH (2008) Effects of population size on population viability: from mutation to environmental catastrophes. In: Carroll SP, Fox CW (eds) Conservation biology: evolution in action. Oxford University Press, New York, pp 16–34

Rothstein SI, Verner J, Stevens E, Ritter LV (1987) Behavioral-differences among sex and age classes of the brown-headed cowbird and their relation to the efficacy of a control program. Wilson Bull 99:322–337

Ròzsa L (1997) Wing feather mite (Acari: Proctophyllodidae) abundance correlates with body mass of passerine hosts: a comparative study. Can J Zool 75:1535–1539

Salmon JT (1947) New methods in microscopy for the study of small insects and arthropods. Trans Royal Soc New Zealand 77:250–253

Seivwright LJ, Redpath SM, Mougeot F, Leckie F, Hudson PJ (2005) Interactions between intrinsic and extrinsic mechanisms in a cyclic species: testosterone increases parasite infection in red grouse. Proc R Soc B 272:2299–2304

Soliman S, Marzouk AS, Main AJ, Montasser AA (2001) Effect of sex, size, and age of commensal rat hosts on the infestation parameters of their ectoparasites in a rural area of Egypt. J Parasitol 87:1308–1316

Tinsley RC (1989) The effects of host sex on transmission success. Parasitol Today 5:190–195

Venables WN, Ripley BD (2002) Modern applied statistics with s, 4th edn. Springer, New York

Yokel DA (1989) Payoff asymmetries in contests among male brown-headed cowbirds. Behav Ecol Sociobiol 24:209–216
Acknowledgments
We thank the United States Fish and Wildlife Service for providing our research team with euthanized brown-headed cowbirds and their aid during our collection of these cowbirds, Jason Garvon for his suggested "blasting" technique for louse removal, Megan Porter for her help with louse removal and Ricardo Palma and Emily Deblassi for their aid in louse identification. We also like thank the Department of Biology, Northern Michigan University for their support.
About this article
Cite this article
Durkin, E.S., Luong, L.T. & Bird, J. Mechanisms underlying parasite infection: influence of host body mass and age on chewing louse distribution among brown-headed cowbirds. Parasitol Res 114, 4169–4174 (2015). https://doi.org/10.1007/s00436-015-4648-z
Received:

Accepted:

Published:

Issue Date:
Keywords
Chewing lice

Molothrus ater

Sex-biased parasitism

Age-biased parasitism

Parasite distribution

Ectoparasite