Abstract
The present study explores associations of different factors (i.e. host parameters, presence of other ectoparasites and [mainly biotic] environmental factors) with burdens of Ixodes loricatus immature stages in one of its main hosts in Argentina, the rodent Akodon azarae. For 2 years, rodents were trapped and sampled monthly at 16 points located in four different sites in the Parana River Delta region. Data were analysed with generalized linear mixed models with a negative binomial response (counts of larvae or nymphs). The independent variables assessed were (a) environmental: trapping year, presence of cattle, type of vegetation, rodent abundance; (b) host parameters: body length, sex, body condition, blood cell counts, natural antibody titers and (c) co-infestation with other ectoparasites. Two-way interaction terms deemed a priori as relevant were also included in the analysis. Most of the associations investigated were found significant, but in general, the direction and magnitude of the associations were context-dependent. An exception was the presence of cattle, which was consistently negatively associated with both larvae and nymphs independently of all other variables considered and had the strongest effect on tick burdens. Mites, fleas and Amblyomma triste were also significantly associated (mostly positively) with larval and nymph burdens, and in many cases, they influenced associations with environmental or host factors. Our findings strongly support that raising cattle may have a substantial impact on the dynamics of I. loricatus and that interactions within the ectoparasite community may be an important—but generally ignored—driver of tick dynamics.
This is a preview of subscription content, log in to check access.
Access options
Buy single article
Instant access to the full article PDF.
US$ 39.95
Price includes VAT for USA
Subscribe to journal
Immediate online access to all issues from 2019. Subscription will auto renew annually.
US$ 199
This is the net price. Taxes to be calculated in checkout.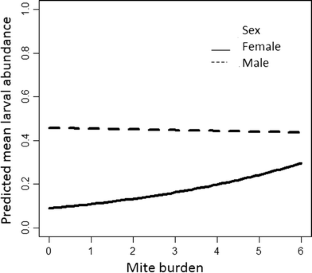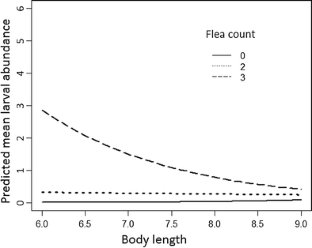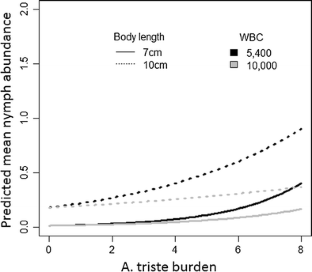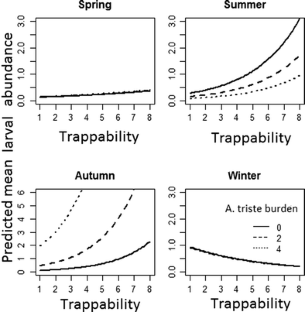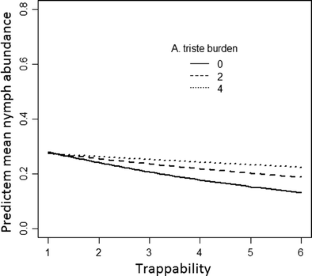 References
Akaike H (1974) A new look at the statistical model identification. IEEE Trans Autom Control AC-19:716–723

Anderson K, Ezenwa VO, Jolles AE (2013) Tick infestation patterns in free ranging African buffalo (Syncercus caffer): effects of host innate immunity and niche segregation among tick species. Int J Parasitol 2:1–9

Arneberg P, Skorping A, Read AF (1998) Parasite abundance, body size, life histories, and the energetic equivalence rule. Am Nat 151:497–513

Bandilla M, Hakalahti-Siren T, Valtonen ET (2008) Patterns of host switching in the fish ectoparasite Argulus coregoni. Behav Ecol Sociobiol 62:975–982

Barros-Battesti DM, Yoshinari NH, Bonoldi VLN, de Castro Gomes A (2000) Parasitism by Ixodes didelphidis and I. loricatus (Acari: Ixodidae) on small wild mammals from an Atlantic Forest in the State of São Paulo, Brazil. J Med Entomol 37:820–827

Behnke JM, Bajer A, Sinski E, Wakelin D (2001) Interactions involving intestinal nematodes of rodents: experimental and field studies. Parasitology 122(Suppl):S39–S49

Beldomenico PM, Begon M (2010) Disease spread, susceptibility and infection intensity: vicious circles? Trends Ecol Evol 25:21–27

Beldomenico PM, Baldi CJ, Orcellet VM, Peralta JL, Venzal JM, Mangold AJ, Guglielmone AA (2004) Ecological aspects of Ixodes pararicinus Keirans & Clifford, 1985 (Acari: Ixodidae) and other tick species parasitizing sigmodontin mice (Rodentia: Muridae) in the northwestern Argentina. Acarol 44:15–21

Beldomenico PM, Lareschi M, Nava S, Mangold AJ, Guglielmone AA (2005) The parasitism of immature stages of Ixodes loricatus (Acari: Ixodidae) on wild rodents in Argentina. Exp App Acarol 36:139–148

Beldomenico PM, Telfer S, Gebert S, Lukomski L, Bennett M, Begon M (2008) The dynamics of health in wild field vole populations: a haematological perspective. J Anim Ecol 77:984–997

Bowen CJ, Jaworski DC, Wasala NB, Coons LB (2010) Macrophage migration inhibitory factor expression and protein localization in Amblyomma americanum (Ixodidae). Exp App Acarol 50:343–352

Boyard C, Vourc'h G, Barnouin J (2008) The relationships between Ixodes ricinus and small mammal species at the woodland–pasture interface. Exp App Acarol 44:61–76

Brunner JL, Ostfeld RS (2008) Multiple causes of variable tick burdens on small-mammal hosts. Ecology 89:2259–2272

Cabrera AL (1994) Enciclopedia Argentina de agricultura y jardinería, Tomo II, Fascículo 1: Regiones fitogeográficas Argentinas. ACME, Buenos Aires

Cardon M, Loot G, Grenouillet G, Blanchet S (2011) Host characteristics and environmental factors differentially drive the burden and pathogenicity of an ectoparasite: a multilevel causal analysis. J Anim Ecol 80:657–667

Colombo VC, Lareschi M, Monje LD, Nava S, Antoniazzi LR, Beldomenico PM, Guglielmone AA (2013) Garrapatas (Ixodida) y ácaros (Mesostigmata) parásitos de roedores sigmodontinos del delta del Paraná, Argentina. Revista FAVE—Ciencias Veterinarias 12:39-50

Colombo VC, Guglielmone AA, Monje LD, Nava S, Beldomenico PM (2014) Seasonality of immature stages of Ixodes loricatus (Acari: Ixodidae) in the Paraná Delta, Argentina. Ticks Tick Borne Dis 5:701–705

Cox FE (2001) Concomitant infections, parasite s and immune responses. Parasitology 122:S23–S38

Debárbora VN, Mangold AJ, Eberhardt A, Guglielmone AA, Nava S (2014) Natural infestation of Hydrochoerus hydrochaeris by Amblyomma dubitatum ticks. Exp App Acarol 63:285–294

Déruaz M, Frauenschuh A, Alessandri AL, Dias JM, Coelho FM, Russo RC, Proudfoot AE (2008) Ticks produce highly selective chemokine binding proteins with antiinflammatory activity. J Exp Med 205:2019–2031

Estrada-Peña A, Venzal JM, Mangold AJ, Cafrune MM, Guglielmone AA (2005) The Amblyomma maculatum Koch, 1844 (Acari: Ixodidae: Amblyomminae) tick group: diagnostic characters, description of the larva of A parvitarsum Neumann, 1901, 16S rDNA sequences, distribution and hosts. Syst Parasitol 60:99–112

Ezenwa VO, Jolles AE (2011) From host immunity to pathogen invasion: the effects of helminth coinfestation on the dynamics of microparasites. Integr Comp Biol 51:540–551

Green A (2001) Mass/length residuals: measures of body condition or generators of spurious results. Ecology 82:1473–1483

Guglielmone AA, Beati L, Barros-Battesti DM, Labruna MB, Nava S, Venzal JM, Mangold AJ, Szabo MP, Martins JR, Gonzalez-Acuna D, Estrada-Peña A (2006) Ticks (Ixodidae) on humans in South America. Exp Appl Acarol 40:83–100

Guglielmone AA, Nava S, Díaz MM (2011) Relationships of South American marsupials (Didelphimorphia, Microbiotheria and Paucituberculata) and hard ticks (Acari: Ixodidae) with distribution of four species of Ixodes. Zootaxa 3086:1–30

Harrison A, Scantlebury M, Montgomery WI (2010) Body mass and sex‐biased parasitism in wood mice Apodemus sylvaticus. Oikos 119:1099–1104

Hawlena H, Abramsky Z, Krasnov BR (2006) Ectoparasites and age-dependent survival in a desert rodent. Oecologia 148:30–39

Hayward AD, Wilson AJ, Pilkington JG, Pemberton JM, Kruuk LEB (2009) Ageing in a variable habitat: environmental stress affects senescence in parasite resistance in St Kilda Soay sheep. Proc Roy Soc B-Biol Sci 276:3477–3485

Hudson P, Rizzoli A, Grenfell B, Heesterbeek H, Dobson A (2002) The ecology of wildlife diseases. Oxford University Press, Oxford

Hughes VL, Randolph SE (2001) Testosterone depresses innate and acquired resistance to ticks in natural rodent hosts: a force for aggregated distributions of parasites. J Parasitol 87:49–54

Jolles AE, Ezenwa VO, Etienne RS, Turner WC, Olff H (2008) Interactions between macroparasites and microparasites drive infestation patterns in free-ranging African buffalo. Ecology 89:2239–2250

Kandus P, Malvárez AI (2004) Vegetation patterns and change analysis in the lower delta islands of the Paraná River (Argentina). Wetlands 24:620–632

Kandus P, Malvárez A, Madanes N (2003) Estudio de las comunidades de plantas herbáceas de las islas bonaerenses del Bajo Delta del Río Paraná (Argentina). Darwiniana 41:1–16

Kiffner C, Vor T, Hagedorn P, Niedrig M, Rühe F (2011) Factors affecting patterns of tick parasitism on forest rodents in tick-borne encephalitis risk areas, Germany. Parasitol Res 108:323–335

Kramer CD, Poole NM, Coons LB, Cole JA (2011) Tick saliva regulates migration, phagocytosis, and gene expression in the macrophage-like cell line, IC-21. Exp Parasitol 127:665–671

Krasnov B, Khokhlova I, Shenbrot G (2002) The effect of host density on ectoparasite distribution: an example of a rodent parasitized by fleas. Ecology 83:164–175

Krasnov BR, Morand S, Hawlena H, Khokhlova IS, Shenbrot GI (2005) Sex-biased parasitism, seasonality and sexual size dimorphism in desert rodents. Oecologia 146:209–217

Krasnov BR, Bordes F, Khokhlova IS, Morand S (2012) Gender-biased parasitism in small mammals: patterns, mechanisms, consequences. Mammalia 76:1–13

Lareschi M (2000) Estudio de la fauna ectoparasita (Acari, Phthiraptera y Siphonaptera) de roedores sigmodontinos (Rodentia: Muridae) de Punta Lara, Provincia de Buenos Aires. PhD thesis, FCNyM, UNLP, La Plata, Argentina, 174 pp.

Lareschi M (2010) Ectoparasite occurrence associated with males and females of wild rodents Oligoryzomys flavescens (Waterhouse) and Akodon azarae (Fischer) (Rodentia: Cricetidae: Sigmodontinae) in the Punta Lara Wetlands, Argentina. Neotrop Entomol 39:818–822

Lareschi M, Notarnicola J, Navone G, Linardi PM (2003) Arthropod and filarioid parasites associated with wild rodents in the northeast marshes of Buenos Aires, Argentina. Mem Inst Oswaldo Cruz 98:673–677

Lello J, Boag B, Fenton A, Stevenson IR, Hudson PJ (2004) Competition and mutualism among the gut helminths of a mammalian host. Nature 428:840–844

Lutermann H, Fagir DM, Bennett NC (2015) Complex interactions within the ectoparasite community of the eastern rock sengi (Elephantulus myurus). Int J Parasitol 4:148–158

Marques S, Barros-Battesti DM, Onofrio VC, Famadas KM, Faccini JL, Keirans JE (2004) Redescription of larva, nymph and adults of Ixodes loricatus Neumann, 1899 (Acari: Ixodidae) based on light and scanning electron microscopy. Syst Parasitol 59:135–146

Nava S, Lareschi M, Voglino D (2003) Interrelationship between ectoparasites and wild rodents from northeastern Buenos Aires Province, Argentina. Mem Inst Oswaldo Cruz 98:45–49

Nava S, Lareschi M, Beldoménico PM, Zerpa C, Venzal JM, Mangold AJ, Guglielmone AA (2004) Sigmodontinae rodents as hosts for larvae and nymphs of Ixodes loricatus Neumann, 1899 (Acari:Ixodidae). Parasite 11:411–414

Nava S, Elshenawy Y, Eremeeva ME, Sumner JW, Mastropaolo M, Paddock CD (2008) Rickettsia parkeri in Argentina. Emerg Infect Dis 14:1894–1897

Nava S, Mangold AJ, Mastropaolo M, Venzal JM, Fracassi N, Guglielmone AA (2011) Seasonal dynamics and hosts of Amblyomma triste (Acari: Ixodidae) in Argentina. Vet Parasitol 181:301–308

Navone GT, Notarnicola J, Nava S, Robles MR, Galliari C, Lareschi M (2009) Arthropods and helminths assemblage in sigmodontine rodents from wetlands of the Rio de la Plata, Argentina. Mastozool Neotrop 16:121–133

Ostfeld RS, Miller MC, Hazler KR (1996) Causes and consequences of tick (Ixodes scapularis) burdens on white-footed mice (Peromyscus leucopus). J Mammal 77:266–273

Owen JP, Nelson AC, Clayton DH (2010) Ecological immunology of bird-ectoparasite systems. Trends Parasitol 26:530–539

Pacheco RC, Venzal JM, Richtzenhain LJ, Labruna MB (2006) Rickettsia parkeri in Uruguay. Emerg Infect Dis 12:1804–1805

Pathak A, Pelensky C, Boag B, Cattadori I (2012) Immuno-epidemiology of chronic bacterial and helminth co-infestations: observations from the field and evidence from the laboratory. Int J Parasitol 42:647–655

Pedersen AB, Fenton A (2007) Emphasizing the ecology in parasite community ecology. Trends Ecol Evol 22:133–139

Perkins SE, Cattadori IM, Tagliapietra V, Rizzoli AP, Hudson PJ (2003) Empirical evidence for key hosts in persistence of a tick-borne disease. Int J Parasitol 33:909

Petney TN, Andrews RH (1998) Multiparasite communities in animals and humans: frequency, structure and pathogenic significance. Int J Parasitol 28:377–393

Pollock NB, Vredevoe LK, Taylor EN (2012) The effect of exogenous testosterone on ectoparasite loads in free‐ranging western fence lizards. J Exp Zool 317:447–454

Racca AL, Eberhardt AT, Moreno PG, Baldi C, Beldomenico PM (2014) Differences in natural antibody titers comparing free-ranging guanacos (Lama guanicoe) and capybaras (Hydrochoerus hydrochaeris). Vet J 199:308–309

Richards S (2008) Dealing with overdispersed count data in applied ecology. J Appl Ecol 45:218–227

Roulin A, Christe P, Dijkstra C, Ducrest AL, Jungi TW (2007) Origin-related, environmental, sex, and age determinants of immunocompetence, susceptibility to ectoparasites, and disease symptoms in the barn owl. Biol J Linn Soc 90:703–718

Schmidt KA, Ostfeld RS, Schauber EM (1999) Infestation of Peromyscus leucopus and Tamias striatus by Ixodes scapularis (Acari: Ixodidae) in relation to the abundance of hosts and parasites. J Med Entomol 36:749–757

Shaw DJ, Grenfell BT, Dobson AP (1998) Patterns of macroparasite aggregation in wildlife host populations. Parasitology 117:597–610

Silveira I, Pacheco RC, Szabó MPJ, Ramos HGC, Labruna MB (2007) Rickettsia parkeri in Brazil. Emerg Infect Dis 13:1111–1113

Soliman S, Marzouk AS, Main AJ, Montasser AA (2001) Effect of sex, size, and age of commensal rat hosts on the infestation parameters of their ectoparasites in a rural area of Egypt. J Parasitol 87:1308–1316

Sorci G, de Fraipont M, Clobert J (1997) Host density and ectoparasite avoidance in the common lizard (Lacerta vivipara). Oecologia 111:183–188

Stanko M, Miklisová D, de Bellocq JG, Morand S (2002) Mammal density and patterns of ectoparasite species richness and abundance. Oecologia 131:289–295

Szabó MPJ, Labruna MB, Pereira MC, Duarte JMB (2003) Ticks (Acari: Ixodidae) on wild marsh-deer (Blastocerus dichotomus) from southeast Brazil: infestations before and after habitat loss. J Med Entomol 40:268–274

Telfer S, Lambin X, Birtles R, Beldomenico P, Burthe S, Paterson S, Begon M (2010) Species interactions in a parasite network drive infection risk in a wildlife population. Science 330:243–246

Ulrich Y, Schmid-Hempel P (2012) Host modulation of parasite competition in multiple infections. Proc Roy Soc B-Biol Sci 279:2982–2989

Vaclav R, Calero-Torralbo MA, Valera F (2008) Ectoparasite load is linked to ontogeny and cell-mediated immunity in an avian host system with pronounced hatching asynchrony. Biol J Linnean Soc 94:463–473

Venzal JM, Portillo A, Estrada-Pena A, Castro O, Cabrera PA, Oteo JA (2004) Rickettsia parkeri in Amblyomma triste from Uruguay. Emerg Infect Dis 10:1493–1495

Venzal JM, Estrada-Pena A, Castro O, De Souza CG, Felix ML, Nava S, Guglielmone AA (2008) Amblyomma triste Koch, 1844 (Acari: Ixodidae): hosts and seasonality of the vector of Rickettsia parkeri in Uruguay. Vet Parasitol 155:104–109

Vicente J, Perez-Rodriguez L, Gortazar C (2007) Sex, age, spleen size, and kidney fat of redder relative to infection intensities of the lungworm Elaphostrongylus cervi. Naturwissenschaften 94:581–587

Zhonglai L, Yaoxing Z (1997) Analysis on the yearly dynamics relation between body flea index and population of Citellus dauricus. Acta Entomol Sinica 40:166–170

Zoffoli ML, Kandus P, Madanes N, Calvo DH (2008) Seasonal and interannual analysis of wetlands in South America using NOAA-AVHRR NDVI time series: the case of the Parana Delta Region Landscape. Ecol 23:833–848
Acknowledgments
Valeria C. Colombo is a fellow of the Consejo Nacional de Investigaciones Científicas y Técnicas (CONICET). This work was funded by Agencia Nacional de Promoción Científica y Tecnológica (PICT 2008-00090) and by Universidad Nacional del Litoral (CAI + D 2011). Special thanks to Instituto Nacional de Tecnología Agropecuaria (INTA) Delta, INTA Rafaela, Facultad de Ciencias Veterinarias—UNL, Ulyses F.J. Pardiñas, Natalia Fracassi, Gerardo Mujica, Cristian Ortiz and Adrian Perri.
About this article
Cite this article
Colombo, V.C., Nava, S., Antoniazzi, L.R. et al. Ecology of the interaction between Ixodes loricatus (Acari: Ixodidae) and Akodon azarae (Rodentia: Criceridae). Parasitol Res 114, 3683–3691 (2015). https://doi.org/10.1007/s00436-015-4596-7
Received:

Accepted:

Published:

Issue Date:
Keywords
Parasite-host relationships

Disease ecology

Ixodidae

Rodents

Tick-borne diseases