Abstract
Crenosoma vulpis is a metastrongyloid nematode primarily associated with respiratory tract infections of red foxes in North America and Europe. Sporadic cases have also been reported in domestic dogs. The present study aimed to provide morphological, molecular, and epidemiological data on the geographical distribution of this nematode throughout Italy. From 2012 to 2014, 12 of the 138 foxes examined, three dogs and one badger scored positive for C. vulpis. Forty adults were isolated from foxes and the badger, whereas first-stage larvae were detected in the three dogs. All specimens were morphologically identified as C. vulpis, and 28 nematodes were also molecularly characterized by sequencing mitochondrial (12S ribosomal DNA (rDNA)) and nuclear (18S rDNA) ribosomal genes. Four haplotypes were identified based on the 12S rDNA target gene, with the most representative (78.5 %) designated as haplotype I. No genetic variability was detected for the 18S rDNA gene. The molecular identification was consistent with the distinct separation of species-specific clades inferred by the phylogenetic analyses of both mitochondrial and ribosomal genes. Data herein reported indicates that C. vulpis has a wide distribution in foxes from southern Italy, and it also occurs in dogs from southern and northern regions of the country. Practitioners should consider the occurrence of this nematode in the differential diagnosis of canine respiratory disease, particularly in dogs living close to rural areas where foxes are present.
Access options
Buy single article
Instant access to the full article PDF.
US$ 39.95
Tax calculation will be finalised during checkout.
Subscribe to journal
Immediate online access to all issues from 2019. Subscription will auto renew annually.
US$ 119
Tax calculation will be finalised during checkout.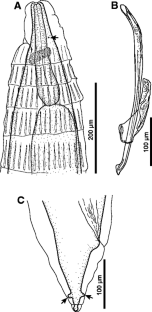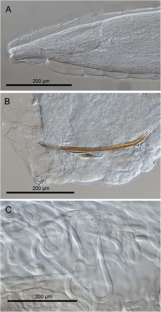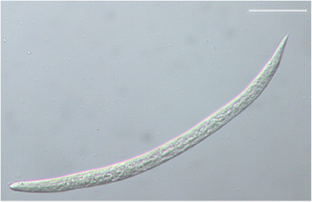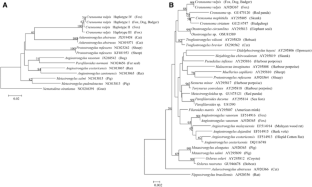 References
Anderson RC (2000) Nematode parasites of vertebrates: their development and transmission, 2nd edn. CABI Publishing, Wallingford, p 650

Avise JC (1994) Molecular markers, natural history and evolution. Chapman and Hall, New York, p 511

Barçante TA, Barçante JM, Dias SR, Lima Wdos S (2003) Angiostrongylus vasorum (Baillet, 1866) Kamensky, 1905: emergence of third-stage larvae from infected Biomphalaria glabrata snails. Parasitol Res 91:471–475

Barutzki D, Schaper R (2003) Endoparasites in dogs and cats in Germany 1999–2002. Parasitol Res 90:148–150

Barutzki D, Schaper R (2011) Results of parasitological examinations of faecal samples from cats and dogs in Germany between 2003 and 2010. Parasitol Res 109(Suppl 1):S45–S60. doi:10.1007/s00436

Bihr T, Conboy GA (1999) Lungworm (Crenosoma vulpis) infection in dogs on Prince Edward Island. Can Vet J 40:555–559

Brianti E, Gaglio G, Giannetto S, Annoscia G, Latrofa MS, Dantas-Torres F, Traversa D, Otranto D (2012) Troglostrongylus brevior and Troglostrongylus subcrenatus (Strongylida: Crenosomatidae) as agents of broncho-pulmonary infestation in domestic cats. Parasite Vectors 5:178. doi:10.1186/1756-3305-5-178

Brianti E, Gaglio G, Napoli E, Falsone L, Giannelli A, Annoscia G, Varcasia A, Giannetto S, Mazzullo G, Otranto D (2014a) Feline lungworm Oslerus rostratus (Strongylida: Filaridae) in Italy: first case report and histopathological findings. Parasitol Res 113:3853–3857. doi:10.1007/s00436-014-4053-z

Brianti E, Giannetto S, Dantas-Torres F, Otranto D (2014b) Lungworms of the genus Troglostrongylus (Strongylida: Crenosomatidae): neglected parasites for domestic cats. Vet Parasitol 202:104–112. doi:10.1016/j.vetpar.2014.01.019

Chilton NB, Huby-Chilton F, Gasser RB, Beveridge I (2006) The evolutionary origins of nematodes within the order Strongylida are related to predilection sites within hosts. Mol Phylogenet Evol 40:118–128

Cobb MA, Fisher MA (1992) Crenosoma vulpis infection in a dog. Vet Rec 130:452

Conboy G (2009) Helminth parasites of the canine and feline respiratory tract. Vet Clin N Am Small Anim Pract 39:1109–1126. doi:10.1016/j.cvsm.2009.06.005

Craig RE, Anderson RC (1972) The genus Crenosoma (Nematoda: Metastrongyloidea) in New World mammals. Can J Zool 50:1555–1561

Giannelli A, Colella V, Abramo F, do Nascimento Ramos RA, Falsone L, Brianti E, Varcasia A, Dantas-Torres F, Knaus M, Fox MT, Otranto D (2015) Release of lungworm larvae from snails in the environment: potential for alternative transmission pathways. PLoS Negl Trop Dis 9, e0003722. doi:10.1371/journal.pntd.0003722

Guardone L, Schnyder M, Macchioni F, Deplazes P, Magi M (2013) Serological detection of circulating Angiostrongylus vasorum antigen and specific antibodies in dogs from central and northern Italy. Vet Parasitol 192:192–198. doi:10.1016/j.vetpar.2012.10.016

Jančev J, Genov T (1988) On the morphology and taxonomy of species from the genus Crenosoma Molin, 1861 (Nematoda: Crenosomatidae) in Bulgaria. Helminthology 25:45–63

Jeffery RA, Lankester MW, McGrath MJ, Whitney HG (2004) Angiostrongylus vasorum and Crenosoma vulpis in red fox (Vulpes vulpes) in Newfoundland, Canada. Can J Zool 82:66–74

Kimura M (1980) A simple method for estimating evolutionary rate of base substitutions through comparative studies of nucleotide sequences. J Mol Evol 16:111–120

Larkin MA, Blackshields G, Brown NP, Chenna R, McGettigan PA, McWilliam H, Valentin F, Wallace IM, Wilm A, Lopez R, Thompson JD, Gibson TJ, Higgins DG (2007) Clustal W and Clustal X version 2.0. Bioinformatics 23:2947–2948

Levine ND (1980) Nematode parasites of domestic animals and of man, 2nd edn. Burgess, Minneapolis, p 477

MAFF (Ministry of Agriculture, Fisheries and Food. London) (1986) Manual of veterinary parasitological laboratory techniques, 3rd edn. HMSO, London

Magi M, Macchioni F, Dell'omodarme M, Prati MC, Calderini P, Gabrielli S, Iori A, Cancrini G (2009) Endoparasites of red fox (Vulpes vulpes) in central Italy. J Wildl Dis 45:881–885

Magi M, Guardone L, Prati MC, Mignone W, Macchioni F (2015) Extraintestinal nematodes of the red fox Vulpes vulpes in north-west Italy. J Helminthol 89:506–511

Manfredi MT, Giacometti A, Fraquelli C, Piccolo G (2003) Studio della popolazione elmintica in volpi (Vulpes vulpes) del Trentino Alto-Adige. J Mt Ecol 7:261–263

Morgan ER, Shaw SE, Brennan SF, De Waal TD, Jones BR, Mulcahy G (2005) Angiostrongylus vasorum: a real heartbreaker. Trends Parasitol 21:49–51

Morgan ER, Jefferies R, Krajewski M, Ward P, Shaw SE (2009) Canine pulmonary angiostrongylosis: the influence of climate on parasite distribution. Parasitol Int 58:406–410. doi:10.1016/j.parint.2009.08.003

Nevarez A, Lopez A, Conboy G, Ireland W, Sims D (2005) Distribution of Crenosoma vulpis and Eucoleus aerophilus in the lung of free-ranging red foxes (Vulpes vulpes). J Vet Diagn Invest 17:486–489

Otranto D, Cantacessi C, Dantas-Torres F, Brianti E, Pfeffer M, Genchi C, Guberti V, Capelli G, Deplazes P (2015) The role of wild felids and canids in spreading parasites to cats and dogs in Europe. Part II: Helminths and arthropods. Vet Parasitol. doi:10.1016/j.vetpar.2015.04.020

Popiołek M, Jarnecki H, Łuczyński TA (2009) Record of Crenosoma vulpis (Rudolphi, 1819) (Nematoda, Crenosomatidae) from the Eurasian badger (Meles meles L.) from Poland. Wiad Parazytol 55:437–439

Reilly GA, McGarry JW, Martin M, Belford C (2000) Crenosoma vulpis, the fox lungworm, in a dog in Ireland. Vet Rec 146:764–765

Rinaldi L, Calabria G, Carbone S, Carrella A, Cringoli G (2007) Crenosoma vulpis in dog: first case report in Italy and use of the FLOTAC technique for copromicroscopic diagnosis. Parasitol Res 101:1681–1684

Rudolph R (1968) Ceroid formation and its etiology in the lungs of badgers. Berl Munch Tierarztl Wochenschr 81:13–15

Saeed I, Maddox-Hyttel C, Monrad J, Kapel CM (2006) Helminths of red foxes (Vulpes vulpes) in Denmark. Vet Parasitol 139:168–179

Simin S, Kosić LS, Kuruca L, Pavlović I, Savović M, Lalošević V (2014) Moving the boundaries to the South-East: first record of autochthonous Angiostrongylus vasorum infection in a dog in Vojvodina province, northern Serbia. Parasite Vectors 7:396–402. doi:10.1186/1756-3305-7-396

Smith HJ (1978) Parasites of red foxes in New Brunswick and Nova Scotia. J Wildl Dis 14:366–370

Smith GC, Gangadharan B, Taylor Z, Laurenson MK, Bradshaw H, Hide G, Hughes JM, Dinkel A, Romig T, Craig PS (2003) Prevalence of zoonotic important parasites in the red fox (Vulpes vulpes) in Great Britain. Vet Parasitol 118:133–142

Soulsby EJL (1982) Helminths, arthropods and protozoa of domesticated animals, 7th edn. Baillère Tindall, London, p 809

Spratt DM (2015) Species of Angiostrongylus (Nematoda: Metastrongyloidea) in wildlife: a review. Int J Parasitol Parasites Wildl 4:178–189. doi:10.1016/j.ijppaw.2015.02.006

Sreter T, Szell Z, Marucci G, Pozio E, Varga I (2003) Extraintestinal nematode infections of red foxes (Vulpes vulpes) in Hungary. Vet Parasitol 115:329–334

Tamura K, Stecher G, Peterson D, Filipski A, Kumar S (2013) MEGA6: molecular evolutionary genetics analysis version 6.0. Mol Biol Evol 30:2725–2729. doi:10.1093/molbev/mst197

Taubert A, Pantchev N, Vrhovec MG, Bauer C, Hermosilla C (2009) Lungworm infections (Angiostrongylus vasorum, Crenosoma vulpis, Aelurostrongylus abstrusus) in dogs and cats in Germany and Denmark in 2003–2007. Vet Parasitol 159:175–180. doi:10.1016/j.vetpar.2008.10.005

Tolnai Z, Széll Z, Sréter T (2015) Environmental determinants of the spatial distribution of Angiostrongylus vasorum, Crenosoma vulpis and Eucoleus aerophilus in Hungary. Vet Parasitol 207:355–358. doi:10.1016/j.vetpar.2014.12.008

Traversa D, Di Cesare A, Conboy G (2010) Canine and feline cardiopulmonary parasitic nematodes in Europe: emerging and underestimated. Parasite Vectors 3:62. doi:10.1186/1756-3305-3-62

Unterer S, Deplazes P, Arnold P, Fluckiger M, Reusch CE, Glaus TM (2002) Spontaneous Crenosoma vulpis infection in 10 dogs: laboratory, radiographic and endoscopic findings. Schweiz Arch Tierheilkd 144:174–179

WHO (World Health Organization) (2012) Accelerating work to overcome the global impact of neglected tropical diseases—a roadmap for implementation. Department of Control of Neglected Tropical Diseases, Geneva

Zeh JB, Stone WB, Roscoe DE (1977) Lungworms in foxes in New York. NY Fish Game J 24:91–93
Acknowledgments
This study was partially funded by the Istituto Zooprofilattico Sperimentale del Mezzogiorno IZS ME 09/12 RC and by Ambito Territoriale di Caccia - Salerno and Avellino Provinces. The authors thank Fabio Gentilini, Silvia Tasca, Paola Ghergo, Gennaro Barra, Raffaele Antonio, and Carlo Cascino for providing some of the samples.
Conflict of interest
The authors declare that they have no conflict of interest.
About this article
Cite this article
Latrofa, M.S., Lia, R.P., Giannelli, A. et al. Crenosoma vulpis in wild and domestic carnivores from Italy: a morphological and molecular study. Parasitol Res 114, 3611–3617 (2015). https://doi.org/10.1007/s00436-015-4583-z
Received:

Accepted:

Published:

Issue Date:
Keywords
Crenosoma vulpis

Red fox

Dog

Morphological identification

12S rDNA

18S rDNA

Lungworm