Abstract
Parasites usurp host resources and, as a consequence, enhance their transmission and increase their fitness while reducing the fitness of their host. Performance capacity is a key predictor of fitness. Thus, the effects of parasites on host fitness may often be mediated by alteration of host performance. We tested the effect of the skeletal muscle dwelling myxozoan, Kudoa inornata, on the swimming performance in spotted seatrout, Cynoscion nebulosus. We predicted greater infection would result in reduced swimming performance. Unexpectedly, increasing density of K. inornata myxospores in seatrout skeletal muscle was related to increased fish swimming performance. The experiment was repeated and confirmed these unexpected results. The mechanisms underlying enhanced performance of an infected host are not understood, but their occurrence emphasizes the role of parasites as selective pressures on host evolution.
Access options
Buy single article
Instant access to the full article PDF.
USD 39.95
Price excludes VAT (USA)
Tax calculation will be finalised during checkout.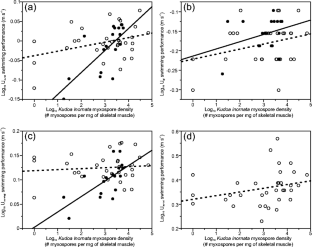 References
Alsop DH, Wood CW (1997) The interactive effects of feeding and exercise on oxygen consumption, swimming performance and protein usage in juvenile rainbow trout (Oncorhynchus mykiss). J Exp Biol 200:2337–2346

Arnold SJ (1983) Morphology, performance and fitness. Am Zool 32:347–361

Ballantyne JS (2014) Membranes and metabolism. In: Evans DH, Claiborne JB, Currie S (eds) The physiology of fishes. CRC Press, Boca Raton, FL, USA, pp 81–148

Barber I, Hoare D, Krause J (2000) Effects of parasites on fish behavior: a review and evolutionary perspective. Rev Fish Biol Fish 10:131–165

Bell WH, Terhune LDB (1970) Water tunnel design for fisheries research. Fish Res Bd Can Tech Rep 195:1–69

Binning SA, Roche D, Layton C (2013) Ectoparasites increase swimming costs in a coral reef fish. Biol Lett 9:20120927

Binning SA, Barnes JI, Davies JN, Backwell PRY, Keogh JS, Roche DG (2014) Ectoparasites modify escape behavior, but not performance, in a coral reef fish. Anim Behav 93:1–7

Blake RW, Kwok PYL, Chan KHS (2006) Effects of two parasites, Schistocephalus solidus (Cestoda) and Bunodera spp. (Trematoda), on the escape fast start performance of three-spined sticklebacks. J Fish Biol 69:345–1355

Bortone SA (2003) Biology of the spotted seatrout. CRC Press, Boca Raton

Brett JR (1964) The respiratory metabolism and swimming performance of young sockeye salmon. J Fish Res Board Can 21:1183–1226

Daniels CB (1985) The effect of infection by a parasitic worm on swimming and diving in the water skink, Sphenomorphus quoyii. J Herp 19:160–162

Deveney G, Bize P, Fournier S, Person E, Christie (2010) Testing the predictive adaptive response in a host-parasite system. Fun Ecol 24:178–185

Domenici P (2010) Escape responses in fish: kinematics, performance and behavior. In: Domenici P, Kapoor BG (eds) Fish locomotion: an eco-ethological perspective. Science Publishers, Enfield, NH, USA, pp 123–170

Dyková I, de Buron I, Fiala I, Roumillat WA (2009) Kudoa inornata sp. n. (Myxosporea: Multivalvulida) from the skeletal muscles of Cynoscion nebulosus (Teleostei: Sciaenidae). Folia Parasitol 56:91–98

Farrell AP (2008) Comparisons of swimming performance in rainbow trout using constant acceleration and critical swimming speed tests. J Fish Biol 72:693–710

Funk VA, Olafson RW, Raap M, Smith D, Aitken L, Haddow JD, Wang D, Dawson-Coates JA, Burke RD, Miller KM (2008) Identification, characterization and deduced amino acid sequence of the dominant proteases from Kudoa paniformis and K. thyrsites: a unique cytoplasmic cysteine protease. Comp Biochem Physiol 149:477–489

Ghalambor CK, Walker JA, Reznick DN (2003) Multi-trait selection, adaptation, and constraints on the evolution of burst swimming performance. Integr Comp Biol 43:431–438

Holmes J, Zohar S (1999) Pathology and host behavior. In: Barnard C, Behnke J (eds) Parasitism and host behavior. Taylor and Francis, London, pp 193–229

Hughes DP, Brodeur J, Thomas F (2012) Host manipulation by parasites. Oxford University Press, Oxford

Jayne BC, Lauder GV (1986) New data on axial locomotion in fishes: how speed affects diversity of kinematics and motor patterns. Amer Zool 36:642–655

Jayne BC, Lauder GV (1993) Red and white muscle activity and kinematics of the escape response of the bluegill sunfish during swimming. J Comp Phys A 173:495–508

Lafferty KD, Shaw JC (2013) Comparing mechanisms of host manipulation across host and parasite taxa. J Exp Biol 216:56–66

Langerhans RB (2009) Morphology, performance, fitness: functional insight into a post-Pleistocene radiation of mosquitofish. Biol Lett 5:488–491

Langerhans RB, Reznick DN (2010) Ecology and evolution of swimming performance: predicting evolution with biomechanics. In: Domenici P, Kapoor BG (eds) Fish locomotion: an eco-ethological perspective. Science Publishers, Enfield, NH, USA, pp 200–248

Lom J, Dyková I (1988) Sporogenesis and spore structure in Kudoa lunata (Myxosporea, Multivalvulida). Parasitol Res 74:521–530

Losos JB, Creer DA, Schulte JA II (2002) Cautionary comments on the measurement of maximum locomotor capabilities. J Zool (Lond) 258:57–61

Lukasik P, van Asch M, Guo H, Ferrari J, Godfray HCJ (2013) Unrelated facultative endosymbionts protect aphids against a fungal pathogen. Eco Lett 16:214–218

Magnoni LJ, Felip O, Blasco J, Planas JV (2013) Metabolic fuel utilization during swimming: optimizing nutritional requirements to enhance performance. In: Palstra AP, Planas JV (eds) Swimming physiology of fish: towards using exercise to farm a fit fish in sustainable aquaculture. Springer, New York, pp 203–235

Markiw ME, Wolf K (1974) Myxosoma cerebralis: isolation and concentration from fish skeletal elements—sequential enzymatic digestions and purification by differential centrifugation. J Fish Res Board Can 31:15–20

Marras S, Claireaux G, McKenzie DJ, Nelson JA (2010) Individual variation and repeatability in aerobic and anaerobic swimming performance of European sea bass, Dicentrarchus labrax. J Exp Biol 213:26–32

Marras S, Killen SS, Domenici P, Claireaux G, McKenzie DJ (2013) Relationships among traits of aerobic and anaerobic swimming performance in individual European sea bass Dicentrarchus labrax. Plos ONE 8:e72815. doi:10.1371/journal.pone.0072815

Maure F, Payette-Daoust S, Brodeur J, Mitta G, Thomas F (2013) Diversity and evolution of bodyguard manipulation. J Exp Biol 216:36–42

McElroy EJ, de Buron I (2014) Host performance as a target of manipulation by parasites: a meta-analysis. J Parasitol 100:399–410

Medoc B, Beisel JN (2008) An acanthocephalan parasite boosts the escape performance of its intermediate host facing non-host predators. Parasitology 135:977–984

Mommsen TP, French CJ, Hochachka PW (1980) Sites and patterns of protein and amino acid utilization during the spawning migration of salmon. Can J Zool 58:1785–1799

Moore J (2013) An overview of parasite-induced behavioural alterations—and some lessons from bats. J Exp Biol 216:11–17

Moran JDW, Whitaker DJ, Kent ML (1999) A review of the myxosporean genus Kudoa Meglitsch, 1947, and its impact on the international aquaculture industry and commercial fisheries. Aquaculture 172:163–196

Münderle M, Sures B, Taraschewski H (2004) Influence of Anguillicola crassus (Nematoda) and Ichthyophthirius multifiliis (Ciliophora) on swimming activity of European eel Anguilla anguilla. Dis Aquat Org 60:133–139

Nash RDM, Valencia AH, Geffen AJ (2006) The origin of Fulton's condition factor—setting the record straight. Fisheries 31:236–238

Nelson JA, Gotwalt PS, Reidy SP, Webber DM (2002) Beyond Ucrit: matching swimming performance tests to the physiological ecology of the animal, including a new fish 'drag strip'. Comp Biochem Phys A 133:289–302

Parker GA, Ball MA, Chubb JC, Hammerschmidt K, Milinski M (2009) When should a trophically transmitted parasite manipulate its host? Evolution 63:448–458

Patashnik M, Groninger HS, Barnett J, Kudo G, Koury B (1982) Pacific whiting, Merluccius productus: 1. abnormal muscle texture caused by myxosporidian-induced proteolysis. Mar Fish Rev 44:1–12

Peake SJ (2008) Gait transition as an alternate measure of maximum aerobic capacity in fishes. J Fish Biol 7:645–655

Peake SJ, Farrell AP (2004) Locomotory behavior and post-exercise physiology in relation to swimming speed, gait transition and metabolism in free-swimming smallmouth bass (Micropterus dolomieu). J Exp Biol 207:1563–1575

Quinn GP, Keough MJ (2003) Experimental design and data analysis for biologists. Cambridge University Press, Cambridge, UK, p 537

Rangel LF, Cech G, Székely C, Santos MJ (2011) A new actinospore type Unicapsulactinomyxon (Myxozoa), infecting the marine polychaete, Diopatra neapolitana (Polychaeta: Onuphidae) in the Aveiro Estuary (Portugal). Parasitol 138:698–712

Reidy SP, Kerr SR, Nelson JA (2000) Aerobic and anaerobic swimming performance of individual Atlantic cod. J Exp Biol 203:347–357

Roche DG, Binning SA, Strong LE, Davies JN, Jennions MD (2013) Increased behavioural lateralization in parasitized coral reef fish. Beh Ecol Soc 67:1339–1344

Santos EGN, Cunha RA, Portes Santos C (2011) Behavioral responses of Poecilia vivipara (Osteichthyies: Cyprinodontiformes) to experimental infections of Acanthocollaritrema umbilicatum (Digenena: Cryptogonimidae). Exp Parasitol 127:522–526

Stehr C, Whitaker DJ (1986) Host-parasite interaction of the myxosporeans Kudoa paniformis Kabata & Whitaker, 1981 and Kudoa thyrsites (Gilchrist, 1924) in the muscle of Pacific whiting, Merluccius productus (Ayres): an ultrastructural study. J Fish Dis 9:505–517

Svendsen JC, Tudorache C, Jordan AD, Steffensen JF, Asrestrup K, Domenici P (2010) Partition of aerobic and anaerobic swimming costs related to gait transitions in a labriform swimmer. J Exp Biol 213:2177–2183

Thomas F, Poulin R, Brodeur J (2010) Host manipulation by parasites: a multidimensional phenomenon. Oikos 119:1217–1223

Tsuyuki H, Williscroft SN, Kabata Z, Whitaker DJ (1982) The relationship between acid and neutral protease activities and the incidence of soft cooked texture in the muscle tissues of Pacific hake Merluccius productus infected with Kudoa paniformis and/or K. thyrsites, and held for varying times under different pre-freeze chilled storage conditions. Can Tech Rep Fish Aquat Sci 1130:1–50

Walker JA, Ghalambor CK, Griset L, McKenney D, Reznick DN (2005) Do faster starts increase the probability of evading predators? Fun Ecol 19:808–815

Ware S, Roumillat WA, Connors VA, de Buron I (2014) Distribution of Kudoa inornata plasmodia in the musculature of its host, the spotted seatrout Cynoscion nebulosus. Comp Parasitol 81:10–14. doi:10.1654/4668.1

Webb PW (1998) Swimming. In: Evans DH (ed) The physiology of fishes. CRC Marine Science Series, New York, NY, USA, pp 3–24

Yokoyama H (2003) A review: gaps in our knowledge on myxozoan parasites of fishes. Fish Pathol 38:125–136
Acknowledgements
We thank Dr. Mike Denson and staff from the South Carolina Department of Natural Resources Mariculture Division for providing fish and space and Pete Meier from the College of Charleston Grice Marine Laboratory for assisting with animal care.
Funding
This project was partially supported by U.S. National Science Foundation DBI-1062990.
Conflict of interest
The authors declare that they have no conflict of interest.
Ethical approval
Animal husbandry, experimental methods, and euthanasia procedures followed institutional ethical guidelines (College of Charleston, IACUC 2009–009).
About this article
Cite this article
McElroy, E., George, A. & de Buron, I. The muscle dwelling myxozoan, Kudoa inornata, enhances swimming performance in the spotted seatrout, Cynoscion nebulosus . Parasitol Res 114, 2451–2457 (2015). https://doi.org/10.1007/s00436-015-4441-z
Received:

Accepted:

Published:

Issue Date:

DOI: https://doi.org/10.1007/s00436-015-4441-z
Keywords
Fish

Teleost

Sciaenidae

Parasite

Myxosporea

Speed