Abstract
Domestic cats can be infected with a variety of enteric protozoa. Genotyping of protozoan species, especially Giardia as the most common, can improve assessment of their relevance as zoonotic agents. For an overview on the occurrence of feline enteric protozoa, 298 faecal samples of cats from private households, catteries and animal shelters in Austria were collected. All samples were examined by flotation and using a rapid test for Giardia (FASTest®). For the detection of Tritrichomonas blagburni, freshly voided faeces (n = 40) were processed using a commercial culturing system (InPouch™ TF-Feline). Genotyping was done at the β-giardin gene loci (each sample) and triosephosphate isomerase gene loci (positive samples) for Giardia and at the 18S rRNA gene (positive samples) for Cryptosporidium. Thirty-seven samples (12.4 %) were positive for Giardia by flotation and/or using a rapid test. Cryptosporidium was present in 1.7 %, Cystoisospora in 4.0 %, Sarcocystis in 0.3 % and T. blagburni in 2.5 % of the samples. Genotyping revealed Giardia cati, the potentially zoonotic Giardia duodenalis and Cryptosporidium felis. Most of the infected cats had no diarrhoea. Cats from shelters were significantly more often infected than owned cats (p = 0.01). When comparing Giardia detection methods, the rapid test had a higher sensitivity than flotation. Polymerase chain reaction (PCR) results were mostly independent from the other two tests.
Access options
Buy single article
Instant access to the full article PDF.
USD 39.95
Price includes VAT (USA)
Tax calculation will be finalised during checkout.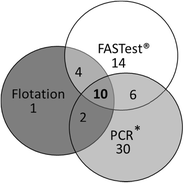 References
Abeywardena H, Jex AR, Nolan MJ, Haydon SR, Stevens MA, McAnulty RW, Gasser RB (2012) Genetic characterisation of Cryptosporidium and Giardia from dairy calves: discovery of species/genotypes consistent with those found in humans. Infect Genet Evol 12:1984–1993

Barutzki D, Schaper R (2011) Results of parasitological examinations of faecal samples from cats and dogs in Germany between 2003 and 2010. Parasitol Res 109:S45–S60

Becker AC, Rohen M, Epe C, Schnieder T (2012) Prevalence of endoparasites in stray and fostered dogs and cats in Northern Germany. Parasitol Res 111:849–857

Beugnet F, Bourdeau P, Chalvet-Monfray K, Cozma V, Farkas R, Guillot J, Halos L, Joachim A, Losson B, Miró G, Otranto D, Renaud M, Rinaldi L (2014) Parasites of domestic owned cats in Europe: co-infestations and risk factors. Parasit Vectors 7:291

Dabritz HA, Conrad PA (2010) Cats and Toxoplasma: implications for public health. Zoonoses Public Health 57:34–52

ESCCAP (2011) Control of intestinal protozoa in dogs and cats. http://www.esccap.org/uploads/docs/09t40rlc_esccapgl6_lowres.pdf. Accessed 17 Feb 2015

Elad D (2013) Immunocompromised patients and their pets: still best friends? Vet J 197:662–669

Feng Y, Xiao L (2011) Zoonotic potential and molecular epidemiology of Giardia species and giardiasis. Clin Microbiol Rev 24:110–140

Fortunat S, Stiglbauer W, Röggla G (2004) Giardiasis in a geriatric patient in Austria. Wien Klin Wochenschr 116:477

Helmy YA, Krücken J, Nöckler K, von Samson-Himmelstjerna G, Zessin KH (2014) Comparison between two commercially available serological tests and polymerase chain reaction in the diagnosis of Cryptosporidium in animals and diarrhoeic children. Parasitol Res 113:211–216

Kirkpatrick CE, Dubey JP (1987) Enteric coccidial infections. Isospora, Sarcocystis, Cryptosporidium, Besnoitia, and Hammondia. Vet Clin North Am Small Anim Pract 17:1405–1420

Kuk S, Yazar S, Cetinkaya U (2012) Stool sample storage conditions for the preservation of Giardia intestinalis DNA. Mem Inst Oswaldo Cruz 107:965–968

Lalle M, Jimenez-Cardosa E, Cacciò SM, Pozio E (2005) Genotyping of Giardia duodenalis from humans and dogs from Mexico using a beta-giardin nested polymerase chain reaction assay. J Parasitol 91:203–205

McGlade TR, Robertson ID, Elliot AD, Thompson RC (2003) High prevalence of Giardia detected in cats by PCR. Vet Parasitol 110:197–205

Mostegl MM, Wetscher A, Richter B, Nedorost N, Dinhopl N, Weissenböck H (2012) Detection of Tritrichomonas foetus and Pentatrichomonas hominis in intestinal tissue specimens of cats by chromogenic in situ hybridization. Vet Parasitol 183:209–214

Pallant L, Barutzki D, Schaper R, Thompson RC (2015) The epidemiology of infections with Giardia species and genotypes in well cared for dogs and cats in Germany. Parasit Vectors 8:2

Petry G, Kruedewagen E, Kampkoetter A, Krieger K (2011) Efficacy of emodepside/toltrazuril suspension (Procox® oral suspension for dogs) against mixed experimental Isospora felis/Isospora rivolta infection in cats. Parasitol Res 109:S29–S36

Santin M, Trout JM, Vecino JAC, Dubey JP, Fayer R (2006) Cryptosporidium, Giardia and Enterocytozoon bieneusi in cats from Bogota (Colombia) and genotyping of isolates. Vet Parasitol 141:334–339

Scorza V, Tangtrongsup S (2010) Update on the diagnosis and management of Cryptosporidium spp infections in dogs and cats. Top Companion Anim Med 25:163–169

Šlapeta J (2013) Cryptosporidiosis and Cryptosporidium species in animals and humans: a thirty colour rainbow? Int J Parasitol 43:957–970

Tangtrongsup S, Scorza V (2010) Update on the diagnosis and management of Giardia spp. infections in dogs and cats. Top Companion Anim Med 25:155–162

Thompson RC, Monis P (2012) Giardia—from genome to proteome. Adv Parasitol 78:57–95

Tolbert MK, Gookin J (2009) Tritrichomonas foetus: a new agent of feline diarrhea. Compend Contin Educ Vet 31:374–381

Walden HS, Dykstra C, Dillon A, Rodning S, Givens D, Bird R, Newton J, Lindsay D (2013) A new species of Tritrichomonas (Sarcomastigophora: Trichomonida) from the domestic cat (Felis catus). Parasitol Res 112:2227–2235
Conflict of interest
The authors declare that they have no conflict of interest.
Ethical standards
All of the studies reported herein were performed in compliance with current applicable local laws and regulations.
Electronic supplementary material
Below is the link to the electronic supplementary material.
About this article
Cite this article
Hinney, B., Ederer, C., Stengl, C. et al. Enteric protozoa of cats and their zoonotic potential—a field study from Austria. Parasitol Res 114, 2003–2006 (2015). https://doi.org/10.1007/s00436-015-4408-0
Received:

Accepted:

Published:

Issue Date:
Keywords
Giardia duodenalis
Giardia cati
Cryptosporidium felis
Tritrichomonas blagburni

Prevalence

Genotype