Abstract
Effective parasite management can be achieved through strategically timed treatments that break the life cycle. We examined the effects of temperature (2 °C increments from 22 to 34 °C) and salinity (0, 11, 22, 35, 40 ‰) on the life cycle (embryonation period, hatching success, oncomiracidia (larvae) longevity, infection success, and time to sexual maturity) of Neobenedenia sp. (Monogenea: Capsalidae), a harmful ectoparasite of farmed marine fishes. Experiments were conducted in controlled conditions in the laboratory. The life cycle was faster in warm, high saline conditions compared to cooler conditions (10–13 days between 26–32 °C, 40 ‰; 15–16 days between 22–24 °C at 40 ‰). Warm seawater and high saline conditions (24–32 °C, 35–40 ‰) improved egg hatching success, reduced time to sexual maturity, and resulted in parasites reaching sexual maturity at a larger size (at 30–32 °C) compared to cooler conditions (22 °C). In contrast, cool, hypersaline conditions (22 °C, 40 ‰) increased oncomiracidia longevity and infection success. Linear and quantile regression models were used to construct an interactive, online parasite management interface to enable strategic treatment of parasites in aquaculture corresponding to observed temperature and salinity variation on farms in the tropics. It was recommended that farmers treat their stock more frequently during summer (27–31 °C) when parasites can complete their life cycle more quickly. Nevertheless, farmers should be aware of the potential for increased Neobenedenia sp. infections during winter months (21–26 °C) due to increased infection success.
Access options
Buy single article
Instant access to the full article PDF.
USD 39.95
Price excludes VAT (USA)
Tax calculation will be finalised during checkout.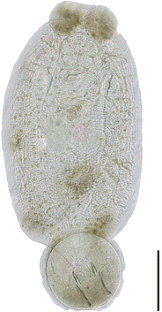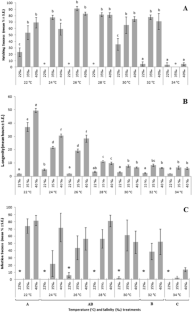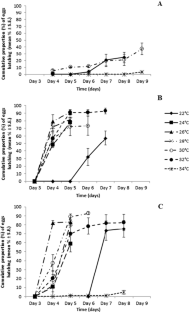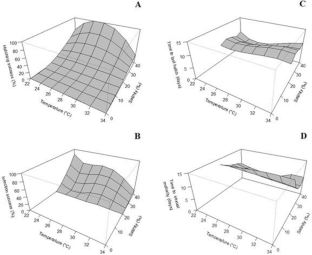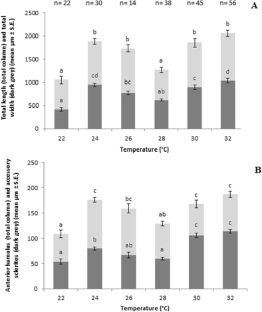 References
AIMS AIoMS (2008) In-situ sea temperature data. http://www.aims.gov.au/docs/research/climate-change/climate-monitoring/sst.html

Allali A, et al. (eds) IPCC, Climate Change 2007: Synthesis Report. Intergovernmental Panel of Climate Change: Cambridge, UK, New York, US

Baker RL (1996) Characterisation and utilisation of sheep and goat breeds that are resistant to helminths. In: LeJambre LF, Knox MR (eds) Sustainable control of parasites in small ruminants. ACIAR, Canberra, pp 172–177

Barger I (1997) Control by management. Vet Parasitol 72:493–506

Barger IA, Southcott WH (1978) Parasitism and production in weaner sheep grazing alternately with cattle. Aust J of Exp Agr 18:340–346

Bly JE, Clem LW (1992) Temperature and teleost immune functions. Fish Shellfish Immunol 2:159–171

Bondad-Reantaso MG, Ogawa K, Fukudome M, Wakabayashi H (1995) Reproduction and growth of Neobenedenia girellae (Monogenea: Capsalidae), a skin parasite of cultured marine fishes of Japan. Fish Pathol 30:227–231

Bravo S, Nunez M, Silva MT (2013) Efficacy of the treatments used for the control of Caligus rogercresseyi infecting Atlantic salmon, Salmo salar L., in a new fish-farming location in Region XI, Chile. J Fish Dis 36(3):199–204

Bravo S, Sevatdal S, Horsberg TE (2008) Sensitivity assessment of Caligus rogercresseyi to emamectin benzoate in Chile. Aquaculture 282:7–12

Buchmann K (1988) Temperature-dependent reproduction and survival of Pseudodactylogyrus bini (Monogenea) on the European eel (Anguilla anguilla). Parasitol Res 75:162–164

Buchmann K, Bresciani J (2001) An introduction to parasitic diseases of freshwater trout. DSR Publishers, Frederiksberg, Denmark

Buchmann K, Kristensson RT (2003) Efficacy of sodium percarbonate and formaldehyde bath treatments against Gyrodactylus derjavini infestations of Rainbow Trout. N Am J Aquac 65(1):25–27

Bumgarner SC, Brauer MA, Corwin RM, Thomas EA, Myers GH (1986) Strategic deworming for spring-calving beef cow/calf herds. J Am Vet Med Assoc 189(4):427–431

Conley DC, Curtis MA (1993) Effects of temperature and photoperiod on the duration of hatching, swimming, and copepodid survival of the parasitic copepod Salmincola edwardsii. Can J Zool 71:972–976

Costello MJ (2004) A checklist of best practice for sea lice control on salmon farms. Caligus 8:18

Deveney M, Chisholm L, Whittington I (2001) First published record of the pathogenic monogenean parasite Neobenedenia melleni (Capsalidae) from Australia. Dis Aquat Org 46:79–82

Ellis EP, Watanabe WO (1993) The effects of hyposalinity on eggs, juveniles and adults of the marine Monogenean, Neobenedenia melleni. Treatment of ecto-parasitosis in seawater-cultured tilapia. Aquaculture 117:15–27

Ernst I, Whittington ID (1996) Hatching rhythms in the capsalid Monogeneans Benedenia lutjani from the SKIN and B, rohdei from the gills of Lutjanus carponotatus at Heron Island, Queensland, Australia. Int J Parasitol 26(11):1191–1204

Ernst I, Whittington ID, Corneille S, Talbot C (2002) Monogenean parasites in sea-cage aquaculture. Austasia Aquac 22:46–48

Forwood JM, Harris JO, Deveney MR (2013) Efficacy of bath and orally administered praziquantel and fenbendazole against Lepidotrema bidyana Murray, a Monogenean parasite of silver perch, Bidyanus bidyanus (Mitchell). J Fish Dis 36(11):936–947

Hardy-Smith P et al (2012) In vitro and in vivo efficacy of anthelmintic compounds against blood fluke (Cardicola forsteri). Aquaculture 334–337:39–44

Hirayama T, Kawano F, Hirazawa N (2009) Effect of Neobenedenia girellae (Monogenea) infection on host amberjack Seriola dumerili (Carangidae). Aquaculture 288:159–165

Hirazawa N, Akiyama K, Umeda N (2013) Differences in sensitivity to the anthelmintic praziquantel by the skin-parasitic monogeneans Benedenia seriolae and Neobenedenia girellae. Aquaculture 404–405:59–64

Hirazawa N, Mitsuboshi T, Hirata T, Shirasu K (2004) Susceptibility of spotted halibut Verasper variegatus (Pleuronectidae) to infection by the Monogenean Neobenedenia girellae (Capsalidae) and oral therapy trials using praziquantel. Aquaculture 238:83–95

Hirazawa N, Takano R, Hagiwara H, Noguchi M, Narita M (2010) The influence of different water temperatures on Neobenedenia girellae (Monogenea) infection, parasite growth, egg production and emerging second generation on amberjack Seriola dumerili (Carangidae) and the histopathological effect of this parasite on fish skin. Aquaculture 299:2–7

Hoshina T (1968) On the monogenetic trematode, Benedenia seriolae, parasitic on yellow-tail, Seriola quinqueradiata. Proceedings of the Third Symposium de La Commission de L'Office International des Epizooties pour L'Etude des Maladies des Poissons. Stockholm, Sweden., p 1–11

Hutson KS, Mata L, Paul NA, de Nys R (2012) Seaweed extracts as a natural control against the monogenean ectoparasite, Neobenedenia sp., infecting farmed barramundi (Lates calcarifer). Int J Parasitol 42:1135–1141

Jackson JA, Tinsely RC (2002) Effects of environmental temperature on the susceptibility of Xenopus laevis and X. wittei (Anura) to Protopolystoma xenopodis (Monogenea). Parasitol Res 88:632–638

Jahn TL, Kuhn LR (1932) The life history of Epibdella melleni, MacCallum, 1927, a monogenetic trematode parasitic in marine fishes. Biol Bull 62:89–111

Kaneko JJ, Yamada R, Brock JA, Nakamura RM (1988) Infection of tilapia, Oreochrornis mossambicus (Trewavas), by a marine Monogenean, Neobenedenia melleni (MacCallum, 1927) Yamaguti, 1963 in Kaneohe Bay, Hawaii, USA, and its treatment. J Fish Dis 11:295–300

Kelly GA, Kahn LP, Walkden-Brown SW (2010) Integrated parasite management for sheep reduces the effects of gastrointestinal nematodes on the Northern Tablelands of New South Wales. Anim Prod Sci 50:1043–1052

Koenker K (2013) Quantreg: quantile regression. R package - version 5.01.

Lackenby JA, Chambers CB, Ernst I, Whittington ID (2007) Effect of water temperature on reproductive development of Benedenia seriolae (Monogenea: Capsalidae) from Seriola lalandi in Australia. Dis Aquat Org 74:235–242

Marcogliese DJ (2001) Implications of climate change for parasitism of animals in the aquatic environment. Can J Zool 79(8):1331–1352

Militz TA, Southgate PC, Carton AG, Hutson KS (2013) Efficacy of garlic (Allium sativum) extract applied as a therapeutic immersion treatment for Neobenedenia sp. management in aquaculture. J Fish Dis:1–11

Müeller KW, Watanabe WO, Head WD (1992) Effect of salinity on hatching in Neobenedenia melleni, a Monogenean ectoparasite of seawater-cultured tilapia. J World Aquacult Soc 23(3):199–204

Ogawa K, Bondad-Reantaso MG, Fukudome M, Wakabayashi H (1995) Neobenedenia girellae (Hargis, 1955) Yamaguti, 1963 (Monogenea: Capsalidae) from cultured marine fishes of Japan. J Parasitol 81(2):223–227

Ogawa K, Miyamoto J, Wang HC, Lo CF, Kou GH (2006) Neobenedenia girellae (Monogenea) infection of cultured cobia Rachycentron canadum in Taiwan. Fish Pathol 33:303–309

Ogawa K, Yokoyama H (1998) Parasitic diseases of cultured marine fish in Japan. Fish Pathol 33:303–309

Ohno Y, Kawano F, Hirazawa N (2009) The effect of oral antibiotic treatment and freshwater bath treatment on susceptibility to Neobenedenia girellae (Monogenea) infection of amberjack (Seriola dumerili) and yellowtail (S. quinqueradiata) hosts. Aquaculture 292:248–251

Poulin R, Conley DC, Curtis MA (1989) Effects of temperature fluctuations and photoperiod on hatching in the parasitic copepod Salmincola edwardsii. Can J Zool 68:1330–1332

Roubal FR, Diggles BK (1993) The rate of development of Polylabroides multispinosus (Monogenea: Microcotylidae) parasitic on the gills of Acanthopagrus australis (Pisces: Sparidae). Int J Parasitol 23(7):871–875

Santamarina MT, Tojo JL, Ubeira FM, Quintero P, Sanmartin ML (1991) Anthelmintic treatment against Gyrodactylus sp. infection in rainbow trout Oncorhynchus mykiss. Dis Aquat Org 10:39–43

Schelkle B, Doetjes R, Cable J (2011) The salt myth revealed: treatment of gyrodactylid infections on ornamental guppies. Poecilia Reticulata Aquacult 311:74–79

Schmahl G, Mehlhorn H (1988) Treatment of fish parasites 4. Effects of sym. triazinone (toltrazuril) on Monogenea. Parasitol Res 75(2):132–143

Schmahl G, Taraschewski H (1987) Treatment of fish parasites 2. Effects of praziquantel, niclosamide, levamisole-HCl, and metrifonate on Monogenea (Gyrodactylus aculeati, Diplozoon paradoxum). Parasitol Res 73:341–351

Seng LT, Tan Z, Enright WJ (2006) Important parasitic diseases in cultured marine fish in the Asia-Pacific region. AQUA Culture AsiaPacific Mag 2(1):14–16

Sharp NJ, Diggles BK, Poortenaar CW, Willis TJ (2004) Efficacy of Aqui-S, formalin and praziquantel against the Monogeneans, Benedenia seriolae and Zeuxapta seriolae, infecting yellowtail kingfish Seriola lalandi lalandi in New Zealand. Aquaculture 236:67–83

Solomon S, et al. (eds) IPCC, Climate Change 2007: The Physical Science Basis. Contribution of Working Group I to the Fourth Assessment Report of the Intergovernmental Panel on Climate Change. Cambridge, UK, New York, US

Stromberg BE, Averbeck GA (1999) The role of parasite epidemiology in the management of grazing cattle. Int J Parasitol 29:33–39

Stuedemann JA, Ciordia H, Myers GH, McCampbell HC (1989) Effect of a single strategically timed dose of fenbendazole on cow and calf performance. Vet Parasitol 34:77–86

Tubbs LA, Poortenaar CW, Sewell MA, Diggles BK (2005) Effects of temperature on fecundity in vitro, egg hatching and reproductive development of Benedenia seriolae and Zeuxapta seriolae (Monogenea) parasitic on yellowtail kingfish Seriola lalandi. Int J Parasitol 35:315–327

Umeda N, Hirazawa N (2004) Response of the Monogenean Neobenedenia girellae to low salinities. Fish Pathol 39(2):105–107

Waller PJ (1997) Nematode parasite control of livestock in the tropics/subtropics: the need for novel approaches. Int J Parasitol 21(10):1193–1201

Whittington I (2004) The Capsalidae (Monogenea: Monopisthocotylea): a review of diversity, classification and phylogeny with a note about species complexes. Folia Parasit 51:109–122

Whittington ID (1997) Reproduction and host-location among the Platyhelminthes. Int J Parasitol 27(6):705–714

Whittington ID (2012) Benedenia seriolae and Neobenedenia species. In: Woo PTK, Buchmann K (eds) Fish parasites: pathobiology and protection. CABO publishing, Oxford, pp 225–244

Whittington ID, Horton MA (1996) A revision of Neobenedenia Yamaguti, 1963 (Monogenea: Capsalidae) including a redescription of N. melleni (MacCallum, 1927) Yamaguti, 1963. J Nat Hist 30:1113–1156

Williams RE, Ernst I, Chambers CB, Whittington ID (2007) Efficacy of orally administered praziquantel against Zeuxapta seriolae and Benedenia seriolae (Monogenea) in yellowtail kingfish Seriola lalandi. Dis Aquat Org 77:199–205

Yoshinaga T, Segawa I, Kamaishi T, Sorimachi M (2000) Effects of temperature, salinity and chlorine treatment on egg hatching of the Monogenean Neoheterobothrium hirame infecting Japanese flounder. Fish Pathol 35(2):85–88
Acknowledgments
We thank Thane Militz and Alejandro Trujillo-Gonzalez of the Marine Parasitology Laboratory, James Cook University, for their assistance in maintaining the experimental infection. Dr. Jeremy VanDerWal and Daniel Baird provided invaluable assistance in linear and quantile regression modelling and development. Queensland barramundi farms provided parasite and fish specimens for this research. We thank Associate Professor Ian Whittington for his advice in maintaining the laboratory infection. An Australian Society for Parasitology (ASP) Student Travel Award granted to AKB enabled the presentation of this research at the ASP annual conference, 2012. This research was funded by James Cook University, a National Climate Change Adaptation Research Facility (NCCARF) Marine Adaptation Network Honours and Masters Research Support Grant awarded to AKB (NCCARF; project no. NATCLI97) and the Fisheries Research and Development Corporation-Department of Climate Change and Energy Efficiency (FRDC-DCEE project no. 2010/521).
Conflict of interest
The authors declare that there was no conflict of interest that biased the reporting of results in this manuscript.
About this article
Cite this article
Brazenor, A.K., Hutson, K.S. Effects of temperature and salinity on the life cycle of Neobenedenia sp. (Monogenea: Capsalidae) infecting farmed barramundi (Lates calcarifer). Parasitol Res 114, 1875–1886 (2015). https://doi.org/10.1007/s00436-015-4375-5
Received:

Accepted:

Published:

Issue Date:

DOI: https://doi.org/10.1007/s00436-015-4375-5
Keywords
Aquaculture

Treatment

Asian sea bass

Monogenea

Neobenedenia

Egg hatching