Abstract
As a part of an ongoing long-term study on the biology of pack-ice seals in Antarctica, we had the opportunity to collect lice from Weddell seals (Leptonychotes weddelli). We did not find the original description of this host-parasite association. Antarctophthirus ogmorhini had previously been reported as a parasite for the Weddell seal, but the information is, to a certain extent, confusing. During the development of the present study, we had access to literature concerning the presence of A. ogmorhini on this host, which, to our knowledge, was not determined in any of the previous works on this species. We compared lice collected from Weddell seals with A. ogmorhini obtained from the type host, the leopard seal (Hydrurga leptonyx), and we found that both species can be distinguished. The main differences are the characteristic pattern of chaetotaxy in the dorsal side of the head in lice from Weddell seals, the size and form of the pseudopenis, and the distribution and size of the fringe of setae surrounding the genital opening. Considering the conservative morphology, and ecological and evolutionary features of sucking lice, we proposed that lice from Weddell seals constitute a new species. In the present work, we described and illustrated adults of this new species collected from Weddell seals during the austral summer of 2014 at the Danco Coast, Antarctic Peninsula.
This is a preview of subscription content, log in to check access.
Access options
Buy single article
Instant access to the full article PDF.
US$ 39.95
Price includes VAT for USA
Subscribe to journal
Immediate online access to all issues from 2019. Subscription will auto renew annually.
US$ 199
This is the net price. Taxes to be calculated in checkout.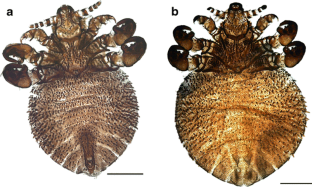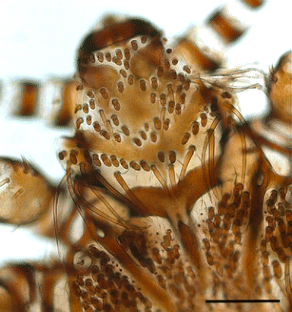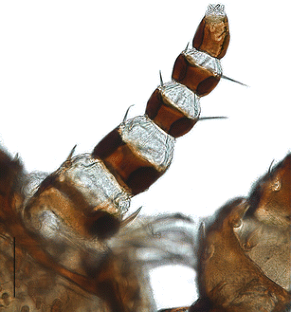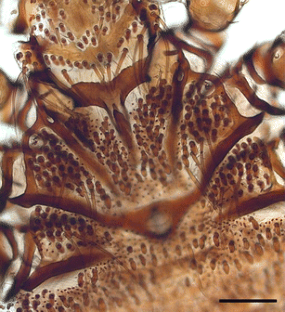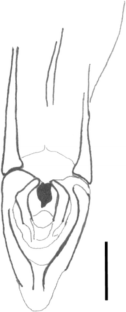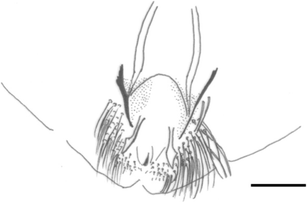 References
Clay T (1940) Anoplura. British Graham Land Expedition, 1934-37. Sci Rep 1:295–318

Durden LA, Musser GG (1994) The mammalian hosts of the sucking lice (Anoplura) of the world: A host-parasite list. Bull Soc Vector Ecol 19:130–168

Enderlein G (1906) Läusestudien. V. Schuppen als sekundäre Atmungsorgane, sowie über eine neue antarktische Echinophthiriiden- Gattung. Zool Anz 29:659–665

Ferris GF (1951) The sucking lice. Memoirs of the Pacific Coast Entomological Society. Standford University, San Francisco

Harrison L (1937) Mallophaga and Siphunculata- In: Johnston TH (ed.), Scientific reports, Australasian Antarctic Expedition 1911–14, series C, Zoology and Botany. Sydney, Government Printer

Kim KC (ed) (1985) Coevolution of parasitic arthropods and mammals. John Wiley & Sons, NY

Kim KC, Ludwig HW (1978) The family classification of Anoplura. Syst Entomol 3:249–284

Kim KC, Repenning CA, Morejohn GV (1975) Specific antiquity of the sucking lice and evolution of otariid seals. Rapp P V Réun Cons Int Explor Mer 169:544–549

Leonardi MS, Crespo EA, Raga JA, Fernández M (2009) Redescription of Antarctophthirus microchir (Anoplura: Echinophthiriidae) from South American sea lion, Otaria flavescens, from Patagonia, Argentina. J Parasitol 95:1086–1092

Mehlhorn B, Mehlhorn H, Plötz J (2002) Light and scanning electron microscopical study on Antarctophthirus ogmorhini lice from the Antarctic seal Leptonychotes weddellii. Parasitol Res 88:651–660

Murray MD, Smith MSR, Soucek Z (1965) Studies on the ectoparasites of seals and penguins II. The ecology of the louse Antarctophthirus ogmorhini Enderlein on the Weddell seal, Leptonychotes weddelli Lesson. Aust J Zool 13:761–771

Palma RL (1978) Slide mounting of lice: a detailed description of the Canada balsam technique. N Z Entomol 6:432–436

Rogers T (2009) "Leopard seal (H. leptonyx)" (On-line). The Society for Marine Mammalogy. http://www.marinemammalscience.org/index.php?option=com_content&view=article&id=459&Itemid=298. [Accessed on 22 May 2014]

Siniff DB, DeMaster DP, Hofman RJ, Eberhardt LL (1977) An analysis of the dynamics of a Weddell seal population. Ecol Monogr 47:319–335

Smith VC (2007) Phthiraptera. McGraw-Hill Encyclopedia of Science & Technology, McGraw-Hill Professional, New York, pp 489–491

Wheatley KE, Bradshaw CJ, Harcourt RG, Davis LS, Hindell MA (2006) Chemical immobilization of adult female Weddell seals with tiletamine and zolazepam: effects of age, condition and stage of lactation. BMC Vet Res http://www.biomedcentral.com/1746-6148/2/8 [Accessed on 21 May 2014]
Acknowledgments
The study was financially and logistically supported by the Dirección Nacional del Antártico, Instituto Antártico Argentino. The permit for this work was granted by the Dirección Nacional del Antártico (environmental office). Special thanks to A. Moyano, L. Cataldo, G. Arce, C. Alvárez, J. Villalba, R. Moyano, M. Echazarreta, E. de los Santos, and M.S. Cosenza. Thanks are given to the Ministerio de Ciencia, Tecnología e Innovación Productiva and Ministerio de Educación de la Nación for the promotion of the scientific Argentinean program and the support to public education.
About this article
Cite this article
Leonardi, M.S., Poljak, S., Carlini, P. et al. Antarctophthirus carlinii (Anoplura: Echinophthiriidae), a new species from the Weddell seal Leptonychotes weddelli . Parasitol Res 113, 3947–3951 (2014). https://doi.org/10.1007/s00436-014-4058-7
Received:

Accepted:

Published:

Issue Date:
Keywords
Antarctica

Pack-ice seals

Sucking lice

Taxonomy