Abstract
In the present investigation, the effective root compound of plumbagin of Plumbago zeylanica (Plumbaginaceae) was evaluated for chemical constituent and antimalarial effect against the fourth instar larvae of Anopheles stephensi Liston (Diptera). In the chromatographic analyses of root compound with Rf value of 0.788 and NMR analyses also revealed that the effective compound contain naphthoquinone plumbagin were identified as the major chemical constituent. Larval mortality was observed after 3 h of exposure period. The plumbagin compound showed remarkable larvicidal activity against A. stephensi (LC50 32.65 and LC9072.27 ppm). Histopathological effects of compound was observed in the treated larvae. Based on the results, the plumbagin compound of P. zeylanica can be considered as a new source of natural larvicide for the control of malarial vector.
Access options
Buy single article
Instant access to the full article PDF.
USD 39.95
Price excludes VAT (USA)
Tax calculation will be finalised during checkout.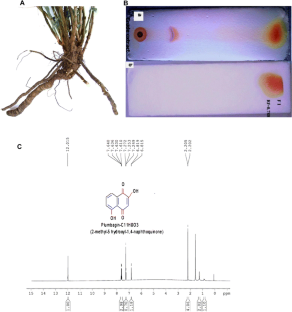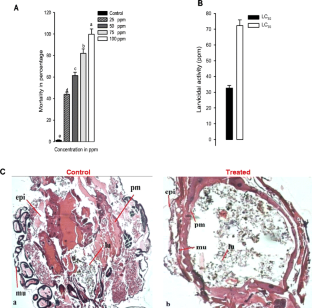 References
Amer A, Mehlhorn H (2006a) Persistency of larvicidal effects of plant oil extracts under different storage conditions. Parasitol Res 99:473–477

Amer A, Mehlhorn H (2006b) Larvicidal effects of various essential oils against Aedes, Anopheles, and Culex larvae (Diptera, Culicidae). Parasitol Res 99:466–472

Amer A, Mehlhorn H (2006c) Repellency effect of forty-one essential oils against Aedes, Anopheles and Culex mosquitoes. Parasitol Res 99:478–490

Arunachalam KD (2010) Anti-inflammatory and cytotoxic effects of extract from Plumbago zeylanica. Afr J Microbiol Res 4(12):1239–1245

Dai Y, Hou L, Chan Y, Cheng L, But PP (2004) Inhibition of immediate allergic reactions by ethanol extract from Plumbago zeylanica stems. Biol Pharmacol Bull 27(3):429–432

Jiangsu (1979) New Medical College. Zhonyao Dictionary (Encyclopedia of Chinese Materia). Scientific and Technological Press, Shanghai, pp 711–712

Jeyachandran R, Mahesh A, Cindrella L, Sudhakar S, Pazhanichamy K (2009) Antibacterial activity of Plumbagin and root extracts of Plumbago zeylanica. Acta Biol Cracoviensia Ser Botan 51(1):17–22

Kalaivani K, Senthil-Nathan S, Murugesan AG (2012) Biological activity of selected Lamiaceae and Zingiberaceae plant essential oils against the dengue vector Aedes aegypti L. (Diptera: Culicidae). Parasitol Res 110:1261–1268

Kannathasan K, Senthilkumar A, Venkatesalu V (2011) Mosquito larvicidal activity of methyl-p-hydroxybenzoate isolated from the leaves of Vitex trifolia Linn. Acta Trop 120:115–118

Lin LC, Yang LL, Chou CJ (2003) Cytotoxic naphthoquinones and plumbagic acid glucosides from Plumbago zeylanica. Phytochem 62:619–622

Maniafu BM, Wilber L, Ndiege IO, Wanjala CCT, Akenga TA (2009) Larvicidal activity of extracts from three Plumbago spp against Anopheles gambiae. Mem Inst Oswaldo Cruz 104:813–817

Olagunju JA, Fagbohunka BS, Oyedapo OO, Abdul AIA (2006) Effects of an ethanolic root extract of Plumbago zeylanica Linn. on some serum parameters of the rats. RPMP-Drug Dev Mol 11:268–276

Patil SV, Patil CD, Salunkhe RB, Salunke BK (2010) Larvicidal activities of six plants extracts against two mosquito species, Aedes aegypti and Anopheles stephensi. Trop Biomed 27(3):360–365

Senthil-Nathan S (2007) The use of Eucalyptus leaf extract as a natural larvicidal agent against malarial vector Anopheles stephensi Liston (Diptera: Culicidae). Bioresour Technol 98 (9):1856–1860

Senthil-Nathan S (2013) Physiological and biochemical effect of Neem and other Meliaceae plants secondary metabolites against Lepidopteran insects. Front Invert Physiol 4 (359):1–17

Senthil-Nathan S, Kalaivani K, Murugan K, Chung PG (2005) Effects of neem limonoids on malarial vector Anopheles stephensi Liston (Diptera: Culicidae). Acta Tropica 96(1):47–55

Senthil-Nathan S, Kalaivani K, Sehoon K (2006) Effects of Dysoxylum malabaricum Bedd. (Meliaceae) extract on the malarial vector Anopheles stephensi Liston (Diptera: Culicidaae). Bioresour Technol 97(16):2077–2083

Senthilkumar N, Verma P, Gurusubamanian G (2009) Larvicidal and adulticidal activities of some medicinal plants against the malarial vector Anopheles stephensi (Liston). Parasitol Res 104:237–244

Silverstein RM, Webster FX, Kiemle DJ (2005) Proton NMR spectrometry. Spectrometric identification of organic compounds. John Wiley and Sons, Inc, USA, pp 127–204

Singh M, Nagori K, Iyer S, Khare G, Sharwan G, Tripathi DK (2011) Ethnomedicinal, traditional and pharmacological aspects of Plumbago zeylanica Linn. Pharmacol Online 3:684–700

Thanigaivel A, Chandrasekaran R, Revathi K, Nisha S, Sathish-Narayanan S, Kirubakaran SA, Senthil-Nathan S (2012) Larvicidal efficacy of Adhatoda vasica (L.) Nees against the bancroftian filariasis vector Culex quinquefasciatus Say and dengue vector Aedes aegypti L. in vitro condition. Parasitol Res 110:1993–1999

Tilak JC, Adhikari S, Devasagayam TP (2004) Antioxidant properties of Plumbago zeylanica, an Indian medicinal plant and its active ingredient, plumbagin. Redox Rep 9:219–227

Vogel A (1978) A text book of quantitative inorganic analysis including instrumental analysis. Longman, London and New York, pp 69–74

World Health Organisation (1981) Instruction for determining the susceptibility or resistance of mosquito larvae to insecticides. WHO-VBC 81.807, pp. 1–6

World Health Organization (1992) Vector resistance to pesticides. Fifteenth report of the WHO expert committee on vector biology and control. WHO technical report, Geneva

World Health Organization (2013) World malaria report. WHO, National Press Club in Washington

Yang YC, Lee SG, Lee HK, Kim MK, Lee SH, Lee HS (2002) A piperidine amide extracted from Piper longum L. fruit shows activity against Aedes aegypti mosquito larvae. J Agric Food Chem 50:3765–3767
Funding sources
Department of Biotechnology (DBT), Government of India (PR13126/GBD/27/194/2009).
About this article
Cite this article
Pradeepa, V., Sathish-Narayanan, S., Kirubakaran, S.A. et al. Antimalarial efficacy of dynamic compound of plumbagin chemical constituent from Plumbago zeylanica Linn (Plumbaginaceae) against the malarial vector Anopheles stephensi Liston (Diptera: Culicidae). Parasitol Res 113, 3105–3109 (2014). https://doi.org/10.1007/s00436-014-4015-5
Received:

Accepted:

Published:

Issue Date:

DOI: https://doi.org/10.1007/s00436-014-4015-5
Keywords
Mosquito vector

Medicinal plant

NMR

Larvicide

Histopathology