Abstract
Head lice lay eggs in human head hairs in order to reproduce. There is a difficulty associated to the process of detaching these eggs: they are tightly gripped to the hair by a secretion produced by female head lice. The physical removal of eggs has become an important part of treatment of louse infestations. The finding of new products to loosen the eggs is necessary to avoid mistaken diagnosis or reinfestations. This work aimed to compare different kinds of pediculicide formulations in order to find if their presentations represented differences in the egg remover effect. We also wanted to present a new device to test the efficacy of the egg remover formulations. Products with creamy presentations (Bio infant lice and egg remover® and hair conditioner) and one containing dimethicone (Nyda®) showed the lower mean forces compared with the control (lower mean forces represented best removal activity). Whereas, the Biferdil egg remover® (gel) and Nopucid Tribit® (hydroalcoholic lotion) had no egg removal effect, presenting the highest mean forces (177.82 and 189.99 mN, respectively) compared with the control. Additionally, we proposed a removal index (RI) to compare the efficacy of different products on the egg removal activity (RI > 0, good performance). The higher index values were for Bio infant lice and egg remover® (0.72) and Biferdil hair conditioner® (0.58). The lowest index values were for Biferdil egg remover® (−0.26) and Nopucid Tribit® (−0.35).The formulation of over the counter pediculicides in the egg remover effect was discussed.
Access options
Buy single article
Instant access to the full article PDF.
US$ 39.95
Tax calculation will be finalised during checkout.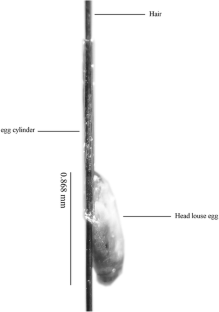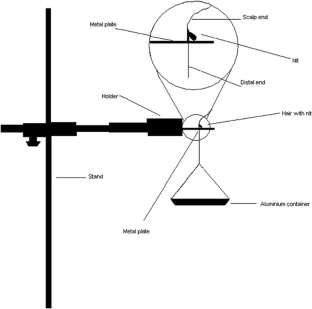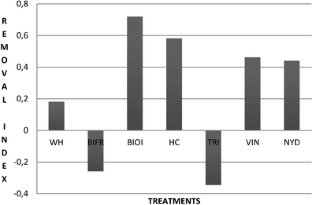 Acknowledgments
The authors wish to thank all the authorities of the elementary schools where hairs with nits were collected. This investigation received financial support from Consejo Nacional de Investigaciones Científicas y Técnicas (Argentina) and ELEA® laboratory (Argentina). We also want to thank Monica Germano for helping with statistical analysis and Gonzalo Roca Acevedo for helping with the figures.
Conflict of interest
The authors declare no competing financial interests with any of the evaluated products.
Ethical standards
The experiments in this work comply with the current laws of Argentina.
About this article
Cite this article
Ortega-Insaurralde, I., Toloza, A.C., Picollo, M.I. et al. Influence of the formulations in removing eggs of Pediculus humanus capitis (Phthiraptera: Pediculidae). Parasitol Res 113, 3439–3444 (2014). https://doi.org/10.1007/s00436-014-4012-8
Received:

Accepted:

Published:

Issue Date:
Keywords
Pediculus humanus capitis

Eggs

Removal products

Pediculicide