Abstract
Species of the Metastrongylus genus, the lung nematodes of pigs that require an intermediate host (earthworm) to complete their cycle, pose a potential risk to both livestock and humans. This parasite which can result in lung pathology and mixed infections with other pathogens (e.g. viruses) can be fatal to pigs. Although this genus is distributed worldwide, there are no classification keys for identifying this common parasite species. In this work, we take advantage of parasitological surveys of wild boar (Sus scrofa) in northern and central Spain and southern Poland to develop a morphological identification key for the five most common Metastrongylus species (Metastrongylus apri, Metastrongylus pudendotectus, Metastrongylus salmi, Metastrongylus confusus and Metastrongylus asymetricus). In addition, we provide the first record of M. confusus in Spain, probably unidentified until now due to the lack of appropriate identification keys. We hope that this user-friendly identification key will enable parasitologists and veterinary practitioners to avoid further misclassifications of Metastrongylus species.
Access options
Buy single article
Instant access to the full article PDF.
US$ 39.95
Tax calculation will be finalised during checkout.
Subscribe to journal
Immediate online access to all issues from 2019. Subscription will auto renew annually.
US$ 119
Tax calculation will be finalised during checkout.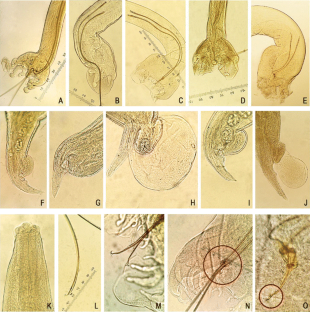 References
Acevedo P, Quirós-Fernández F, Casal J, Vicente J (2014) Spatial distribution of wild boar population abundance: basic information for spatial epidemiology and wildlife management. Ecol Indic 36:594–600. doi:10.1016/j.ecolind.2013.09.019

Adedokun OA, Adejinmi JO, Ukoikpoko GB (2001) Effect of husbandry system on the incidence of lungworm (Metastrongylus spp) in pigs in Ibadan, Nigeria. Trop Vet 19:175–177

Alcaide M, Frontera E, Rodríguez MJ, Sáez IE, Domínguez-Alpízar JL, Reina D, Navarrete I (2005) Parasitosis pulmonares del cerdo ibérico Situación actual de la metastrongilosis en España. Mundo Ganadero 176:40–44

Boitani L, Mattei L (1992) Aging wild boar Sus scrofa by tooth eruption. Spitz F, AL (ED) Ongules/Ungulates 91; Int Symp Toulouse, Fr Sept 2-6, 1991 XII + 661P Soc Fr Pour l'etude La Prot Des Mammiferes Paris, Fr Inst Rech Sur Les Gd Mammiferes Toulou 419–421

Carstensen L, Vaarst M, Roepstorff A (2002) Helminth infections in Danish organic swine herds. Vet Parasitol 106:253–264. doi:10.1016/S0304-4017(02)00080-8

Conole JC, Chilton NB, Järvis T, Gasser RB (1999) Intraspecific and interspecific variation in the second internal transcribed spacer sequence for Metastrongylus (Nematoda: Metastrongyloidea) detected by high resolution PCR-linked restriction fragment length polymorphism. Int J Parasitol 29:1935–1940. doi:10.1016/S0020-7519(99)00149-6

Da Silva D, Müller G (2013) Parasites of the respiratory tract of Sus scrofa scrofa (wild boar) from commercial breeder in southern Brazil and its relationship with Ascaris suum. Parasitol Res 112:1353–1356. doi:10.1007/s00436-012-3214-1

Forrester DJ, Porter JH, Belden RC, Frankenberger WB (1982) Lungworms of feral swine in Florida. J Am Vet Med Assoc 181:1278–1280

García-González ÁM, Pérez-Martín JE, Gamito-Santos JA et al (2013) Epidemiologic study of lung parasites (Metastrongylus spp.) in wild boar (Sus scrofa) in southwestern Spain. J Wildl Dis 49:157–162. doi:10.7589/2011-07-217

Heise-Pavlov PM, Heise-Pavlov SR (2003) Feral pigs in tropical lowland rainforest of northeastern Australia: ecology, zoonoses and management. Wildl Biol 9:21–27

Holló F (1965) Investigations on Metastrongylosis in swine 2. Some remarks to morphology of Metastrongylus salmi (Gedoelst 1923) with special reference to its differentiation from M. apri. Acta Vet Acad Sci Hung 15:259–268

Humbert JF (1992) Etude histo-pathologique de la relation hotes-parasite: le modele lombric, sanglier-metastrongles. Rev Sci Tech 11:1063–1070

Humbert JF, Drouet J (1990) Enquête épidémiologique sur la métastrongylose du sanglier (Sus scrofa) en France. Gibier Faune Sauvag 7:67–84

Jansen J Jr (1964) On the lungworms of the wild boar Sus scrofa L. in the Netherlands, with a description of Metastrongylus confusus n. sp. Tijdschr Diergeneeskde 89(17):1205–1211

Järvis T, Kapel C, Moks E et al (2007) Helminths of wild boar in the isolated population close to the northern border of its habitat area. Vet Parasitol 150:366–369. doi:10.1016/j.vetpar.2007.09.015

Khrustalev AV (1981) Species composition of the genus Metastrongylus a lung parasite of pigs and wild boars in the USSR. Parazitol (St Petersburg) 15:420–423

Leignel V, Humbert JF, Elard L (1997) Study by ribosomal DNA ITS 2 sequencing and RAPD analysis on the systematics of four Metastrongylus species (Nematoda: Metastrongyloidea). J Parasitol 83:606. doi:10.2307/3284232

Marruchella G, Paoletti B, Speranza R, Di Guardo G (2012) Fatal bronchopneumonia in a Metastrongylus elongatus and Porcine circovirus type 2 co-infected pig. Res Vet Sci 93:310–312. doi:10.1016/j.rvsc.2011.05.016

Morita T, Haruta K, Shibata-Haruta A et al (2007) Lung worms of wild boars in the western region of Tokyo, Japan. J Vet Med Sci 69:417–420

Moyle W, Purdy E (2012) Nematode-induced low-grade chronic inflammation of the iris. Optom Vis Sci 89:E939–E943. doi:10.1097/OPX.0b013e318255d897

Nagy G, Varga G, Csivincsik A, Sugar L (2013) Occurrence of Metastrongylus asymmetricus (Noda, 1973) in Hungary. Magyar Allatorvosok Lapja 135:308–312

Noda R (1973) A new species of Metastrongylus nematode from wild boar with remarks on other species. Bull Univ Osaka Prefect Ser B Agric Life Sci 25:21–29

Nosal P, Kowal J, Nowosad B (2010) Structure of Metastrongylidae in wild boars from southern Poland. Helminthologia 47:212–218. doi:10.2478/s11687-010-0033-8

Pence DB, Warren RJ, Ford CR (1988) Visceral helminth communities of an insular population of feral swine. J Wildl Dis 24:105–112

Rajkovi BR, Bosnia S, Rimac D, Evi PD (2002) Prevalence of helminths in wild boar from hunting grounds in eastern Croatia. 48:261–270

Sato H, Suzuki K, Yokoyama M (2008) Visceral helminths of wild boars (Sus scrofa leucomystax) in Japan, with special reference to a new species of the genus Morgascaridia Inglis, 1958 (Nematoda: Schneidernematidae). J Helminthol 82:159–168. doi:10.1017/S0022149X08936191

Senlik B, Cirak VY, Girisgin O, Akyol CV (2011) Helminth infections of wild boars (Sus scrofa) in the Bursa province of Turkey. J Helminthol 85:404–408. doi:10.1017/S0022149X1000074X

Solaymani-Mohammadi S, Mobedi I, Rezaian M et al (2003) Helminth parasites of the wild boar, Sus scrofa, in Luristan province, western Iran and their public health significance. J Helminthol 77:263–267. doi:10.1079/JOH2003168

Takacs A (1996) Data on the endoparasitic infection of wildboar (Sus-s-scrofa L) in Hungary. Magyer Allatorvosok Lapja 51:721–724

Vanparijs O, Thienpont D (1982) The earthworm Eisenia foetida as intermediate host for artificial infection of pigs with Metastrongylus apri and treatment with flubendazole. Parasitology 84:R–45

Yoshihara S (2004) Lesions in the liver of guinea-pigs infected with the swine lungworm, Metastrongylus apri. J Helminthol 78:285–286. doi:10.1079/JOH2004234
Acknowledgments
D.G. is grateful to M.H. Pongiluppi for the plate design. E. Serrano was supported by the postdoctoral programme (SFRH/BPD/96637/2013) of the Fundação para a Ciência ea Tecnologia, Portugal.
About this article
Cite this article
Gassó, D., Rossi, L., Mentaberre, G. et al. An identification key for the five most common species of Metastrongylus . Parasitol Res 113, 3495–3500 (2014). https://doi.org/10.1007/s00436-014-4001-y
Received:

Accepted:

Published:

Issue Date:
Keywords
Lung worms

Metastrongylus confusus
Metastrongylus apri
Metastrongylus elongatus
Metastrongylus pudendotectus
Metastrongylus asymetricus

Wild boar