Abstract
Plasmodium (Novyella) homopolare, a newly described Plasmodium species, was found in a wide range of Passeriformes species in California, USA, and Colombia. This parasite infected more than 20 % of the sampled bird community (N = 399) in California and was found in 3.6 % of birds sampled (N = 493) in Colombia. Thus far, it has been confirmed in North and South America where it is present in numerous species of migratory and resident birds from six families. Based on 100 % matches, or near-100 % matches (i.e., ≤2-nucleotide difference), to DNA sequences previously deposited in GenBank, this parasite is likely also distributed in the Eastern USA, Central America, and the Caribbean. Here, we describe the blood stages of P. homopolare and its mtDNA cytochrome b sequence. P. homopolare belongs to the subgenus Novyella and can be readily distinguished from the majority of other Novyella species, primarily, by the strictly polar or subpolar position of meronts and advanced trophozoites in infected erythrocytes. We explore possible reasons why this widespread parasite has not been described in earlier studies. Natural malarial parasitemias are usually light and co-infections predominate, making the parasites difficult to detect and identify to species when relying exclusively on microscopic examination of blood films. The combined application of sequence data and digital microscopy techniques, such as those used in this study, provides identifying markers that will facilitate the diagnosis of this parasite in natural avian populations. We also address the evolutionary relationship of this parasite to other species of Plasmodium using phylogenetic reconstruction.
Access options
Buy single article
Instant access to the full article PDF.
US$ 39.95
Tax calculation will be finalised during checkout.
Subscribe to journal
Immediate online access to all issues from 2019. Subscription will auto renew annually.
US$ 119
Tax calculation will be finalised during checkout.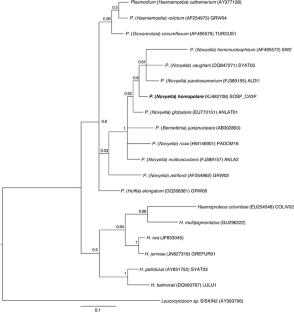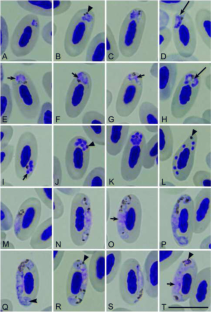 References
Atkinson CT (2008) Chapter 3. Avian malaria. In Parasitic diseases of wild birds, 1st edn. Wiley-Blackwell, Iowa, pp 35–53

Basto N, Rodríguez OA, Marinkelle CJ, Gutierrez R, Matta N (2006) Haemoatozoa in birds from La Macarena National Natural Park (Colombia). Caldasia 28(2):371–377

Beadell JS, Gering E, Austin J, Dumbacher JP, Peirce MA, Pratt TK, Atkinson CT, Fleischer RC (2004) Prevalence and differential host-specificity of two avian blood parasite genera in the Australo-Papuan region. Mol Ecol 3:3829–3844

Bennett GF, Campbell AG (1972) Avian Haemoproteidae. I. Description of Haemoproteus fallisi n. sp. and a review of the haemoproteids of the family Turdidae. Can J Zool 50:1269–1275

Bennett GF, Borrero JI (1976) Blood parasites of some birds from Colombia. J Wildl Dis 12:454–458

Bennett GF, Whitt H, White H (1980) Blood parasites of some Jamaican birds. J Wildl Dis 16:29–38

Bensch S, Sternman M, Hasselquist D, Ostman O, Hansson B, Westerdahl H, Pinheiro RT (2000) Host specificity in avian blood parasites: a study of Plasmodium and Haemoproteus mitochondrial DNA amplified from birds. Proc R Soc Lond B Biol Sci 267:1583–1589

Bensch S, Hellgren O, Pérez-Tris J (2009) MalAvi: a public database of malaria parasites and related haemosporidians in avian hosts based on mitochondrial cytochrome b lineages. Mol Ecol 9:1353–1358. doi:10.1111/j.1755-0998.2009.02692.x

Bishop MA, Bennett GF (1992) Host-parasite catalogue of the avian haematozoa: supplement 1 and bibliography of the avian blood-inhabiting haematozoa: supplement 2. Mem Univ Newfoundl Occas Pap Biol 15:1–244

Cannell BL, Krasnec KV, Campbell K, Jones HI, Miller RD, Stephens N (2013) The pathology and pathogenicity of a novel Haemoproteus spp. infection in wild Little Penguins (Eudyptula minor). Vet Parasitol 197(1-2):74–84. doi:10.1016/j.vetpar.2013.04.025

Clark GW, Swinehart B (1966) Blood protozoa of passerine birds of the Sacramento (Calif.) region. Bull Wildl Dis Assoc 2:53–54

Corradetti A, Garnham PCC, Laird M (1963) New classification of the avian malaria parasites. Parassitologia 5:1–4

Galindo P, Sousa O (1966) Blood parasites of birds from Almirante, Panama, with ecological notes on the hosts. Rev Biol 14(1):27–46

Galtier N, Gouy M, Gautier C (1996) SEAVIEW and PHYLO_WIN: two graphic tools for sequence alignment and molecular phylogeny. Comput Appl Biosci: CABIOS 12(6):543–548

Garnham PCC (1966) Malaria parasites and other Haemosporidia. Blackwell Scientific Publications, Oxford

Greiner EC, Bennett GF, White EM, Coombs RF (1975) Distribution of the avian hematozoa of North America. Can J Zool 53:1762–1787

Hellgren O, Waldenström J, Bensch S (2004) A new PCR assay for simultaneous studies of Leucocytozoon, Plasmodium, and Haemoproteus from avian blood. J Parasitol 90:797–802

Hellgren O, Križanauskienė A, Valkiūnas G, Bensch S (2007) Diversity and phylogeny of mitochondrial cytochrome b lineages from six morphospecies of avian Haemoproteus (Haemosporida: Haemoproteidae). J Parasitol 93:889–896

Herman CM (1938) The relative incidence of blood protozoa in some birds from Cape Cod. Tr Am Micr Soc 47:132–141

Herman CM, Reeves WC, McClure HE, French EM, Hammon W (1954) Studies on avian malaria in vectors and hosts of encephalitis in Kern County, CA: infections in avian hosts. Am J Trop Med Hyg 3:676–695

Herms WB, Kadner CG, Galindo P, Armstrong DF (1939) Blood parasites of California birds. J Parasitol 25(6):511–512

Hewitt R (1940) Studies on blood protozoa obtained from Mexican wild birds. J Parasitol 26(4):287–295

Ilgūnas M, Palinauskas V, Iezhova TA, Valkiūnas G (2013) Molecular and morphological characterization of two avian malaria parasites (Haemosporida: Plasmodiidae), with description of Plasmodium homonucleophilum n. sp. Zootaxa 3666(1):49–61

Levin II, Valkiūnas G, Iezhova TA, O'Brien SL, Parker PG (2012) Novel Haemoproteus species (Haemosporida: Haemoproteidae) from the Swallow-tailed gull (Lariidae), with remarks on the host range of Hippoboscid-transmitted avian hemoproteids. J Parasitol 98(4):847–854

Loiseau C, Iezhova T, Valkiūnas G, Chaser A, Hutchinson W, Buermann T, Smith TB, Sehgal RNM (2010) Spatial variation of hemosporidian parasite infection in African rainforest bird species. J Parasitol 96:21–29

Mantilla JS, González AD, Valkiūnas G, Moncada LI, Matta NE (2013a) Description and molecular characterization of Plasmodium (Novyella) unalis sp. nov. from the Great Thrush (Turdus fuscater) in highland Colombia. Parasitol Res 112:4193–4204

Mantilla JS, Matta NE, Pacheco MA, Escalante AA, González AD, Moncada LI (2013b) Identification of Plasmodium (Haemamoeba) lutzi (Lucena, 1939) from Turdus fuscater (Great Thrush) in Colombia. J Parasitol 99(4):662–668

Manwell RD (1935) How many species of avian malaria parasites are there? Am J Trop Med 15(3):265–283

Martinsen ES, Blumberg BJ, Eisen RJ, Schall JJ (2008) Avian hemosporidian parasites from northern California oak woodland and chaparral habitats. J Wildl Dis 44(2):260–268

Matta NE, Basto N, Gutierrez R, Rodríguez OA, Greiner EC (2004) Prevalence of blood parasites in Tyrannidae (flycatchers) in the eastern plains of Colombia. Mem Inst Oswaldo 99(3):271–274

Muñoz E, Ferrer D, Molina RRA (1999) Prevalence of haematozoa in birds of prey in Catalonia, northeast Spain. Vet Rec 144:623–636

Nylander JAA, Ronquist JP, Huelsenbeck JP, Nieves-Aldrey JL (2004) Bayesian phylogenetic analysis of combined data. Syst Biol 53:47–67

Perkins SL, Austin CC (2009) Four new species of Plasmodium from New Guinea lizards: integrating morphology and molecules. J Parasitol 95:424–433

Ricklefs RE, Fallon SM (2002) Diversification and host switching in avian malaria parasites. Proc R Soc London 269:885–892

Ricklefs RE, Swanson BL, Fallon SM, Martinez-Abrain A, Scheuerlein A, Gray J, Latta SC (2005) Community relationships of avian malaria parasites in Southern Missouri. Ecol Monogr 75(4):543–559

Rodríguez OA, Matta NE (2001) Blood parasites in some birds from eastern plains of Colombia. Mem Inst Oswaldo Cruz 96:000–000

Rodríguez OA, Moya H, Matta NE (2009) Avian blood parasites in the National Natural Park Chingaza: high Andes of Colombia. Hornero 24(1):1–6

Ronquist F, Huelsenbeck JP (2003) MrBayes 3: Bayesian phylogenetic inference under mixed models. Bioinformatics 19(12):1572–1574. doi:10.1093/bioinformatics/btg180

Sambrook J, Fritsch EF, Maniatis T (1989) Molecular cloning: a laboratory manual, 2nd edn. Cold Harbour Laboratory Press, New York, 2222

Schneider CA, Rasband WS, Eliceiri KW (2012) NIH Image to ImageJ: 25 years of image analysis. Nat Methods 9:671–675. doi:10.1038/nmeth.2089

Sehgal RNM, Lovette IJ (2003) Molecular evolution of three avian neurotrophin genes: implications for proregion functional constraints. J Mol Evol 57:335–342

Sehgal RNM, Hull AC, Anderson NL, Valkiūnas G, Markovets MJ, Kawamura S, Tell LA (2006) Evidence for cryptic speciation of Leucocytozoon spp. (Haemosporida, Leucocytozoidae) in diurnal raptors. J Parasitol 92(2):375–379

Sousa OE, Herman CM (1982) Blood parasites of birds from Chiriqui and Panama provinces in the Republic of Panama. J Wildl Dis 16(2):205–221

Super PE, van Riper C (1995) A comparison of avian hematozoan epizootiology in two California coastal scrub communities. J Wildl Dis 31(4):447–461

Swofford D (2001) PAUP* 4.0. Sinauer Associates

Valkiūnas G, Salaman P, Iezhova TA (2003) Paucity of Hematozoa in Colombian birds. J Wildl Dis 39(2):445–448

Valkiūnas G, Iezhova TA, Brooks DR, Hanelt B, Brant SV, Sutherlin ME, Causey D (2004) Additional observations on blood parasites of birds in Costa Rica. J Wildl Dis 40(3):555–561

Valkiūnas G (2005) Avian malaria parasites and other haemosporidia. CRC Press, Boca Raton

Valkiūnas G, Zehtindjiev P, Hellgren O, Ilieva M, Iezhova TA, Bensch S (2007) Linkage between mitochondrial cytochrome b lineages and morphospecies of two avian malaria parasites, with a description of Plasmodium (Novyella) ashfordi sp. nov. Parasitol Res 100:1311–1322

Valkiūnas G, Iezhova TA, Krizankauskiene A, Palinauskas V, Sehgal RN, Bensch S (2008a) A comparative analysis of microscopy and PCR-based detection methods for blood parasites. J Parasitol 94(6):1395–1401. doi:10.1645/GE-1570.1

Valkiūnas G, Atkinson CT, Bensch S, Sehgal RNM, Ricklefs R (2008b) Parasite identifications in GenBank: how to minimize their number? Trends Parasitol 24(6):247–248

Valkiūnas G, Iezhova TA, Loiseau C, Chasar A, Smith TB, Sehgal RNM (2008c) New species of haemosporidian parasites (Haemosporida) from African rainforest birds, with remarks on their classification. Parasitol Res 103:1213–1228

Valkiūnas G, Iezhova TA, Loiseau C, Smith TB, Sehgal RNM (2009) New malaria parasites of the subgenus Novyella in African rainforest birds, with remarks on their high prevalence, classification and diagnostics. Parasitol Res 104:1061–1077

Valkiūnas G, Sehgal RNM, Iezhova TA, Hull AC (2010) Identification of Leucocytozoon toddi group (Haemosporida: Leucocytozoidae), with remarks on the species taxonomy of Leucocytozoids. J Parasitol 96(1):170–177

Valkiūnas G, Ashford RW, Bensch S, Killick-Kendrick R, Perkins S (2011) A cautionary note concerning Plasmodium in apes. Trends Parasitol 27(6):231–232

Valkiūnas G, Iezhova TA, Evans E, Carlson JS, Martinez-Gomez JE, Sehgal R (2013) Two new Haemoproteus (Haemosporida: Haemoproteidae) species from columbiform birds. J Parasitol 99(3):513–521

Waldenström J, Bensch S, Hasselquist D, Östman Ö (2004) A new nested polymerase chain reaction method very efficient in detecting Plasmodium and Haemoproteus infections from avian blood. J Parasitol 90(1):191–194. doi:10.1645/GE-3221RN

Young BE, Garvin MC, McDonald DB (1993) Blood parasites in birds from Monteverde, Costa Rica. J Wildl Dis 29(4):555–560
Acknowledgments
Tatjana Iezhova is acknowledged for technical assistance during preparation of the plate of the illustrations. Work in California was partially supported by a grant from the San Francisco State University Arthur Nelson Scholarship and the San Francisco State University Instructionally Related Activities Grant. Work in Colombia was supported by the Departamento Administrativo de Ciencias, Tecnología e Innovación COLCIENCIAS contract no. 359 and ECOPETROL SA. The authors wish to thank the students belonging to the Host-Parasite Relationship Research Group: avian haemoparasite model of the Universidad Nacional de Colombia and the staff of the Unidad Administrativa Especial del Sistema de Parques Nacionales Naturales for support with field logistics and work, as well as the many field assistants who aided in sampling California birds. R. E. Ricklefs's studies on avian haemosporidians have been supported by the National Geographic Society, the US National Science Foundation, and the Curators of the University of Missouri, with field and laboratory assistance from many individuals. We thank Holly Archer for contributing data from her research on avian malaria in Costa Rican birds.
About this article
Cite this article
Walther, E.L., Valkiūnas, G., González, A.D. et al. Description, molecular characterization, and patterns of distribution of a widespread New World avian malaria parasite (Haemosporida: Plasmodiidae), Plasmodium (Novyella) homopolare sp. nov.. Parasitol Res 113, 3319–3332 (2014). https://doi.org/10.1007/s00436-014-3995-5
Received:

Accepted:

Published:

Issue Date:
Keywords
Plasmodium

Avian malaria

Hematozoa

Morphospecies

California

Colombia