Abstract
The oviposition deterrent and ovicidal of seven herbal essential oils derived from Citrus sinensis, Cymbopogon citratus, Eucalyptus glubulus, Illicium verum, Lavandula angustifolia, Mentha piperita, and Zingiber cussumunar were assessed against the gravid female of housefly, Musca domestica L., under laboratory conditions and compared with commercial insecticide (10 % w/v cypermethrin). They were assayed at three concentrations (1.0, 5.0, and 10.0 %) where plastic cups containing 1 ml of desired oil concentration and cotton pad soaked with 10 ml of milk solution (10 % w/v) were used as oviposition substrate. The 0.1 ml of deferent concentrations was dropped on ten housefly eggs, which were used for ovicidal activity. The number of eggs laid and the hatched larvae in each cup was recorded to evaluate the oviposition deterrent and ovicidal activities of the herbal essential oils. High concentration (10 %) of herbal essential oils showed high percent effective repellency (ER). The 10 % I. verum oil caused complete oviposition deterrence (100 % ER, oviposition activity index (OAI) = −1.0), followed by Z. cussumunar, M. piperita, L. angustifolia, C. citratus, C. sinensis, and E. glubulus oils with 97.20, 88.55, 88.14, 87.93, 76.68, and 57.00 % ER, respectively. As the concentration of herbal essential oils increased from 1.0, 5.0, and up to 10.0 % concentration, the hatching rate decreased. Ten percent I. verum oil gave the maximum inhibiting rate at 97.3 % (LC50 value of 6.85 %); in addition, the other herbal essential oils showed the minimum inhibiting rate of 3.3–22.7 %. On the other hand, cypermethrin 10 % w/v showed complete oviposition deterrence (100 % ER, OAI = −1.0) and ovicidal activity (100 % inhibiting rate). Our data showed that I. verum oil have high potential of oviposition deterrence and ovicide housefly control.
Access options
Buy single article
Instant access to the full article PDF.
US$ 39.95
Tax calculation will be finalised during checkout.
Subscribe to journal
Immediate online access to all issues from 2019. Subscription will auto renew annually.
US$ 119
Tax calculation will be finalised during checkout.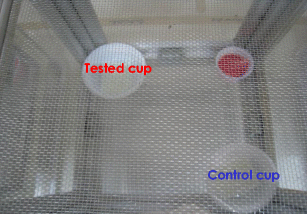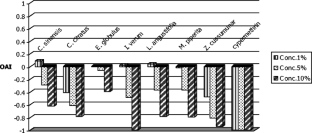 References
Adenusi AA, Adewoga TOS (2013) Human intestinal parasites in non-biting synanthropic flies in Ogun State, Nigeria. Travel Med Infect Dis 11:181–189

Banjo AD, Lawal OA, Adeduji OO (2005) Bacteria and fungi isolated from housefly (Musca domestica L.) larvae. Afr J Biotechnol 4:780–784

Bruneton J (1995) Pharmacognosy, phytochemistry, medicinal plants. Hatton CK, Intercept Ltd, UK

Chang KS, Ahn YJ (2002) Fumigant activity of (E)-anethole identified in Illicium verum fruit against Blattella germanica. Pest Manag Sci 58(2):161–166

Chouksey D, Sharma P, Pawar RS (2010) Biological activities and chemical constituents of Illicium verum hook fruits (Chinese star anise). Der Pharm Sin 1(3):1–10

De Jesus AJ, Olsen SR, Bryce JR, Whiting RC (2004) Quantitative contamination and transfer of Escherichia coli from food by houseflies, Musca domestica L. (Diptera: Muscidae). Int J Food Microbiol 93:259–262

Edris AE (2007) Pharmaceutical and therapeutic potentials of essential oils and their individual volatile constituents: a review. Phytother Res 21:308–323

EPA (2006) Reregistration eligibility decision for cypermethrin. ID: EPA-HQ-OPP-2005-0293-0036 in Regulations.gov

Fasanella A, Scasciamacchia S, Garofolo G, Giangaspero A, Tarsitano E, Adone R (2010) Evaluation of the house fly Musca domestica as a mechanical vector for an antrax. PLoS ONE 5:1–5

Förster M, Klimpel S, Mehlhorn H, Sievert K, Messler S, Pfeffer K (2007) Pilot study on synanthropic flies (e.g. Musca, Sarcophaga, Calliphora, Fannia, Lucilia, Stomoxys) as vectors of pathogenic microorganism. Parasitol Res 101:243–246

Fotedar R (2001) Vector potential of houseflies (Musca domestica) in the transmission of Vibrio cholerae in India. Acta Trop 78:31–34

Fritz E, Olzant MS, Langer R (2008) Illicium verum Hook.f. and Illicium anisatum L. anatomical characters and their value for differentiation. Sci Pharm 76:65–76

Graczyk TK, Cranfield MR, Fayer R, Bixler H (1999) Houseflies (Musca domestica) as transport hosts of Cryptosporidium parvum. Am J Trop Med Hyg 61(3):500–504

Hanan BA (2013) Evaluation of insecticidal activities of Mentha piperita and Lavendula angustifolia essential oils against house fly, Musca domestica L. (Diptera:Muscidae). J Entomol Nematol 5(4):50–54

Huang Y, Zhao J, Zhou L, Wang J, Gong Y, Chen X, Guo Z, Wang Q, Jiang W (2010) Antifungal activity of the essential oil of Illicium verum fruit and its main component trans-Anethole. Molecules 15:7558–7569

Kalyan CB, Ramababu N, Philip GH (2007) Study of cypermethrin cytogenesis effects on human lymphocytes using In-vitro techniques. J Appl Sci Environ Manag 11(2):77–81

Kamrin MA (1997) Pesticide profiles: toxicity, environmental impact, and fate. CRC Press LLC, USA

Kassiri H, Akbarzadeh K, Ghaderi A (2012) Isolation of pathogenic bacteria on the house fly, Musca domestica L. (Diptera: Muscidae), body surface in Ahwaz hospital, Southwestern Iran. Asian Pac J Trop Biomed S1116–S1119

Kim SI, Park C, Ohh MH, Cho HC, Ahn YJ (2003a) Contact and fumigant activities of aromatic plant extracts and essential oils against Lasioderma serricorne (Coleoptera: Anobiidae). J Stored Prod Res 39:11–19

Kim SI, Roh JY, Kim DH, Lee HS, Ahn YJ (2003b) Insecticidal activities of aromatic plant extracts and essential oils against Sitophilus oryzae and Callosobruchus chinensis. J Stored Prod Res 39:293–303

Kim SI, Na YE, Yi JW, Kim BS, Ahn YJ (2007) Contact and fumigant toxicity of oriental medicinal plant extracts against Dermanyssus gallinae (Acari: Dermanyssidae). Vet Parasitol 145:377–382

Kumar P, Mishra S, Malik A, Satya S (2012a) Insecticidal evaluation of essential oils of Citrus sinensis L. (Myrtales: Myrtaceae) against housefly, Musca domestica L. (Diptera: Muscidae). Parasitol Res 110:1929–1936

Kumar P, Mishra S, Malik A, Satya S (2012b) Compositional analysis and insecticidal activity of Eucalyptus globules (family: Myrtaceae) essential oil against housefly (Musca domestica). Acta Trop 122:212–218

Mullen GL, Durden LA (2002) Medical and veterinary entomology. Academic Press, New York

Oghale OO, Ebube CA, Oluchi UO (2013) Parasitic load on Musca domestica (Diptera: Muscidae) from different synanthropic environments in Umuahia metropolis. J Public Health Epidemiol 5(8):309–312

Olsen AR, Gecan JS, Ziobro GC, Bryce JR (2001) Regulatory action criteria for filth and other extraneous materials V. Strategy for evaluating hazardous and nonhazardous filth. Regul Toxicol Pharmacol 33:363–392

Palacios SM, Bertoni A, Rossi Y, Santander R, Urzua A (2009) Efficacy of essential oils from edible plants as Insecticides against the house fly, Musca domestica L. Molecules 14:1938–1947

Phasomkusolsil S, Soonwera M (2012) The effects of herbal essential oils on the oviposition deterrent and ovicial activities of Aedes aegypti (Linn.), Anopheles dirus (Peyton and Harrison) and Culex quinquefasciatus (say). Trop Biomed 29(1):138–150

Putiyanan S, Okonogi S, Charoensup W (2010) Pharmacognostic characterization of Illicium verum Hk. f. for dental application. CMU J Nat Sci 9(1):89–93

Samarasekera R, Kalhari KS, Weerasinghe IS (2006) Insecticidal activity of essential oils of Ceylon cinnamomum and Cymbopogon species against Musca domestica. J Essent Oil Res 18:352–354

Scott JG, Alefantis TG, Kaufman PE, Rutz DA (2000) Insecticide resistance in houseflies from caged-layer poultry facilities. Pest Manag Sci 56:147–153

Shono T, Scott JG (2003) Spinosad resistance in the housefly, Musca domestica, is due to a recessive factor on autosome 1. Pestic Biochem Physiol 75:1–7

Shukla J, Tripathi SP, Chaubey MK (2009) Toxicity of Myristica fragrans and Illicium verum essential oils against flour beetle Tribolium castaneum Herbst (Coleoptera: Tenebrionidae). Electron J Environ Agric Food Chem 8(6):403–407

Sinthusiri J, Soonwera M (2013) Efficacy of herbal essential oils as insecticides against the house fly, Musca domestica L. Southeast Asian. J Trop Med Public Health 44(2):188–196

Srinivasan R, Jambulingam P, Gunasekaran K, Boonpathidoss PS (2008) Tolerance of housefly, Musca domestica L. (Diptera: Muscidae) to dichlorvos (76 % EC) an insecticide used for fly control in the tsunami-hit coastal villages of southern India. Acta Trop 105:187–190

Sripongpun G (2008) Contact toxicity of the crude extract of Chinese star anise fruits to house fly larvae and their development. Songklanakarin J Sci Technol 30(5):667–672

Stroh J, Wan MT, Isman MB, Moul DJ (1998) Evaluation of the acute toxicity to juvenile Pacific coho salmon and rainbow trout of some plant essential oils, a formulated product, and the carrier. Bull Environ Contam Toxicol 60:923–930

Sukontason KL, Bunchu N, Sukontason K, Choochote W (2004) Effects of eucalyptol on house fly (Diptera:Muscidae) and blow fly (Diptera:Calliphoridae). Res Inst Med Trop S Paulo 46(2):97–101

Sukontason KL, Bunchu N, Methanitikorn R, Chaiwong T, Kuntalue B, Sukontason K (2006) Ultrastructure of adhesive device in fly in families calliphoridae, muscidae and sarcophagidae, and their implication as mechanical carriers of pathogens. Parasitol Res 98:477–481

Szczepanik M, Szumny A (2011) Insecticidal activity of star anise (Illicum verum Hook. F.) fruits extracts against lesser mealworm, Alphitobius diaperinus Panzer (Coleoptera: Tenebrionidae). Allelopathy J 27(2):277–288

Tuan DQ, Illangantileke SG (1997) Liquid CO2 extraction of essential oil from star anise fruit (Illicium verum H.). J Food Eng 31:47–57

Ugbogu OC, Nwachukwu NC, Ogbuagu UN (2006) Isolation of Salmonella and Shigella species from houseflies (Musca domestica l.) in Utaru, Nigeria. Afr J Biotechnol 5:1090-1091

Waliwitiya R, Kennedy CJ, Lowenberger CA (2008) Larvicidal and oviposition-altering activity of monoterpenes, trans-anithole and rosemary oil to the yellow fever mosquito Aedes aegypti. Pest Manag Sci 65:241–248

Wanga GW, Hub WT, Huanga BK, Qina LP (2011) Illicium verum: A review on its botany, traditional use, chemistry and pharmacology. J Ethnopharmacol 136:10–20

Warikoo R, Wahab N, Kumar S (2011) Oviposition-altering and ovicidal potentials of five essential oils against female adults of the dengue vector, Aedes aegypti L. Parasitol Res 109:1125–1131

Yang YC, Park IW, Kim EH, Lee HS, Ahn YJ (2004) Larvicidal activity of medicinal plant extracts against Aedes aegypti, Ochlerotatus togoi, and Culex pipiens pallens (Diptera: Culicidae). J Asia Pac Entomol 7(2):227–232

Yang JF, Yang CH, Chang HW, Yang CS, Wang SM, Hsieh MC, Chuang LY (2010) Chemical composition and antibacterial activities of Illicium verum against antibiotic-resistant pathogens. J Med Food 13:1–9

Yap KL, Kalpana M, Lee ILL (2008) Wings of the commom house fly (Musca domestica L.): importance in mechanical transmission of Vibrio cholerae. Trop Biomed 25(1):1–8

Yi JH, Park IK, Choi KS, Shin SC, Ahn YJ (2008) Toxicity of medicinal plant extracts to Lycoriella ingenua (Diptera: Sciaridae) and Coboldia fuscipes (Diptera: Scatopsidae). J Asia Pac Entomol 11:221–223
Acknowledgments
The authors are highly grateful to Faculty of Agricultural Technology, King Mongkut's Institute of Technology Ladkrabang (KMITL), Bangkok, Thailand, for providing financial assistance to carry out this study. The authors extend thanks to plant taxonomist and entomologist from Faculty of Agricultural Technology, KMITL for species identification of herbs and insect.
About this article
Cite this article
Sinthusiri, J., Soonwera, M. Oviposition deterrent and ovicidal activities of seven herbal essential oils against female adults of housefly, Musca domestica L.. Parasitol Res 113, 3015–3022 (2014). https://doi.org/10.1007/s00436-014-3964-z
Received:

Accepted:

Published:

Issue Date:
Keywords
Oviposition deterrent

Ovicidal activities

Essential oil

Housefly

Musca domestica