Abstract
During a survey of myxozoan parasites of freshwater fish from the Mogi Guaçu River in São Paulo State, Brazil, plasmodia of Henneguya visibilis n. sp. were found on the fins of Leporinus obtusidens (Characiformes: Anostomidae). The plasmodia, which were observed on five out of eight (62.5 %) L. obtusidens examined, were 400–1,000 μm long. Mature spores were elongated with a spore body 10.8 ± 0.6 μm long and 3.9 ± 0.2 μm wide, a caudal process 18 ± 1.2 μm long, and a total spore length of 26.8 ± 1.1 μm. Polar capsules were elongated 4.9 ± 0.3 μm long and 1.4 ± 0.1 μm wide. Histological examination indicated that the plasmodia developed in the connective tissue, and no inflammatory infiltrate was observed at the infection site. Ultrastructural analysis showed a plasmodium wall with a single membrane and several pinocytotic canals. Sporogenesis occurred from the periphery to the center of the plasmodia. Phylogenetic analysis of the 18S rDNA sequence using maximum likelihood and maximum parsimony methods showed H. visibilis n. sp. positioned in a sub-clade composed of Henneguya/Myxobolus parasites of several freshwater fish families.
Access options
Buy single article
Instant access to the full article PDF.
US$ 39.95
Tax calculation will be finalised during checkout.
Subscribe to journal
Immediate online access to all issues from 2019. Subscription will auto renew annually.
US$ 119
Tax calculation will be finalised during checkout.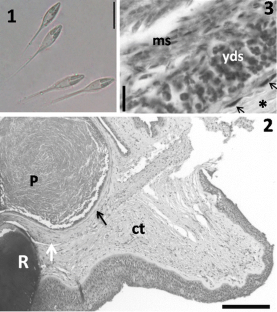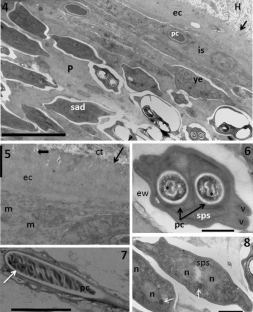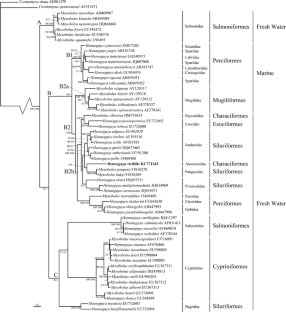 References
Abdel-Ghaffar F, Abdel-Baki AA, Bayoumy EM, Bashtar AR, Al Qurieshy S, Morsey KS, Alghamdy A, Mehlhorn H (2008) Light and electron microscopic study on Henneguya suprabranchiae Landsberg, 1987 (Myxozoa: Myxosporea) infecting Oreochromis niloticus, a new host record. Parasitol Res 103(3):609–617

Adriano EA, Arana S, Cordeiro NS (2005a) Histology, ultrastructure and prevalence of Henneguya piaractus (Myxosporea) infecting the gills of Piaractus mesopotamicus (Characidae) cultivated in Brazil. Dis Aquat Org 64(3):229–235

Adriano EA, Arana S, Cordeiro NS (2005b) An ultrastructural and histopathological study of Henneguya pellucida n. sp. (Myxosporea: Myxobolidae) infecting Piaractus mesopotamicus (Characidae) cultivated in Brazil. Parasite 12(3):221–227

Adriano EA, Arana S, Carriero MM, Naldoni J, Ceccarelli PS, Maia AA (2009) Light, electron microscopy and histopathology of Myxobolus salminus n. sp., a parasite of Salminus brasiliensis from the Brazilian Pantanal. Vet Parasitol 165(1–2):25–29

Adriano EA, Carriero MM, Maia AAM, Silva MRM, Naldoni J, Ceccarelli PS, Arana S (2012) Phylogenetic and host–parasite relationship analysis of Henneguya multiplasmodialis n. sp. infecting Pseudoplatystoma spp. in Brazilian Pantanal wetland. Vet Parasitol 185(2–4):110–120

Ali MA, Abdel-Baki AS, Sakran T, Entzeroth R, Abdel-Ghaffar F (2007) Myxobolus lubati n. sp. (Myxosporea: Myxobolidae), a new parasite of haffara seabream Rhabdosargus haffara (Forsskal, 1775), Red Sea, Egypt: a light and transmission electron microscopy. Parasitol Res 100(4):819–827

Altschul SF, Madden TL, Schaffer AA, Zhang JH, Zhang Z, Miller W, Lipman DJ (1997) Gapped BLAST and PSI-BLAST: a new generation of protein database search programs. Nucleic Acids Res 25(17):3389–3402

Azevedo C, Casal G, Matos P, Matos E (2008) A new species of Myxozoa, Henneguya rondoni n. sp. (Myxozoa), from the peripheral nervous system of the Amazonian fish, Gymnorhamphichthys rondoni (Teleostei). J Eukaryot Microbiol 55(3):229–234

Azevedo C, Casal G, Mendonca I, Matos E (2009) Fine structure of Henneguya hemiodopsis sp. n. (Myxozoa), a parasite of the gills of the Brazilian teleostean fish Hemiodopsis microlepes (Hemiodontidae). Mem Inst Oswaldo Cruz 104(7):975–979

Azevedo C, Casal G, Matos P, Alves A, Matos E (2011) Henneguya torpedo sp. nov. (Myxozoa), a parasite from the nervous system of the Amazonian teleost Brachyhypopomus pinnicaudatus (Hypopomidae). Dis Aquat Org 93(3):235–242

Barassa B, Adriano EA, Cordeiro NS, Arana S, Ceccarelli PS (2012) Morphology and host–parasite interaction of Henneguya azevedoi n. sp., parasite of gills of Leporinus obtusidens from Mogi-Guacu River, Brazil. Parasitol Res 110(2):887–894

Barta JR, Martin DS, Liberator PA, Dashkevicz M, Anderson JW, Feighner SD, Elbrecht A, Perkins-Barrow A, Jenkins MC, Danforth HD, Ruff MD, Profous-Juchelka H (1997) Phylogenetic relationships among eight Eimeria species infecting domestic fowl inferred using complete small subunit ribosomal DNA sequences. J Parasitol 83(2):262–271

Bartholomew JL, Atkinson SD, Hallett SL, Lowenstine LJ, Garner MM, Gardiner CH, Rideout BA, Keel MK, Brown JD (2008) Myxozoan parasitism in waterfowl. Int J Parasitol 38(10):1199–1207

Casal G, Matos E, Azevedo C (2003) Light and electron microscopic study of the myxosporean, Henneguya friderici n. sp. from the Amazonian teleostean fish, Leporinus friderici. Parasitology 126:313–319

Current WL, Janovy J Jr (1976) Ultrastructure of interlamellar Henneguya exilis in the channel catfish. J Parasitol 62(6):975–981

Diamant A, Whipps CM, Kent ML (2004) A new species of Sphaeromyxa (Myxosporea: Sphaeromyxina: Sphaeromyxidae) in devil firefish, Pterois miles (Scorpaenidae), from the northern Red Sea: morphology, ultrastructure, and phylogeny. J Parasitol 90(6):1434–1442

Easy RH, Johnson SC, Cone DK (2005) Morphological and molecular comparison of Myxobolus procerus (Kudo, 1934) and M. intramusculi n. sp. (Myxozoa) parasitising muscles of the trout-perch Percopsis omiscomaycus. Syst Parasitol 61(2):115–122

Eiras JC (2002) Synopsis of the species of the genus Henneguya Thélohan, 1892 (Myxozoa: Myxosporea: Myxobolidae). Syst Parasitol 52(1):43–54

Eiras JC, Adriano EA (2012) A checklist of new species of Henneguya Thélohan, 1892 (Myxozoa: Myxosporea, Myxobolidae) described between 2002 and 2012. Syst Parasitol 83(2):95–104

Eiras JC, Malta JC, Varela A, Pavanelli GC (2004) Henneguya schizodon n. sp. (Myxozoa, Myxobolidae), a parasite of the Amazonian teleost fish Schizodon fasciatus (Characiformes, Anostomidae). Parasite 11(2):169–173

Eiras JC, Takemoto RM, Pavanelli GC (2008) Henneguya caudicula n. sp. (Myxozoa, Myxobolidae), a parasite of Leporinus lacustris (Osteichthyes, Anostomidae) from the high Paraná River, Brazil, with a revision of Henneguya spp. infecting South American fish. Acta Protozool 47(2):149–154

Eiras JC, Takemoto RM, Pavanelli GC (2009) Henneguya corruscans n. sp. (Myxozoa, Myxosporea, Myxobolidae), a parasite of Pseudoplatystoma corruscans (Osteichthyes, Pimelodidae) from the Paraná River, Brazil: a morphological and morphometric study. Vet Parasitol 159(2):154–158

El-Mansy A, Bashtar AR (2002) Histopathological and ultrastructural studies of Henneguya suprabranchiae Landsberg, 1987 (Myxosporea: Myxobolidae) parasitizing the suprabranchial organ of the freshwater catfish Clarias gariepinus Burchell, 1822 in Egypt. Parasitol Res 88(7):617–626

Feist SW, Longshaw M (2006) Phylum Myxozoa. In: Woo PTK (ed) Fish diseases and disorders: protozoan and metazoan infections. CABI, Wallingford, pp 230–296

Ferguson JA, Atkinson SD, Whipps CM, Kent ML (2008) Molecular and morphological analysis of Myxobolus spp. of salmonid fishes with the description of a new Myxobolus species. J Parasitol 94(6):1322–1334. doi:10.1645/GE-1606.1

Fiala I (2006) The phylogeny of Myxosporea (Myxozoa) based on small subunit ribosomal RNA gene analysis. Int J Parasitol 36(14):1521–1534

Fleurance R, Sauvegrain C, Marques A, Le Breton A, Guereaud C, Cherel Y, Wyers M (2008) Histopathological changes caused by Enteromyxum leei infection in farmed sea bream Sparus aurata. Dis Aquat Org 79(3):219–228

Froese R, Pauly D (2012) FishBase. World Wide Web electronic publication, version (09/2012). www.fishbase.org. Accessed 29 Jan 2013

Guindon S, Dufayard JF, Lefort V, Anisimova M, Hordijk W, Gascuel O (2010) New algorithms and methods to estimate maximum-likelihood phylogenies: assessing the performance of PhyML 3.0. Syst Biol 59(3):307–321

Hall TA (1999) BioEdit: a user-friendly biological sequence alignment editor and analysis program for Windows 95/98/NT. Nucleic Acids Symp Ser 41:95–98

Hubert N, Renno JF (2006) Historical biogeography of South American freshwater fishes. J Biogeogr 33(8):1414–1436

Iwanowicz LR, Iwanowicz DD, Pote LM, Blazer VS, Schill WB (2008) Morphology and 18S rDNA of Henneguya gurlei (Myxosporea) from Ameiurus nebulosus (Siluriformes) in North Carolina. J Parasitol 94(1):46–57

Khlifa S, Miller TL, Adlard RD, Faye N, Sasal P (2012) Henneguya mauritaniensis n. sp. (Myxozoa) from the arterial bulb of Pagrus caeruleostictus (Valenciennes, 1830) off Mauritania. Parasitol Res 111(3):1287–1294

Liu Y, Whipps CM, Gu ZM, Zeng LB (2010) Myxobolus turpisrotundus (Myxosporea: Bivalvulida) spores with caudal appendages: investigating the validity of the genus Henneguya with morphological and molecular evidence. Parasitol Res 107(3):699–706

Lom J, Arthur JR (1989) A guideline for the preparation of species description in Myxosporea. J Fish Dis 12:151–156

Lom J, Dykova I (2006) Myxozoan genera: definition and notes on taxonomy, life-cycle terminology and pathogenic species. Folia Parasitol 53(1):1–36

Martins ML, de Souza VN, de Moraes JR, de Moraes FR (1999) Gill infection of Leporinus macrocephalus Garavello & Britski, 1988 (Osteichthyes: Anostomidae) by Henneguya leporinicola n. sp. (Myxozoa: Myxobolidae). Description, histopathology and treatment. Rev Bras Biol 59(3):527–534

Milanin T, Eiras JC, Arana S, Maia AA, Alves AL, Silva MR, Carriero MM, Ceccarelli PS, Adriano EA (2010) Phylogeny, ultrastructure, histopathology and prevalence of Myxobolus oliveirai sp. nov., a parasite of Brycon hilarii (Characidae) in the Pantanal wetland, Brazil. Mem Inst Oswaldo Cruz 105(6):762–769

Molnár K (1998) Taxonomic problems, seasonality and histopathology of Henneguya creplini (Myxosporea) infection of the pikeperch Stizostedion lucioperca in Lake Balaton. Folia Parasitol 45(4):261–269

Molnár M (2002) Site preference of myxosporean spp. on the fins of some Hungarian fish species. Dis Aquat Org 52(2):123–128

Molnár K, Eszterbauer E, Szekely C, Dan A, Harrach B (2002) Morphological and molecular biological studies on intramuscular Myxobolus spp. of cyprinid fish. J Fish Dis 25(11):643–652

Molnár K, Marton S, Eszterbauer E, Szekely C (2006) Comparative morphological and molecular studies on Myxobolus spp. infecting chub from the river Danube, Hungary, and description of M. muellericus sp. n. Dis Aquat Org 73(1):49–61

Morris DJ (2010) Cell formation by myxozoan species is not explained by dogma. Proc R Soc B 277:2565–2570

Naldoni J, Arana S, Maia AA, Silva MR, Carriero MM, Ceccarelli PS, Tavares LE, Adriano EA (2011) Host–parasite–environment relationship, morphology and molecular analyses of Henneguya eirasi n. sp. parasite of two wild Pseudoplatystoma spp. in Pantanal Wetland, Brazil. Vet Parasitol 177(3–4):247–255

Nemeczek A (1926) Beitrage zur Kenntnis der Myxosporidien fauna Brasiliens. Arch Protistenkd 54:137–149

Posada D (2008) jModelTest: phylogenetic model averaging. Mol Biol Evol 25(7):1253–1256

Rambaut A (2009) Molecular evolution, phylogenetics and epidemiology. FigTree v1.3.1. http://tree.bio.ed.ac.uk/software/figtree/. Accessed 5 Feb 2012

Rosenberg MS, Kumar S (2001) Incomplete taxon sampling is not a problem for phylogenetic inference. Proc Natl Acad Sci U S A 98(19):10751–10756

Santos GO (2000) Aspectos importantes para a piscicultura do gênero Leporinus Spix, 1829 uma revisão. Pesq Agrop Gaúcha 6:151–156

Sitja-Bobadilla A (2008) Fish immune response to Myxozoan parasites. Parasite 15(3):420–425

Swofford DL (2003) PAUP*. Phylogenetic Analysis Using Parsimony (*and Other Methods). Sinauer Associates, Sunderland

Tamura K, Peterson D, Peterson N, Stecher G, Nei M, Kumar S (2011) MEGA5: Molecular Evolutionary Genetics Analysis using maximum likelihood, evolutionary distance, and maximum parsimony methods. Mol Biol Evol 28(10):2731–2739

Thompson JD, Gibson TJ, Plewniak F, Jeanmougin F, Higgins DG (1997) The CLUSTAL_X windows interface: flexible strategies for multiple sequence alignment aided by quality analysis tools. Nucleic Acids Res 25(24):4876–4882
Acknowledgments
This study was supported by the Brazilian fostering agency CNPq (grant number 477658/2010-5). The authors are grateful to the doctoral students Juliana Naldoni, Mateus M. Carriero, and Tiago Milanin for their help in laboratory analyses.
About this article
Cite this article
Moreira, G.S.A., Adriano, E.A., Silva, M.R.M. et al. Morphology and 18S rDNA sequencing identifies Henneguya visibilis n. sp., a parasite of Leporinus obtusidens from Mogi Guaçu River, Brazil. Parasitol Res 113, 81–90 (2014). https://doi.org/10.1007/s00436-013-3629-3
Received:

Accepted:

Published:

Issue Date:
Keywords
Polar Capsule

Mature Spore

Caudal Process

Spore Body

Myxobolus Species