Abstract
The paper presents a description of Paradiplozoon bingolensis sp. n. from the gills of Garra rufa Heckel, 1843 (Cyprinidae) collected from the Göynük Stream, a tributary of the Murat River, Turkey. This is the first diplozoid species to be described from G. rufa. P. bingolensis is distinguished from the other valid species in the genus by the combination of the morphology of the sclerites of its clamps and by the size of the central hooks. Even molecular characterization based on variability of the second internal transcribed spacer (ITS2) of the ribosomal DNA region provided additional support of separation of this new species from the valid ones. The sequences were compared with previously published ITS2 sequences of other diplozoid species. Subsequent analysis demonstrated the uniqueness of this new parasite species and revealed uncertainties in the current taxonomic division of the Diplozoidae that are commented in the text.
Access options
Buy single article
Instant access to the full article PDF.
US$ 39.95
Tax calculation will be finalised during checkout.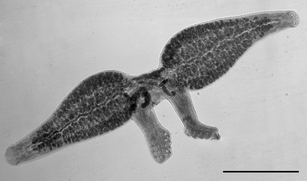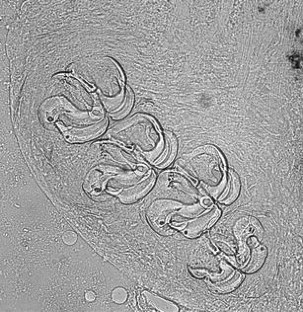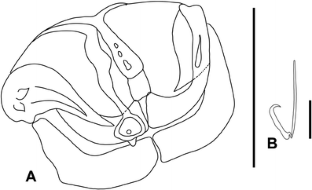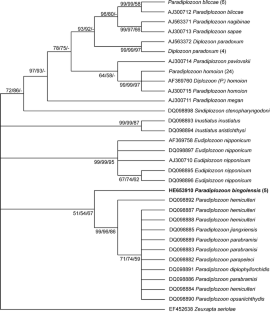 References
Aydogdu A, Selver M (2006) An investigation of helminth fauna of the bleak (Alburnus alburnus L.) from the Mustafakemalpasa Stream, Bursa, Turkey. Acta Parasitol Turc 30:69–72

Aydogdu A, Selver M, Aydin C (2009) Occurrence of metazoan parasites of the mirror carp (Cyprinus carpio L.) in a fish farm, Uluabat, Bursa, Turkey. Pakistan J Zool 41:322–326

Bychowsky BE, Nagibina LF (1959) Systematics of the genus Diplozoon Nordmann (Monogenoidea). Zool Zh 28:362–377

Boeger WA, Kritsky DC (1993) Phylogeny and revised classification of the Monogenoidea Bychowsky, 1937 (Platyhelminthes). Syst Parasitol 26(1):1–32. doi:10.1007/BF00009644

Cunningham CO (1997) Species variation within the internal transcribed spacer (ITS) region of Gyrodactylus (Monogenea: Gyrodactylidae) ribosomal RNA genes. J Parasitol 83:215–219

Felsenstein J (1985) Confidence limits on phylogenies: an approach using the bootstrap. Evolution 39:783–791. FishBase: http://www.fishbase.org/search.php

Gao Q, Chen MX, Yao WJ, Gao Y, Song Y, Wang GT, Wang MX, Nie P (2007) Phylogeny of diplozoids in five genera of the subfamily Diplozoinae Palombi, 1949 as inferred from ITS-2 rDNA sequences. Parasitology 134:695–703

Georgiev B, Biserkov V, Genov T (1986) In toto staining method for cestodes with iron acetocarmine. Helminthologia 23:279–281

Gläser HJ, Gläser B (1964) Zur Taxonomie der Gattung Diplozoon Nordmann, 1832. Z Parasitenk 25:164–192

Hall TA (1999) BioEdit: a user-friendly biological sequence alignment editor and analysis program for Windows 95/98/NT. Nucl Acid S 41:95–98

Huyse T, Volckaert FAM (2002) Identification of host-associated species complex using molecular and morphometric analyses, with the description of Gyrodactylus rugiensoides n. sp. (Gyrodactylidae, Monogenea). Int J Parasitol 32:907–919

Khotenovsky IA (1974) A method for making preparations of diplozoons. Zool Zh 53:1079–1080

Khotenovsky IA (1985) Fauna of the USSR. Monogenea. Nauka, Leningrad

Kimura M (1980) A simple method for estimating evolutionary rate of base substitutions through comparative studies of nucleotide sequences. J Mol Evol 16:111–120

Košková E, Matějusová I, Civáňová K, Koubková B (2010) Ethanol-fixed material used for both classical and molecular identification purposes: Eudiplozoon nipponicum (Monogenea: Diplozoidae) as a case parasite species. Parasitol Res 107:909–914. doi:10.1007/s00436-010-1949-0

Koyun M, Altunel FN (2007) Metazoan parasites of bleak (Alburnus alburnus), crucian carp (Carassius carassius) and golden carp (Carassius auratus) in Enne Dam Lake, Turkey. Int J Zool Res 3:94–100

Krupp FW, Schneider W (1989) The fishes of the Jordan River drainage basin and Azraq Oasis. Fauna Saudi Arab 10:347–416

Lambert A, Le Brun N (1988) Hypothese sur l'origine biogeographique de Diplozoon (Monogenea, Polyopisthocotylea). Ann Parasit Hum Comp 63:99–102

Malmberg G (1956) [On the occurrence of Gyrodactylus on Swedish fishes.] Skrifterutgivna av Sodra Sveriges Fiskeriforening, pp 19–76

Matějusová I, Gelnar M, McBeath AJA, Collins CM, Cunningham CO (2001a) Molecular markers for gyrodactylids (Gyrodactylidae: Monogenea) from five fish families (Teleostei). Int J Parasitol 31:738–745

Matějusová I, Koubková B, D'Amelio S, Cunningham CO (2001b) Genetic characterization of six species of diplozoids (Monogenea; Diplozoidae). Parasitology 123:465–474. doi:10.1017/S0031182001008617

Matějusová I, Koubková B, Gelnar M, Cunningham CO (2002) Paradiplozoon homoion Bychowsky & Nagibina, 1959 versus P. gracile Reichenbach-Klinke, 1961 (Monogenea): two species or phenotypic plasticity? Syst Parasitol 53:39–47. doi:10.1023/A:1019945921143

Matějusová I, Koubková B, Cunningham CO (2004) Identification of European diplozoids (Monogenea, Diplozoinae) by restriction digestion of ribosomal RNA internal transcribed spacer. J Parasitol 90:817–822. doi:10.1645/GE-138R

Moravec F, Rahemo ZIF (1993) Pericardium of Garra rufa (Pisces, Cyprinidae) as the site of infection of cucullanus larvae (Nematoda). Folia Parasitol 40:145–146

Nei M, Kumar S (2000) Molecular evolution and phylogenetics. Oxford University Press, New York

Nordmann A (1832) Mikrographische Beiträge zur Naturgeschichte der wirbellosen Thiere 1. Berlin

Öktener A (2003) A checklist of metazoan parasites recorded in freshwater fish from Turkey. Zootaxa 394:1–28

Özturk MO (2005) Helminth fauna of two cyprinid fish species (Chalcalburnus chalcoides Guldenstadt 1972, Rutilus rutilus L.) from Lake Uluabat, Turkey. Hacettepe J Biol Chem 34:77–91

Özturk MO (2011) Investigation on Paradiplozoon homoion (Monogenea, Diplozoidae) infection of some fishes from Lake Manyas (Balikesir). Firat Univ J Sci 23:57–61

Özturk MO, Oguz MC, Aydogdu A (2002) An investigation of metazoan parasitic fauna of pike (Esox lucius L.) and rudd (Scardinius erythrophthalmus L.) from the Karacabey Lagoon. Türkyie Parazitol Derg 26:25–328

Saitou N, Nei M (1987) The neighbor-joining method: a new method for reconstructing phylogenetic trees. Mol Biol Evol 4:406–425

Sicard M, Desmarais E, Lambert A (2001) Caractérisation moléculaire des populations de Diplozoidae sur cinq espèces de Cyprinidae: nouvelles donées sur la spécificité parasitaire. Sciences de la vie 324:709–717

Sicard M, Desmarais E, Vigneux F, Shimazu T, Lambert A (2003) Molecular phylogeny of the Diplozoidae (Monogenea, Polyopisthocotylea) parasitizing 12 species of Cyprinadea (Teleostei): new data about speciation. In: Combes C, Jourdane J (eds) Taxonomy, ecology and evolution of metazoan parasites. Universitaires de Perpignan, Perpignan, pp 199–211

Šimková A, Matějusová I, Cuningham CO (2006) Molecular phylogeny of the Dactylogyridae sensu Kritsky & Boeger (1989) (Monogenea) using the D1-D3 domains of large ribosomal subunit rDNA. Parasitology 133:43–53. doi:10.1017/S0031182006009942

Soylu E (2007) Seasonal occurrence and site selection of Paradiplozoon homoion (Bychowsky & Nagibina, 1959) on the gills of Pseudophoxinus antalyae Bogutskaya, 1992 from Kepez-Antalya, Turkey. Bull Eur Ass Fish Pathol 27:70–73

Soylu E (2009) Monogenean parasites on the gills of some fish species from Lakes Sapanca and Durusu, Turkey. J Fish Aquat Sci 26:247–251

Soylu E, Emre Y (2007) Monogenean and cestode parasites of Pseudophoxinus antalyae, Bogutskaya 1992 and Cyprinus carpio, Linnaeus 1758 from Kepez Antalya, Turkey. Bull Eur Ass Fish Pathol 27:23–28

Tamura K, Peterson D, Peterson N, Stecher G, Nei M, Kumar S (2011) MEGA5: molecular evolutionary genetics analysis using maximum likelihood, evolutionary distance, and maximum parsimony methods. Mol Biol Evol 28:2731–2739. doi:10.1093/molbev/msr121

Wong WL, Tan WB, Lim LH (2006) Sodium dodecyl sulphate as a rapid clearing agent for studying the hard parts of monogeneans and nematodes. J Helminth 80:87–90

Yildirim YB, Zeren A, Genc E, Erol C, Konas E (2010) Parasitological investigation on commercially important fish and crustacean species collected from the TIGEM (Dortyol Turkey) ponds. J Anim Vet Adv 9:1597–1602

Zietara MS, Huyse T, Lumme J, Volckaert FAM (2002) Deep divergence among subgenera of Gyrodactylus inferred from rDNA ITS region. Parasitology 124:39–52. doi:10.1017/S0031182001008939
Acknowledgments
This research was supported by Czech Science Foundation project no. P506/12/1258. The authors would like to thank Matthew Nicholls for the English revision of the draft.
About this article
Cite this article
Civáňová, K., Koyun, M. & Koubková, B. The molecular and morphometrical description of a new diplozoid species from the gills of the Garra rufa (Heckel, 1843) (Cyprinidae) from Turkey—including a commentary on taxonomic division of Diplozoidae. Parasitol Res 112, 3053–3062 (2013). https://doi.org/10.1007/s00436-013-3480-6
Received:

Accepted:

Published:

Issue Date:
Keywords
ITS2 Region

Host Fish

Cyprinid Fish

Male Reproductive Organ

Bayesian Information Criterion Score