Abstract
Macrophage migration inhibitory factor (MIF) is a soluble factor produced by sensitized T lymphocytes that inhibits the random migration of macrophages. Homologues of MIF from invertebrates have been identified, making it an interesting molecule from a functional perspective. In the present study, the localization of a parasite MIF protein as well as its effect on the host was characterized. Western blot analysis shows that Eimeria MIF (EMIF) is found during all parasite developmental stages tested. Transmission electron microscopy shows that MIF is distributed throughout cytosol and nucleus of Eimeria acervulina merozoites. Immunohistochemical analysis suggests that EMIF may be released into the surrounding tissues as early as 24 h after infection, while later during oocyst formation, MIF expression is localized to areas immediately surrounding the oocysts, as well as in wall-forming bodies. The chemotaxis assay revealed an inhibitory function of EMIF on chicken monocyte migration. Quantitative real-time PCR was performed to examine the effect of EMIF on host immune system by measuring the transcripts of inflammatory mediators. An ex vivo stimulation study showed that E. acervulina MIF (EaMIF) enhanced expression of pro-inflammatory cytokines and chemokines in the presence of lipopolysaccharide (LPS). Furthermore, sequential treatment of adherent peripheral blood mononuclear cells with EaMIF, chicken MIF, and LPS in 2-h intervals led to the highest levels of interleukin (IL)-1B, chemokine CCLi3, IL-18, and interferon-gamma mRNA expression. This study shows that parasite MIF is widely expressed and may have potential effects on the immune system of the host.
Access options
Buy single article
Instant access to the full article PDF.
USD 39.95
Price excludes VAT (USA)
Tax calculation will be finalised during checkout.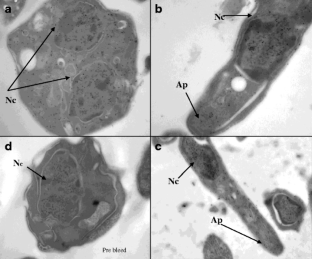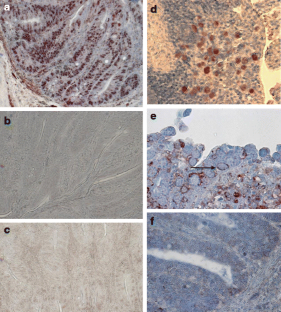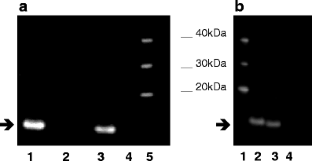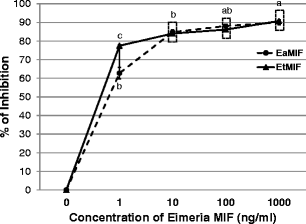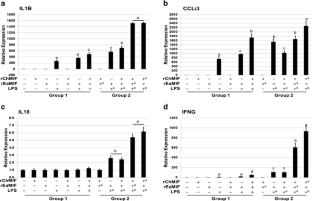 References
Abe R, Peng T, Sailors J, Bucala R, Metz CN (2001) Regulation of the CTL response by macrophage migration inhibitory factor. J Immunol 166:747–753

Allen PC, Fetterer RH (2002) Recent advances in biology and immunobiology of Eimeria species and in diagnosis and control of infection with these coccidian parasites of poultry. Clin Microbiol Rev 15:58–65

Bacher M, Metz CN, Calandra T, Mayer K, Chesney J, Lohoff M, Gemsa D, Donnelly T, Bucala R (1996) An essential regulatory role for macrophage migration inhibitory factor in T-cell activation. Proc Natl Acad Sci USA 93:7849–7854

Bernhagen J, Mitchell RA, Calandra T, Voelter W, Cerami A, Bucala R (1994) Purification, bioactivity, and secondary structure analysis of mouse and human macrophage migration inhibitory factor (MIF). Biochemistry 33:14144–14155

Bloom BR, Bennett B (1966) Mechanism of a reaction in vitro associated with delayed-type hypersensitivity. Science 153:80–82

Calandra T, Bernhagen J, Mitchell RA, Bucala R (1994) The macrophage is an important and previously unrecognized source of macrophage migration inhibitory factor. J Exp Med 179:1895–1902

Calandra T, Spiegel LA, Metz CN, Bucala R (1998) Macrophage migration inhibitory factor is a critical mediator of the activation of immune cells by exotoxins of Gram-positive bacteria. Proc Natl Acad Sci USA 95:11383–11388

Conway DP, Sasai K, Gaafar SM, Smothers CD (1993) Effects of different levels of oocyst inocula of Eimeria acervulina, E. tenella, and E. maxima on plasma constituents, packed cell volume, lesion scores, and performance in chickens. Avian Dis 37:118–123

Dalloul RA, Lillehoj HS (2006) Poultry coccidiosis: recent advancements in control measures and vaccine development. Expert Rev Vaccines 5:143–163

David JR (1966) Delayed hypersensitivity in vitro: its mediation by cell-free substances formed by lymphoid cell-antigen interaction. Proc Natl Acad Sci USA 56:72–77

Donnelly SC, Haslett C, Reid PT, Grant IS, Wallace WA, Metz CN, Bruce LJ, Bucala R (1997) Regulatory role for macrophage migration inhibitory factor in acute respiratory distress syndrome. Nat Med 3:320–323

Fetterer RH, Barfield RC (2003) Characterization of a developmentally regulated oocyst protein from Eimeria tenella. J Parasitol 89:553–564

Fetterer RH, Miska KB, Jenkins MC, Barfield RC (2004) A conserved 19-kDa Eimeria tenella antigen is a profilin-like protein. J Parasitol 90:1321–1328

Fuller AL, McDougald LR (2001) Cell membrane labeling of Eimeria tenella sporozoites with the fluorescent dye PKH-67 GL for tracking parasite-host interactions. Parasitol Res 87:521–525

Jang SI, Lillehoj HS, Lee SH, Kim DK, Pagés M, Hong YH, Min W, Lillehoj EP (2011) Distinct immunoregulatory properties of macrophage migration inhibitory factors encoded by Eimeria parasites and their chicken host. Vaccine 29:8998–9004

Jin HJ, Xiang LX, Shao JZ (2007) Molecular cloning and identification of macrophage migration inhibitory factor (MIF) in teleost fish. Dev Comp Immunol 31:1131–1144

Kamimura KM, Nishihira J, Ogura S, Isobe H, Dosak-Akita H, Ogata A, Shindoh W, Ohbuchi T, Kawakami Y (2000) Intracellular distribution of macrophage migration inhibitory factor predict the prognosis of patients with adenocarcinoma of the lung. Cancer 89:334–341

Kim S, Miska KB, Jenkins MC, Fetterer RH, Cox CM, Stuard LH, Dalloul RA (2010) Molecular cloning and functional characterization of the avian macrophage migration inhibitory factor (MIF). Dev Comp Immunol 34:1021–1032

Kleemann R, Hausser A, Geiger G, Mischke R, Burger-Kentischer A, Flieger O, Johannes FJ, Roger T, Calandra T, Kapurniotu A et al (2000) Intracellular action of the cytokine MIF to modulate AP-1 activity and the cell cycle through Jab1. Nature 408:211–216

Liu S, Tobias R, McClure S, Styba G, Shi Q, Jackowski G (1997) Removal of endotoxin from recombinant protein preparations. Clin Biochem 30:455–463

McDonald V, Shirley MW (2009) Past and future: vaccination against Eimeria. Parasitology 136:1477–1489

Merk M, Baugh J, Zierow S, Leng L, Pal U, Lee SJ, Ebert AD, Mizue Y, Trent JO, Mitchell R, Nickle W, Kavathas PB, Bernhagen J (2009) The golgi-associated protein p115 mediates the secretion of macrophage migration inhibitory factor. J Immunol 182:6896–6906

Miska KB, Fetterer RH, Lillehoj HS, Jenkins MC, Allen PC, Harper SB (2007) Characterisation of macrophage migration inhibitory factor from Eimeria species infectious to chickens. Mol Biochem Parasitol 151:173–183

Mitchell RA, Liao H, Chesney J, Fingerle-Rowson G, Baugh J, David J, Bucala R (2002) Macrophage migration inhibitory factor (MIF) sustains macrophage proinflammatory function by inhibiting p53: regulatory role in the innate immune response. Proc Natl Acad Sci USA 99:345–350

Roger T, David J, Glauser MP, Calandra T (2001) MIF regulates innate immune responses through modulation of Toll-like receptor 4. Nature 414:920–924

Schwarz RS, Fetterer RH, Rosenberg GH, Miska KB (2010) Coccidian merozoite transcriptome analysis from Eimeria maxima in comparison to Eimeria tenella and Eimeria acervulina. J Parasitol 96:49–57

Shirley MW, Smith AL, Tomley FM (2005) The biology of avian Eimeria with an emphasis on their control by vaccination. Adv Parasitol 60:285–330

Tan TH, Edgerton SA, Kumari R, McAlister MS, Roe SM, Nagl S, Pearl LH, Selkirk ME, Bianco AE, Totty NF et al (2001) Macrophage migration inhibitory factor of the parasitic nematode Trichinella spiralis. Biochem J 357:373–383

Weiser WY, Temple PA, Witek-Giannotti JS, Remold HG, Clark SC, David JR (1989) Molecular cloning of a cDNA encoding a human macrophage migration inhibitory factor. Proc Natl Acad Sci USA 86:7522–7526

Yegani M, Korver DR (2008) Factors affecting intestinal health in poultry. Poult Sci 87:2052–2063
Additional information
Mention of trade name, proprietary product, or vendor does not constitute a guarantee or warranty of the product by the US Department of Agriculture or imply its approval to the exclusion of other products or vendors that also may be suitable.
About this article
Cite this article
Miska, K.B., Kim, S., Fetterer, R.H. et al. Macrophage migration inhibitory factor (MIF) of the protozoan parasite Eimeria influences the components of the immune system of its host, the chicken. Parasitol Res 112, 1935–1944 (2013). https://doi.org/10.1007/s00436-013-3345-z
Received:

Accepted:

Published:

Issue Date:

DOI: https://doi.org/10.1007/s00436-013-3345-z
Keywords
Migration Inhibitory Factor

Coccidiosis

Macrophage Migration Inhibitory Factor

Sporulated Oocyst

Migration Inhibitory Factor Expression