Abstract
Plant-based insecticides for vector control are urgently needed for Anopheles barbirostris, Culex quinquefasciatus, and Aedes albopictus which are the primary vectors of malaria, lymphatic filariasis, and dengue, respectively, in India and other South East Asian countries. In the present study, larvicidal, adulticidal, and repellent activities of acetone root bark extract of Hiptage benghalensis were tested against the larvae and adults of the three mosquito vectors. The acetone root bark extracts of H. benghalensis was more effective as larvicides with low LC50 (11.15–16.78 ppm) and LT50 (1.25–4.84 h at 200 and 400 ppm) values. Results of log probit analysis (at 95 % confidence level) and regression analysis of crude acetone root bark extract of H. benghalensis revealed that lethal concentration (LC50) values gradually decreased with the exposure periods; lethal time (LT50) decreased with the concentration, and the mortality is positively correlated with the concentration. The order of susceptibility of the three mosquito species was as follows: A. albopictus > A. barbirostris > C. quinquefascitus. Biochemical changes were also evidenced in third instar larvae of three mosquito species following a sublethal exposure for 24 h. The level of sugar, glycogen, lipids, and proteins was significantly (P < 0.05) reduced in larvae treated with H. benghalensis. The acetone root bark extracts of H. benghalensis is less toxic to adults and repelled laboratory-reared female A. barbirostris, A. albopictus, and C. quinquefascitus with the short median protection times of 57.66–135, 72.41–134.16, and 47.66–93 min, respectively. The present investigation proves it as a potent larvicide against A. albopictus, A. barbirostris, and C. quinquefascitus, which can be recommended to control these mosquito species on its breeding site. However, further investigations are needed to confirm the lethal effects of H. benghalensis in field conditions and its impact on the nontarget organisms.
Access options
Buy single article
Instant access to the full article PDF.
USD 39.95
Price excludes VAT (USA)
Tax calculation will be finalised during checkout.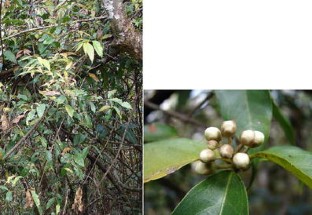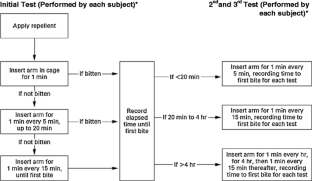 References
Abbott WS (1925) A method of computing the effectiveness of an insecticide. J Econ Entomol 18:265–266

Barnard DR (2000) Repellents and toxicants for personal protection. In: World Health Organization, Department of Control, Prevention and Eradication, Programme on Communicable Diseases, WHO Pesticide Evaluation Scheme (WHOPES), WHO/CDS/ WHOPES/GCDPP/2000.5, WHO, Geneva, Switzerland

Bockarie MJ, Pedersen EM, White GB, Michael E (2009) Role of vector control in the global program to eliminate lymphatic filariasis. Annu Rev Entomol 54:469–487

Chandrasekaran B, Annadurai K, Somasundaram E (2010) A Text book of agronomy. New Age International (P) Ltd, New Delhi, pp 120–121

Chang MS, Doraisingam P, Hardin S, Nagum N (1995) Malaria and filariasis transmission in a village/forest setting in Baram District, Sarawak, Malaysia. J Trop Med Hyg 98:192–198

Chaubal R, Pawar PV, Hebbalkar GD, Tungikar VB, Puranik VG, Deshpande VH, Deshpande NR (2005) Larvicidal activity of Acacia nilotica extracts and isolation of D-pinitol-a bioactive carbohydrate. Chem Biodivers 2:684–688

Chowdhury N, Chandra G (2007) Phytochemical screening and effects of extracts of Solanum villosum Mill. (Solanales: Solanaceae) on juveniles of Culex quinquefasciatus Say. Biospectra 2(2):209–214

Chowdhury N, Bhattacharjee I, Laskar S, Chandra G (2007) Efficacy of Solanum villosum Mill. (Solanaceae: Solanales) as a biocontrol agent against fourth instar larvae of Culex quinquefasciatus Say. Turk J Zoolog 31:365–370

Das NG, Baruah I, Talukdar PK, Das SC (2003) Evaluation of botanicals as repellents against mosquitoes. J Vect Borne Dis 40:49–53

Finney DJ (1971) Probit analysis, 3rd edn. Cambridge University Press, Cambridge

Fischer P, Supali T, Maizels RM (2004) Lymphatic filariasis and Brugia timori: prospects for elimination. Trends Parasitol 20:351–355

Fradin MS, Day JF (2002) Comparative efficacy of insect repellents against mosquito bites. N Engl J Med 347:13

Ghosh A, Chandra G (2006) Biocontrol efficacy of Cestrum diurnum L. (Solanaceae: Solanales) against the larval forms of Anopheles stephensi. Nat Pro Res 20:371–376

Ghosh A, Chowdhury N, Chandra G (2008) Laboratory evaluation of a phytosteroid compound of mature leaves of day jasmine (Solanaceae: Solanales) against larvae of Culex quinquefasciatus (Diptera: Culicidae) and nontarget organisms. Parasitol Res 103:221–277

Gnanasunderam C, Sutherland ORW (1986) Hiptagin and other aliphatic nitro esters in Lotus pedunculatus. Phytochemistry 25(2):409–410

Jonville MC, Kodja H, Strasberg D, Pichette A, Ollivier E, Frederich M, Angenot L, Legault J (2011) Antiplasmodial, anti-inflammatory and cytotoxic activities of various plant extracts from the Mascarene Archipelago. J Ethnopharmacol 136(3):525–531

Kamaraj C, Rahuman AA, Bagavan A (2008) Antifeedant and larvicidal effects of plant extracts against Spodoptera litura (F.), Aedes aegypti L. and Culex quinquefasciatus Say. Parasitol Res 103:325–331

Kamsuk K, Choochote W, Chaithong U, Jitpakdi A, Tippawangkosol P, Riyong D, Pitasawat B (2007) Effectiveness of Zanthoxylum piperitum-derived essential oil as an alternative repellent under laboratory and field applications. Parasitol Res 100:339–345

Kaushik R, Saini P (2008) Larvicidal activity of leaf extract of Millingtonia hortensis (Family: Bignoniaceae) against Anopheles stephensi. Culex Quinquefasciatus and Aedes aegypti J Vector Borne Dis 45:66–69

Khare CP (2007) Indian Medicinal plants: an illustrated dictionary. Springer, New York, p 10013

Lalnundanga (2000) Study of medicinal plants in tropical and sub-tropical semi-ever green forest of Mizoram. Ph.D thesis, Department of Forestry. Northeastern Hill University, Mizoram campus, p 101

Lowry OH, Rosebrough NJ, Farr AL, Randall RJ (1951) Protein measurement with the folin phenol reagent. J Biol Chem 193:265–275

Manquin S, Bangs MJ, Pothikasikorn J, Chareonviriyaphap T (2010) Review on global co-transmission of human Plasmodium species and Wuchereria bancrofti by Anopheles mosquitoes. Infect Genetics Evol 10:159–177

Matasyoh JC, Wathuta EM, Kariuki ST, Chepkorir R, Kavulani J (2008) Aloe plant extracts as alternative larvicides for mosquito control. Afr J Biotechnol 7(7):912–915

Murugan M, Mohan VR (2011) Evaluation of phytochemical analysis and antibacterial activity of Bauhinia purpurea L. and Hiptage benghalensis L. Kurz. J Appl Pharmaceutl Sci 1(9):157–160

Pothikasikorn J, Bangs MJ, Boonplueang R, Chareonviriyaphap T (2008) Susceptibility of various mosquitoes in Thailand to nocturnal subperiodic Wuchereria bancrofti. J Vector Ecol 33:313–320

Preet S, Sneha A (2011) Biochemical evidence of efficacy of potash alum for the control of dengue vector Aedes aegypti (Linnaeus). Parasitol Res 108:1533–1539

Rahuman AA, Gopalakrishnan G, Venkatesan P, Geetha K (2008) Larvicidal activity of some Euphorbiaceae plant extracts against Aedes aegypti and Culex quinquefasciatus (Diptera: Culicidae). Parasitol Res 102:867–873

Rahuman A, Bagavan A, Kamaraj C, Vadivelu M, Abduz Zahir A, Elango G, Pandiyan G (2009) Evaluation of indigenous plant extracts against larvae of Culex quinquefasciatus Say (Diptera: Culicidae). Parasitol Res 104:637–643

Rajkumar S, Jebanesan A (2004) Mosquitocidal activities of octacosane from Moschosma polystachyum Linn (Lamiaceae). J Ethnopharmacol 90:87–89

Rajkumar S, Jebanesan A (2005) Scientific Note: oviposition deterrent and skin repellent activities of Solanum trilobatum leaf extract against the malarial vector Anopheles stephensi. J Insect Sci 5:15

Rawani A, Ghosh A, Chandra G (2010) Mosquito larvicidal activities of Solanum nigrum L. leaf extract against Culex quinquefasciatus Say. Parasitol Res 107:1235–1240

Rezza G (2012) Aedes albopictus and the reemergence of dengue. BMC Publ Health 12:72

Senthilkumar N, Varma P, Gurusubramanian G (2009) Larvicidal and adulticidal activities of some medicinal plants against the malarial vector, Anopheles stephensi (Liston). Parasitol Res 104:237–244

Shaalan EA, Canyon DV, Younes MW, Abdel-Wahab H, Mansour AH (2006) Efficacy of eight larvicidal botanical extracts from Khaya saenegalensis and Daucus carota against Culex annulirostris. J Am Mosq Control Assoc 22:433–436

Snedecor GW, Cochran WG (1989) Statistical methods, 8th edn. Iowa State University Press, Ames

Tawatsin A, Wratten SD, Scott RR, Thavara U, Techadamrongsin Y (2001) Repellency of volatile oils from plants against three mosquito vectors. J Vector Ecol 26:76–82

Timmermann, Briegel H (1999) Larval growth and biosynthesis of reserves in mosquitoes. J Insect Physiol 5:461–470

Van Handel E (1985a) Rapid determination of glycogen and sugars in mosquitoes. J Am Mosq Cont Assoc 1:299–301

Van Handel E (1985b) Rapid determination of total lipids in mosquitoes. J Am Mosq Cont Assoc 1:302–304

Venkatachalam MR, Jebanesan A (2001) Repellent activity of Ferronia elephantum Corr. (Rutaceae) leaf extract against Aedes aegypti (L.). Bioresource Technol 76:287–288

WHO (1981) Instructions for determining the susceptibility or resistance of mosquito larvae to insecticides. WHO/VBC/81.807. WHO, Geneva

WHO (1996) Report of the WHO informal consultation on the evaluation and testing of insecticides. Protocols for laboratory and field evaluation of insecticides and repellents. CTD/WHOPES/IC-96.1, Geneva

WHO (2009) Dengue—Guidelines for diagnosis, treatment, prevention and control. WHO Press, World Health Organization, Geneva, Switzerland. WHO/HTM/NTD/DEN/2009.1, pp.1-147

WHO (2011a) World malaria report: 2011. WHO, Geneva, pp 1–185

WHO (2011b) Global programme to eliminate lymphatic filariasis: progress report on mass drug administration, 2010. Wkly Epidemiol Rec 86(35):377–388

Zhu BCR, Henderson G, Chen F, Fei H, Laine RA (2001) Evaluation of vetiver oil and seven insect-active essential oils against the Formosan subterranean termite. J Chem Ecol 27:1617–1625
Acknowledgments
We are thankful to the University Grants Commission, New Delhi, India for the financial assistance to Lalrotluanga (UGC meritorious fellowship) and gratefully acknowledge Mizoram University, Aizawl, Mizoram for providing the necessary facilities. The authors thank CSIR, New Delhi (no. 37(1362)/09/EMR-II dt 3 March 2009) and Directorate of Health Services, Government of Mizoram, Mizoram (D 12030/1/2003–DHS (M)/21 dt. 06 March 2009) for supporting research projects related to mosquito.
About this article
Cite this article
Lalrotluanga, Ngente, L., Nachimuthu, S.K. et al. Insecticidal and repellent activity of Hiptage benghalensis L. Kruz (Malpighiaceae) against mosquito vectors. Parasitol Res 111, 1007–1017 (2012). https://doi.org/10.1007/s00436-012-2925-7
Received:

Accepted:

Published:

Issue Date:

DOI: https://doi.org/10.1007/s00436-012-2925-7
Keywords
Mosquito Species

Lymphatic Filariasis

Acetone Extract

Root Bark

Mangiferin