Abstract
Solanum lycocarpum (Solanaceae), a Brazilian medicinal plant known as "wolf fruit," contains about 1.5% of glycoalkaloids in its dried fruits, consisting mainly of solamargine and solasonine. The present work reports the obtainment of the alkaloidic extract of the S. lycocarpum fruit by acid–base extraction and the isolation of the major alkaloid heterosides by chromatographic means, as well as the evaluation of their in vitro schistosomicidal activities. The in vitro schistosomicidal activities of the alkaloidic extract of S. lycocarpum fruits and its isolated steroidal alkaloids were undertaken against adult worms of Schistosoma mansoni. The alkaloidic extract (20, 32, and 50 μg mL−1), solasonine (50 μM), solamargine (32 and 50 μM), and equimolar mixture of glycoalkaloids (20, 32, and 50 μM) lead to the separation of all couple worms and extensive disruption on their teguments, such as sloughing, as well as their deaths within 24 h of incubation. In addition, the alkaloidic extract (10 and 15 μg mL−1), solasonine (50 μM), solamargine (10, 15, and 20 μM), and equimolar mixtures of glycoalkaloids (10 and 15 μM) reduced the development of eggs produced by the adult worms. Solamargine, containing the sugar chain moiety chacotriose, was more active than the solasonine, which contains solatriose sugar chain moiety. A synergistic effect was also observed for a mixture of solamargine and solasonine. Therefore, the alkaloidic extract of S. lycocarpum, and its major components, solamargine and solasonine, showed promising schistosomicidal activity.
Access options
Buy single article
Instant access to the full article PDF.
USD 39.95
Price includes VAT (USA)
Tax calculation will be finalised during checkout.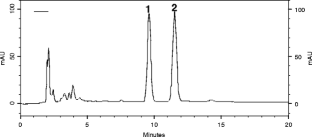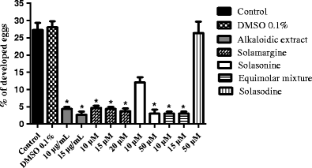 References
Abdul-Ghani R, Loutfy N, Sheta M, Hassan A (2011) Artemether shows promising female schistosomicidal and ovicidal effects on the Egyptian strain of Schistosoma mansoni after maturity of infection. Parasitol Res 108:1199–1205. doi:10.1007/s00436-010-2163-9

Almeida SP, Proença CEB, Sano SM, Ribeiro JF (1994) Cerrado: espécies vegetais úteis. Empresa Brasileira de Pesquisa Agropecuária do Brasil (EMBRAPA), Brasil, Brasília

Bagalwa JJ, Voutquenne-Nazabadioko L, Sayagh C, Bashwira AS (2010) Evaluation of the biological activity of the molluscicidal fraction of Solanum sisymbriifolium against non target organisms. Fitoterapia 81:767–771. doi:10.1016/j.fitote.2010.04.003

Bogitsh BJ (1977) Schistosoma mansoni: colchicine and vinblastine effects on schistosomule digestive tract development in vitro. Exp Parasitol 43:180–188. doi:10.1016/0014-4894(77)90021-2

Cham BE (2007) Solasodine rhaminosyl glycosides specifically bind cancer cell receptors and induce apoptosis and necrosis. Treatment for skin cancer and hope for internal cancer. Res J Biol Sci 2:503–514

Cham BE, Daunter B (1990) Solasodine glycosides: selective cytotoxicity for cancer cells and inhibition by rhamnose in mice with sarcoma 180. Cancer Lett 55:221–225. doi:10.1016/0304-3835(90)90122-E

Cruz APS, Costa DPC, Valente GSC, Mattos DMM, Alexandre DJA, Diré GF, Borba HR (2008) Anthelmintic effect of Solanum lycocarpum in mice infected with Aspiculuris tetraptera. J Am Sci 4:75–79

Dall'Agnol R, Von Poser GL (2003) The use of polysaccharides in the management of metabolic diseases: the case of Solanum lycocarpum fruits. J Ethnopharmacol 71:337–341. doi:10.1016/S0378-8741(00)00165-3

Dietz JM (1984) Ecology and social organization of the maned wolf (Chrysocyon brachyurus). Smithson Contrib Zool 392:1–51

Fennell CW, Lindsey KL, McGaw LJ, Sparg SG, Stafford GI, Elgorashi EE, Grace OM, Van Staden J (2004) Assessing African medicinal plants for efficacy and safety, pharmacological screening and toxicology. J Ethnopharmacol 94:205–217. doi:10.1016/j.jep.2004.05.012

Fewell AM, Roddick JG, Weissenberg M (1994) Interactions between the glycoalkaloids solasonine and solamargine in relation to inhibition of fungal growth. Phytochem 37:1007–1011. doi:10.1016/S0031-9422(00)89518-7

Hall CA, Hobby T, Cipollini M (2006) Efficacy and mechanisms of α-solasonine and α-solamargine-induced cytolysis on two of Trypanosoma cruzi. J Chem Ecol 32:2405–2416. doi:10.1007/s10886-006-9153-5

Hammond JA, Fielding D, Bishop SC (1997) Prospects for plant anthelmintics in tropical veterinary medicine. Vet Res Commun 21:213–228. doi:10.1023/A:1005884429253

Hotez PJ, Molyneux DH, Fenwick A, Kumaresan J, Sachs SE, Sachs JD, Savioli L (2007) Control of neglected tropical diseases. N Engl J Med 357:1018–1027

Ismail M, Botros S, Metwally A, William S, Farghally A, Tao LF, Day TA, Bennett JL (1999) Resistance to praziquantel: direct evidence from Schistosoma mansoni isolated from Egyptian villagers. AmJTrop Med Hyg 60:932–935

Katz N, Dias EP, Araújo N, Souza CP (1973) Estudo de uma cepa humana de Schistosoma mansoni resistente a agentes esquistossomicidas. Rev Soc Bras Med Trop 7:381–387

Knobloch J, Kunz W, Grevelding CG (2006) Herbimycin a suppresses mitotic activity and egg production of female Schistosoma mansoni. Int J Parasitol 36:1261–1272. doi:10.1016/j.ijpara.2006.06.004

Li H, Wang W, Qu G, Li Y, Tao Y, Xing Y, Wang X, Dai Y, Wei J, Dai J, Coles GC, Liang Y (2011) Effect of the in vivo activity of dihydroartemisinin against Schistosoma mansoni infection in mice. Parasitol Res. doi:10.1007/s00436-011-2692-x

Lorenzi H (1991) Plantas daninhas do Brasil. Instituto Plantarum, Nova Odessa

Magalhães LG, Machado CB, Morais ER, Moreira EBC, Soares CS, Silva SH, Da Silva Filho AA, Rodrigues V (2009) In vitro schistosomicidal activity of curcumin against Schistosoma mansoni adult worms. Parasitol Res 104:1197–1201. doi:10.1007/s00436-008-1311-y

Magalhães LG, Kapadia GJ, Tonuci LRS, Caixeta SC, Parreira NA, Rodrigues V, Da Silva FAA (2010) In vitro schistosomicidal effects of some phloroglucinol derivatives from Dryopteris species against Schistosoma mansoni adult worms. Parasitol Res 106:395–40. doi:10.1007/s00436-009-1674-8

Michaels RM, Prata A (1968) Evolution and characteristics of Schistosoma mansoni eggs laid in vitro. J Parasitol 54:921–930

Moraes JD, Nascimento C, Lopes PO, Nakano E, Yamaguchi LF, Kato MJ, Kawano T (2011) Schistosoma mansoni: in vitro schistosomicidal activity of piplartine. Exp Parasitol 127:357–364. doi:10.1016/j.exppara.2010.08.021

Moreira RCR, Rebêlo JMM, Gama MEA, Costa JML (2002) Nível de conhecimento sobre Leishmaniose Tegumentar Americana (LTA) e uso de terapias alternativas por populações de uma área endêmica da Amazônia do Maranhão, Brasil. Cad Saúde Pub 18:187–195. doi:10.1590/S0102-311X2002000100019

Mostafa OMS, Eid RA, Adly MA (2011) Antischistosomal activity of ginger (Zingiber officinale) against Schistosoma mansoni harbored in C57 mice. Parasitol Res 109:395–403. doi:10.1007/s00436-011-2267-x

Motidome M, Leekning M, Gottlieb OR (1970) A química de solanáceas brasileiras I:A presença de solamargina no juá e na lobeira. An Acad Bras Cienc 42:375–376

Pica-Mattoccia L, Cioli D (2004) Sex and stage-related sensitivity of Schistosoma mansoni to in vivo and in vitro praziquantel treatment. Int J Parasitol 34:527–533. doi:10.1016/j.ijpara.2003.12.003

Roddick JG, Rijnenberg AL (1987) Synergistic interaction between the potato glycoalkaloids α-solanine and α-chalconine in relation to lysis of phospholipids/sterol liposomes. Phytochem 26:1325–1328

Roddick JG, Weissenberg M, Leonard AL (2001) Membrane disruption and enzyme inhibition by naturally-occuring and modified chacotriose-containing Solanum steroidal glycoalkaloids. Phytochem 56:603–610. doi:10.1016/S0031-9422(00)00420-9

Rodrigues FHG, Hass A, Lacerda ACR, Grando RSCL, Bagno MA, Bezerra AR, Silva WR (2007) Feeding habits of the maned-wolf (Chrysocyon brachyurus) in the Brazilian Cerrado. Mastozool Neotrop 14:37–51

Schwarz A, Soares MR, Flório JC, Bernardi MM, Spinosa HS (2005) Rats exposed to Solanum lycocarpum fruit in uterus and during lactation: neurochemical, behavioral and histopathological effects. Neurotoxicol Teratol 27:861–870. doi:10.1016/j.ntt.2005.07.001

Schwarz A, Pinto E, Haraguchi M, Oliveira CA, Bernardi MM, Spinosa HS (2007) Phytochemical study of Solanum lycocarpum (St. Hil) unripe fruit and its effects on rat gestation. Phytother Res 21:1025–1028. doi:10.1002/ptr.2200

Shuhua X, Binggui S, Chollet J, Tanner M (2000) Tegumental changes in adult Schistosoma mansoni harbored in mice treated with praziquantel enantiomers. Acta Trop 76:107–117. doi:10.1016/S0001-706X(00)00076-0

Silva TMS, Câmara CA, Freire KRL, Silva TG, Agra MF, Bhattacharyyac J (2008) Steroidal glycoalkaloids and molluscicidal activity of Solanum asperum rich fruits. J Brazil Chem Soc 19:1048–1052. doi:10.1590/S0103-50532008000500033

Smithers SR, Terry RJ (1965) Infection of laboratory hosts with cercariae of Schistosoma mansoni: and the recovery of adult worms. Parasitol 55:695–700

Steinmann S, Keiser J, Bos R, Tanner M, Utzinger J (2006) Schistosomiasis and water resources development: systematic review, meta-analysis, and estimates of people at risk. Lancet Infect Dis 6:411–425. doi:10.1016/S1473-3099(06)70521-7

Vieira G Jr, Ferreira PM, Matos LG, Ferreira EC, Rodovalho W, Ferri PH, Ferreira HD, Costa EA (2003) Anti-inflammatory effect of Solanum lycocarpum fruits. Phytother Res 17:892–896. doi:10.1002/ptr.1247

Wanyonyi AW, Chabra SC, Mkoji G, Eilert U, Njue W (2002) Bioactive steroidal alkaloid glycosides from Solanum aculeastrum. Phytochem 59:79–84. doi:10.1016/S0031-9422(01)00424-1

WHO (2009) Neglected tropical diseases. http://www.who.int/neglected_diseases/en/. Accessed 26 June 2009

Xiao SH, Keiser J, Chollet J, Utzinger J, Dong Y, Endriss Y, Vennerstrom JL, Tanner M (2007) In vitro and in vivo activities of synthetic trioxolanes against major human schistosome species. Antimicrob Agents Chemother 51:1440–1445. doi:10.1128/AAC.01537-06
Acknowledgment
We are thankful to Ph.D. Milton Groppo Júnior for identifying the plant material. Mariza A. Miranda is thankful to FAPESP for her fellowship, grant number 2008/56324-0. We are also thankful to Elenice Aparecida Macedo and Olinda Mara Brigatto for the technical support.
About this article
Cite this article
Miranda, M.A., Magalhães, L.G., Tiossi, R.F.J. et al. Evaluation of the schistosomicidal activity of the steroidal alkaloids from Solanum lycocarpum fruits. Parasitol Res 111, 257–262 (2012). https://doi.org/10.1007/s00436-012-2827-8
Received:

Accepted:

Published:

Issue Date:
Keywords
Schistosomiasis

Adult Worm

Negative Control Group

Praziquantel

Equimolar Mixture