Abstract
Coccidiosis is probably the main parasitic disease affecting goat kids around the weaning period, leading to high economic losses in goat production due to deaths and delayed growth rates of infected animals. A total of 101 kids of 2–4 weeks of age, naturally infected with Eimeria spp., were divided into five groups and studies were conducted to analyse the effects of metaphylactic administration of diclazuril (Vecoxan®) on parasitological and productive parameters. Two different doses of diclazuril (1 and 2 mg/kg BW, p.o.) were given either at 3 weeks (single treatment) or at 3 and 5 weeks of life (double treatment). The faecal oocyst shedding and the body weights of the animals were monitored at 2-weeks intervals for 6 consecutive weeks. Treatments of goat kids with diclazuril were effective against the three most predominant Eimeria species recorded in this study (E. arloingi, E. ninakohlyakimovae and E. christenseni) and also against other minor species found in faecal examinations, including E. alijevi, E. caprina, E. jolchijevi, E. caprovina, E. hirci and E. aspheronica). In consequence, OPG values lower than 1 × 103 were detected in 90 to 100% of the animals up to 15–20 days post-treatment depending on the treatment regimen. Even a single dose of 1 mg/kg BW p.o. resulted in an increase of growth rates in treated animals and therefore should be considered as a control strategy in farms precluding coccidian infections, whilst double and multiple dose treatments could be the recommendation for environments heavily contaminated with Eimeria oocysts. In relation to the OPG reduction and increased growth rates, the severity of the clinical signs (i.e., diarrhoea) was ameliorated in treated animals during the course of infection compared to that of non-treated or control kids. The precise timing of treatment appears crucial in order to prevent severe clinical coccidiosis and thereby enabling the adequate development of protective immune response against Eimeria challenge infections.
Access options
Buy single article
Instant access to the full article PDF.
US$ 39.95
Tax calculation will be finalised during checkout.
Subscribe to journal
Immediate online access to all issues from 2019. Subscription will auto renew annually.
US$ 119
Tax calculation will be finalised during checkout.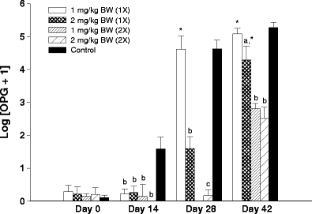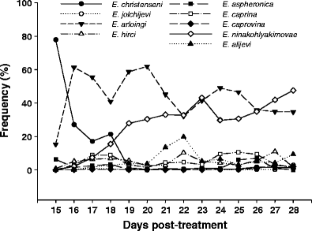 References
Abo-Shehada MN, Abo-Farieha HA (2003) Prevalence of Eimeria species among goats in northern Jordan. Small Rumin Res 49:109–113

Alyousif MS, Kasim AA, Al-Shawa YR (1992) Coccidia of the domestic goat (Capra hircus) in Saudi Arabia. Int J Parasitol 22:807–811

Alzieu JP, Mage C, Maes L, Mûelenaere C (1999) Economic benefits of prophylaxis with diclazuril against subclinical coccidiosis in lambs reared indoors. Vet Rec 144:442–444

Balicka-Ramisz A (1999) Studies on coccidiosis in goats in Poland. Vet Parasitol 81:347–349

Conlogue G, Foreyt WJ, Wescott RB (1984) Bovine coccidiosis: protective effects of low-level infection and coccidiostat treatments in calves. Am J Vet Res 45:863–866

Daugschies A, Najdrowski M (2005) Eimeriosis in cattle: current understanding. J Vet Med B Infect Dis Vet Public Health 52:417–427

Daugschies A, Agneessens J, Goossens L, Mengel H, Veys P (2007) The effect of a metaphylactic treatment with diclazuril (Vecoxan®) on the oocyst excretion and growth performance of calves exposed to a natural Eimeria infection. Vet Parasitol 149:199–206

El-Banna HA, El-Bahy MM, El-Zorba HY, El-Hady M (2005) Anticoccidial efficacy of drinking water soluble diclazuril on experimental and field coccidiosis in broiler chickens. J Vet Med A Physiol Pathol Clin Med 52:287–291

Faizal AC, Rajapakse RP (2001) Prevalence of coccidia and gastrointestinal nematode infections in cross bred goats in the dry areas of Sri Lanka. Small Rumin Res 40:233–238

Forey WJ (1990) Coccidiosis and cryptosporidiosis in sheep and goats. Vet Clin N Am Food Anim Pract 6:655–669

Foreyt WJ, Gates NL, Wescott RB (1979) Effects of lasalocid and monensin against experimentally induced coccidiosis in confinement-reared lambs from weaning to market weight. Am J Vet Res 40:97–100

Gjerde B, Helle O (1991) Chemoprophylaxis of coccidiosis in lambs with a single oral dose of toltrazuril. Vet Parasitol 38:97–107

Gregory MW, Catchpole J (1987) Ovine coccidiosis: pathology of Eimeria ovinoidalis infection. Int J Parasitol 17:1099–10111

Gregory MW, Catchpole J (1990) Ovine coccidiosis: the pathology of Eimeria crandallis infection. Int J Parasitol 20:849–860

Hasbullah IH, Uchida T, Inamoto T, Nakai Y, Ogimoto K (1996) Medication of feedlot calves infected with Eimeria spp. by a combination of sulfamonomethoxine and ormetoprim. J Vet Med Sci 58:169–170

Hermosilla C, Barbisch B, Heise A, Kowalik S, Zahner H (2002) Development of Eimeria bovis in vitro: suitability of several bovine, human and porcine endothelial cell lines, bovine fetal gastrointestinal, Madin–Darby bovine kidney (MDBK) and African green monkey kidney (VERO) cells. Parasitol Res 88:301–307

Horton GM, Stockdale PH (1981) Lasalocid and monensin in finishing diets for early weaned lambs with naturally occurring coccidiosis. Am J Vet Res 42:433–436

Jabbar A, Iqbal Z, Kerboeuf D, Muhammad G, Khan MN, Afaq M (2006) Anthelmintic resistance: the state of play revisited. Life Sci 79:2413–2431

Koudela B, Bokova A (1998) Coccidiosis in goats in the Czech Republic. Vet Parasitol 76:261–267

Levine ND (1985) Veterinary protozoology. Iowa State University Press, Ames, IA

Levine ND, Ivens V (1986) The Coccidian Parasites (Protozoa, Apicomplexa) of Artiodactyla. University of Illinois Press, Urbana, pp 120–141

Lloyd S, Smith J (2001) Activity of toltrazuril and diclazuril against Isospora species in kittens and puppies. Vet Rec 148:509–511

Maes L, Vanparijs O, Marsboom R (1991) Effect of diclazuril (Clinacox) on the development of protective immunity against Eimeria tenella: laboratory trial in broiler chickens. Poult Sci 70:504–508

McMeniman NP, Elliott R (1995) Control of coccidia in young calves using lasalocid. Aust Vet J 72:7–9

Molina JM, Ruiz A, Hernández B, González JF, Martín S, Hernández YI (2008) Effect of Eprinomectin "pour-on" on Haemonchus contortus egg shedding in experimentally infected goats. Aust Vet J 86:444–445

Mundt HC, Bangoura B, Mengel H, Keidel J, Daugschies A (2005) Control of clinical coccidiosis of calves due to Eimeria bovis and Eimeria zuernii with toltrazuril under field conditions. Parasitol Res 97(Suppl 1):S134–S142

Niilo L (1969) Experimental infection of newborn calves with coccidia and reinfection after weaning. Can J Comp Med 33:287–291

Peek HW, Landman WJ (2005) Resistance to anticoccidial drugs of Dutch avian Eimeria spp. field isolates originating from 1996, 1999 and 2001. Avian Pathol 32:391–401

Platzer B, Prosl H, Cieslicki M, Joachim A (2005) Epidemiology of Eimeria infections in an Austrian milking sheep flock and control with diclazuril. Vet Parasitol 129:1–9

Ruiz A, González JF, Rodríguez E, Martín S, Hernández YI, Almeida R, Molina JM (2006) Influence of climatic and management factors on Eimeria infections in goats from semi-arid zones. J Vet Med B Infect Dis Vet Public Health 53:399–402

Smith MC, Sherman DM (1994) Goat medicine. Lea and Febiger, Philadelphia, PA

Soe AK, Pomroy WE (1992) New species of Eimeria (Apicomplexa: Eimeriidae) from the domesticated goat Capra hircus in New Zealand. Syst Parasitol 23:195–202

Sühwold A, Hermosilla C, Seeger T, Zahner H, Taubert A (2010) T cell reactions of Eimeria bovis primary and challenge-infected calves. Parasitol Res 106:595–605

Svensson C, Uggla A, Pehrson B (1994) Eimeria alabamensis infection as a cause of diarrhoea in calves at pasture. Vet Parasitol 53:33–43

Taubert A, Behrendt JH, Sühwold A, Zahner H, Hermosilla C (2009) Monocyte- and macrophage-mediated immune reactions against Eimeria bovis. Vet Parasitol 164:141–153

Taylor MA, Catchpole J, Marshall J, Marshall RN, Hoeben D (2003) Histopathological observations on the activity of diclazuril (Vecoxan) against the endogenous stages of Eimeria crandallis in sheep. Vet Parasitol 116:305–314

Taylor MA, Andrews AH, Alzieu JP, Holzhauer M, Kaske M, Willemsen M (2010) Role of immunity in the management and control of bovine coccidiosis. Vet Rec 166:831–832

Thienpont D, Rochette F, Van Parijs OFJ (1979) Diagnosing helminthiasis by coprological examination. Janssen Research Foundation, Beerse, p 187

Vanparijs O, Hermans L, van der Flaes L, Marsboom R (1989) Efficacy of diclazuril in the prevention and cure of intestinal and hepatic coccidiosis in rabbits. Vet Parasitol 32:109–117

von Samson-Himmelstjerna G, Epe C, Wirtherle N, von der Heyden V, Welz C, Radeloff I, Beening J, Carr D, Hellmann K, Schnieder T, Krieger K (2006) Clinical and epidemiological characteristics of Eimeria infections in first-year grazing cattle. Vet Parasitol 136:215–221

Young G, Alley ML, Foster DM, Smith GW (2011) Efficacy of amprolium for the treatment of pathogenic Eimeria species in Boer goat kids. Vet Parasitol 178:346–349
Acknowledgements
This study has been supported by Steve Laboratories and funding derived from the Spanish Ministry of Science and Innovation (MICIN) and the ACIISI (Agencia Canaria de Investigación, Innovación y Socidad de la Información). We also thank the goat farmers and Mr. Andrés Guedes González for his veterinary assistance during this reference field study. All experiments included in the present study comply with the current laws of the Spanish government.
About this article
Cite this article
Ruiz, A., Guedes, A.C., Muñoz, M.C. et al. Control strategies using diclazuril against coccidiosis in goat kids. Parasitol Res 110, 2131–2136 (2012). https://doi.org/10.1007/s00436-011-2746-0
Received:

Accepted:

Published:

Issue Date:
Keywords
Sampling Time Point

Coccidiosis

Eimeria Species

Diclazuril

Coccidian Infection