Abstract
The eggs (nits) of head and body lice (Pediculus humanus capitis, Pediculus humanus corporis) were incubated for 5, 10, 15, 20, 30 or 45 min into a neem seed extract contained in a fine shampoo formulation (e.g. Wash Away® Louse), which is known for its significant killing effects of larvae and adults of head lice. The aim of the study was to test whether the developmental stages inside the eggs are also killed after the incubation into the shampoo. It was found that an incubation time of only 5 min was sufficient to prohibit any hatching of larvae, whilst 93 ± 4% of the larvae in the untreated controls of body lice hatched respectively about 76% of the controls in the case of head lice. Apparently, the neem-based shampoo blocked the aeropyles of the eggs, thus preventing the embryos of both races of lice from accessing oxygen and from releasing carbon dioxide. Thus, this product offers a complete cure from head lice upon a single treatment, if the lice (motile stages, eggs) are fully covered for about 10 min.
This is a preview of subscription content, log in to check access.
Access options
Buy single article
Instant access to the full article PDF.
US$ 39.95
Price includes VAT for USA
Subscribe to journal
Immediate online access to all issues from 2019. Subscription will auto renew annually.
US$ 199
This is the net price. Taxes to be calculated in checkout.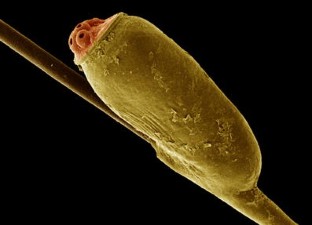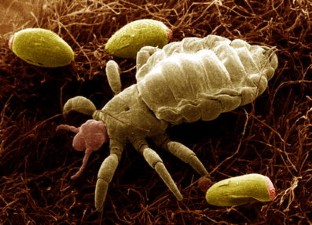 References
Abdel-Ghaffar F, Semmler M (2007) Efficacy of neem seed extract shampoo on head lice of naturally infected humans in Egypt. Parasitol Res 100:329–332

Abdel-Ghaffar F, Al-Quraishy S, Sobhy H, Semmler M (2008) Neem seed extract shampoo, Wash Away Louse®, an effective plant agent against Sarcoptes scabiei mite infesting dogs in Egypt. Parasitol Res 104:145–148

Abdel-Ghaffar F, Semmler M, Al-Rasheid K, Klimpel S, Mehlhorn H (2010) Comparative in-vitro test on the efficacy and safety of 13 anti-head-lice products. Parasitol Res 106:423–249

Aspöck H, Walochnik J (2007) In German: the parasites of humans from aspects of co-evolution. Denisia 20:149–254

Heukelbach J, Wilcke T, Winter B, Feldmeier H (2005) Epidemiology and morbidity of scabies and pediculosis capitis in resource-poor communities in Brazil. Brit J Dermatol 153:150–156

Heukelbach J, Oliveira FA, Speare R (2006) A new shampoo based on neem (Azadirachta indica) is highly effective against head lice in-vitro. Parasitol Res 99:353–356

Kristensen M, Knorr M, Rasmussen AM, Jespersen JB (2006) Survey of permethrin and malathion resistance in human head lice populations from Denmark. J Med Entomol 43:533–538

Lebwohl M, Levitt J (2007) Therapy for head lice based on life cycle, resistance and safety consideration. Pediatrics 119:965–974

Leo NP, Barker SC (2005) Unraveling the evolution of the head lice and body lice of humans. Parasitol Res 98:44–47

Martini E (1946) Lehrbuch der medizinischen Entomologie. G. Fischer, Jena

Mehlhorn H (ed) (2008) Encyclopedia of parasitology, 3rd edn. Springer, Heidelberg, 2 volumes

Mehlhorn B, Mehlhorn H (2009) Louse alarm. Düsseldorf University Press, Düsseldorf

Oliveira FA, Speare R, Heukelbach J (2007) High in-vitro efficacy of Nyda® L, a pediculocide containing dimethicone. J Eur Acad Dermatol Venerol 21:1325–1329

Pittermann W, Lehmacher W, Kietzmann M, Mehlhorn H (2008) Treatment against blood sucking insects without skin irritation. SÖFW J 34:36–43

Schmahl G, Al-Rasheid KAS, Abdel-Ghaffar F, Klimpel S, Mehlhorn H (2010) The efficacy of neem seed extracts (Tresan®, MiteStop®) on a broad spectrum of pests and parasites. Parasitol Res 107:261–269

Semmler M, Abdel-Ghaffar F, Al-Rasheid K, Mehlhorn H (2009) Nature helps: from research to products against blood sucking arthropods. Parasitol Res 105:1483–1487
Acknowledgements
Hereby we greatly acknowledge the support of the study by the Center of Excellence of the College of Science, King Saud University, Saudi Arabia.
About this article
Cite this article
Mehlhorn, H., Abdel-Ghaffar, F., Al-Rasheid, K.A.S. et al. Ovicidal effects of a neem seed extract preparation on eggs of body and head lice. Parasitol Res 109, 1299–1302 (2011). https://doi.org/10.1007/s00436-011-2374-8
Received:

Accepted:

Published:

Issue Date:
Keywords
Head Louse

Neem Seed

Louse Infestation

Body Louse

Motile Stage