Abstract
Citrus limonoids, nomilin and limonin, were used for larvicidal assay against Aedes albopictus utilizing WHO methodology. LC50s were 305.83, 176.08, and 136.07 μM for nomilin and 850.09, 600.72, and 407.09 μM for limonin after 24, 48, and 72 h, respectively. LT50 assays exhibited that Savage citrange oil was the best at all concentrations (400, 500, 600, and 700 ppm) while Fairchild and Cassa grande were the weakest oils at 400 ppm, but at 500, 600, and 700 ppm, Carrizo citrange remained at the bottom with highest LT50 values. Results exhibited that nomilin was more toxic than limonin and therefore provided a clear indication that limonoids in sample oils influenced the potential of respective oil. Out of the 10 tested citrus seed oils, Savage citrange (Citrus sinensis) comprised the maximum amount of limonin (2823.59 μg/ml) followed by grapefruit, Sacaton citrumelo, and Jaffa. When this oil (Savage citrange) was evaluated for bioassay against larvae of Ae. albopictus, it reflected complete dominance (LC50 and LT50) as compared to rest of the oils. Although Jaffa (Citrus paradisi) was found to contain nomilin and limonin, it was found less effective as compared to Savage citrange. The oils from Minneola and Chinese lime did not contain limonin and nomilin, and were therefore weak in terms of LC50 values. Presence of limonin and nomilin in plant products is therefore a significant indicator of the pest control that needs to be exploited in other plants as well.
Access options
Buy single article
Instant access to the full article PDF.
USD 39.95
Price excludes VAT (USA)
Tax calculation will be finalised during checkout.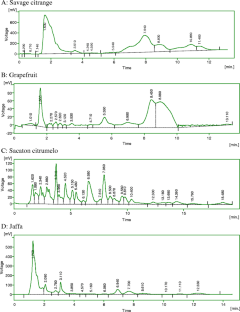 References
Al Dakhil MA, Morsy TA (1999) The larvicidal activities of the peel oils of three citrus fruits against Culex pipiens. J Egypt Soc Parasitol 29(2):347–352

Alford AR, Cullen JA, Storch RH, Bentley MD (1987) Antifeedant activity of limonin against the Colorado potato beetle (Coleoptera: Chrysomelidae). J Econ Entomol 80(3):575–578

Amer A, Mehlhorn H (2006) Larvicidal effects of various essential oils against Aedes, Anopheles and Culex larvae (Diptera: Culicidae). Parasitol Res 99(4):466–472

Ampofo JA, Tetteh W, Bello M (2009) Impact of commonly used agrochemicals on bacterial diversity in cultivated soils. Indian J Microbiol 49(3):223–229

Bagavan A, Rahuman AA, Kamaraj C, Geetha K (2008) Larvicidal activity of saponin from Achyranthes aspera against Aedes aegypti and Culex quinquefasciatus (Diptera: Culicidae). Parasitol Res 103(1):223–229

Barnard D, Xue R (2004) Laboratory evaluation of mosquito repellents against Aedes albopictus, Culex nigripalpus and Ochlerotatus triseriatus (Diptera: Culicidae). J Med Entomol 41(4):726–730

Conti B, Canale A, Bertoli A, Gozzini F, Pistelli L (2010) Essential oil composition and larvicidal activity of six Mediterranean aromatic plants against the mosquito Aedes albopictus (Diptera: Culicidae). Parasitol Res 107:1455–1461

Hafeez F, Akram W, Suhail A, Khan MA (2010) Adulticidal action of ten citrus oils against Aedes albopictus (Diptera: Culicidae). Pak J Agric Sci 47(3):241–244

Jantan I, Ping WO, Vasuvalingam SD, Ahmad NW (2003) Larvicidal activity of essential oils and methanol extracts of Malaysian plants on Aedes aegypti. Pharm Biol 41(4):234–236

Jayaprakasha GK, Singh RP, Pereira J, Sakariah KK (1997) Limonoids from Citrus reticulata and their moult inhibiting activity in mosquito Culex quinquefasciatus larvae. Phytochemistry 44(5):843–846

Kamal R, Mathur N (2010) Rotenoids from Lablab purpureus L. and their bioefficacy against human disease vectors. Parasitol Res 107:1481–1488

Kamaraj C, Rahuman AA, Mahapatra A, Bagavan A, Elango G (2010) Insecticidal and larvicidal activities of medicinal plant extracts against mosquitoes. Parasitol Res 107:1337–1349

Klocke JA, Kubo I (1982) Citrus limonoid by-products as insect control agents. Entomol Exp Appl 32:299–301

Kumar S, Warikoo R, Wahab N (2010) Larvicidal potential of ethanolic extracts of dried fruits of three species of peppercorns against different instars of an Indian strain of dengue fever mosquito, Aedes aegypti L. (Diptera: Culicidae). Parasitol Res 107:901–907

Morales-Saldana J, Gomez N, Rovira J, Abrahams M (2007) Larvicidal activity of the grapefruit Citrus paradisi (Rutaceae) on two vectors of dengue. Rev Peru Biol 14(2):297–299

Murray KD, Hasegawa S, Alford AR (1999) Antifeedant activity of citrus limonoids against Colorado potato beetle: comparison of aglycones and glucosides. Entomol Exp Appl 92(3):331–334

Muthukrishnan J, Pushpalatha E, Kasthuribai A (1997) Biological effects of four plant extracts on Culex quinquifasciatus Say larval stages. Insect Sci Appl 17:389–394

Mwaiko GL (1992) Citrus peel oil extracts as mosquito larvae insecticides. East Afr Med J 69(4):223–226

Mwaiko GL, Savaeli ZXN (1994) Lemon peel oil extract as mosquito larvicide. East Afr Med J 71(12):797–799

Ohta H, Fong CH, Berhow M, Hasegawa S (1993) Thin-layer and high-performance liquid chromatographic analyses of limonoids and limonoid glucosides in Citrus seeds. J Chromatogr A 639(2):295–302

Pushpalatha E, Muthukrishnan J (1999) Efficacy of two tropical plant extracts for the control of mosquitoes. J Appl Entomol 123(6):369–373

Rawani A, Ghosh A, Chandra G (2010) Mosquito larvicidal activities of Solanum nigrum L. leaf extract against Culex quinquefasciatus Say. Parasitol Res 107:1235–1240

Regnault-Roger C (1997) The potential essential oils for insect pest control. Integr Pest Manage Rev 2(1):25–34

Roark RC (1947) Some promising insecticidal plants. Econ Bot 1(4):437–445

Roy A, Saraf S (2006) Limonoids: overview of significant bioactive triterpenes distributed in plants kingdom. Biol Pharm Bull 29(2):191–201

Ruberto G, Renda A, Tringali C, Napoli EM, Simmonds MJ (2002) Citrus limonoids and their semisynthetic derivatives as antifeedant agents against Spodoptera frugiperda Larvae. A structure–activity relationship study. J Agric Food Chem 50(23):6766–6774

Schmutterer H (1988) Potential of azadirachtin-containing pesticides for integrated pest control in developing and industrialized countries. J Insect Physiol 34(7):713–719

Schmutterer H (1990) Properties and potential of natural pesticides from the neem tree, Azadirachta indica. Annu Rev Entomol 35:271–297

Senthilkumar A, Venkatesalu V (2010) Chemical composition and larvicidal activity of the essential oil of Plectranthus amboinicus (Lour.) Spreng against Anopheles stephensi: a malarial vector mosquito. Parasitol Res 107:1275–1278

Shaalan EA, Canyon DV, Younes M, Abdel-Wahab H, Mansour A (2005) A review of botanical phytochemicals with mosquitocidal potential. Environ Int 31(8):1149–1166

Sukumar K, Perich MJ, Boobar IR (1991) Botanical derivatives in mosquito control: a review. J Am Mosq Control Assoc 7(2):210–237

Sumroiphon S, Yuwaree C, Arunlertaree C, Komalamisra N, Rongsriyam Y (2006) Bioactivity of citrus seed for mosquito-borne diseases larval control. Southeast Asian J Trop Med Public Health 37(3):123–127

World Health Organization (1981) Instructions for determining the susceptibility or resistance of mosquito larvae to insecticides. WHO/VBC/81.807. WHO, Geneva
About this article
Cite this article
Hafeez, F., Akram, W. & Shaalan, E.AS. Mosquito larvicidal activity of citrus limonoids against Aedes albopictus . Parasitol Res 109, 221–229 (2011). https://doi.org/10.1007/s00436-010-2228-9
Received:

Accepted:

Published:

Issue Date:

DOI: https://doi.org/10.1007/s00436-010-2228-9
Keywords