Abstract
The aim of this study was to investigate the larvicidal potential of the hexane, chloroform, ethyl acetate, acetone, methanol, and aqueous leaf extracts of Nelumbo nucifera Gaertn. (Nymphaeaceae) and synthesized silver nanoparticles using aqueous leaf extract against fourth instar larvae of Anopheles subpictus Grassi and Culex quinquefasciatus Say (Diptera: Culicidae). Nanoparticles are being used in many commercial applications. It was found that aqueous silver ions can be reduced by aqueous extract of plant parts to generate extremely stable silver nanoparticles in water. The results recorded from UV–vis spectrum, scanning electron microscopy, X-ray diffraction, and Fourier transform infrared support the biosynthesis and characterization of silver nanoparticles. Larvae were exposed to varying concentrations of plant extracts and synthesized silver nanoparticles for 24 h. All extracts showed moderate larvicidal effects; however, the maximum efficacy was observed in crude methanol, aqueous, and synthesized silver nanoparticles against the larvae of A. subpictus (LC50 = 8.89, 11.82, and 0.69 ppm; LC90 = 28.65, 36.06, and 2.15 ppm) and against the larvae of C. quinquefasciatus (LC50 = 9.51, 13.65, and 1.10 ppm; LC90 = 28.13, 35.83, and 3.59 ppm), respectively. These results suggest that the leaf methanol, aqueous extracts of N. nucifera, and green synthesis of silver nanoparticles have the potential to be used as an ideal eco-friendly approach for the control of the A. subpictus and C. quinquefasciatus. This is the first report on the mosquito larvicidal activity of the plant extracts and synthesized nanoparticles.
Access options
Buy single article
Instant access to the full article PDF.
USD 39.95
Price excludes VAT (USA)
Tax calculation will be finalised during checkout.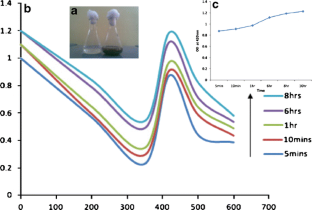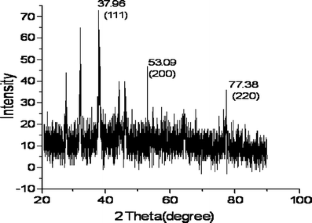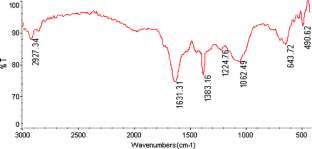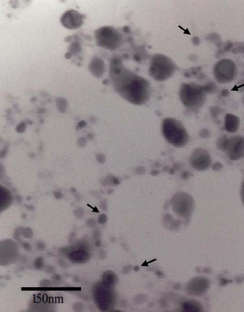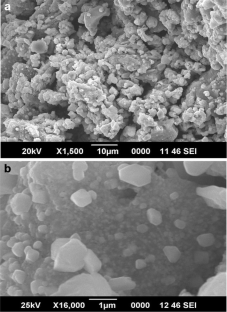 References
Amer A, Mehlhorn H (2006) Repellency effect of 41 essential oils against Aedes, Anopheles, and Culex mosquitoes. Parasitol Res 99(4):478–490

Asharani PV, Wu YL, Gong ZY, Valiyaveettil S (2008) Toxicity of silver nanoparticles in zebrafish models. Nanotechnology 19:1–8

Bagavan A, Kamaraj C, Elango G, Zahir AA, Rahuman AA (2009a) Adulticidal and larvicidal efficacy of some medicinal plant extracts against tick, fluke and mosquitoes. Vet Parasitol 166(3–4):286–292

Bagavan A, Kamaraj C, Rahuman AA, Elango G, Zahir AA, Pandiyan G (2009b) Evaluation of larvicidal and nymphicidal potential of plant extracts against Anopheles subpictus Grassi, Culex tritaeniorhynchus Giles and Aphis gossypii Glover. Parasitol Res 104(5):1109–1117

Bansal SK, Singh KV, Kumar S (2009) Larvicidal activity of the extracts from different parts of the plant Solanum xanthocarpum against important mosquito vectors in the arid region. J Environ Biol 30(2):221–226

Baun A, Hartmann NB, Grieger K, Kusk KO (2008) Ecotoxicity of engineered nanoparticles to aquatic invertebrates: a brief review and recommendations for future toxicity testing. Ecotoxicology 17:387–396

Begum NA, Mondal S, Basu S, Laskar RA, Mandal D (2009) Biogenic synthesis of Au and Ag nanoparticles using aqueous solutions of Black Tea leaf extracts. Colloids Surf B Biointerfaces 71(1):113–118

Bhattacharya D, Rajinder G (2005) Nanotechnology and potential of microorganisms. Crit Rev Biotechnol 25:199–204

Borchert H, Shevchenko EV, Robert A, Mekis I, Kornowski A, Grübel G, Weller H (2005) Determination of nanocrystal sizes: a comparison of TEM, SAXS, and XRD studies of highly monodisperse CoPt3 particles. Langmuir 21(5):1931–1936

Casida JE, Quistad GB (2000) Insecticide targets: learning to keep up with resistance and changing concepts of safety. Agric Chem Biotechnol 43:185–191

Chou KJ, Fang HC, Chung HM, Cheng JS, Lee KC, Tseng LL, Tang KY, Jan CR (2000) Effect of betulinic acid on intracellular-free Ca+2 levels in Madin Darby canine kidney cells. Eur J Pharmacol 408(2):99–106

Chowdhury N, Chatterjee SK, Laskar S, Chandra G (2008) Larvicidal activity of Solanum villosum Mill (Solanaceae: Solanales) leaves to Anopheles subpictus Grassi (Diptera: Culicidae) with effect on non-target Chironomus circumdatus Kieffer (Diptera: Chironomidae). J Pest Sci 82(1):13–18

Dethloff GM, Naddy RB, Gorsuch JW (2007) Effects of sodium chloride on chronic silver toxicity to early life stages of rainbow trout (Oncorhynchus mykiss). Environ Toxicol Chem 26:1717–1725

Dhanda V, Kaul HN (1980) Mosquito vectors of Japanese encephalitis virus and their bionomics in India. Proc Indian Natl Sci Acad 46B:759

Elango G, Bagavan A, Kamaraj C, Zahir AA, Rahuman AA (2009a) Oviposition-deterrent, ovicidal, and repellent activities of indigenous plant extracts against Anopheles subpictus Grassi (Diptera: Culicidae). Parasitol Res 105(6):1567–1576

Elango G, Rahuman AA, Bagavan A, Kamaraj C, Zahir AA, Venkatesan C (2009b) Laboratory study on larvicidal activity of indigenous plant extracts against Anopheles subpictus and Culex tritaeniorhynchus. Parasitol Res 104(6):1381–1388

Goodsell DS (2004) Bionanotechnology: lessons from nature. Wiley-Liss, Hoboken

Govindarajan M (2010) Larvicidal efficacy of Ficus benghalensis L. plant leaf extracts against Culex quinquefasciatus Say, Aedes aegypti L. and Anopheles stephensi L. (Diptera: Culicidae). Eur Rev Med Pharmacol Sci 14(2):107–111

Govindarajan M, Jebanesan A, Pushpanathan T (2008) Larvicidal and ovicidal activity of Cassia fistula Linn. leaf extract against filarial and malarial vector mosquitoes. Parasitol Res 102(2):289–292

Griffitt RJ, Luo J, Gao J, Bonzongo JC, Barber DS (2008) Effects of particle composition and species on toxicity of metallic nanomaterials in aquatic organisms. Environ Toxicol Chem 27:1972–1978

Huang J, Li Q, Sun D, Lu Y, Su Y, Yang X, Wang H, Wang Y, Shao W, He N, Hong J, Chen C (2007) Biosynthesis of silver and gold nanoparticles by novel sundried Cinnamomum camphora leaf. Nanotechnology 18:105104

Jiang H, Manolache S, Wong ACL, Denes FS (2004) Plasma-enhanced deposition of silver nanoparticles onto polymer and metal surfaces for the generation of antimicrobial characteristics. J Appl Polym Sci 93:1411–1422

Kamaraj C, Bagavan A, Rahuman AA, Zahir AA, Elango G, Pandiyan G (2009) Larvicidal potential of medicinal plant extracts against Anopheles subpictus Grassi and Culex tritaeniorhynchus Giles (Diptera: Culicidae). Parasitol Res 104(5):1163–1171

Kannathasan K, Senthilkumar A, Venkatesalu V, Chandrasekaran M (2008) Larvicidal activity of fatty acid methyl esters of Vitex species against Culex quinquefasciatus. Parasitol Res 103(4):999–1001

Kashiwada Y, Aoshima A, Ikeshiro Y, Chen YP, Furukawa H, Itoigawa M, Fujioka T, Mihashi K, Cosentino LM, Morris-Natschke SL, Lee KH (2005) Anti-HIV benzylisoquinoline alkaloids and flavonoids from the leaves of Nelumbo nucifera, and structure–activity correlations with related alkaloids. Bioorg Med Chem 13(2):443–448

Kathiresan K, Manivannan S, Nabeel MA, Dhivya B (2009) Studies on silver nanoparticles synthesized by a marine fungus, Penicillium fellutanum isolated from coastal mangrove sediment. Colloids Surf B Biointerfaces 71(1):133–137

Kim KJ, Sung WS, Suh BK, Moon SK, Choi JS, Kim JG, Lee DG (2009) Antifungal activity and mode of action of silver nano-particles on Candida albicans. Biometals 22(2):235–242

Kong H, Jang J (2006) One-step fabrication of silver nanoparticle embedded polymer nanofibers by radical-mediated dispersion polymerization. Chem Commun 3010–3012

Kumar A, Valecha N, Jain T, Dash AP (2007) Burden of malaria in India: retrospective and prospective view. Am J Trop Med Hyg 77:69–78

Lee SE, Kim J, Lee S (2001) Insecticide resistance in increasing interest. Agric Chem Biotechnol 44:105–112

Li GR, Qian JQ, Lü FH (1990) Effects of neferine on heart electromechanical activity in anaesthetized cats. Zhongguo Yao Li Xue Bao 11(2):158–161

Ling ZQ, Xie BJ, Yang EL (2005) Isolation, characterization, and determination of antioxidative activity of oligomeric procyanidins from the seedpod of Nelumbo nucifera Gaertn. J Agric Food Chem 53(7):2441–2445

Liu N, Xu Q, Zhu F, Zhang L (2006) Pyrethroid resistance in mosquitoes. Insect Sci 13:159–166

Minjas JN, Sarda RK (1986) Laboratory observations on the toxicity of Swartzia madagascariens (Leguminaceae) extract to mosquito larvae. Trans R Soc Trop Med Hyg 80:460–461

Mohan L, Sharma P, Srivastava CN (2007) Comparative efficacy of Solanum xanthocarpum extracts alone and in combination with a synthetic pyrethroid, cypermethrin, against malaria vector, Anopheles stephensi. Southeast Asian J Trop Med Public Health 38(2):256–260

Moretti MDL, Sanna-Passino G, Demontis S, Bazzoni E (2002) Essential oil formulations useful as a new tool for insect pest control. AAPS PharmSciTech 13:1–11

Morones JR, Elechiguerra JL, Camacho A, Holt K, Kouri JB, Ramfrez JT, Yacaman MJ (2005) The bactericidal effect of silver nanoparticles. Nanotechnology 16:2346–2353

Mouchet F, Landois P, Sarremejean E, Bernard G, Puech P, Pinelli E, Flahaut E, Gauthier L (2008) Characterisation and in vivo ecotoxicity evaluation of double-wall carbon nanotubes in larvae of the amphibian Xenopus laevis. Aquat Toxicol 87(2):127–137

Mukherjee PK (2002) Quality control of herbal drugs—an approach to evaluation of botanicals, 1st edn. Business Horizons, New Delhi, pp 604–608

Mukherjee PK, Das J, Balasubramanian R, Saha K, Pal M, Saha BP (1995) Antidiarrhoeal evaluation of Nelumbo nucifera rhizome extract. Indian J Pharmacol 27:262–364

Mukherjee PK, Saha K, Das J, Pal M, Saha BP (1997) Studies on the anti-inflammatory activity of rhizomes of Nelumbo nucifera. Planta Med 63(4):367–369

Mukherjee PK, Mukherjee D, Maji AK, Rai S, Heinrich M (2009) The sacred lotus (Nelumbo nucifera)—phytochemical and therapeutic profile. J Pharm Pharmacol 61(4):407–422

Naddy RB, Gorsuch JW, Rehner AB, McNerney GR, Bell RA, Kramer JR (2007) Chronic toxicity of silver nitrate to Ceriodaphnia dubia and Daphnia magna, and potential mitigating factors. Aquat Toxicol 84:1–10

Nadworny PL, Wang J, Tredget EE, Burrell RE (2008) Anti-inflammatory activity of nanocrystalline silver in a porcine contact dermatitis model. Nanomedicine 4(3):241–251

Panicker KN, Bai MG, Rao USB, Viswam K, Suryanarayanamurthy U (1981) An. subpictus vector of malaria in coastal villages of South-East India. Curr Sci 50:694–695

Parashar UK, Saxenaa PS, Srivastava A (2009) Bioinspired synthesis of silver nanoparticles. Dig J Nanomater Biostruct 4:159–166

Rahuman AA, Venkatesan P (2008) Larvicidal efficacy of five cucurbitaceous plant leaf extracts against mosquito species. Parasitol Res 103:133–139

Rahuman AA, Gopalakrishnan G, Ghouse BS, Arumugam S, Himalayan B (2000) Effect of Feronia limonia on mosquito larvae. Fitoterapia 71(5):553–555

Rahuman AA, Gopalakrishnan G, Venkatesan P, Geetha K (2008a) Larvicidal activity of some Euphorbiaceae plant extracts against Aedes aegypti and Culex quinquefasciatus (Diptera: Culicidae). Parasitol Res 102(5):867–873

Rahuman AA, Venkatesan P, Gopalakrishnan G (2008b) Mosquito larvicidal activity of oleic and linoleic acids isolated from Citrullus colocynthis (Linn.) Schrad. Parasitol Res 103(6):1383–1390

Rahuman AA, Bagavan A, Kamaraj C, Vadivelu M, Zahir AA, Elango G, Pandiyan G (2009) Evaluation of indigenous plant extracts against larvae of Culex quinquefasciatus Say (Diptera: Culicidae). Parasitol Res 104:637–643

Rao TR (1984) The Anophelines of India. Malaria Research Unit (ICMR), Delhi, p 518

Reddy PJ, Krishna D, Murthy US, Jamil K (1992) A microcomputer FORTRAN program for rapid determination of lethal concentration of biocides in mosquito control. Comput Appl Biosci 8:209–213

Rogers JV, Parkinson CV, Choi YW, Speshock JL, Hussain SM (2008) A preliminary assessment of silver nanoparticle inhibition of monkeypox virus plaque formation. Nanoscale Res Lett 3:129–133

Sakulku U, Nuchuchua O, Uawongyart N, Puttipipatkhachorn S, Soottitantawat A, Ruktanonchai U (2009) Characterization and mosquito repellent activity of citronella oil nanoemulsion. Int J Pharm 372:105–111

Saravanan KS, Periyanayagam K, Ismail M (2007) Mosquito larvicidal properties of various extract of leaves and fixed oil from the seeds of Caesalpinia bonduc (L) Roxb. J Commun Dis 39(3):153–157

Sathishkumar M, Sneha K, Won SW, Cho CW, Kim S, Yun YS (2009) Cinnamon zeylanicum bark extract and powder mediated green synthesis of nano-crystalline silver particles and its bactericidal activity. Colloids Surf B Biointerfaces 73(2):332–338

Sinha S, Pan I, Chanda P, Sen SK (2009) Nanoparticles fabrication using ambient biological resources. J Appl Biosci 19:1113–1130

Tian N, Liu Z, Huang J, Luo G, Liu S, Liu X (2007) Isolation and preparation of flavonoids from the leaves of Nelumbo nucifera Gaertn by preparative reversed-phase high-performance liquid chromatography. Sepu 25:88–92

Tripathi A, Chandrasekaran N, Raichur AM, Mukherjee A (2009) Antibacterial applications of silver nanoparticles synthesized by aqueous extract of Azadirachta indica (Neem) leaves. J Biomed Nanotechnol 5(1):93–98

Vivekanandhan S, Misra M, Mohanty AK (2009) Biological synthesis of silver nanoparticles using Glycine max (soybean) leaf extract: an investigation on different soybean varieties. J Nanosci Nanotechnol 9(12):6828–6833

Wang L, Li X, Zhang G, Dong J, Eastoe J (2007) Oil-in-water nanoemulsions for pesticide formulations. J Colloid Interface Sci 314:230–235

WHO (1996) Report of the WHO informal consultation on the evaluation on the testing of insecticides. CTD/WHO PES/IC/96.1. WHO, Geneva, p 69

WHO (2002) Lymphatic filariasis—the disease and its control. Technical report 71. WHO, Geneva

WHO/UNICEF, NNDP/World Bank/WHO/TDR (1997) Research on rapid geographical assessment of Bancroftian filariasis. WHO, Geneva

Xingfeng G, Daijie W, Wenjuan D, Jinhua D, Xiao W (2010) Preparative isolation and purification of four flavonoids from the petals of Nelumbo nucifera by high-speed counter-current chromatography. Phytochem Anal 21(3):268–272

Yang YC, Lee SG, Lee HK, Kim MK, Lee SH, Lee HS (2002) A piperidine amide extracted from Piper longum L. fruit shows activity against Aedes aegypti mosquito larvae. J Agric Food Chem 50:3765–3767

Yu J, Hu WS (1997) Effects of neferine on platelet aggregation in rabbits. Yao Hsueh Hsueh Pao 32:1–4

Zahir AA, Rahuman AA, Kamaraj C, Bagavan A, Elango G, Sangaran A, Kumar BS (2009) Laboratory determination of efficacy of indigenous plant extracts for parasites control. Parasitol Res 105(2):453–461
Acknowledgments
The authors are grateful to C. Abdul Hakeem College Management, Dr. S. Mohammed Yousuff, Principal, and Dr. K. Abdul Subhan, HOD of Zoology Department, for providing the facilities to carry out this work. We acknowledge the support extended by Tamil Nadu Veterinary and Animal Sciences University, Veppery, Chennai and Cochin University of Science and Technology, Cochin in analyzing the samples by TEM and SEM.
About this article
Cite this article
Santhoshkumar, T., Rahuman, A.A., Rajakumar, G. et al. Synthesis of silver nanoparticles using Nelumbo nucifera leaf extract and its larvicidal activity against malaria and filariasis vectors. Parasitol Res 108, 693–702 (2011). https://doi.org/10.1007/s00436-010-2115-4
Received:

Accepted:

Published:

Issue Date:

DOI: https://doi.org/10.1007/s00436-010-2115-4
Keywords