Abstract
Out of 2,343 examined sheep throughout the whole year, 271 were found to be infected with tapeworms (11.5%). The highest infection rate (22.1%) was recorded in autumn, while the lowest (6%) occurred in summer. Six species of cestodes were identified according to their prevalence: Moniezia expansa (74%), Moniezia denticulata (8.5%), Moniezia benedeni (4.8%), Moniezia trigonophora (2.7%), and Thysaniezia giardi (2.7%), T. giardi was recorded in Egypt for the first time. M. expansa was found throughout the year with two peaks in January (92.3%) and June (88.5%). SEM examination revealed that M. expansa scolex has four triangular suckers guarded by an X-shaped fibrous band that makes them open permanently. Also, there is a Y-shaped apical part at the scolex center which may be an embryonically non-developed rostellum. The whole worm body surface is covered with unidirectional microtriches. TEM showed that the tegument is underlaid by a thick fibrous interstitial layer below which an outer circular and an inner longitudinal muscular layer are arranged. Beneath these structures the subtegumental cells are found which have spherical electron-dense inclusions and various other cell organelles. Moreover, M. expansa has interproglottidal glands which contain secretory vesicles and secretions. For biological control of this parasite, different concentrations of crude plant extract of Artemisia cina were used in vitro and in vivo. In vitro, the results indicated that the plant extract is efficacious at all concentrations tested. Electron microscopic examination showed that many structures of the treated worms were affected. The most affected sites were the scolex and the microtriches of the outer tegumental surface. In vivo, treatment of heavily infected animals showed an antihelminthic effect, since the complete absence of eggs was recorded 9 days after treatment when fecal investigations were done.
This is a preview of subscription content, log in to check access.
Access options
Buy single article
Instant access to the full article PDF.
US$ 39.95
Tax calculation will be finalised during checkout.
Subscribe to journal
Immediate online access to all issues from 2019. Subscription will auto renew annually.
US$ 119
Tax calculation will be finalised during checkout.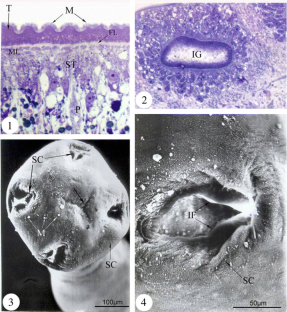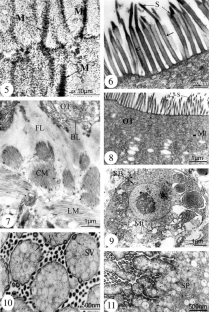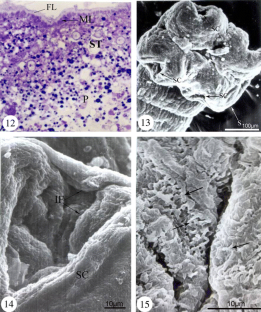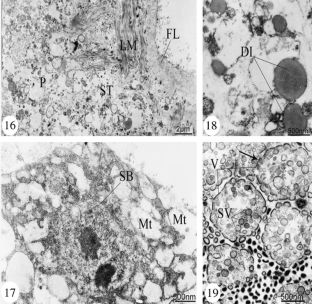 Abbreviations
BL:

Basal lamina

BM:

Basement membrane

C:

Central core

CM:

Circular muscle layer

FL:

Fibrous layer

IF:

Internal fibrous band

IG:

Interproglottidal gland

LM:

Longitudinal muscle layer

M:

Microtriches

Mt:

Mitochondria

OT:

Outer tegumental layer

P:

Parenchyma

S:

Spine

SB:

Subtegumental layer (cells)

SC:

Suckers

SP:

Secretory products

T:

Tegument
References
Abdel Megiuid AF (1998) Some studies on the intestinal helminths of sheep with reference to Trichuris ovis. Ph.D. Thesis Faculty of Veterinary Medicine, Cairo University, Egypt

Abdel-Ghaffar F, Semmler M (2007) Efficacy of neem seed extract shampoo on head lice of naturally infected human in Egypt. Parasitol Res 100:329–332

Abdel-Ghaffar F, Semmler M, Al-Rasheid K, Mehlhorn H (2009) In vitro efficacy of byemite and mite stop on developmental stages of the red chicken mite dermanyssus gallinae. Parasitol Res 105(5):1469–1471

Abdel-Ghaffar F, Semmler M, AL-Rasheid K, Klimpel S, Mehlhorn H (2010a) Comparative in vitro tests on the efficacy and safety of 13 anti-head-lice products. Parasitol Res 106:423–429

Abdel-Ghaffar F, Semmler M, Al-Rasheid K, Klimpel K, Mehlhorn H (2010b) Efficacy of a grapefruit extract on head lice: a clinical trial. Parasitol Res 106:445–449

Akhtar MS, Ahmad I (1992) Comparative efficacy of Mallotus philippinensis fruit (Kamala) or Nilzan R. drug against gastrointestinal cestodes in Beetal goats. Small Ruminant Res 8:121–128

Akhtar MS, Javed I (1991) Efficacy of Nigella sativa Linn. seeds against Moniezia infection in sheep. Indian Vet J 68:726–729

Arvinder K (1995) Epizootiology and biology of common anoplocephaline cestodes in sheep along with histopathology and haematology of the definitive host. J Vet Parasitol 9:153–154

Arvinder M, Bali HS, Gill JS (1993) Epizootiology of anoplocephaline cestodes in sheep in Punjab. Ind J Ecol 20:147–151

Ayaiyeoba EO, Okogun JI (1996) Anthelmintic activity of a root extract of Ritchiea capparoides var longipedicellata. Phytother Res 10:436–437

Becker B, Mehlhorn H, Andrews P, Thomas H (1981) Ultrastructural investigations on the effect of Praziquantel on the tegument of five species of cestodes. Z Parasitenkd 64(3):257–269

Bogh HO, Andreassen J, Lemmich J (1996) Anthelmintic usage of extracts of Embelia schimperi from Tanzania. J Ethnopharmacol 50:35–42

Brennan GP, Halton DW, Maule AG, Shaw C (1994) Electron immunogold labeling of regulatory peptide immunoreactivity in the nervous system of Moniezia expansa (Cestoda Cyclophyllidea). Parasitol Res 80(2):117–124

Cantorary R, Guclu F, Aydenizoz M (1993) Prevalence of Anoplocephalidae species in sheep slaughtered at an abattoir in Konya. Veteriner Fakultesi Derg Selcuk Universitesi 9:53–57

Cenci FB, Louvandini H, McManus CM, Dell'Porto A, Costa DM, Araujo SC, Minho AP, Abdalla AL (2007) Effects of condensed tannin from Acacia mearnsii on sheep infected naturally with gastrointestinal helminthes. Vet Parasitol 144(1–2):132–137

Featherston DW (1972) Taenia hydatigena. IV. Ultrastructure study of the tegument. Z Parasitenkd 38:214–232

Fleck SL, Moody AH (1993) Diagnostic techniques in medical parasitology. II Ed ELBS Funded by British Government

Ghofghazi T, Farid H, Pourafkari A (1980) In vitro study of the anthelmintic action of Trigonella foenum graecum L. grown in Iran. Iran. J Pub Health 9:21–26

Goto C, Kasuya S, Koga K, Ohtomo H, Kagel N (1990) Lethal efficacy of extract from Zingiber officinal (traditional Chinese medicine) or [6] Shogaol and [6] gingerol in Anisakis larvae in vitro. Parasitol Res 76:653–606

Gunn A, Probert AJ (1983) Moniezia expansa: the interproglottidal glnds and their secretions. J Helminthol 57:51–58

Haridy FM, Dawood HA, Morsy TA (2004) Efficacy of Commiphora molmol (Mirazid) against sheep naturally infected with Monieziasis expansa in Al-Santa Center, Gharbia Governorate. Egypt J Egypt Soc Parasitol 34(3):775–782

Hassanien MA (1978) Morphological and biological studies on tapeworms infesting sheep under the Egyptian environment condition. MV Sc Thesis Fac Vet Med Cairo Univ Egypt

Kalyani GA, Aithal KS, Srinivasan KK (1989) In vitro anthelmintic activity of essential oil from the fruits of Zanthoxylum limonella. Fitoterapia 60:160–162

Kang JF, Kang JF (1994) In vitro cidal effect of 10 Chinese traditional herbs against Echinococcus granulosus protoscolices. Endem Dis Bull 9:22–24

Kaur A, Bali HS, Duggal CL (1995) Seasonal variation of anoplocephaline cestodes infection in sheep of Punjab. Ind T Anim Sci 65:38–40

Khan MN, Hayat CS, Chaudhry AH, Iqbal Z, Hayat B (1989) Prevalence of gastrointestinal helminths in sheep and goats at Faisalabad abattoir. Paskistan Vet J 9:159–161

Kumar D, Jatkar PR, Raisinghani PM, Kayum A, Jairath LK, Gahlot GC (1989) Prevalence of sub-clinical gastrointestinal parasitism in sheep in Bikaner (Rajasthan). J Vet Parasitol 3:139–142

Kursa GOW, Pritchard MH (1982) The collection and preservation of animal parasites. Technical Bulletin. No 1 The Harold W Mauter Laboratory

Lyons KM (1977) Epidermis of parasitic platyhelminths. Symp Zool Soc Lond 39:97–114

Marchiondo AA, Anderson FL (1984) Light microscopy and scanning electron microscopy of the in vitro evagination process of Echinococcus multilocularis protoscolices. Int J Parasitol 14:151–157

Maziad SA, El-Nemr HI (2002) The endoparasites of sheep and goats, and shepherd in North Sinai Governorate, Egypt. J Egypt Soc Parasitol 32(1):119–126

Mehlhorn H (2008) Encyclopedia of Parasitology, 3rd edn. Springer Verlag, Heidelberg

Nassar MI, Kandil OM, Hassanain M (1997) The potentiality of Sorghum bicolar and Nerium oleander extracts in the control of the grey flesh fly Parasarcophaga angyrostoma (Diptera: Sarcophagidae). J Egypt Ger Soc Zool 22D:235–251

Ndarathi CM, Waghela S, Semenye PP (1989) Helminthiansis in Massai ranches in Kenya. Bull Anim Health Prod Afr 37:205–208

Pale P, Tandon V (1998) Anthelmintic efficacy of Flemingia vestita (Fabaceae): genistein-induced alterations in the esterase activity in the cestode, Raillietina echinobothrida. J Biosci 23:25–31

Pavlasek I, Holasova E, Jelenova I (1990) Dynamics of occurrence of endoparasites in lambs. Veterinarstvi 40:540–543

Polec W (1990) Immunological studies on lambs experimentally infected with Moniezia expansa. Acta Parasitol Pol 35(4):333–339

Repossi PF, Barcellos MP, Trivilin LO, Martins IV, da Silva PC (2006) Prevalence and control of gastrointestinal parasitosis in calves from dairy farms in the municipality of Alegre Espirito Santo. Rev Bras Parasitol Vet 15(4):147–150

Richards KS, Arme C (1981) Observation on the microtriches and stages in their development of emergence in Caryophyllaeus laticeps (Caryophllidae: Cestoda). Int J Parasitol 11:369–375

Richmond C, Caira JN (1991) Morphological investigations into Floriceps minacanthus (Trypanorhyncha: Lacistorhynch-idae) with analysis of the systematic utility of scolex microtriches. Syst Parasitol 19:25–32

Robinson RD, Wiliams LAD, Linda JF, Terzy SI, Mansingh A (1990) Inactivation of Strongyloides stercoralis larvae in vitro by six Jamaicon plants extracts and three commercial anthelmintics. West Indian Med J 39:213–217

Roy B, Tandon R (1996) Effect of root-tuber extract of Flemingia vestita, aleguminous plant on Artyfechinostomum sufratyfex and Fasciolopsis buski: a scanning electron microscopy study. Parasitol Res 82:248–252

Saha A, Ghosh NK, Babu SPS (1999) Cestocidal activity of Gladiolus gandavensis. J Parasitic Dis 23:135–136

Sievers G, Jana M, Cardenas C, Nunez J (2002) Annual study of the of egg and Oocyst outputs of gastrointestinal parasites and lungworm larvae in a sheep station of Magallanes, Chile. Arch Med Vet 34:37–47

Soulsby EJL (1986) Text book of: helminths, arthropods, and protozoa of domesticated animals, 7th edn. The English Language Book Society and Bailliere Tindall, Loncon

Subandriyo A, Romajli E, Batubara A, Batubara LP, Lejambre LF, Know WR (1996) Breeding for gastrointestinal nematode resistance of sheep in north Sumarta. Sustainable parasite control in small ruminants: an international workshop sponsored by ACIAR. Bogor Indonesia 22–25 April 1996: 134–140

Swarnkar CP, Singh D, Srivastava CP, Bhagwan PSK, Dimri U (1996) A retrospective study on ovine gastrointestinal helminthoses under semi-arid conditions. J Vet Parasitol 10:15–21

Tandon V, Pal P, Roy B, Rao HSP, Reddy KS (1997) In vitro anthelmintic activity of root-tuber extract of Flemingia vestita, an indigenous plant in shillong, India. Parasitol Res 83:492–498

Tedesco L, Coggins JR (1979) Electron microscopy of the tumulus and origin of associated structure within the tegument of Eubothrium salvelini Schrank, 1790 (cestoidea: Pseudophildea). Int Parasitol 10:275–280

Tilahun G (1996) Epidemiology of helminth parasites of small ruminants in mid-low land Ethiopia. In: Dioulasso B, Faso B (eds) parasitology research in Africa. Proceeding of an IFS workshop. International Foundation for Science, Stockholm, pp 255–269, 6–10 November 1995

Tinar R, Coskun SZ, Demir S, Akyol CV, Dogan H, Aydin L (1993) Cestode species (Anoplocephalidae) and their prevalence in ruminants slaughtered at the Bursa meat and fish plant. Veteriner Fakultesi DergUludag Unioversitesi 12:32–40

Togo J, Santamarina MT, Peris D, Uberia FM, Leiro SL, Sanmartin ML (1992) In vitro effect of anthelmintics on Anisakis simplex survival. Jpn J Parasitol 41:473–480

Umur S, Gicik Y (1995) Incidence of Anoplocephalidae species in ruminants in kars district. Turk Parazitoloii Dergist 19:272–281

Wymann MN, Traore K, Bonfoh B, Tembely S, Tembely S, Zinsstag J (2007) Gastrointestinal parasite egg excretion in young calves in periurban livestock production in Mali. Res Vet Sci 14:57–63

Yamaguti S (1961) Systema Helminthum, Vol. II and III, 1st edn. Interscience Publishers Inc, New York
Acknowledgment
This work was supported by the Faculty of Science, Cairo University and the Center of Excellence, Zoology department, College of Science, King Saud University, Riyadh, Saudi Arabia.
About this article
Cite this article
Bashtar, AR., Hassanein, M., Abdel-Ghaffar, F. et al. Studies on monieziasis of sheep I. Prevalence and antihelminthic effects of some plant extracts, a light and electron microscopic study. Parasitol Res 108, 177–186 (2011). https://doi.org/10.1007/s00436-010-2060-2
Received:

Accepted:

Published:

Issue Date:
Keywords
Infected Sheep

Echinococcus Multilocularis

Tegumental Surface

Tegumental Cell

Treated Worm