Abstract
Pediculus humanus capitis is an ectoparasite, which causes scalp pruritus particularly among children. A total of 15,373 children including 8,018 boys and 7,355 girls from 26 primary schools and 15 kindergartens attached to the primary schools and a total of 33 children from an orphanage were examined for head lice infestation (HLI). The overall prevalence of HLI in this study was 4.1% including 3.7% of the urban areas and 4.7% of the rural areas. Head lice were found more frequently in girls than in boys with prevalence of 6.5% and 1.9%, respectively. The infestation rate by school grade was 3.2%, 4.7%, 4.2%, 5.0%, 4.9%, 3.8%, and 2.1% for kindergarten, first, second, third, fourth, fifth, and sixth grades, respectively. The infestation rate of the children in an orphanage was 66.7%. The prevalence of HLI has decreased especially in the rural areas. However, HLI is a still health problem of kindergarteners and primary schoolchildren in Korea.
Access options
Buy single article
Instant access to the full article PDF.
USD 39.95
Price excludes VAT (USA)
Tax calculation will be finalised during checkout.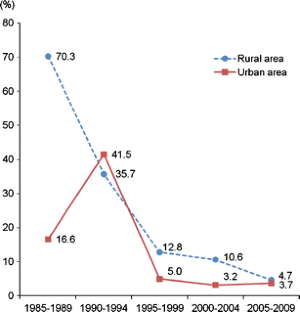 References
Al-Maktari MT (2008) Head louse infestations in Yemen: prevalence and risk factors determination among primary schoolchildren, Al-Mahweet Governorate, Yemen. J Egypt Soc Parasitol 38:741–748

Abdel-Ghaffar F, Semmler M, Al-Rasheid K, Klimpel S, Mehlhorn H (2010) Comparative in vitro tests on the efficacy and safety of 13 anti-head-lice. Parasitol Res 106:423–429

Araujo A, Ferreira LF, Guidon N, Maues Da Serra Freire N, Reinhard KJ, Dittmar K (2000) Ten thousand years of head lice infection. Parasitol Today 16:269

Burkhart CN, Burkhart CG (2007) Fomite transmission in head lice. J Am Acad Dermatol 56:1044–1047

Cazorla D, Ruiz A, Acosta M (2007) Clinical and epidemiological study of pediculosis capitis in schoolchildren from Coro, Venezuela. Invest Clin 48:445–457

Fernandez S, Fernandez A, Armentia A, Pineda F (2006) Allergy due to head lice (Pediculus humanus capitis). Allergy 61:1372

Frankowski BL (2004) American Academy of Pediatrics guidelines for the prevention and treatment of head lice infestation. Am J Manag Care 10:S269–S272

Gratz NG (1997) Human Lice. Their prevalence, control and resistance to insecticides—a review 1985–1997. WHO/CTD/WHOPES/97.8

Ha YC, Heo JM, Kim HJ, Go GM, Lee SJ, Jeong SH, Ahn SI, Kim MC, Kim JE, Song HY, Park JW, Kim BS, Sohn WM (2000) Infestation status of head louse and treatment with lindane shampoo in children of primary school and kindergarten in Chinju-shi, Kyongsangnam-do, Korea. Korean J Parasitol 38:41–43

Hong HK, Kim CM, Lee JS, Lee WJ, Yang YC (1995) Infestation rate of head lice in primary school children in Inchon, Korea. Korean J Parasitol 33:243–244

Huh S, Pai KS, Lee SJ, Kim KJ, Kim NH (1993) Prevalence of head louse infestation in primary school children in Kangwon-do, Korea. Korean J Parasitol 31:67–69

Jahnke C, Bauer E, Feldmeier H (2008) Pediculosis capita in childhood: epidemiological and socio-medical results from screening of school beginners. Gesundheitswesen 70:667–673

Ko CJ, Elston DM (2004) Pediculosis. J Am Acad Dermatol 50:1–12

KOSIS (2007) http://kosis.kr/nsportal/eng/database/database_001000.jsp?listid=B&subtitle=Population, Household

Nash B (2003) Treating head lice. Basic Mus J 326:1256–1257

Pai KS, Park MS, Lee YS, Kim DH, Chung KS, Lee KY, Kim PK, Kim KY, Yong TS, Ree HI, Im KI, Huh S (1989) The prevalence of head louse infestation among urban and rural children in Korea. Kisaengchunghak Chapchi 27:271–275

Ree HI, Yong TS, Shin HJ, Shin CO, Lee IY, Seo SA, Seo JH, Chang JK, Lee DH, Im KI (1992) Mass treatment of head louse infestation with Sumithrin powder in primary schools in Korea. Kisaengchunghak Chapchi 30:349–354

Roberts RJ (2002) Clinical practice. Head lice. N Engl J Med 346:1645–1650

Scott P, Middlefell LS, Fabbroni G, Mitchell DA (2005) Interesting case: cervical lymphadenopathy, induced by head lice. Br J Oral Maxillofac Surg 43:515

Sim S, Lee IY, Lee KJ, Seo JH, Im KI, Shin MH, Yong TS (2003) A survey on head lice infestation in Korea (2001) and the therapeutic efficacy of oral trimethoprim/sulfamethoxazole adding to lindane shampoo. Korean J Parasitol 41:57–61

Semmler M, Abdel-Ghaffar F, Al-Rasheid K, Klimpel S, Mehlhorn H (2010) Repellency against head lice (Pediculus humanus capitis). Parasitol Res 106:729–731

Soultana V, Euthumia P, Antonios M, Angeliki RS (2009) Prevalence of pediculosis capitis among schoolchildren in Greece and risk factors: a questionnaire survey. Pediatr Dermatol 26:701–705

Toloza A, Vassena C, Gallardo A, Gonzalez-Audino P, Picollo MI (2009) Epidemiology of pediculosis capitis in elementary schools of Buenos Aires, Argentina. Parasitol Res 104:1295–1298
Acknowledgments
This work was supported by the second phase of the BK (Brain Korea) 21 Project in 2008 and the grand (2007-S1-M-001) from the National Institute of Health, Korea Centers for Disease Control and Prevention.
About this article
Cite this article
Oh, JM., Lee, I.Y., Lee, WJ. et al. Prevalence of pediculosis capitis among Korean children. Parasitol Res 107, 1415–1419 (2010). https://doi.org/10.1007/s00436-010-2016-6
Received:

Accepted:

Published:

Issue Date:

DOI: https://doi.org/10.1007/s00436-010-2016-6
Keywords
Primary School

Sixth Grade

School Nurse

Head Louse

Infestation Rate