Abstract
Blastocystis hominis is a ubiquitous enteric protozoan whose pathogenic potential is still controversial. This study was carried out to clarify the pathogenecity of B. hominis infection and to study the proper number of parasites for mice infection. A total of 15 albino mice were orally inoculated with B. hominis and divided according to the inoculums, 102, 105, and 4 × 107B. hominis forms/100 μl saline, into three groups consisting of five mice each, GI, GII GIII, respectively. In addition with group IV (uninfected control) consisting of five mice. All mice were sacrificed 2 weeks post-infection. The results revealed that all mice of GIII and two mice of GII got the infection while all mice of GI showed a completely negative result. Histopathological examination of large intestine on highly infected group (GIII) showed that B. hominis infiltrated the lamina propria, the submucosa, and the muscle layers in the form of collection of vacuolar forms. This was accompanied by active colitis with infiltration of mixed inflammatory cells. In conclusion, this study revealed that large number of B. hominis is essential for oral infection of mice and that vacuolar forms of B. hominis can invade the lamina propria, the submucosa, and even the muscle layers.
Access options
Buy single article
Instant access to the full article PDF.
US$ 39.95
Tax calculation will be finalised during checkout.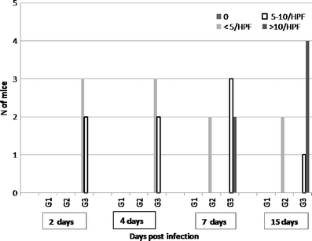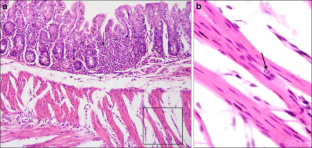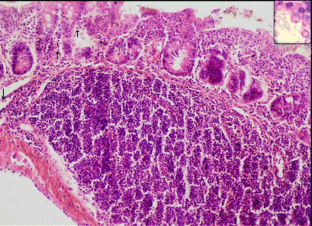 References
Abou-El Naga I, Negm A (2001) Morphology, histochemistry and infectivity of Blastocystis hominis cysts. J Egypt Soc Parasitol 31(2):627–635

Baggiolini M, Loetscher P, Moser B (1995) Interleukin-8 and the chemokine family. Int J Immunopharmacol 17:103–108

Boreham PFL, Stenzel DJ (1993) Blastocystis in humans and animals: morphology, biology, epizootiology. Adv Parasitol 32:1–70

Chandramathi S, Suresh KG, Mahmood AA, Kuppusamy UR (2010) Urinary hyaluronidase activity in rats infected with Blastocystis hominis—evidence for invasion? Parasitol Res 106(6):1459–1463

Chen TL, Chan CC, Chen HP, Fung CP, Lin CP, Chan WE, Liu CY (2003) Clinical characteristics and endoscopic findings associated with Blastocystis hominis in healthy adults. Am J Trop Med Hyg 69:213–216

Dagci H, Ustrum S, Taner MS, Ersoz G, Casu FK, Budak S (2002) Protozoan infections and intestinal permeability. Acta Trop 81(1):1–5

Diamond LS (1983) Lumen dwelling protozoa: Entamoeba, trichomonads and Giardia. In: Jensen JB (ed) In vitro cultivation of protozoan parasites. CRC, Boca Raton, Florida, pp 65–109

Fabian I, Kletter Y, Mor S, Geller-Bernstein C, Ben-Yaakov M, Volovitz B, Golde DW (1992) Activation of human eosinophil and neutrophil functions by haematopoietic growth factors: comparisons of IL-1, IL-3, IL-5 and GM-CSF. Br J Haematol 80:137–143

Gallagher PG, Venglarcik JS (1985) Blastocystis hominis enteritis. Pediatr Infect Dis 4:556–557

Garavelli PL, Scaglione L, Bicocchi R, Libanore M (1991) Pathogenicity of Blastocystis hominis. Infection 19:185

Horiki N, Maruyama M, Fujita Y, Yonekura T, Minato S, Kaneda Y (1977) Epidemiologic survey of Blastocystis hominis infection in Japan. Am J Trop Med Hyg 56:370–374

Icci N, Toma P, Furlani M, Caselli M, Guillini S (1984) Blastocystis hominis: a neglected cause of diarrhea. Lancet i:966

Iguchi A, Yoshikawa H, Yamada M, Kimata I, Arizono N (2009) Expression of interferon gamma and proinflammatory cytokines in the cecal mucosa of rats experimentally infected with Blastocystis sp. strain RN94-9. Parasitol Res 105(1):135–140

Kain KC, Ravdin JI (1995) Galactose-specific adhesion mechanismsof Entamoeba histolytica: model for study of enteric pathogens. Methods Enzymol 253:424–439

Llibre JM, Tor J, Manterola JM, Carbonell C, Foz M (1989) Blastocystis hominis chronic diarrhea in AIDS patients (letter). Lancet i:221

Long HY, Handschack A, Konig W, Ambrosch A (2001) Blastocystis hominis modulates immune responses and cytokine release in colonic epithelial cells. Parasitol Res 87:1029–1030

Miller RA, Minshew B (1988) Blastocystis hominis: an organism in search of a disease. Rev Infect Dis 10:930–938

Moe KT, Singh M, Ho LC, Tan SW, Chen XQ, Ng GC, Yap EH (1997) Experimental Blastocystis hominis infection in laboratory mice. Parasitol Res 83:319–325

Phillips BP, Zierdt CH (1976) Blastocystis hominis: pathogenic potential in human patients and in gnotobiotes. Exp Parasitol 39:358–364

Puthia M, Vaithilingam A, Lu J, Tan K (2005) Degradation of human secretory immunoglobulin A by Blastocystis. Parasitol Res 97:286–289

Puthia MK, Lu J, Tan KSW (2008) Blastocystis ratti contains cysteine proteases that mediate interleukin-8 response from human intestinal epithelial cells in an NF-κB-dependent manner. Eukaryot Cell 7:435–743

Shlim DR, Hoge CW, Rajah R et al (1995) Is Blastocystis hominis a cause of diarrhea in travelers? A prospective controlled study in Nepal. Clin Infect Dis 21:97–101

Silard R, Petrovici M, Panaitescu D, Stoicescu V (1977) Blastocystis hominis in the liver of Cricetus auratus. Arch RoumPathol Exp Microbiol 36:55–60

Sohail MR, Fischer PR (2005) Blastocystis hominis and travelers. Travel Med Infect Dis 3:33–38

Tan KS (2004) Blastocystis in humans and animals: new insights using modern methodologies. Vet Parasitol 126:121–144

Tsang TK, Levin BS, Morse SR (1989) Terminal ileitis associated with Blastocystis hominis infection. Am J Gastroenterol 84:798–799

Walderich B, Bernauer S, Renner M, Knobloch J, Burchard GD (1998) Cytopathic effects of Blastocystis hominis on Chinese hamster ovary (CHO) and adenocarcinoma HT 29 cell cultures. Trop Med Int Health 3:385–390

Yao F, Qiao J, Zhao Y, Zhang X, Yang J, Li X (2005) Experimental infection of mice with Blastocystis hominis. Zhongguo Ji Sheng Chong Xue Yu Ji Sheng Chong Bing Za Zhi 23(6):444–448

Yoshikawa H, Yoshida K, Nakajima A, Yamanri K, Iwatani S, Kimata M (2004) Feco-oral transmission of the cyst form of Blastocystis hominis in rats. Parasitol Res 94:361–366

Youhanna SA, Mark AG, Gopalakrishna GS, Claire L, Bommer KE (1994) Invasive Blastocystis hominis infection in a child. Arch Pediatr Adolesc Med 148:882–885

Zhang HM, Li W, Yan QY, He LJ, Su YP (2006) Impact of Blastocystis hominis infection on ultrastructure of intestinal mucosa in mice. Zhongguo Ji Sheng Chong Xue Yu Ji Sheng Chong Bing Za Zhi 24(3):187–191

Zierdt CH (1988) Blastocystis hominis a long misunderstood intestinal parasite. Parasitol Today 4:15–17

Zierdt CH (1991) Blastocystis hominis past and future. Microbiol Review 4:61–79
About this article
Cite this article
Elwakil, H.S., Hewedi, I.H. Pathogenic potential of Blastocystis hominis in laboratory mice. Parasitol Res 107, 685–689 (2010). https://doi.org/10.1007/s00436-010-1922-y
Received:

Accepted:

Published:

Issue Date:
Keywords
Lamina Propria

Infected Mouse

Entamoeba Histolytica

Active Colitis

Vacuolar Form