Abstract
A field trial was undertaken in order to determine the efficacy of DEET (N,N-diethyl-m-toluamide) impregnated anklets, wristbands, shoulder and pocket fabric strips against mosquito vectors of disease. The present study was conducted in the urban locality of Pondicherry, India. Human test subjects were exposed to natural populations of mosquitoes for a 12 h (18.00–06.00) night time period. The fabric strips (anklets, wristbands, shoulder, and pocket strips) were impregnated with DEET at two different concentrations of 1.5 mg/cm2 and 2.0 mg/cm2. The results clearly revealed that DEET-impregnated anklets, wristbands, shoulder and pocket fabric strips were found more effective against mosquitoes remarkably. The DEET-impregnated anklets, wristbands, shoulder and pocket fabric strips at a concentration of 2 mg/cm2 provided 5 h complete protection against mosquitoes bites and the reduction of man-landing rate varied between 65.85 and 100%. However, DEET-impregnated fabric strips at a concentration of 1.5 mg/cm2 provided 4 h complete protection against mosquito bites and the reduction of man-landing rate varied between 51.21 and 100%. The final results clearly demonstrate that repellent activity of DEET-impregnated anklets, wristbands, shoulder, and pocket strips were dose-dependent. Certainly, the DEET-impregnated fabric strips can be used as an effective potential personal protection measure in order to avoid those insects/mosquitoes that prefer to feed outdoors or those that feed in the early evening.
This is a preview of subscription content, log in to check access.
Access options
Buy single article
Instant access to the full article PDF.
US$ 39.95
Price includes VAT for USA
Subscribe to journal
Immediate online access to all issues from 2019. Subscription will auto renew annually.
US$ 199
This is the net price. Taxes to be calculated in checkout.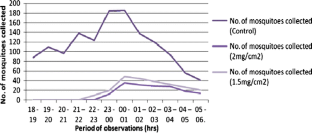 References
Barnard DR (2000) Repellents and Toxicants for Personal Protection. Global Collaboration for Development of Pesticides for Public Health. WHO/CDS/WHOPES/GCDPP/2000.5

Breeden GC, Schreck CE, Sorensen AL (1982) Permethrin as a Clothing Treatment for Personal Protection against Chigger Mites (Acarina: Trombiculidae). Am J Trop Med Hyg 31(3):589–592

Chiang GL, Eng KL (1991) Field trials on the efficacy of DEET impregnated anklets and wristbands against mosquito vectors of disease in Malaysia. J Bio Sci 1:112–117

Chiang GL, Tay SC, Eng KL, Chan ST (1990) Effectiveness of repellent insecticidal bars against malaria and filariasis vectors in Peninsular Malaysia. Southeast Asian J Trop Med Public Health 21:412–415

Curtis CF (1992) Personal protection methods against vectors of disease. Rev Med Vet Entomol 80:543–553

Curtis CF, Lines JD (1985) Impregnated fabrics against malaria mosquitoes. Parasitol Today 1(5):147

Curtis CF, Lines JD, Lu B, Renz A (1990) Natural and synthetic repellents. In: Curtis CF (ed) Appropriate technology in vector control. CRC, Boca Raton, Florida, pp 75–92

Durrheim DN, Govere JM (2002) Malaria outbreak control in an African village by community application of ''DEET'' mosquito repellent to ankles and feet. Med Vet Entomol 16:112–115

Fradin MS (2001) Protection from blood-feeding arthropods. In: Auerbach PS (ed) Wilderness Medicine, 4th edn. Mosby, St. Louis, pp 754–768

Gupta RK, Rutledge LC (1994) Role of repellents in vector control and disease prevention. Am J Trop Med Hyg 50:82–86

Hotez PJ, Remme JHF, Buss P, Alleyne G, Morel C, Breman JG (2004) Combating tropical infectious diseases: report of the disease control priorities in developing countries project. Clin Infect Dis 38:871–878

Jacobs-Lorena M, James AA (2002) Genetic modification of insects of medical importance: past, present and future. Report of the Scientific Working Group on Insect Vectors and Human Health, TDR/SWG/VEC/03.1 P68-73

Jensen T, Lampman R, Slamecka MC, Novak RJ (2000) Field efficacy of commercial antimosquito products in Illinois. J Am Mosq Control Assoc 16:148–152

Kalyanasundaram M, Mathew N (2005) N, N-Diethyl phenylacetamide (DEPA): a safe and effective repellent for personal protection against hematophagous arthropods. J Med Entomol 43:518–525

Karunamoorthi K, Mulelam A, Wassie F (2008) Laboratory evaluation of traditional insect/mosquito repellent plants against Anopheles arabiensis, the predominant malaria vector in Ethiopia. Parasitolo Res 103(3):529–534

Koren G, Matsui D, Bailey B (2003) DEET-based insect repellents: safety implications for children and pregnant and lactating women. Published at www.cmaj.ca on July 15, 2003

Maxwell CA, Wakibara J, Tho S, Curtis CF (1998) Malaria infective biting at different hours of the night. Med Vet Entomol 12:325–327

McCabe ET, Barthel WF, Gertler SI, Hall SA (1954) Insect repellents. III. N, N-diethylamides. J Org Chem 19:493–498

Nguyen SH, Nguyen TV, Phan CD, Marchand RP (2004) Repellent cream with DEET: an effective and cheap method to reduce bites of An. dirus species A in the forest. First Asian Congress on Parasitology and Tropical Medicine, Kuala Lumpur

Schreck CE (1977) Techniques for the evaluation of insect repellents: a critical review. Ann Rev Entomol 22:101–119

Schreck CE, Kline D, Smith N (1979) Protection offered by the insect repellents jacket against four species of biting midges (Diptera: Culicoides). Mosq News 39:139–142

Sharma VP, Ansari MA (1994) Personal protection from mosquitoes (Diptera: Culicidae) by burning neem oil in kerosene. Ind J Med Entomol 31(3):505–7

WHO (1996) Report of WHO informal consultation on the evaluation and testing insecticides. CTD/WHO PES/IC/96.1, p.69.

Yap HH, Jahangir K, Chong ASC et al (1998) Field efficacy of a new repellent, KBR 3023, against Aedes albopictus (Skuse) and Culex quinquefasciatus (Say) in a tropical environment. J Vector Ecol 23:62–68
Acknowledgment
The authors sincerely thank (late) Dr. Vijai Dhande, the Director, Vector Control Research Centre, Pondicherry, India for approving this research work and the facilities provided to carry out this study. In addition, we are greatly indebted to Dr. M. Kalyanasundarm, Deputy Director, Vector Control Research Center, Pondicherry, India for his constant encouragement throughout the studies.
About this article
Cite this article
Karunamoorthi, K., Sabesan, S. Field trials on the efficacy of DEET-impregnated anklets, wristbands, shoulder, and pocket strips against mosquito vectors of disease. Parasitol Res 105, 641 (2009). https://doi.org/10.1007/s00436-009-1433-x
Received:

Accepted:

Published:
Keywords
Malaria

Lymphatic Filariasis

Mosquito Vector

Deet

Complete Protection