Abstract
The ethnopharmacology for treatment of parasitic infections facilitates and directs the search for new chemical entities. In this direction, this study evaluated the cytotoxicity in vitro, against trophozoites of Giardia lamblia, of aqueous extracts of leaves Achyrocline satureioides (Lam.) DC., barks of Eugenia uniflora L., aerial parts of Foeniculum vulgare Miller, and barks of Psidium guajava L. These plants are traditionally used for the treatment of diarrhea by the indigenous population Mbyá-Guarani, located at the Lomba do Pinheiro, Porto Alegre, Rio Grande do Sul, Brazil. The in vitro susceptibility qualitative analysis of G. lamblia to aqueous extracts was performed in serial dilutions from 2.5 to 0.02 mg/mL. Results revealed the minimal inhibitory concentrations: 0.313 mg/mL for A. satureioides and E. uniflora, 0.02 mg/mL for P. guajava, and F. vulgare did not present any cytotoxic effect. Quantitative assays of viable trophozoites, showed that A. satureioides presented the highest cytotoxic effect (93.5%), followed by P. guajava (82.2%), and E. uniflora (67.3%). Indigenous Guarani use mainly A. satureioides for the treatment of diarrhea, revealing the conformity with results obtained in vitro. Bioguided assays are necessary to identify the compounds responsible for the activity of the aqueous extract of A. satureioides.
This is a preview of subscription content, log in to check access.
Access options
Buy single article
Instant access to the full article PDF.
US$ 39.95
Tax calculation will be finalised during checkout.
Subscribe to journal
Immediate online access to all issues from 2019. Subscription will auto renew annually.
US$ 119
Tax calculation will be finalised during checkout.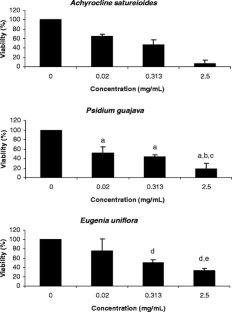 References
Adam RD (2001) Biology of Giardia lamblia. Clin Microbiol Rev 14:447–475

Alexandrovich I, Rakovitskaya O, Kolmo E, Sidorova T, Shushunov S (2003) The effect of fennel (Foeniculum vulgare) seed oil emulsion in infantile colic: a randomized, placebo-controlled study. Altern Ther Health Med 9:58–61

Ali V, Nozaki T (2007) Current therapeutics, their problems, and sulfur-containing-amino-acid metabolism as a novel target against infections by "Amitochondriate" protozoan parasites. Clin Microbiol Rev 20:164–187

Alizadeh A, Ranjbar M, Kashani KM, Taheri MM, Bodaghi M (2006) Albendazole versus metronidazole in the treatment of patients with giardiasis in the Islamic Republic of Iran. East Mediterr Health J 12:548–554

Almeida CE, Karnikowski MGO, Foleto R, Baldisserotto B (1995) Analysis of antidiarrhoeic effect of plants used in popular medicine. Rev Saude Publica 29:428–433

Amaral FMM, Ribeiro MNS, Barbosa-Filho JM, Reis AS, Nascimento FRF, Macedo RO (2006) Plants and chemical constituents with giardicidal activity. Rev Bras Farmacogn 16:696–720

Amjad H (2000) Foeniculum vulgare therapy in irritable bowel syndrome. Am J Gastroenterol 95:2491–2491

Araújo CF, Fernández CL (2005) Incidência de enteroparasitoses em localidades atendidas pelo Comando da Aeronáutica no Estado do Amazonas. Rev Med Aeron Braz 55:40–47

Barbosa E, Calzada F, Campos R (2007) In vivo antigiardial activity of three flavonoids isolated of some medicinal plants used in Mexican traditional medicine for the treatment of diarrhea. J Ethnopharmacol 109:552–554

Bueno NR, Castilho RO, Costa RB, Pott A, Pott VJ, Scheidt GN, Batista MS (2005) Medicinal plants used by the Kaiowá and Guarani indigenous populations in the Caarapó Reserve, Mato Grosso do Sul, Brazil. Acta Bot Bras 19:39–44

Calvo D, Cariddi LN, Grosso M, Demo MS, Maldonado AM (2006) Achyrocline satureioides (LAM.) DC (Marcela): Antimicrobial activity on Staphylococcus spp. and immunomodulating effects on human lymphocytes. Rev Latinoam Micobiol 48:247–255

Calzada F, Cervantes-Martínez A, Yépez-Mulia L (2005) In vitro antiprotozoal activity from the roots of Geranium mexicanum and its constituents on Entamoeba histolytica and Giardia lamblia. J Ethnopharmacol 98:191–193

Calzada F, Yépez-Mulia L, Aguilar A (2006) In vitro susceptibility of Entamoeba histolytica and Giardia lamblia to plants used in Mexican traditional medicine for the treatment of gastrointestinal disorders. J Ethnopharmacol 108:367–370

Cantore PL, Iacobellis NS, De Marco A, Capasso F, Senatore F (2004) Antibacterial activity of Coriandrum sativum L. and Foeniculum vulgare Miller Var. vulgare (Miller) essential oils. J Agric Food Chem 52:7862–7866

Carney JR, Krenisky JM, Williamson RT, Luo J (2002) Achyrofuran, a new antihyperglycemic dibenzofuran from the South American medicinal plant Achyrocline satureioides. J Nat Prod 65:203–205

Coelho de Souza G, Haas APS, von Poser GL, Schapoval EES, Elisabetsky E (2004) Ethnopharmacological studies of antimicrobial remedies in the south of Brazil. J Ethnopharmacol 90:135–143

Dadalioglu I, Evrendilek GA (2004) Chemical compositions and antibacterial effects of essential oils of Turkish Oregano (Origanum minutiflorum), Bay Laurel (Laurus nobilis), Spanish Lavender (Lavandula stoechas L.), and Fennel (Foeniculum vulgare) on common foodborne pathogens. J Agric Food Chem 52:8255–8260

Etkin NL, Elisabetsky E (2005) Seeking a transdisciplinary and culturally germane science: The future of ethnopharmacology. J Ethnopharmacol 100:23–26

Ferreira MU, Ferreira CS, Monteiro CA (2000) Tendência secular das parasitoses intestinais na infância na cidade de São Paulo (1984–1996). Rev Saude Publica 34:73–82

Gutiérrez RM, Mitchell S, Solis RV (2008) Psidium guajava: a review of its traditional uses, phytochemistry and pharmacology. J Ethnopharmacol 117:1–27

Hurtado-Guerrero AF, Alencar FH, Hurtado-Guerrero JC (2005) Ocorrência de enteroparasitas na população geronte de Nova Olinda do Norte—Amazonas, Brasil. Acta Amazônica 35:487–490

Kadarian C, Broussalis AM, Miño J, Lopez P, Gorzalczany S, Ferraro G, Acevedo C (2002) Hepatoprotective activity of Achyrocline satureioides (LAM) D. C. Pharmacol Res 45:57–61

Keister DB (1983) Axenic culture of Giardia lamblia in TYI-S-33 medium supplemented with bile. Trans R Soc Trop Med Hyg 77:487–488

Kim HS (2005) Do not put too much value on conventional medicines. J Ethnopharmacol 100:37–39

Lozoya X, Reyes-Morales H, Chávez-Soto MA, Martinez-García MC, Soto-González Y, Doubova SV (2002) Intestinal anti-spasmodic effect of a phytodrug of Psidium guajava folia in the treatment of acute diarrheic disease. J Ethnopharmacol 83:19–24

Moerch K, Hanevik K, Robertson LJ, Strand EA, Langeland N (2008) Treatment-ladder and genetic characterization of parasites in refractory giardiasis after an outbreak in Norway. J Infect 56:268–273

Oka Y, Nacar S, Putievsky E, Ravid U, Yaniv Z, Spiegel Y (2000) Nematicidal activity of essential oils and their components against the root-knot nematode. Phytopathology 90:710–715

Polydoro M, Souza KCB, Andrades ME, Da Silva EG, Bonatto F, Heydrich J, Dal-Pizzol F, Shapoval EES, Bassani VL, Moreira JCF (2004) Antioxidant, a pro-oxidant and cytotoxic effects of Achyrocline satureioides extracts. Life Sci 74:2815–2826

Ponce-Mocotela M, Navarro-Alegría I, Martínez-Gordillo MN, Alvarez-Chacón R (1994) In vitro effect against Giardia of 14 plants extracts. Rev Invest Clin 46:343–347

Prado MS, Cairncross S, Strina A, Barreto ML, Oliveira-Assis AM, Rego S (2005) Asymptomatic giardiasis and growth in young children; a longitudinal study in Salvador, Brazil. Parasitology 131:51–56

Pupulin ART, Gomes ML, Dias MLGG, Araújo SM, Guilherme ALF, Kuhl JB (2004) Giardíase em creches do município de Maringá, PR. RBAC 36:147–149

Rivera F, Gervaz E, Sere C, Dajas F (2004) Toxicological studies of the aqueous extract from Achyrocline satureioides (Lam.) DC (Marcela). J Ethnopharmacol 95:359–362

Sawangjaroen N, Subhadhirasakul S, Phongpaichit S, Siripanth C, Jamjaroen K, Sawangjaroen K (2005) The in vitro anti-giardial activity of extracts from plants that are used for self-mediation by AIDS patients in southern Thailand. Parasitol Res 95:17–21

Simões CMO, Schenkel EP, Bauer L, Langeloh A (1988) Pharmacological investigations on Achyrocline satureioides (Lam) DC., Compositae. J Ethnopharmacol 22:281–293

Tracy JW, Webster LT (1996) Drugs used in the chemotherapy of protozoal infections. In: Goodman and Gilman's the pharmacological basis of therapeutics. McGraw-Hill, New York, pp 995–998

Vendruscolo GS, Mentz LA (2006) Levantamento etnobotânico das plantas utilizadas como medicinais por moradores do bairro Ponta Grossa, Porto Alegre, Rio Grande do Sul, Brasil. Iheringia, Sér Bot 61:83–103

Vendruscolo GS, Rates SMK, Mentz LA (2005) Dados químicos e farmacológicos sobre as plantas utilizadas como medicinais pela comunidade do bairro Ponta Grossa, Porto Alegre, Rio Grande do Sul. Rev Bras Farmacogn 15:361–372
Acknowledgments
The authors thank Chieftain José Cirilo Pires Morinico (tribe Mbyá-Guarani), for making possible the accomplishment of this study and for the valuable information, Dr. Lilian Mentz (Departamento de Botânica, IB, UFRGS), for her assistance at the herbarium, and to Dr. Tatiane da Silva, (Faculdade de Farmácia, UFRGS), for loaning SPSS software. This study received financial support from FAPERGS (Porto Alegre, RS, Brazil), grant 0522751, and TWAS (Trieste, Italy), grant 06-328.
About this article
Cite this article
Brandelli, C.L.C., Giordani, R.B., De Carli, G.A. et al. Indigenous traditional medicine: in vitro anti-giardial activity of plants used in the treatment of diarrhea. Parasitol Res 104, 1345–1349 (2009). https://doi.org/10.1007/s00436-009-1330-3
Received:

Accepted:

Published:

Issue Date:
Keywords
Irritable Bowel Syndrome

Aqueous Extract

Tinidazole

Estragole

Fenchone