Abstract
The present study was undertaken to investigate the inhibitory effects of fucoidan, a sulfated polysaccharide isolated from the edible brown seaweed Undaria pinnatifida, on the growth of Plasmodium parasites. In order to assess the anti-malarial activity of fucoidan, growth inhibition activities were evaluated using cultured Plasmodium falciparum parasites in vitro and on Plasmodium berghei-infected mice in vivo. Fucoidan significantly inhibited the invasion of erythrocytes by P. falciparum merozoites, and its 50% inhibition concentration was similar to those for the chloroquine-sensitive P. falciparum 3D7 strain and the chloroquine-resistant K1 strain. Four-day suppressive testing in P. berghei-infected mice with fucoidan resulted in a 37% suppressive effect versus the control group and a delay in death associated with anemia (P < 0.05). In addition, fucoidans had no toxic effect on RAW 264.7 cells. These findings indicate that fucoidans from the Korean brown algae U. pinnatifida inhibits the invasion of Plasmodium merozoites into erythrocytes in vitro and in vivo.
Access options
Buy single article
Instant access to the full article PDF.
US$ 39.95
Tax calculation will be finalised during checkout.
Subscribe to journal
Immediate online access to all issues from 2019. Subscription will auto renew annually.
US$ 119
Tax calculation will be finalised during checkout.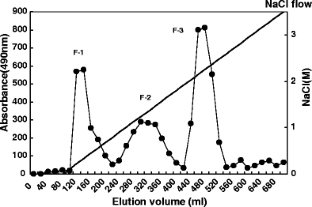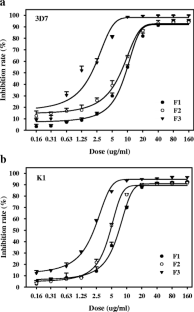 References
Berteau O, Mulloy B (2003) Sulfated fucans, fresh perspectives: structures, functions, and biological properties of sulfated fucans and an overview of enzymes active toward this class of polysaccharide. Glycobiology 13:29R–40R

Clark DL, Su S, Davidson EA (1997) Saccharide anions as inhibitors of the malaria parasite. Glycoconj J 14:473–479

Cowman AF, Crabb BS (2006) Invasion of red blood cells by malaria parasites. Cell 124:755–766

Dalton JP, Hudson D, Adams JH, Miller LH (1991) Blocking of the receptor-mediated invasion of erythrocytes by Plasmodium knowlesi malaria with sulfated polysaccharides and glycosaminoglycans. Eur J Biochem 195:789–794

Habtemariam S (2003) Cytotoxic and cytostatic activity of erlangerins from Commiphora erlangeriana. Toxicon 41:723–727

Hayashi K, Nakano T, Hashimoto M, Kanekiyo K, Hayashi T (2008) Defensive effects of a fucoidan from brown alga Undaria pinnatifida against herpes simplex virus infection. Int Immunopharmacol 8:109–116

Lambros C, Vanderberg JP (1979) Synchronization of Plasmodium falciparum erythrocytic stages in culture. J Parasitol 65:418–420

Lee JB, Hayashi K, Hashimoto M, Nakano T, Hayashi T (2004) Novel antiviral fucoidan from sporophyll of Undaria pinnatifida (Mekabu). Chem Pharm Bull (Tokyo) 52:1091–1094

Maruyama H, Tamauchi H, Hashimoto M, Nakano T (2003) Antitumor activity and immune response of Mekabu fucoidan extracted from sporophyll of Undaria pinnatifida. In Vivo 17:245–249

Maruyama H, Tanaka M, Hashimoto M, Inoue M, Sasahara T (2007) The suppressive effect of Mekabu fucoidan on an attachment of Cryptosporidium parvum oocysts to the intestinal epithelial cells in neonatal mice. Life Sci 80:775–781

Pancake SJ, Holt GD, Mellouk S, Hoffman SL (1992) Malaria sporozoites and circumsporozoite proteins bind specifically to sulfated glycoconjugates. J Cell Biol 117:1351–1357

Peters W (1975) The chemotherapy of rodent malaria, XXII. The value of drug-resistant strains of P. berghei in screening for blood schizontocidal activity. Ann Trop Med Parasitol 69:155–171

Ponce NM, Pujol CA, Damonte EB, Flores ML, Stortz CA (2003) Fucoidans from the brown seaweed Adenocystis utricularis: extraction methods, antiviral activity and structural studies. Carbohydr Res 338:153–165

Rowe A, Berendt AR, Marsh K, Newbold CI (1994) Plasmodium falciparum: a family of sulphated glycoconjugates disrupts erythrocyte rosettes. Exp Parasitol 79:506–516

Shimizu J, Wada-Funada U, Mano H, Matahira Y, Kawaguchi M, Wada M (2005) Proportion of murine cytotoxic T cells is increased by high molecular weight fucoidan extracted from Okinawa mozuku (Cladosiphon okamuranus). J Health Sci 51:394–397

Smit AJ (2004) Medicinal and pharmaceutical uses of seaweed natural products: a review. J Appl Phycol 16:245–262

Trager W, Jensen JB (1976) Human malaria parasites in continuous culture. Science 193:673–675

Vieira RP, Mulloy B, Mourao PA (1991) Structure of a fucose-branched chondroitin sulfate from sea cucumber. Evidence for the presence of 3-O-sulfo-beta-d-glucuronosyl residues. J Biol Chem 266:13530–13536

Xiao L, Yang C, Patterson PS, Udhayakumar V, Lal AA (1996) Sulfated polyanions inhibit invasion of erythrocytes by plasmodial merozoites and cytoadherence of endothelial cells to parasitized erythrocytes. Infect Immun 64:1373–1378
Acknowledgments
This work was supported by Inter-campus Research Funds from the Kangwon National University (2007). We are grateful to Dr. Lucio H. Freitas-Junior (Institut Pasteur Korea, Seoul, Korea), Dr. Takafumi Tsuboi (Ehime University, Matsuyama, Japan) and Dr. Yeon-Soo Han (Jeonman National University, Gwangju, Korea) for their kind gifts of Plasmodium falciparum and Plasmodium berghei parasite strains, respectively.
Additional information
J.-H. Chen and J.-D. Lim contributed equally to this work.
About this article
Cite this article
Chen, JH., Lim, JD., Sohn, EH. et al. Growth-inhibitory effect of a fucoidan from brown seaweed Undaria pinnatifida on Plasmodium parasites. Parasitol Res 104, 245–250 (2009). https://doi.org/10.1007/s00436-008-1182-2
Received:

Accepted:

Published:

Issue Date:
Keywords
Uronic Acid

Brown Seaweed

Plasmodium Knowlesi

Uronic Acid Content

Quinine Hydrochloride